Ryan Bader vs. Mauricio 'Shogun' Rua Head-to-Toe Breakdown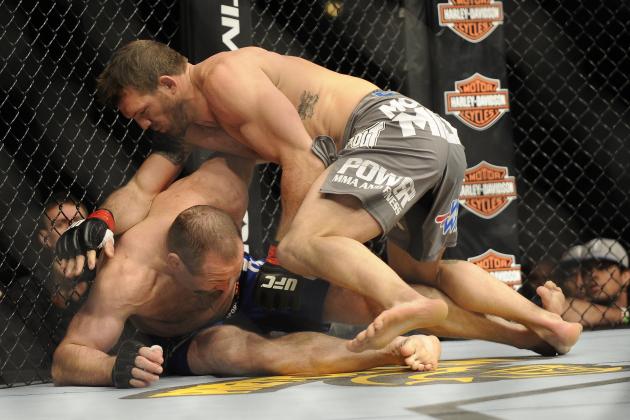 David Banks-USA TODAY Sports

Ryan Bader was a man on a mission at UFC on Fox 6.
After thoroughly destroying his opponent, Vladimir Matyushenko, via first-round submission, Bader wasted no time in calling out a potential next opponent.
The man on the receiving end of this plea?
Mauricio "Shogun" Rua.
Bader, who has shared the Octagon with the likes of Tito Ortiz, Quinton "Rampage" Jackson and Jon "Bones" Jones, sees a fight with Shogun as yet another opportunity to square off against greatness, and the matchup makes all kinds of sense at this point in each fighter's career.
Truly, this is one of the rare moments in recent memory where a fighter called for a fight that actually made sense (I'm looking at you, Mr. Belfort).
With the request issued, let us take a look at how this fight would play out.
Begin Slideshow

»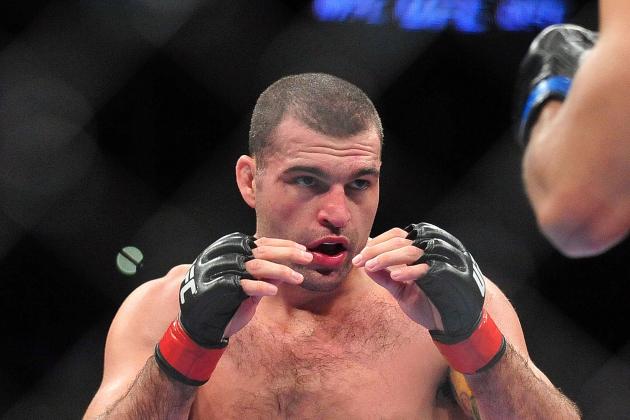 Gary A. Vasquez-USA TODAY Sports

Bader and Shogun both hit with ferocity, and each fighter boasts a nice resume of knockout finishes.
However, Bader's power usually comes in the form of one big overhand punch, while Shogun is able to beautifully piece together combinations with his eight-limbed Muay Thai attack.
I give a slight advantage to Bader in terms of his ability to completely wreck an opponent with one punch, but Shogun is the more technical and disciplined striker overall.
Furthermore, Bader has shown a lack of composure under duress, and he never looks truly comfortable when getting punched in the face (how ridiculous, I know).
Shogun, on the other hand, stands as one of those legendary fighters who enters zombie mode whenever a flush punch, kick or elbow lands to his skull, and he is virtually impossible to completely put away with strikes.
Put another, more comical way, Shogun weeble-wobbles, but he doesn't fall down.
Because of his superior technicality and ability to absorb more punishment, a slight edge goes to Shogun here.
Advantage: Shogun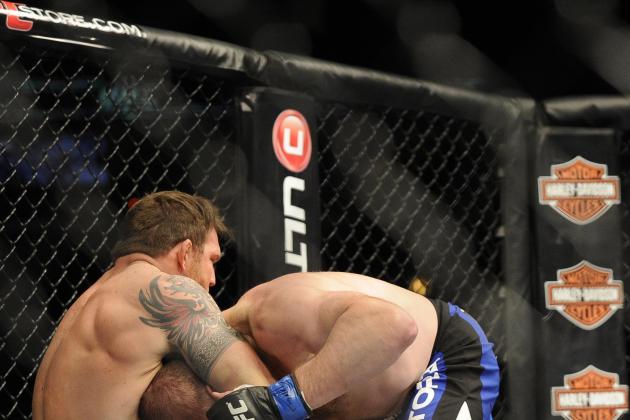 David Banks-USA TODAY Sports

Shogun is a black belt in Brazilian jiu-jitsu, but if his UFC fights have taught us anything, it is that he refuses to use it.
Apparently, Shogun comes from the Jorge Gurgel school of jiu-jitsu, and while that is fun for the fans, such a style is a waste of a beautiful talent.
Shogun has a nice Muay Thai clinch and some crafty trips, but his ground game has been less than spectacular thus far in his UFC career.
Bader, on the other hand, has world-class wrestling credentials, and his submission game is one based on strength rather than technique.
We have seen Bader succumb to a guillotine choke twice in his UFC career, while he notched his first submission victory at UFC on Fox 6 against Matyushenko.
On the other hand, Shogun has not submitted any opponent inside the Octagon to this point, and he fell victim to a rear-naked choke courtesy of Forrest Griffin in his promotional debut.
These skill sets considered, it is hard to give either fighter the edge in this category, but a tough, grinding wrestler deserves the nod when it is this close.
Advantage: Bader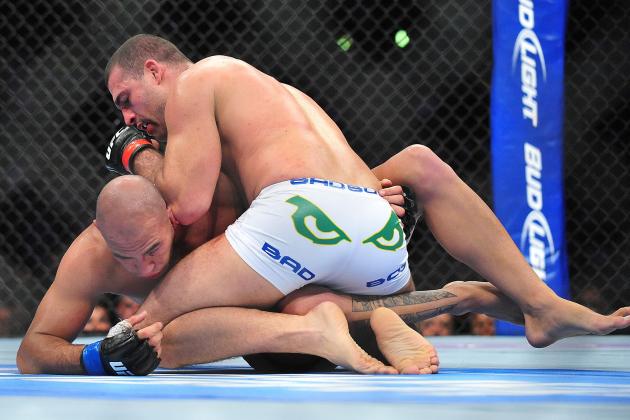 Gary A. Vasquez-USA TODAY Sports

Metrics can only take you so far in predicting a fight.
Looking at a fighter's previous resume of knockouts and submissions is useful, sure, but there are also immeasurable qualities at play in a competitive MMA bout.
X-Factor for Bader
Ryan Bader has a suspect chin. This much was made clear when he was rocked by Tito Ortiz at UFC 132, and it was further enforced when he was stone-cold KO'ed against Lyoto Machida at UFC on Fox: Shogun vs. Vera.
Bader's striking defense has never been sensational, and he will almost certainly eat a few shots from Shogun before securing a takedown or finding his groove on the feet.
Can his jaw withstand the punishment Shogun can dish out?
X-Factor for Shogun
Michael Moore could outlast Shogun on a treadmill.
Shogun is always tired in his fights, and while such fatigue is justified with the amount of punishment he often absorbs, his conditioning is the elephant in the room when discussing a potential pitfall.
Bader, on the other hand, is always exceptionally well-conditioned, and Shogun might have trouble keeping up with the former Arizona State wrestling standout's pace.
Are his lungs up to the task?
David Banks-USA TODAY Sports

If, or when, this fight happens, expect to see Bader's hand raised at its conclusion.
I fully expect Bader to employ a wrestling-heavy game plan in this matchup, and he will wear Shogun down, effectively sapping away Shogun's energy and ability to throw power shots.
Once Bader withstands the early storm from Shogun, he will cruise to a unanimous decision victory.
That said, Shogun is a very real threat to Bader on the feet, and one punch or kick can change everything.
I just do not see this happening, however, and I think Bader will secure the win over the legend with superior grappling and conditioning.
Prediction: Bader via unanimous decision