NBA Veterans Whose All-Star Days Are Over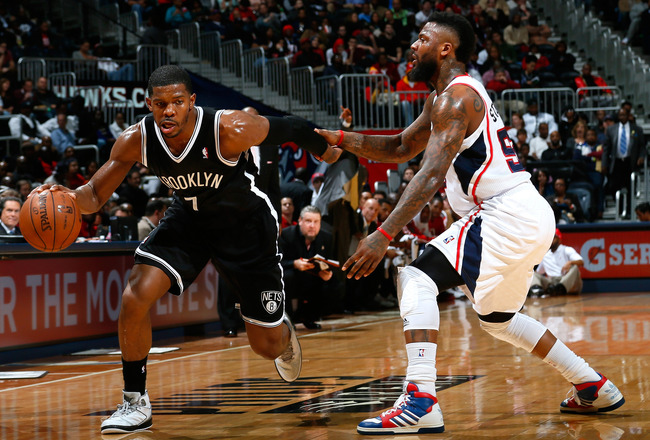 Kevin C. Cox/Getty Images
With the announcement of the reserves for the 2013 NBA All-Star Game, there are a handful of players who have been left out that come across as a bit surprising.
It's not that they were necessarily snubbed from the All-Star Game, but rather that they have been playing at such a high level for so long that it's surprising to not even hear their name mentioned.
There are players aging and regressing—that's for sure—but that might not be the main reason for the absence of some of the mainstays of the past.
In addition to plain old poor basketball, injuries have played a part. But the real reason for the change is that new players are maturing and becoming stars.
Because of the young players improving, changes are already happening in the NBA, and there are a few players who have seen their last All-Star Game.
The Obvious Knock-Offs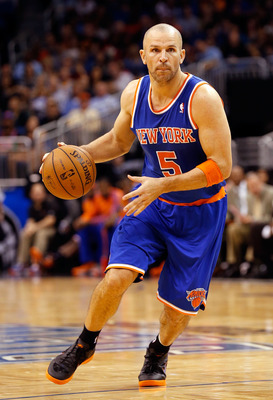 Sam Greenwood/Getty Images
There are a few guys who have made an All-Star Game in the past few seasons who are so obviously past their prime.
Some of the older fellows—like Jason Kidd, Chris Kaman and Chauncey Billups—are miles away from an All-Star Game, while guys like Mo Williams and Devin Harris were flash-in-the-pan players who were lucky to make their way to an All-Star Game once.
Most of these players are still capable of making meaningful contributions to good basketball teams, but their days as top-tier players are long gone.
It will be interesting to see which players pop up over the next few seasons as either aging veterans or one-year stars.
Guys Who Still Have a Chance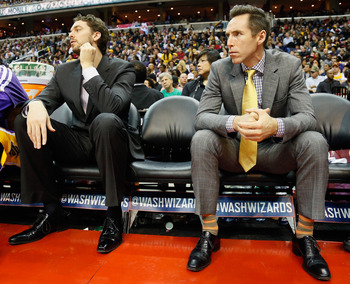 Rob Carr/Getty Images
While there are big-name players who are done making the All-Star Game, others still have a chance.
Pau Gasol, Steve Nash and Amar'e Stoudemire come to mind.
With Nash, you have to believe there are enough votes to be had by the basketball fans of Los Angeles should he end up having another solid first half next season, even if it means going up against Chris Paul.
Of course, he's also got a good enough reputation with the coaches around the league that something of a parting gift in the form of an All-Star selection next season wouldn't be too surprising.
As far as Stoudemire and Gasol go, there's no telling how the two of them will play over the next few seasons. With Stoudemire 30 and Gasol 32, they are both still too young to give up on for the time being.
6. Gerald Wallace
Bruce Bennett/Getty Images
Gerald Wallace made his first and only All-Star Game with the Charlotte Bobcats back in 2010, and it was a long-deserving selection. At that point, it looked as if he was going to be able to string a few more together.
He was traded to the Portland Trail Blazers halfway through the 2011 campaign, and then shipped again in 2012 to New Jersey. Throw in a few injuries and a slight drop off in production, and he has yet to sniff the chance at making the All-Star Game again.
It seemed like this would be the perfect season for him to re-establish his worth in the league and prove to people that he was still an All-Star-caliber talent.
Well, he's shooting 41.5 percent from the field, his rebounding is down, his glamor stats on defense are down, and he's averaging just 9.1 points per game.
Not only does it seem as if his All-Star days are over by a long way, but the Nets must be regretting the $40 million contract they signed him to over the summer.
5. Ray Allen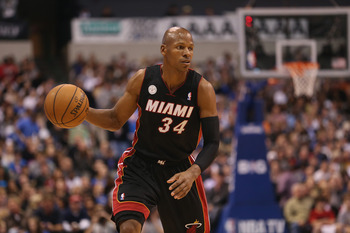 Ronald Martinez/Getty Images
Ray Allen still has plenty of basketball left in him. However, it's hard to imagine him ever coming anywhere near an All-Star selection, unless he suddenly starts making even more three-pointers.
First of all, with him coming off the bench, it's going to be next to impossible to make the All-Star team again.
Even the great James Harden couldn't make the All-Star Game when he was with the Oklahoma City Thunder in a reserve role.
Defensively, he's as useless as he's ever been. Even though he is shooting at an excellent rate (47.6 percent from the floor, 44.3 percent from the three-point line), his playing situation and age will hold him back.
4. Manu Ginobili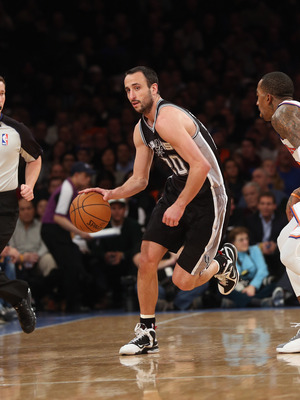 Bruce Bennett/Getty Images
It seems like just yesterday the San Antonio Spurs plucked Manu Ginobili out of the depths of the second round, polished him up and let him drop his Eurostep all over Texas.
But the days of Ginobili being anywhere near an elite player in the NBA are gone now that he's on the wrong side of 35.
He's still got some of the silkiest moves in the game, and as far as 35-year-old guys go, he's still incredible to watch.
Ginobili has had back pain on and off for the past few seasons, and he hasn't started for the Spurs once this season. Even when he was used primarily in a sixth-man role in the past, he still used to start at least some games.
3. Joe Johnson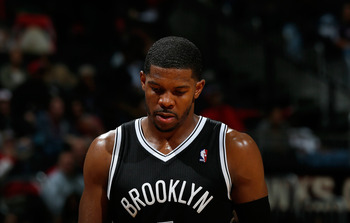 Kevin C. Cox/Getty Images
I'm not trying to pick on the Brooklyn Nets, even though it may seem like it.
Not only will Johnson be turning 32 over the summer, but he's playing at a level that's nearly on par with the worst year of his career, at least as far as efficiency goes.
It seemed like he was going to be able to come in and play somewhere near the role he played with the Phoenix Suns back in 2005. Because he wouldn't be the primary scoring option in Brooklyn like he was in Atlanta, it wouldn't have been surprising to see his percentages go up.
Johnson is shooting just 42.7 percent overall, he's barely rebounding anymore (3.0 per game), and he's no longer good enough on defense to help make up for an offensive lapse here and there.
2. Dirk Nowitzki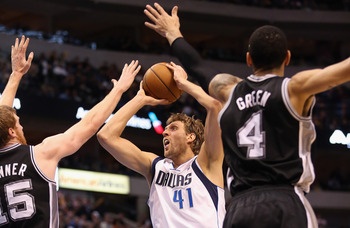 Ronald Martinez/Getty Images
Knee problems for Dirk Nowitzki must have Mark Cuban thinking about the dreaded word "rebuild."
Even though Nowitzki's sample size is small since he came back from knee surgery in October, he doesn't look like the same player circa 2011.
The problem with Dirk is not that he's going to suddenly disappear from the NBA's top tier, it's that he's fading just quickly enough for the younger frontcourt players in the Western Conference to overtake him.
With Dwight Howard, Kevin Durant, Kevin Love and Blake Griffin looking like they'll headline the starting frontcourt for the next few years, Dirk has to compete with LaMarcus Aldridge, Marc Gasol, Zach Randolph, Serge Ibaka, Kenneth Faried, Utah's frontcourt (all four), Tim Duncan, DeMarcus Cousins and David Lee during his waning years.
1. Paul Pierce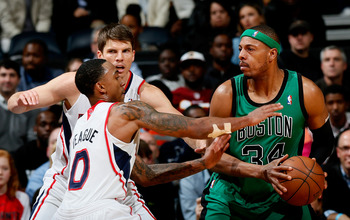 Kevin C. Cox/Getty Images
Paul Pierce is still one of Boston's most important players, and he's going to be key to helping the Celtics hobble into the playoffs. However, the key word there is "hobble," as the Celtics are nowhere near what they were compared to even last season.
They rely on Rajon Rondo to run an efficient offense, with Pierce as the main scoring cog and late-game shooter. Those important buckets are coming at a slower and more inefficient pace these days.
Peaking with a career-high field-goal percentage of just under 50 percent in 2010-11, Pierce is shooting 42 percent this season.
What makes Pierce's downfall seem so certain is the fact that he has visibly lost a step at 35 years old, is nowhere near the slasher he once was and his poor games are becoming all too familiar.
Keep Reading