Ohio State Basketball: 5 Keys to Beating Wisconsin in B1G Game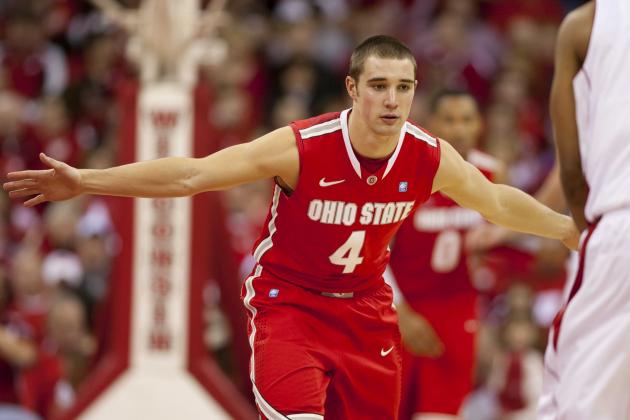 Jeff Hanisch-USA TODAY Sports

We learned one thing about Ohio State's basketball team on Saturday—it is capable of winning without Deshaun Thomas carrying the brunt of the scoring load.
While the Buckeyes were able to stave off a pesky Penn State team to the tune of 65-51 with Thomas struggling from the field, they are going to need him to be his old self Tuesday when the competition ratchets up and Wisconsin comes to town.
We know Thomas is going to have to score, but what else do the Buckeyes need to do to ensure victory over a Wisconsin squad that is coming off of an impressive win over Minnesota itself?
Read on to find out.
Begin Slideshow

»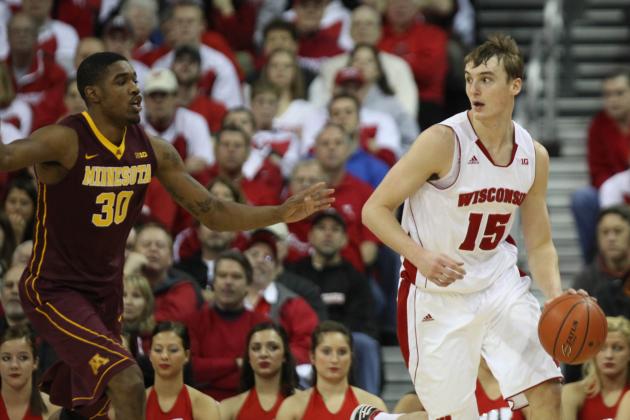 USA TODAY Sports

It may seem like the only thing commentators focus on when discussing Wisconsin is the slow pace of play it utilizes, but it really does dominate almost everything the Badgers try to do on offense.
Bo Ryan's squad is a middling 145th in the nation in points per game (at the time of this writing), but don't let that fool you. The Badgers rank 24th in the country in Ken Pomeroy's pace-adjusted offensive metric, which is a much better indicator of a team's overall scoring ability.
Simply put, Wisconsin doesn't score a bunch of points because it actively slows the game down and minimizes the number of possessions either team can score on.
This may pose a problem for the Buckeyes because they are much more efficient when they get out and run. With athletes like Aaron Craft, Shannon Scott, Sam Thompson and Deshaun Thomas, there is plenty of speed to go around, but the half-court offense often stalls.
That being said, speeding up the pace of play against Wisconsin is a task much easier said than done. Ohio State will need to do that since it struggles exactly where the Badgers excel—at half court.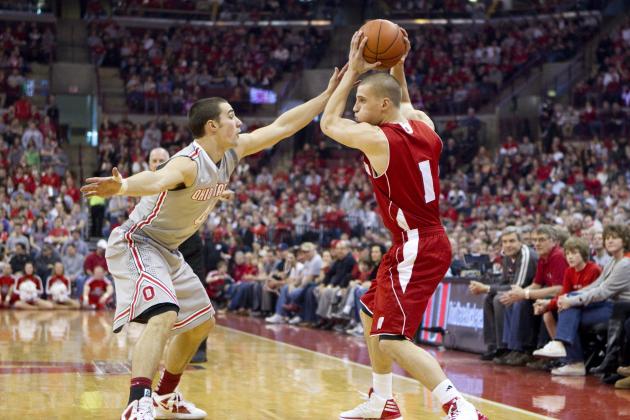 Greg Bartram-USA TODAY Sports

One way that Ohio State can speed up the pace of play is by creating turnovers.
While the Badger guards are busy pounding the ball into submission for the first 25 to 30 seconds on the shot clock, Thad Matta should utilize the number of pesky defenders that litter his roster. In particular, some combination of Aaron Craft, Shannon Scott, Sam Thompson and Lenzelle Smith Jr. should make life difficult on Wisconsin.
Once again though, this is much easier said than done.
Bo Ryan's team only coughs it up nine times a game, which is absurdly low in a conference that thrives on defense like the Big Ten. However, the Badgers haven't faced this Buckeyes' defense yet, which has already shut down an excellent Michigan squad.
Something will have to give, and if that something favors Ohio State, look for the crowd to come alive after a few transition buckets off of turnovers.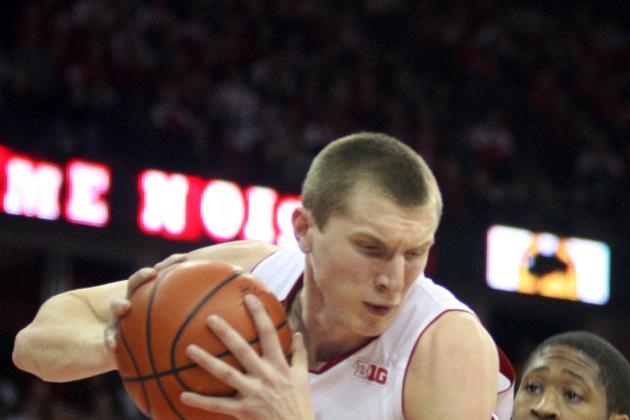 USA TODAY Sports

The argument can be made that Jared Berggren is the best basketball player on Wisconsin's roster. After all, he leads his team in points per game, is second in rebounds per game, leads the team in blocks per game and is first among regulars in field-goal percentage.
Buckeyes fans are familiar with someone named Deshaun Thomas who is similarly vital to his team's success.
The problem that Berggren presents is two-fold for Thad Matta. Yes, he is a very talented player lining up on the other side of the court, but he also happens to play the position that Ohio State is somewhat vulnerable.
Amir Williams and Evan Ravenel will have to come ready to play on Tuesday night. It takes a certain type of toughness to beat a Bo Ryan-coached team, and Ravenel certainly has that. Williams has to prove he has the drive to go along with his potential.
If the two Buckeyes big men are up for the challenge, you have to like Ohio State's chances.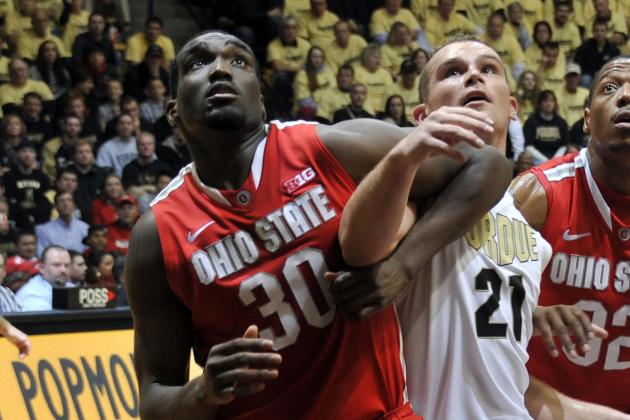 USA TODAY Sports

Ohio State had an abysmal rebounding effort in its last home game, and the only reason Iowa didn't make the Buckeyes pay was the fact that the Hawkeyes' shooting was even more abysmal than the Buckeyes' rebounding.
In fact, Iowa grabbed an astounding 19 offensive rebounds in its trip to Columbus.
If something like that happens again on Tuesday against Wisconsin, don't expect Ohio State to escape this time around. The Badgers already take enough air out of the basketball (and clock) as it is, and if they are able to take advantage of shot-clock restarts it will frustrate the crowd and perhaps Ohio State's players as well.
Both the Badgers and Buckeyes average about 37 rebounds a night, but Wisconsin does it on fewer possessions. Ohio State must make sure it boxes out Tuesday if it wants to defend home court.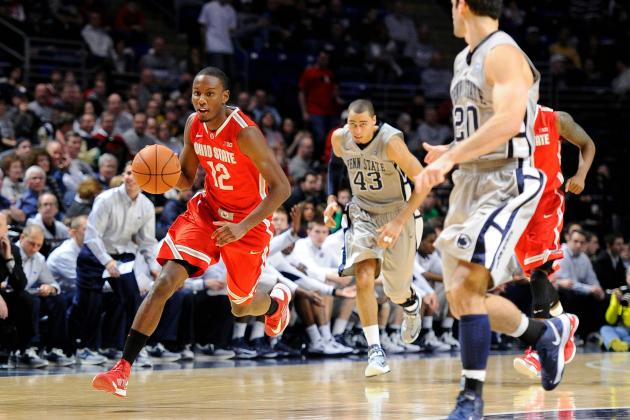 Rich Barnes-USA TODAY Sports

I don't mean to sound like a broken record when it comes to Wisconsin's pace, but Sam Thompson is the type of athlete that can give the Badgers fits.
Thompson can get up in the Badgers' grill on defense, challenge on the boards and get out in transition to electrify the crowd with his athleticism and aerial display. What's more, we even saw a hint of what appeared to be a jump shot against Penn State on Saturday.
It has been discussed ad nausea how badly Ohio State needs a second scorer besides Deshaun Thomas, and perhaps Thompson turned that corner a bit in State College. He scored 16 points on six-of-seven shooting, which included two three-pointers.
He also demonstrated his overall game by grabbing six rebounds, dishing out two assists and racking up two steals and two blocks on defense.
Lenzelle Smith Jr. was supposed to be the third man in the leadership triangle with Thomas and Aaron Craft, but if Thompson continues to play like he did on Saturday, he may take that title. And Ohio State would be all the better for it.