Jared Sullinger has greatly exceeded expectations of many this season by not only playing his way into the rotation, but also becoming one of the most important components of the Boston Celtics and getting the nod to start over Brandon Bass against the Miami Heat this Sunday.
Sullinger has developed so quickly that he often looks more like a veteran force on the court than the 20-year-old rookie that was drafted last June.
The Boston Celtics are having a very average season to date, but Sullinger is one of the few bright spots this year showing a lot of production and promise through the first half of the season. He is averaging a solid 6.1 points on 49.1 percent shooting, 6.0 rebounds, .8 assists and .5 blocks over 20.1 minutes per game.
According to Basketball-Reference.com, he is the second best rebounder on the team, behind only Kevin Garnett, and is becoming a very productive offensive player.
Brandon Bass was the starting power forward for the Celtics until Doc's decision to move him to the bench this weekend—he is having a rather underwhelming season since re-signing with the the team in the offseason.
Bass is averaging 7.4 points on 44.6 percent shooting, 4.9 rebounds, .8 assists and .7 blocks over 25.8 minutes per game this season, and is not providing the Celtics the presence in the paint that they have been greatly needing.
Although Bass and Sullinger are posting very similar stat lines, Sullinger is in fact playing significantly better than Bass so far this year. A closer look at Sullinger's stats over the last 10 games, provided by ESPN.com, show that he has been playing considerably better as of late, with 8.1 points on 53.8 percent shooting, 7.9 rebounds, .7 assists and .6 blocks while playing for 24.8 minutes per game.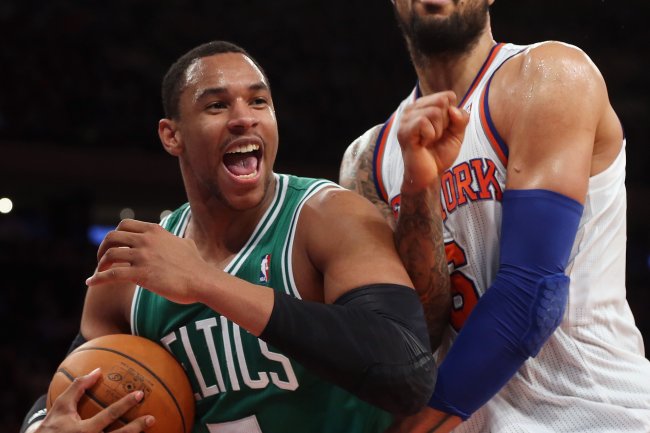 Bruce Bennett/Getty Images
In addition, Basketball-Reference.com reports that Sullinger is posting the best offensive rating of all Celtics rotation players with 113 points produced per 100 possessions.
His production defensively is just as impressive as he currently allows only 102 points per 100 possessions, which ranks him better than not only Brandon Bass, but also ranks better than every player not named Kevin Garnett.
All the statistics point to the idea that Jared Sullinger is currently producing at a higher level than Brandon Bass, but watching him play is even more telling of his ability on the court. Besides the rookie foul calls that he often receives, Sullinger looks in complete control on the court. He consistently outworks his opponents and finds the best positioning to take advantage of his strong rebounding skills while keeping a great handle on the positioning of all of his teammates.
He provides a very tough and physical style of play, and is not afraid to do all of the little things necessary to give the Celtics the advantage they need in the paint. In addition, he appears to play at his best while alongside Kevin Garnett, which provides the Celtics with a very strong frontcourt duo when the two are paired together.
Statistics from NBA.com support this idea as Kevin Garnett posts a minus-2.5 point differential over his opponents while Jared Sullinger is on the bench, but the two record a strong plus-6.9 point differential when paired together. These numbers suggest that Sullinger and Garnett have much more compatible skills than any other frontcourt pairing the Celtics currently have.
Although Sullinger didn't have an overwhelming performance against the smaller-sized Miami Heat, he played with great intensity and was responsible for helping to keep the Celtics in the game during the first half. It will take him some time to adjust to the starting role, but Doc Rivers made the correct decision to move Brandon Bass to the reserve role and give Jared Sullinger his chance to start for this team.
The Celtics would be wise to keep Sullinger in the lineup for the remainder of the year, especially with the challenges they will face without their All-Star point guard Rajon Rondo. It will be interesting to see what kind of player Sullinger will develop into, but for now it is likely that he will step up to the challenge of being the Celtics' starting power forward and permanently earn his spot at the top of the depth chart.