UFC on Fox 6 Results: 12 Memorable Moments from Saturday's MMA Card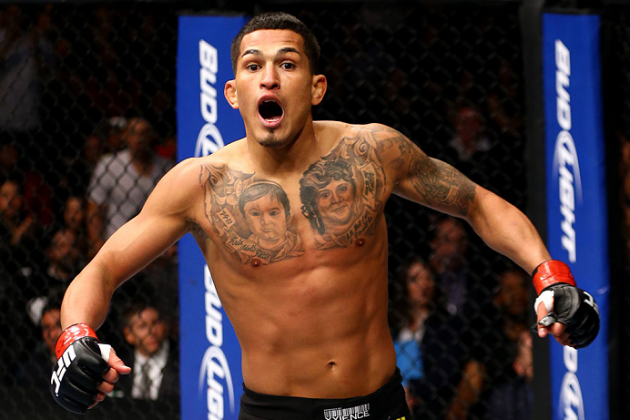 David Banks-USA TODAY Sports
Here comes a new challenger! (Photo Credit: UFC/Zuffa)
Chicago's United Center set the stage for plenty of great fights at UFC on Fox 6, with six jam-packed hours of solid action greeting TV viewers across the country on Saturday night.
Although the promotion's flyweight championship isn't viewed by many casual fans as the most prestigious title in the company, Demetrious Johnson and John Dodson nonetheless put on a show for the crowd in a solid scrap.
But the spotlight was arguably stolen by Anthony Pettis, who stamped his ticket to the UFC lightweight title in amazing fashion.
Several other fighters made their presence known as well, with blood, grit and sheer will bringing fans some incredible highlight reel material. Read on to see who was most impressive in victory as we recap a dozen of the night's most memorable moments.
Begin Slideshow

»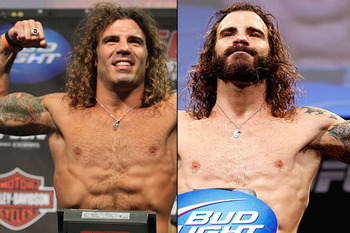 Photo Credit: UFC
Clay Guida has always sported more hair on his body than most mammals, but he pulled out a surprise for his featherweight debut during Friday's weigh-ins.
Brandishing a spiffy new mustache, Guida immediately evoked a resemblance to Inigo Montoya.
That's Inigo Montoya, the revenge-driven swordsman from the cult-hit 1987 film The Princess Bride (played by Mandy Patinkin), who famously coined the following phrase.
"Hello. My name is Inigo Montoya. You killed my father. Prepare to die."
MMA fans on Twitter definitely took notice of Guida's new look as well, with MMA media and other fighters alike praising the UFC veteran's chops.
It just goes to show that a simple thing can go a long way—some fighters wear awful feather boas and gaudy outfits, while others coast with nary but a gentlemanly mustache.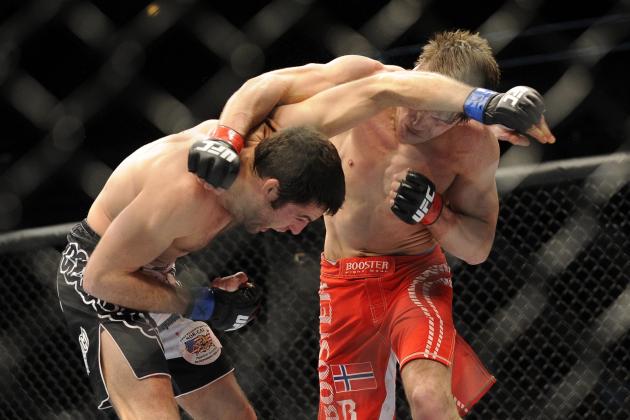 David Banks-USA TODAY Sports

There were more than a few broadcasting snafus going on during the fight card, but the trouble actually started before the UFC even went to TV on Saturday.
David Mitchell and Simeon Thoresen were the first to compete in a welterweight tilt, and strangely enough, fans never got to see the end of it.
That's because the fight went to a decision, where Facebook outright cut off the match in the middle of the third round.
Due to what must have been some heavy time constraints (or bad planning), MMA fans watching the battle online never got to see Mitchell win the unanimous decision and get his hand raised in victory.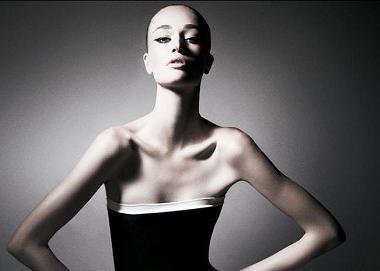 Pictured: Viviane Orth (Photo Credit: Models.com)
Hey, did you know that Brazilian fighter Rafael Natal has a totally hot girlfriend?
Because he does, you guys. He wanted you to know that.
After finally three rounds of fishing for a submission and finally grabbing an arm triangle choke, Natal seemed to sense that he wasn't getting an interview and screamed at ringside cameras about his "great body" and "beautiful" lady.
But we guess he has a right to brag. Natal's lady-friend is none other than Brazilian model Viviane Orth, who's previously graced the cover of Elle Brazil, Vogue Portugal and several other publications—not too shabby.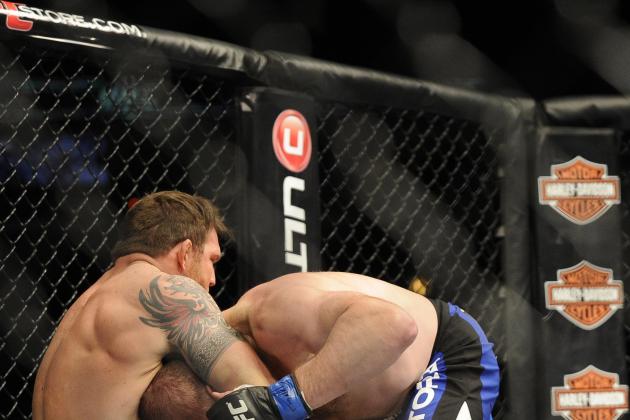 David Banks-USA TODAY Sports

All it took was a clean left hook to the jaw and few seconds of raw power for "Darth" Bader to submit veteran opponent Matyushenko.
That's how you rebound from a crippling loss against Lyoto Machida.
So where does the talented but inconsistent Ultimate Fighter winner go from here?
We're not sure, but after netting a "Submission of the Night" award, he finds your lack of faith disturbing.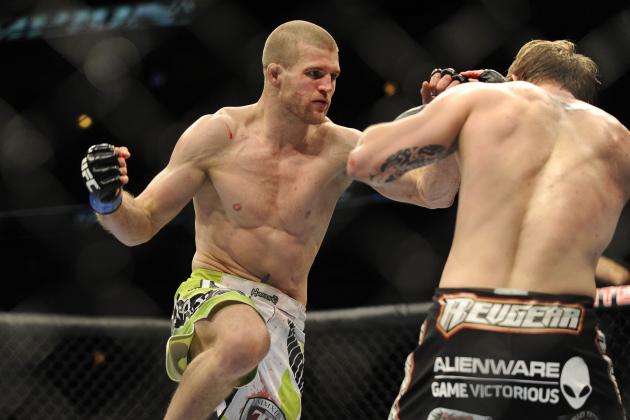 David Banks-USA TODAY Sports

German prospect Pascal Krauss perfectly illustrated the difference between a powerful puncher and a world-class technician striker on Saturday.
Beating the hapless Mike Stumpf to the punch in nearly every striking exchange in their three-round war, the taller, rangier Krauss peppered his foe with crisp punches, neatly rolling them off his shoulders with no wasted energy or effort.
Even his front kicks were a thing of beauty to watch, as he continually snapped Stumpf's head back with his foot as if they were simple jabs.
But most impressive of the night was a rare-if-never-seen variant of the "Superman punch," as Krauss repeatedly launched himself into the air and hit Stumpf with an uppercut on the way down— we'll call it the "Superman uppercut," we suppose.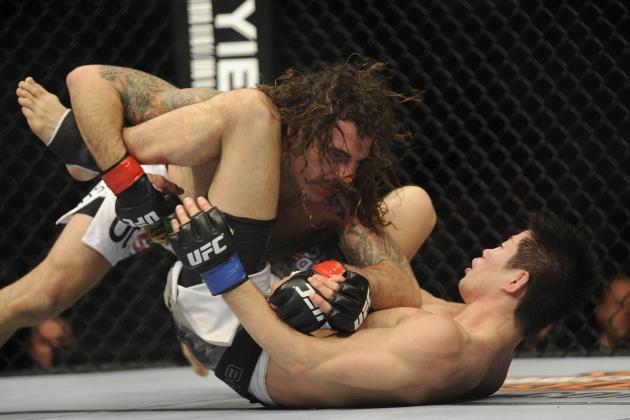 David Banks-USA TODAY Sports

Guida had the look of a new fighter, but he didn't show much evolution in his overall tactics against Hioki on Saturday.
In lackluster fashion, Guida ground out a split-decision win against the Japanese featherweight, landing takedowns and dragging Hioki across the mat as he fought to prevent a wide variety of submission attempts.
For his part, Hioki counter-punched effectively enough to win the nod on one judge's scorecard.
But as usual, one ringside official seemed to be either drunk or plain asleep at a wheel, handing in an inexcusable 30-27 mark for Guida.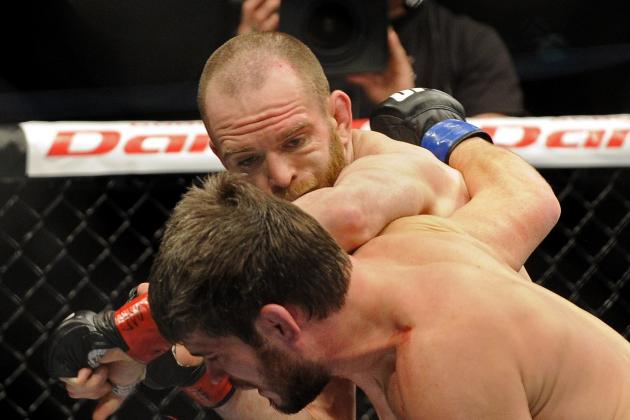 David Banks-USA TODAY Sports

ELBOWS. Elbows, elbows, elbows! Elbows everywhere!
That was the story of "TJ" Grant's bloody win over Matt Wiman, as the quickly rising Canadian bruiser clocked his opponent clean across the face with right elbows against the cage fence.
And then things got worse.
Wiman crumpled to the floor in a heap, with Grant diving on him in a fury of hammerfists—an impressive win that put Grant at a perfect 4-0 streak since dropping to lightweight.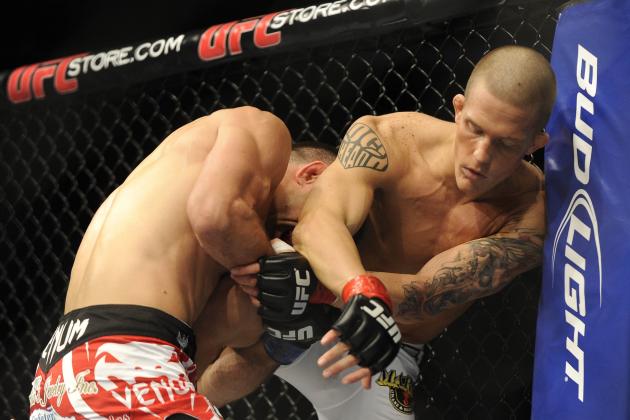 David Banks-USA TODAY Sports

For a panic-inducing first few minutes into UFC on Fox 6, barely any sound could be heard from televisions around the world as the broadcast suffered an audio malfunction.
And it was awkward.
It was so bad, the network had to cut to an emergency commercial while some poor technician scrambled to plug in wires.
Eventually things got back on track, but that probably got someone fired.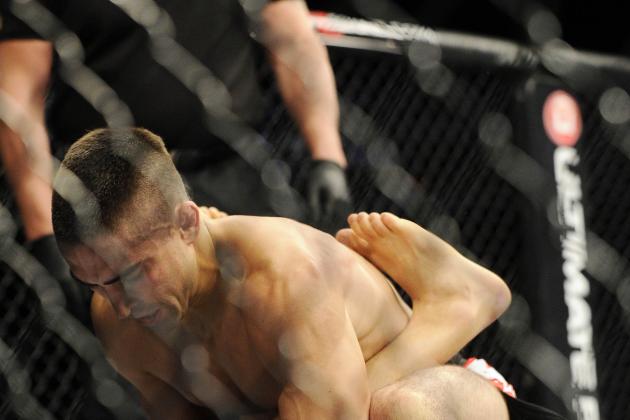 David Banks-USA TODAY Sports

Lamas gave his hometown of Chicago plenty to cheer about, as he capitalized on a costly footwork error by Erik Koch to win his fourth-straight fight.
After a round of tense grappling and striking, Koch slipped while trying to attack a vulnerable Lamas and wound up on his back as Lamas began to pour on vicious ground-and-pound.
Sensing an opportunity to end things, Lamas turned up the heat, slicing Koch open with punches and elbows to earn the TKO stoppage.
That's a career-making win, which might even solidify him as the No. 1 contender to face the winner of Jose Aldo vs. Frankie Edgar.
Man, how wrong were we (including this author) to doubt Anthony Pettis?
"Showtime" pulled out the flashy striking against Donald Cerrone early and often during the whole two minutes and 35 seconds of their match, dishing out a spinning tornado kick and an off-the-cage knee in very dramatic fashion.
But the finish couldn't have been more impressive.
After landing some HARD kicks to Cerrone's torso, Pettis eventually hit "Cowboy" with a crippling shin kick to the liver, dropping the Greg Jackson MMA fighter like a bad habit.
Even UFC president Dana White himself was raving about the finish, later confirming that Pettis earned his title shot once again.
"Showtime" was rightfully brimming with confidence after the bout, making sure to stick the message to his rival during a post-fight chat with Joe Rogan: "Donald called me out—he shouldn't have done that."
Glover Teixeira definitely isn't going to be fighting Jon Jones anytime soon, but he did prove that he's still good enough to beat aging legends like Rampage Jackson.
Jackson deserves credit for putting up a fight, though.
Where 17 other opponents couldn't handle the Brazilian's crazy farmer strength, Rampage almost gave as good as he got, boxing it out through three rounds.
Eventually, Jackson faded under a varied, consistent assault of takedowns, ground-and-pound and crisp stand-up striking as Teixeira cleanly took the unanimous decision and sent "Rampage" home on a devastating three-loss slide to leave the UFC.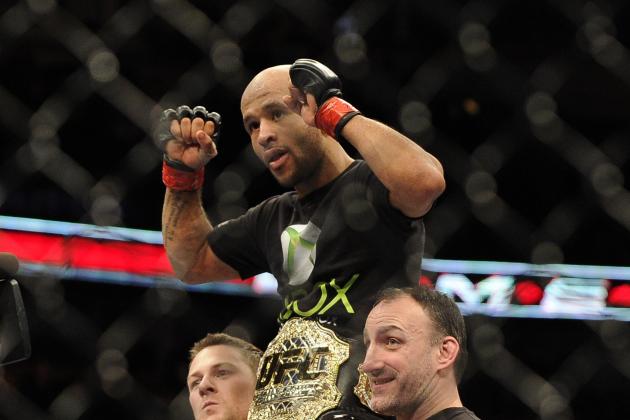 David Banks-USA TODAY Sports

It was a gritty battle that saw the champion in trouble early, but Johnson outlasted a fading Dodson to secure his first successful title defense.
That win might have came with a little controversy, as Johnson landed a groin kick and an illegal knee during the match, but the victory couldn't have been in doubt during the championship rounds.
Although Dodson scored two knockdowns early on, he couldn't outgrapple or outwrestle "Mighty Mouse," constantly fending off takedowns and tie-ups.
Still, it was a barnburner if there ever was one at flyweight, with both 125-pounders doing just enough to earn "Fight of the Night" honors from Dana White and the UFC brass.