North Carolina vs. NC State: Live Score, Updates and Analysis for ACC Basketball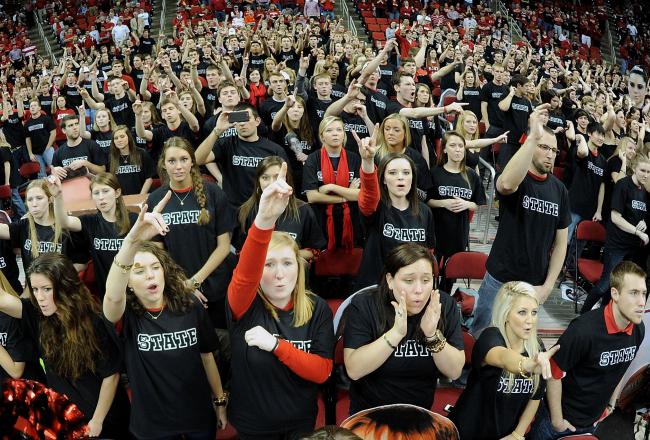 Grant Halverson/Getty Images
North Carolina State takes on North Carolina Saturday night in Raleigh (7 p.m. ET).
State is trying to end a 13-game losing streak against the Tar Heels.
Follow along below.
SCORE UPDATE

NC State: 22
UNC: 16
TV Timeout.
McAdoo draws a block foul...
Looked like a charge for split second. He knocks down two FTs and UNC is back within six. The 'Heels look primed to make a mini-run here.
<blockquote class="twitter-tweet">
C.J. Leslie needs to understand to go right AT McAdoo with two fouls.
— Jeff Goodman (@GoodmanCBS) January 27, 2013
McAdoo back on the court and quickly scores to cut NCSU's lead to 10.

— InsideCarolina (@InsideCarolina) January 27, 2013
And there's your answer...
McAdoo leaps off the bench with 11 minutes left in the first half and slams home an easy two on his first possession.
Now let's see how State attacks him on D.
Play-by-play man Dan Shulman brings up a good point...
How much longer can Roy Williams keep McAdoo glued to the bench?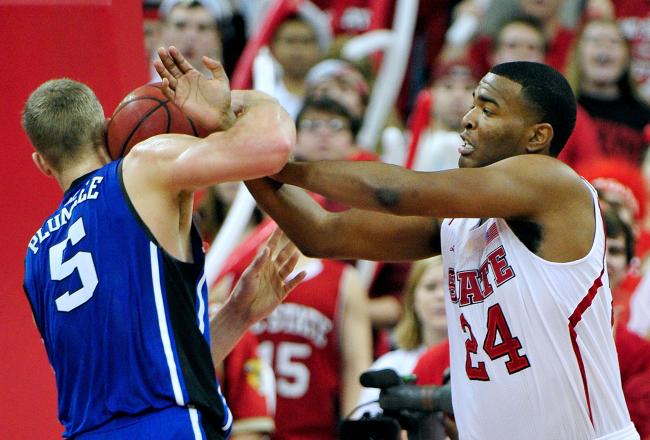 Wolfpack super-frosh T.J. Warren splashes a mid-range two...
NC State: 22
UNC: 10
Your game leaders at the second TV timeout
Points -- Lorenzo Brown, 8 (NC ST)
Rebounds -- Richard Howell, 6 (NC ST)
Assists -- Dexter Strickland, 2 (UNC)
NC State knows exactly what it wants to do in this game...
Play fast. Pound Carolina inside. Score. Score. Score.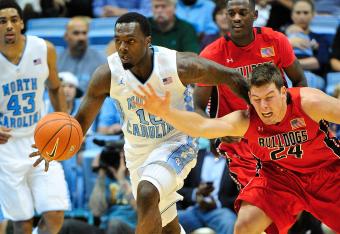 A big 3 from P.J. Hairston...
Carolina gets a much needed bucket.
State leads by seven, 17-10.
Senior Richard Howell has been a beast on the glass for NC State in the early going.
Think he knows he's never beaten Carolina?
<blockquote class="twitter-tweet">
UNC has better figure out a way to hang in through this opening flurry from NC State. It's 15-7, 14:05 first half.
— Aaron Beard (@aaronbeardap) January 27, 2013
NC State is playing like a team possessed.
But this isn't a team with much depth. You wonder if coach Mark Gottfried should get his team under control before they run themselves ragged.
NC State - 15
UNC - 7
First TV timeout...
The pace right now is beyond frenetic.
Neither team has a transition bucket so far, but it's not for lack of trying. You wonder if these guys can keep it up.
Lorenzo brown knocks down a 3...
And the crowd is in a frenzy
NC State - 6
UNC - 0
Neither team has a field goal so far.
Not what we expected from two good offensive teams.
Two quick fouls for James Michael McAdoo, and he's grabbing some early pine.
McAdoo is Carolina's leading scorer.
NC State leads 3-0.
And away we go...
Dan Shulman and Dick Vitale on the call.
Legends on parade...
<blockquote class="twitter-tweet">
This place is rocking here at N.C. State. David Thompson, Tom Burleson and Julius Randle in the house. Huge game here against UNC.
— Jeff Goodman (@GoodmanCBS) January 27, 2013
Seven Nation Army rocking PNC arena...
Lots of "THIS IS A MUST WIN FOR NC STATE" talk from the GameDay crew...
Look I know the WWL has to sell this thing, but let's be real: This would be a great win for the Wolfpack (and a cathartic one for its fan base), but this team can survive a loss. Or two. Or four.
It's hardly desperation time.
UNI WATCH!
Both teams in unfamiliar jerseys tonight. N.C. State in all red. #UNC in the hyper elite Nike unis.
— Andrew Carter (@_andrewcarter) January 26, 2013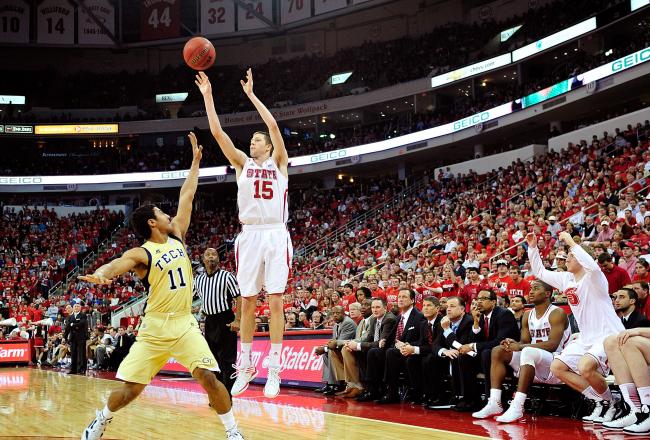 NC State sharpshooter Scott Wood has taken 146 field goal attempts this season...
114 of those attempts have been threes.
Dude can chuck it.
We're 10 minutes from the top of the hour...
And it's time to throw down a final score prediction.
NC State comes out hot behind C.J. Leslie. UNC claws back, gets within two late. State ices it on a Scott Wood three.
Final: NC State 77
UNC 72
This article is
What is the duplicate article?
Why is this article offensive?
Where is this article plagiarized from?
Why is this article poorly edited?