UFC on Fox 6 Results: Memorable Quotes and Images from Johnson vs. Dodson Card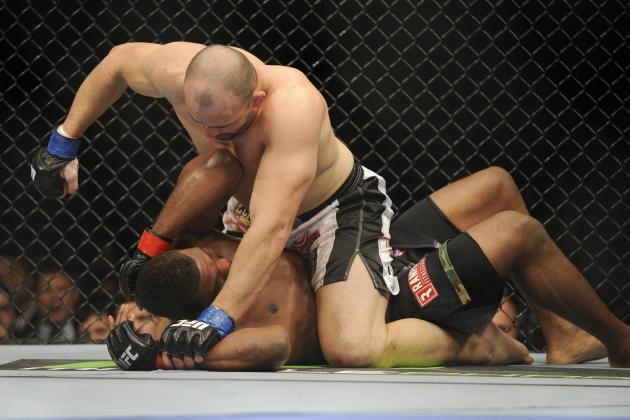 David Banks-USA TODAY Sports

The UFC delivered a solid card from the United Center in Chicago on Saturday night. We saw a champion defend his title for the first time, a former champion leave the UFC in defeat, a top contender deliver an amazing finish, and a rising contender put the title hopes of a former top contender on ice—and that was just the main card.
Now that the card is over, it's time to take a look at some of the memorable images from the fight card while hearing from the competitors that battled it out.
*All quotes provided by the UFC.
Begin Slideshow

»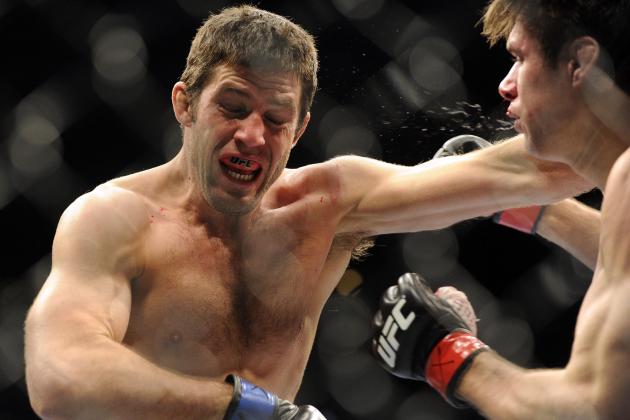 David Banks-USA TODAY Sports

David Mitchell entered UFC on Fox 6 with a record of 0-2, nut he left Chicago with a record of 1-2 after defeating Simeon Thoresen by scores of 30-27 from all three judges.
After the fight Mitchell said, "This is the greatest night of my life. I've been chasing this UFC win a long time. It means so much to me to win in the Octagon. When Bruce Buffer said my name, all this emotion hit me. I kissed the canvas...I don't know what that was all about (laughed). This just means so much to me."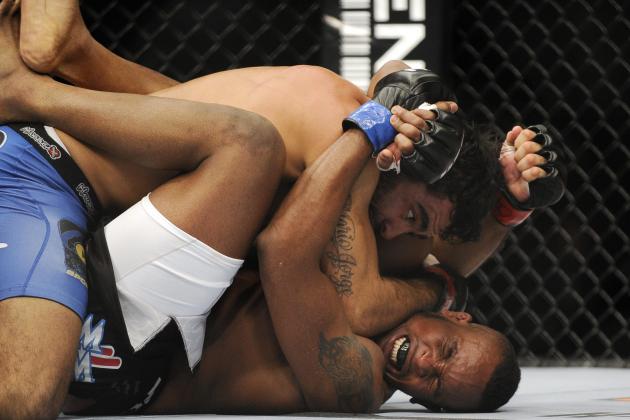 David Banks-USA TODAY Sports

If you thought you saw a pronounced size difference in the second fight of the night, that's because there was one as not only did Sean Spencer take the fight against Rafael Natal on short notice, but he moved up to middleweight from welterweight to do so.
He may have lost the fight via a third-round submission, but he'll probably live to fight another day in the UFC and hopefully in the correct division next time.
After the fight the victorious Natal offered the following, "It was a great fight, he made me work very hard. It's great to win again and get back on track. I almost had him earlier in the fight with the choke but I was smart, I didn't want to (exhaust) my arms by trying to get a choke so close to the end of the round. If I had 10 seconds more I would have really gone for the finish. Instead, I used it to tire him out and in the last round I knew I would get him."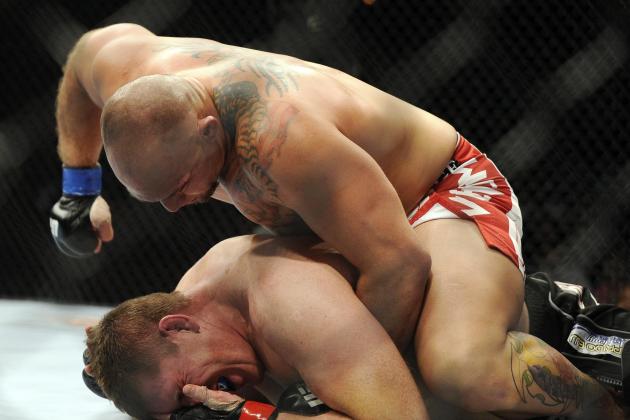 David Banks-USA TODAY Sports

Mike Russow put it to Shawn Jordan in the early going of their preliminary card bout. Russow spent the better part of the first round putting a beatdown on Jordan, but he was unable to finish his opponent, much to the chagrin of the hometown crowd.
The tables were turned in the early going of the second, as Jordan put Russow to the ground and worked him over using ground-and-pound. Russow briefly reversed, but once again found himself underneath Jordan, who proceeded to beat him about the head and neck for the TKO win.
After the win Jordan said, "How badly hurt was I in the first round? What? There was two rounds in that fight? Huh, interesting...Well, I was shook up pretty bad. That first round wasn't fun at all. He hurt me a couple of times but I saw after each big attack his arms would go down, which made me think he was getting tired, putting too much into it early. My corner told me the same. In the second, he was still there but I felt myself getting stronger and I finished it. He made me work hard."

"I'm ready to fight whoever the UFC wants to give me, whenever they call me. Two days' notice, six weeks' notice, it makes no difference to me."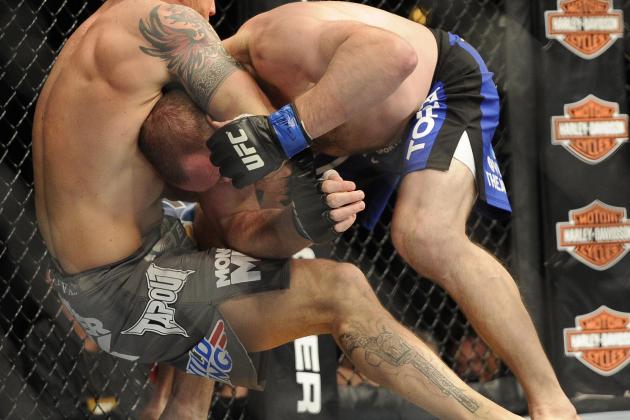 David Banks-USA TODAY Sports

In a "I hope you didn't step out of the room for a drink"-type fight, Ryan Bader earned a very quick submission victory over Vladimir Matyushenko. Bader dropped Matyushenko with a big left and then cranked on the guillotine and earned the tap at 0:50 mark of Round 1.
According to UFC president Dana White, "Bader just pulled off the fastest LHW sub in UFC history over Matyushenko."
Bader spoke about his win after the fight saying, "I caught him early and I wanted to finish him. This is my first sub since TUF but I work so hard on my BJJ in the gym, I'm happy to show it off in the Octagon. I use that arm-triangle from the bottom a lot in camp. It is super-tight when I get that position. I'm very strong, and when I have that position I usually get guys to tap. He almost got out but I pulled down hard.

"I've worked my way to being very close to getting a title shot before, then I got KO'd by Lyoto last time but everyone gets beat in the UFC. Not everyone bounces back. I was determined to bounce back. I'd like to fight someone ahead of me in the rankings. I was honored to fight Tito Ortiz and Rampage Jackson, guys I idolized coming up before I was in the UFC. I'd love to fight another legend in Shogun Rua. I think we'd have a great fight, and to share the Octagon with him would be an honor."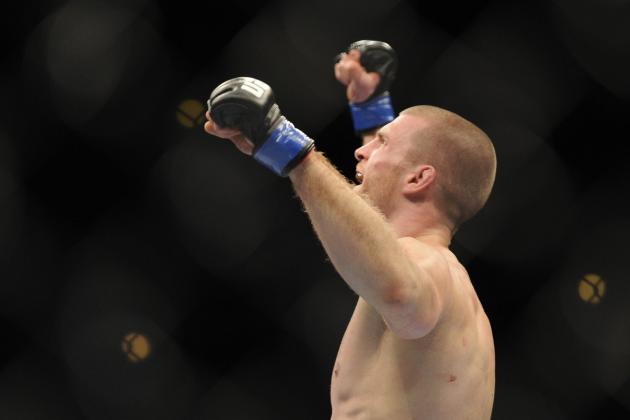 David Banks-USA TODAY Sports

Superman uppercuts!
Yes, Pascal Krauss delivered some of those on his way to a unanimous decision win over Mike Stumpf in Chicago.
It was a one-sided dominating performance that should have picked up some fans for the 11-1 Krauss, whose only loss came to John Hathaway.
Krauss had the following to say after the fight, "I felt very good in there. I've been in the UFC since 2010 but I haven't managed to stay healthy. I've had three fights in the UFC, but I want three more this year. I train with top (partners) in the US now, and I am really improving all the time. I don't have a next opponent in mind; all I really wish for it to keep healthy and keep active. I'm 25, I have time, but I want to do better.

"I threw a lot of punches and kicks but I felt fine. It is only now, 10 minutes after the fight, where your lungs burn. I felt great in there and I know I can get better if I keep active."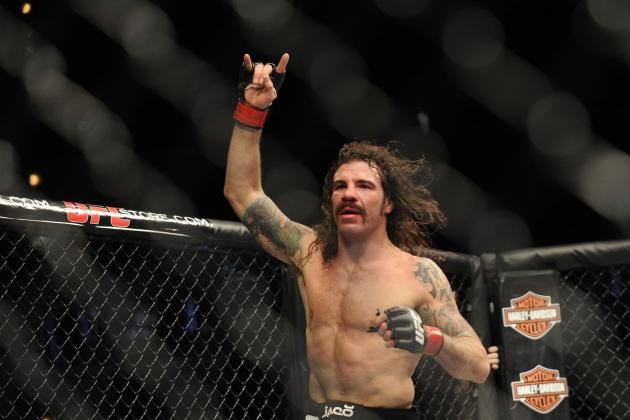 David Banks-USA TODAY Sports

The Chicago crowd loved the hell out of Clay Guida and so did two of the judges, who gave Guida a win in his featherweight debut—a win that many felt should have gone the other way.
Guida had the advantage in takedowns during this fight, but once on the ground he did nothing. Hioki worked from the bottom each time the fight went to the ground, but as we have seen many times in the past, judges show no love for the fighter that works from the bottom.
After the fight, Guida and his 'stache offered the following, "He was like a rubber band, he was so hard to keep in one space so I could get anything going. I saw a lot of tape on him and he usually tires in the second and third round, and that's why I went gang-busters in the first to tire him. But he was ready, man. He was still strong in the last minute of the fight. He got me with some nice body shots; for a tall guy he hit me pretty good to the ribs in just the right spot a couple of times. But I think the takedowns won it for me.

"Fighting at home was great. There wasn't any more pressure, I enjoyed that part of it, but the pressure came from not winning a fight in two years. I will always be a lightweight, but I got a clean slate at 145 pounds so I am going to see how far I can go on this round."
Hioki offered the following, "I think he probably won it. Under the rules, with takedowns being so important, he won under those terms. He won a contest, fairly, but I won a fight. I am not unhappy with the decision; it was split because it was so close."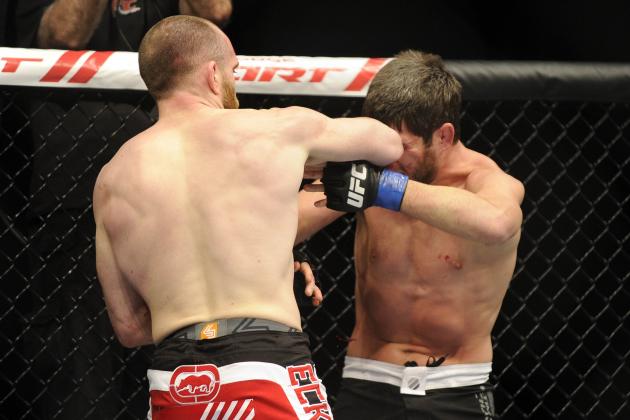 David Banks-USA TODAY Sports

TJ Grant used crisp striking to mark up the face of Matt Wiman during the early going of their preliminary card bout.
As time wound down in the first round Grant landed a huge elbow that dropped Wiman to the mat and finished things up with one final strike.
Many called this one the sleeper fight of the night and it didn't disappoint.
Grant spoke after the fight, "I put a lot of pressure on myself to win and to win big, and it's great to get the rewards for all that hard work. I feel at home here at lightweight, I'm not giving up 20 pounds on fight night like I did against guys like Johny Hendricks. I feel I have the speed AND the power to go against anyone at 155 pounds.
"I got my whole game working in this division. I just saw (UFC matchmaker) Joe Silva, and I told him I am ready for anyone in the division, anytime, anywhere. I am ready for anyone and everyone in the division. My last couple of wins put me right up there, and I am ready."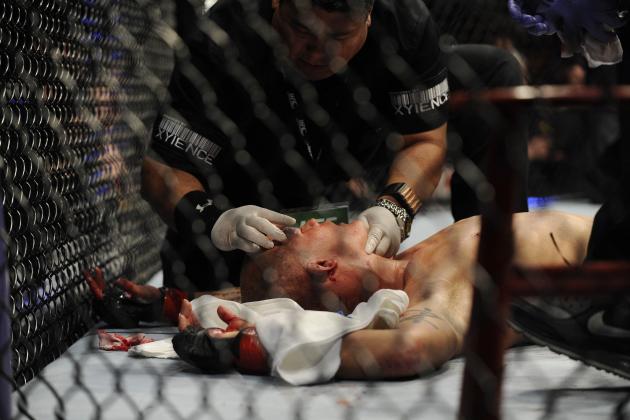 David Banks-USA TODAY Sports

Erik Koch saw a shot against UFC featherweight champion Jose Aldo slip away when injuries forced that fight to be scrapped. A healthy Koch entered the Octagon on Saturday night with the hopes of earning another shot at Aldo, but Ricardo Lamas had other plans.
Lamas took control of the fight on the ground and laid down some heavy strikes on Koch. Once his elbows found their target, it was only seconds before Koch was a bloody defenseless mess and the fight was quickly waved off, while the doctor was waved in to take care of Koch's cuts.
After the fight Lamas had this to say, "Usually I feel nervous fight week but fighting at home in Chicago, sleeping in my own bed, having my friends and family with me all week, I've never felt so relaxed going into a fight. The crowd were amazing, they were in my corner.
"I've beat Cub Swanson, I've beat Hioki and now I've beat Koch. All those guys were supposed to be fighting for the title at one point. I beat them all. We're all here to be world champ and I am no different. I want the winner of Aldo vs. Edgar next week. I don't care who wins, I want the winner. I think I've earned my shot, and I will perform like I did tonight."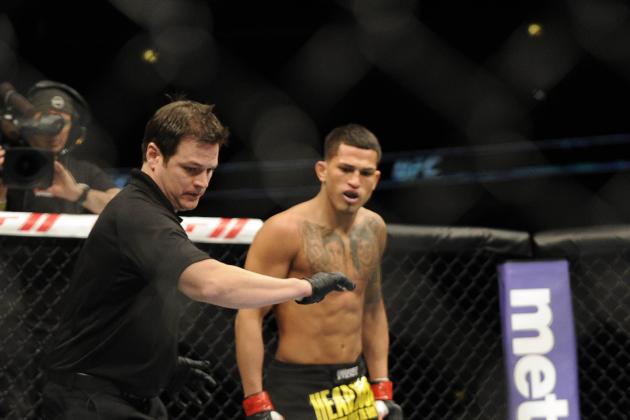 David Banks-USA TODAY Sports

It was short, but no one walked away from the Anthony Pettis versus Donald Cerrone fight disappointed—well, beside Donald Cerrone, who absorbed a brutal kick to the body that left him balled up on the canvas and defeated in the first round.
Somewhere in the United Center, Joe Silva penciled Anthony Pettis' name in for the next title shot.
After the fight the victor offered, "Knocking his ass out in the first round was great. He's called me a pussy, he's said I am scared of him, he's talked nothing but sh*t for a year while I've been out hurt with my shoulder. I had to sit there and listen to that for a year.
"And to wreck him in the first couple minutes like that was more important and better to me than winning on Fox, than getting closer to my title shot, than anything else. Shutting that guy up was the biggest thing for me. Now I never need to hear about that guy again. He's done, he's got beat in one round. Goodbye.

"I want my title shot. I should have had it years ago. People say I can't wrestle because of the Guida fight, but I had a serious shoulder injury. Now I am 100 percent.
"No one can do in the Octagon what I can do. That 'Showtime Knee'—I never even practiced that once. But I can improvise in fights. I saw it and hit it. I deserve the title fight next, not because I beat the champion (Ben Henderson) but because I am the best fighter by far in the division. No one else can do what I can do."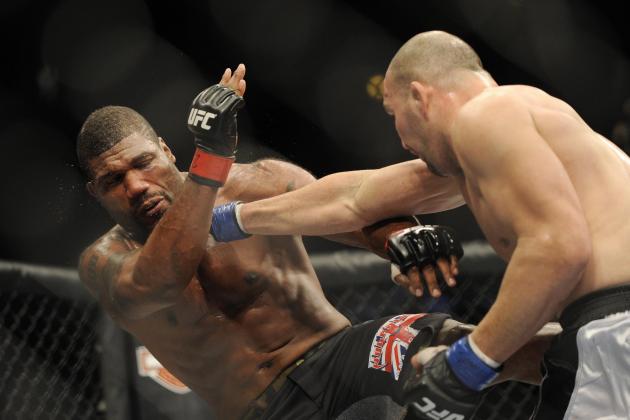 David Banks-USA TODAY Sports

Rampage Jackson tried to make a good show of it in what he claimed was his final UFC fight, but in the end he just didn't have enough to get past the rising contender Glover Teixeira, dropping a unanimous decision.
After the fight, the victor said, "That was a tough fight. He hits very hard, but I managed to never (allow him) to hit me flush. I took him down a couple of times, kicked and punched, mixed it up to keep him working. He still hit hard at the end, and I wanted to stop him.
Jon Jones just came by and said, 'Great fight, you and me will have a great fight,' but I'm not (boastful) and won't call him out. Rampage has been a top-10 guy for maybe nine years, and it was a big win for me. After all those years I couldn't fight the big names because of my visa issues, it is great to fight the biggest names in the sport. I want to be UFC champion, but there are other guys there who are at the same level as me. I want to fight them and prove I deserve a title shot."
Jackson offered the following, "I really wanted to win that fight. I kinda wish I fought smart and didn't get hit so much, but I always said I would rather lose a good fight than win a boring-ass one, and the fans are telling me that was an exciting fight. So I guess I'm sad but not so sad.
"I fought like Rampage tonight. I tried to knock him out with every punch. Wasn't so smart, but if it was fun for the fans, I will take that and be OK with that. He came to fight and I respect that dude. I can't believe he took me down so easy, he's very talented. He hits hard, too. I got nothing bad to say about that guy.

"To my fans, we know we won the UFC and Pride titles—first time ever that happened. I'm happy to end on an exciting fight for them. I came into the UFC exciting and I left exciting."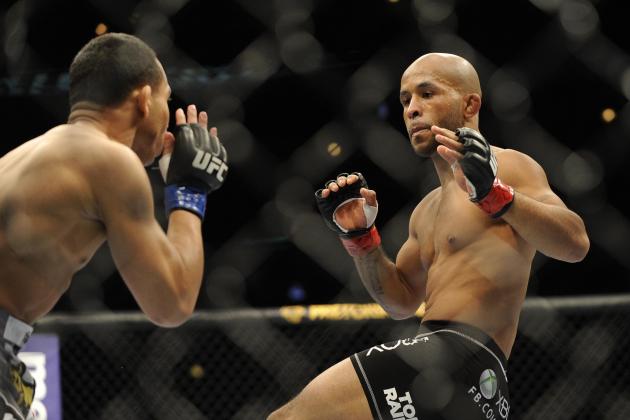 David Banks-USA TODAY Sports

The champion may have gotten rocked early at UFC on Fox 6, but he showed what makes him the champion by weathering the storm and coming out on the right side of the victory after five hard-fought rounds.
After the fight the champ, Demetrious Johnson said, "It was a great fight; I'm very happy the fans liked it. He hit me pretty good a couple of times, I was stunned but I am in great shape and my head cleared very quick. He's very tough, very strong. I hit him with a lot of knees late on but he's very tough. That was a great fight and great first defense."
John Dodson had the following to say in defeat, "I don't think I won. Some people have said that—but I don't think so. I think it was close, and there was one round in it so it was close. Just one round in it—but you got to win those one rounds. I will be back in the title picture soon. I got some things I need to go work on, I should have got out of that clinch better, but when I come back I will be better."