12 NHL GMs Sitting Pretty Early in 2013 Season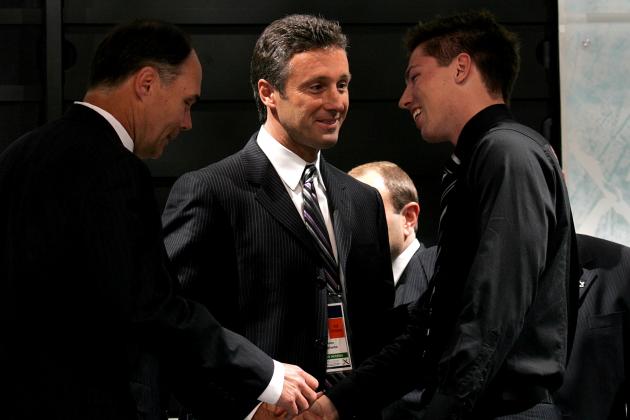 Bruce Bennett/Getty Images

Over the offseason, we learned a lot about each general manager: Who's got his eye on the future? Who's going for it all this year? Who's OK with the status quo?
What we have a better sense of now, after a couple of games, is who has translated their transactions in the offseason into wins on the ice.
It's early into the season. Most teams have played only four or five games, so it's too early to jump to conclusions, but the combination of an active (and extended) offseason and the recent action on the ice should give us an honest look at which general managers are looking pretty smart right now.
Begin Slideshow

»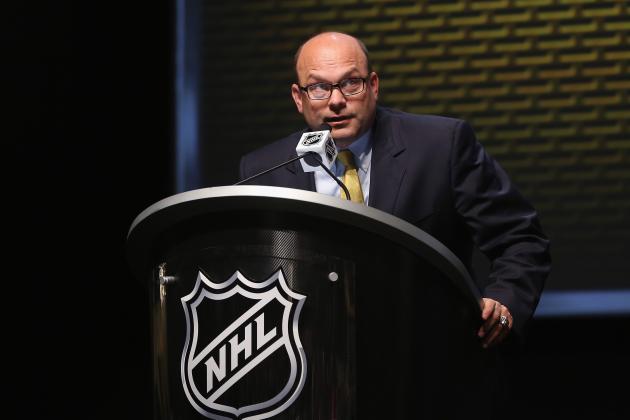 Bruce Bennett/Getty Images

When Peter Chiarelli joined the Bruins in 2006, hockey fans in Boston were upset with their team.
They had seen Ray Bourque, the longest-tenured captain in franchise history, request a trade so that he could win a championship before he retired. His wish was granted and after his final game, he raised the Stanley Cup over his head as a member of the Colorado Avalanche in 2001.
Four years later, another disgruntled star, Joe Thornton, requested he be shipped out of Boston. He joined the San Jose Sharks via trade in 2005 and went on to win the Art Ross Trophy as the league's leading scorer.
So, basically, hockey fans in Beantown saw every other team win a championship while their favorite players were traded away.
Oh, how things have changed.
Chiarelli's Bruins have won a Stanley Cup with a core that's capable of winning another one soon. He's got stars young (Dougie Hamilton, Tyler Seguin) and older ones (Zdeno Chara) and plenty of players in their prime (Milan Lucic, Brad Marchand, Patrice Bergeron, etc.).
Let's just say that none of those guys are going to be requesting a trade anytime soon.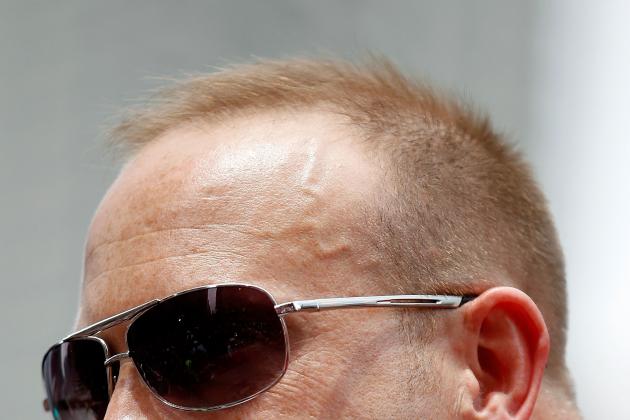 Jonathan Daniel/Getty Images

Let's credit current Florida Panthers GM Dale Tallon for helping the Blackhawks get out of the depths of the Bill Wirtz "Don't put us on TV" era that saw the once-popular Hawks take a backseat in the Chicago sports scene.
It was Tallon (and Rocky Wirtz) that set the foundation for the team in 2010, but the team wasn't built to last. The salary cap did a number on that team and Bowman got both the glory of the win and had to clean up the mess.
Bowman did a good job of keeping the key players—Patrick Kane, Jonathan Toews, Duncan Keith and the like—together while building a solid foundation around them.
Like Chiarelli, Bowman is another man that could see his team win multiple championships during his tenure.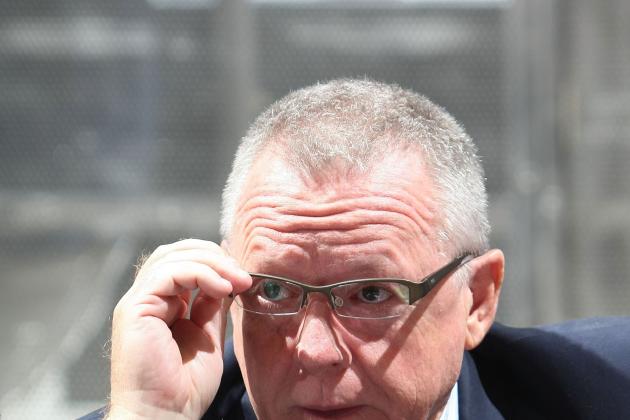 Bruce Bennett/Getty Images

Say what you want about the Hurricanes: They're in a southern city, they're in a small market and they're the reason why we don't have the Hartford Whalers (RIP). Yes, that is all true, but there's something special going down in the Research Triangle, and Rutherford is a major reason why.
Not only did this man build a champion in 2006, but he also has kept vital pieces from that team (Cam Ward, Eric Staal) in Raleigh while building a team around them.
After a couple difficult seasons following the team's 2009 appearance in the Eastern Conference finals, Rutherford easily could have blown up the team and started over again.
Instead, he drafted and developed young players (Jeff Skinner, Jamie McBain, Justin Faulk), didn't trade Tim Gleason and added Jordan Staal via trade.
Things haven't necessarily gone smoothly for the Canes right away, but as the season progresses and chemistry between players begins to form, this team could be a definite sleeper in the Eastern Conference.
Hockey is relevant in Carolina again and Rutherford is a big reason why.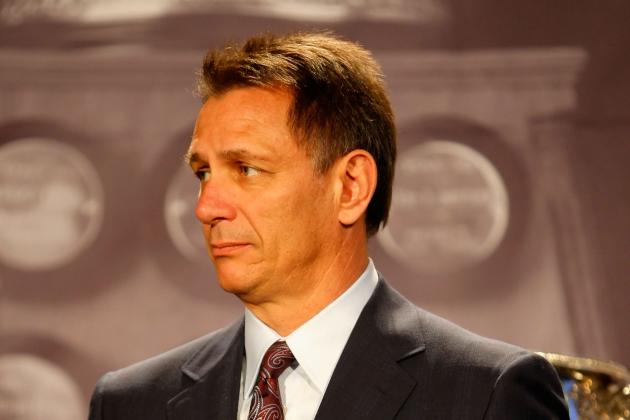 Dave Sandford/Getty Images

Call the Red Wings the Yankees or the Lakers of hockey if you would like, but this is a whole different situation.
The Wings do not play in a large city and therefore can't outspend their opponents to win championships. Sure, Detroit has had their fair share of free agents come to Motown over the years, but this core is built from the bottom up.
It's easy to write this team off now that Nick Lidstrom and Tomas Holmstrom have retired, but Holland has kept the wheels turning on his franchise.
Two players his franchise drafted and developed, Pavel Datsyuk and Henrik Zetterberg, are productive and remain on the team, and Holland has a slew of players in their prime ready to step up and make a name for themselves this season: Damien Brunner, Darren Helm, Jimmy Howard, etc.
Thing are trending down for the Wings, but that's only because they've been on cloud nine for so long. And with Holland, there's always a belief that this team isn't too far from winning it all anyways.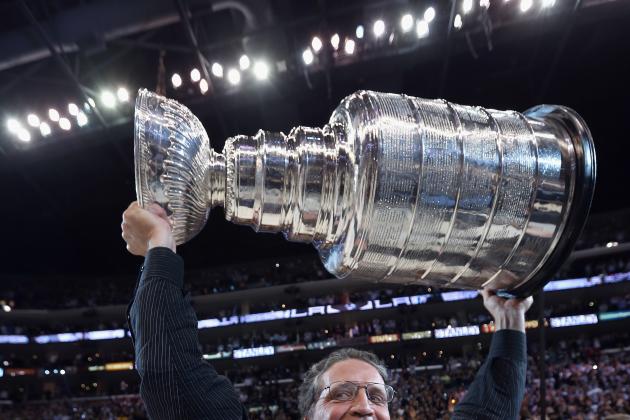 Bruce Bennett/Getty Images

For years, people had wondered: Why the hell can't the Kings win it all?
Of course, they're in a sunny location, but there are enough hockey fans down there to fill an arena. And furthermore, they play in L.A., which is all the more reason why they should be good.
I mean, how hard is it to get a top-notch hockey player to go down to Hollywood?
Still, year after year, this team would be mismanaged and despite its location in a large city with dazzling lights, they could never win it all.
Then Dean Lombardi came along. The former Sharks GM came in and stacked this team with incredible talent in the form of Drew Doughty, Anze Kopitar, Jonathan Quick, Mike Richards, Dustin Brown and Jeff Carter.
And here's the crazy thing: None of those guys are 30 yet.
It took 44 years for the Kings to win a Stanley Cup. Trust me, it won't take them another 44 to win No. 2.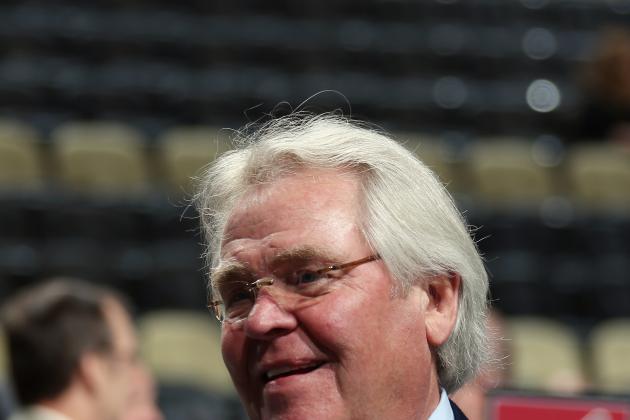 Bruce Bennett/Getty Images

Since joining the Blueshirts as president and general manager in 2000, Glen Sather has done a lot of things to upset hockey fans in New York:
Missing the playoffs his first four years as GM.
Cutting ties with Adam Graves and Brian Leetch.
Hiring Bryan Trottier.
The list goes on and on.
Recently, though, there isn't too much complaining among New Yorkers.
This guy has brought in three marquee players via free agency and trade: Marian Gaborik, Brad Richards and Rick Nash.
He has hired a Stanley Cup-winning coach in John Tortorella.
He has drafted and developed his own stars: Henrik Lundquist, Ryan Callahan, Derek Stepan, Marc Staal, etc.
The one thing he has left to do is, well, win a Stanley Cup.
People may react to a couple early losses, but barring injury, this team should be around for the long haul this season.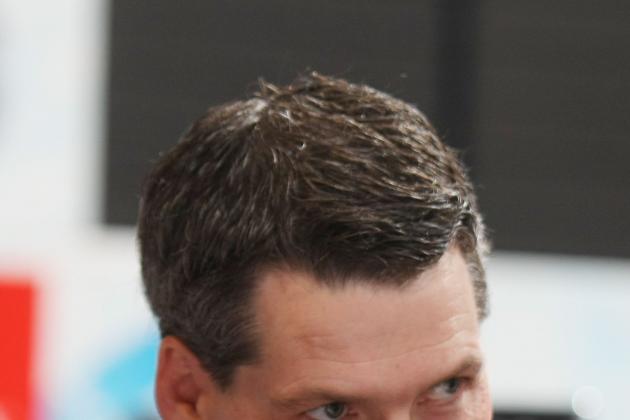 Bruce Bennett/Getty Images

Chuck Fletcher joined the Wild knowing the franchise was due for a makeover.
Gone were the honeymoon days where Minnesotans were happy to have hockey back; now the Wild were expected to win.
Fletcher kept fan-favorite Mikko Koivu in town, snagged two potential stars (Dany Heatley and Devin Setoguchi) in a series of trades with the San Jose Sharks and signed Zach Parise and Ryan Suter this past offseason.
Lost in all the transactions is the fact that Fletcher has drafted well, yielding Mikael Granlund and replenishing the farm system, and brought local flavor to the team (Parise, Matt Cullen, Tom Gilbert, Nate Prosser) all while giving Wild fans hope that their team can win it all one day.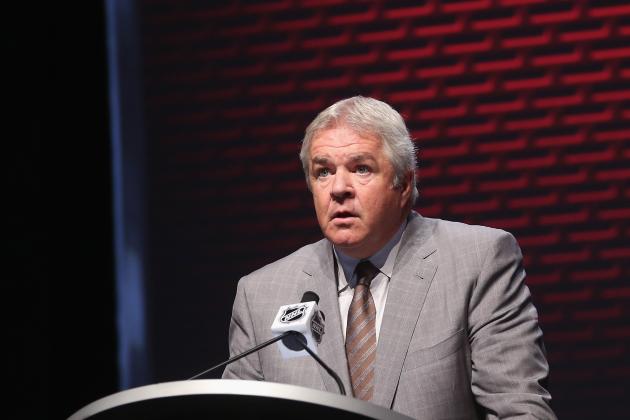 Bruce Bennett/Getty Images

Dale Tallon has done similar things in South Florida.
Tallon may not be working in a hockey hotbed (far from it), but he's rejuvenated a fanbase that hasn't had anything to cheer for since the team went to the Stanley Cup Final in 1996.
The Panthers won the Southeast Division and took a run at the New Jersey Devils last season in large part because Tallon kept the popular Stephen Weiss in town, snagged a couple overlooked or under-performing players like Brian Campbell, Ed Jovanovski, Sean Bergenheim and Tomas Fleischmann and pieced together a competitive team.
This year, he's supplementing his team with players young (Jonathan Huberdeau, Peter Mueller) and old (Alexei Kovalev) in hopes of proving that last season was not a fluke.
He has also built up the team's farm system, giving hockey fans in Florida reason to believe that this team will be competitive in the long run.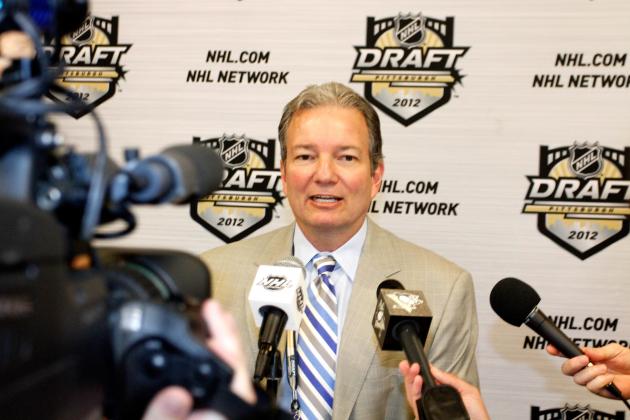 Justin K. Aller/Getty Images

People forget that before Ray Shero joined the Penguins in 2006, this team was on the verge of leaving Pittsburgh following the Mario Lemieux years.
It can't be overlooked that Shero had years of top draft picks that were selected by his predecessor, but under his watch Pittsburgh went to back-to-back finals and won it all in 2009, and it's not hard to think the Pens be back there sometime soon.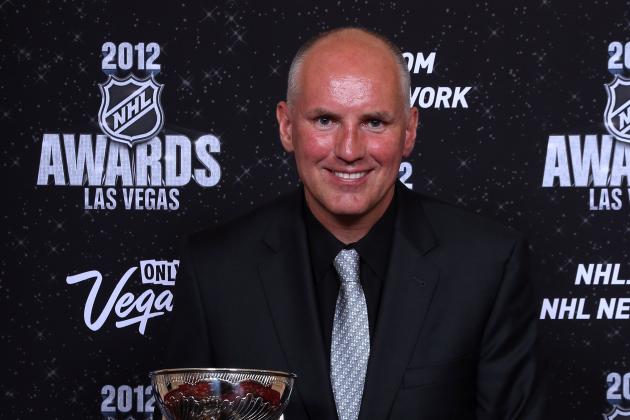 Bruce Bennett/Getty Images

A brief history of the St. Louis Blues:
—BEGINNING—
They join the league and go to the Stanley Cup Final three times. Immediately.
But they lose all three times.
From 1980-2004, the team goes to the playoffs ever year. Ever year.
But they never go the finals.
Then the NHL locks out for an entire season.
—END—
The people of St. Louis all but gave up on the Blues after the NHL locked out in 2005. Doug Armstrong arrived in 2010 with the task of convincing a tortured fanbase to believe in their team again.
He hired Ken Hitchcock and built a cohesive unit that can win through drafting and trades. The big key here is that there are no superstars in the Gateway to the West. This is truly a team where the symbol on the front of the sweater means more than the name on the back.
Don't get me wrong—David Backes, T.J. Oshie, Alex Pietrangelo and the like are great players, but nobody is going to compare them with Ilya Kovalchuk, Joe Thornton or Shea Weber (at least not right now).
A 6-0 win over the Detroit Red Wings is a great start this season, but this team has to win it all in order for the average person in St. Louis to completely buy into Blues hockey.
It is the Show-Me State, after all.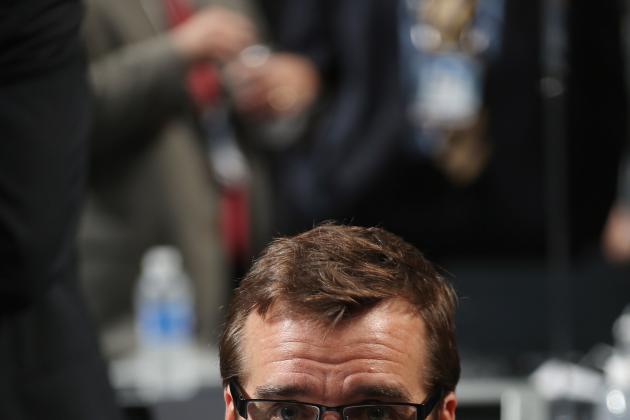 Bruce Bennett/Getty Images

Here are a couple of things that have happened since George McPhee took over as GM in 1997:
The team has gone to the Stanley Cup Final.
They have had three players—Adam Oats, Phil Housley and Dale Hunter—all record their 1,000th career point in one season.
He traded for Jaromir Jagr.
He has drafted Alex Ovechkin, Mike Green, John Carlson, Nicklas Backstrom and Marcus Johansson.
Those players are currently on the team and helped the Capitals win four straight Southeast Division titles.
Here's the one problem:
This team has never won the Stanley Cup.
A 0-3-1 start is troubling, but it's hard to pin that on McPhee. Remember, five years before he joined the franchise, the team was in jeopardy of moving.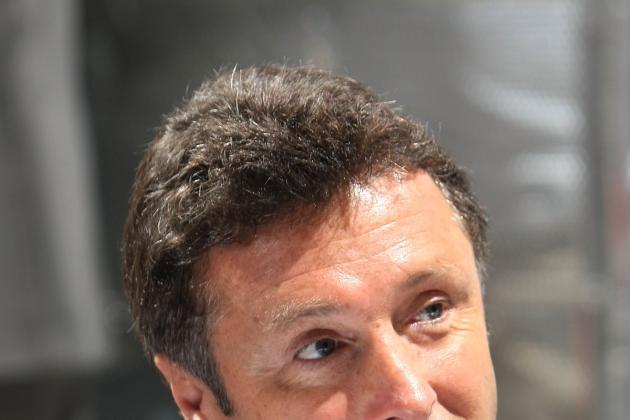 Bruce Bennett/Getty Images

Doug Wilson took over for Dean Lombardi—you know, the guy in L.A.—in 2003 and has turned the San Jose Sharks into the Western Conference's version of the Capitals.
He's done it through the draft: Joe Pavelski, Logan Couture and Jason Demers.
He's done it outside the draft: Joe Thornton, Brent Burns, Dan Boyle and Antti Niemi.
And he's done it by not panicking: He's kept Patrick Marleau around even though a decent amount of the fanbase has called for his head recently.
There is a fair criticism, however, that he may have dealt away too many young players. Gone are Milan Michalek, Devin Setoguchi and Jamie McGinn—three players that he may not have gotten fair return for.
Still, right now the Sharks have begun the season 3-0, Marleau is on fire and Wilson is sitting pretty.
Tom Schreier writes a weekly column for TheFanManifesto.com and contributes to Hockey's Future.