Chicago Bulls vs. Washington Wizards: Live Score, Results and Game Highlights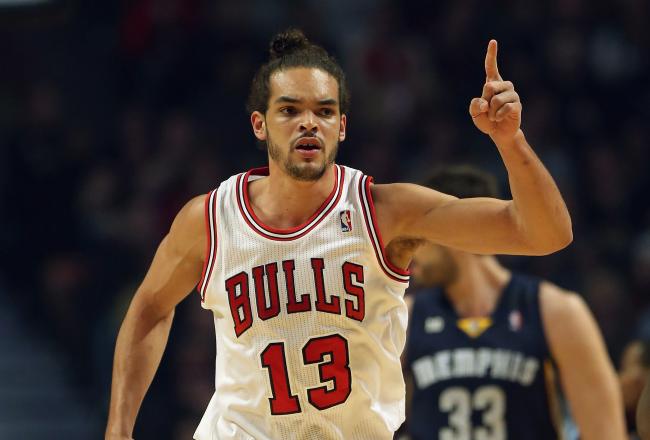 Jonathan Daniel/Getty Images
The Washington Wizards defeated the Chicago Bulls by a score of 86-73 on Saturday night, extending their home winning streak to five games and snapping a three-game winning streak by the Bulls. Nate Robinson led all scorers with 19 points while Nene led the Wizards with 16.
Let's break down why Washington was able to win this game so convincingly.
1. Domination inside
From the get-go, the Wizards controlled the inside. They scored 48 points in the paint to only 26 for Chicago as Nene and Emeka Okafor both had their way down low. Nene finished with those 16 points and six boards while Okafor was simply brilliant, scoring 15 points and grabbing 16 rebounds. Okafor was the player of the game for Washington tonight, putting together one of his best efforts of the season.
2. Quick offense
Against a tough Bulls defense, the Wizards knew from the start that they could not allow themselves to get caught in a halfcourt type of game. They didn't. John Wall pushed the tempo from the opening tip on, slicing through the Chicago D for numerous easy buckets and making some beautiful passes to his teammates for high-percentage shots in transition. Wall finished with 15 points and seven assists in 27 minutes of play. Washington has clearly been a different team since his return.
3. Limited mistakes
While the Bulls were busy turning the ball over 17 times, the Wizards were very careful, committing only nine turnovers, seven of them coming between Wall and Martell Webster. How about no giveaways between Nene and Okafor up front?
4. Swarming defense
Washington's D made life miserable for Chicago all night, holding the Bulls to 41 percent shooting and surrendering only one double-figure scorer (Robinson). Carlos Boozer was held in check the entire game and was visibly frustrated because of it, picking up a flagrant foul and then coming awfully close to picking up another one two minutes later. The Wizards held Boozer to 3-of-9 shooting. Kirk Hinrich was also largely invisible a night after scoring 25 points.
5. Bench production
Washington got 32 points from its bench, with four players (Trevor Booker, Trevor Ariza, A.J. Price, and Jordan Crawford) each scoring seven. The Wizards certainly have a lot of depth, and it showed tonight.

Once again, the Wizards topped the Bulls tonight by a score of 86-73.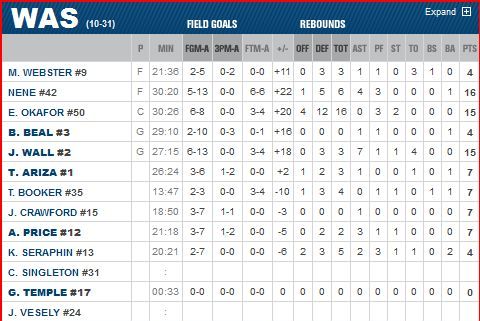 Wizards final box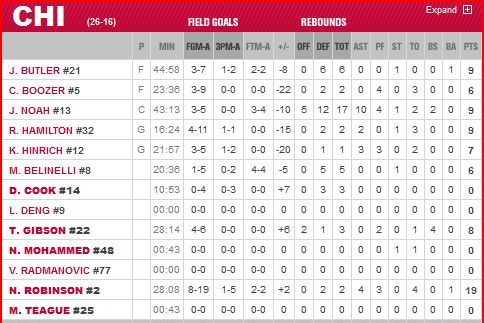 Bulls final box
And that'll do it. The Wizards beat the Bulls 86-73.
WIZARDS 86, BULLS 73 - FINAL
Thibs pulls Noah even though he was a point away from a triple-double. Wow.
WIZARDS 86, BULLS 73 - 40 SECONDS REMAINING IN 4TH QUARTER
Beautiful coast-to-coast drive from Wall and two FTs from Okafor puts WAS back up 14. This is over.
WIZARDS 85, BULLS 71 - 1:42 REMAINING IN 4TH QUARTER
After that 12-2 run by the Bulls, they suddenly look dead. Seems as if that little spurt took everything out of them. Look completely gassed.
Noah now has a double-double in rebounds and assists, by the way. Just needs 3 more points for a triple-double.
WIZARDS 81, BULLS 69 - 2:40 REMAINING IN 4TH QUARTER
Okafor drains a baseline jumper, and that may just be the dagger.
WIZARDS 81, BULLS 67 - 4:05 REMAINING IN 4TH QUARTER
Problem with the clock here. Officials talking.
WIZARDS 79, BULLS 67 - 4:53 REMAINING IN 4TH QUARTER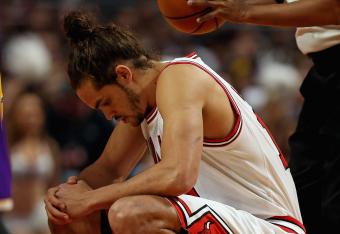 Joakim Noah is three points and an assist away from a triple-double.
Not sure I understand this move by Thibs, either. Just took a pretty awful shot.
Daequan in the comeback lineup...interesting

— Aggrey Sam (@CSNBullsInsider) January 27, 2013
Both teams misfiring now. Perhaps tired legs from the second night of a back-to-back for both clubs.
Wall is just blindingly quick. Flies down the court and draws a foul on Nate. Hits two FTs. Gut check time for the Wizards. Can they hold on?
WIZARDS 79, BULLS 67 - 6:34 REMAINING IN 4TH QUARTER
Bulls doing a great job of trapping the Wizards' guards. Robinson cans a 3 to cut the lead to 10.
WIZARDS 77, BULLS 67 - 7:00 REMAINING IN 4TH QUARTER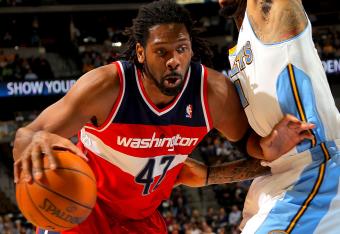 Nene ends a 7-0 Bulls run with a stepback jumper. Huge bucket there.
WIZARDS 77, BULLS 62 - 8:00 REMAINING IN 4TH QUARTER
Wall is back on the floor. Bulls with some swarming ball pressure; force Wall to take a timeout.
Wittman needs to get Wall back on the floor. Been sitting the first three-and-a-half minutes of the fourth. He has only played 19 minutes, so he should be good to go.
And some great ball movement from the Bulls results in an easy two points for Gibson. Suddenly, it's a 13-point game. Maybe they do have a run in them. Still plenty of time left.
WIZARDS 75, BULLS 62 - 8:33 REMAINING IN 4TH QUARTER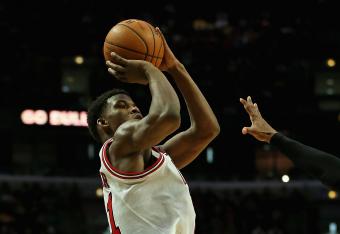 Butler hits a 3, and that's the first FG for the Bulls since the 7:50 mark of the third.
WIZARDS 75, BULLS 60 - 9:24 REMAINING IN 4TH QUARTER
At 11 points, that's the Bulls' lowest-scoring quarter this season.

— K.C Johnson (@KCJHoop) January 27, 2013
Bulls with another turnover to start the fourth, and the Wiz turn it into points.
WIZARDS 75, BULLS 55 - 11:03 REMAINING IN 4TH QUARTER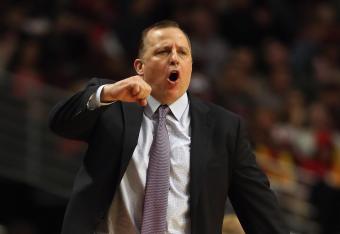 Bulls need to take better care of the basketball to have any chance of coming back. 13 turnovers through the first three quarters. The Wizards, on the other hand, have only six.
Potentially more bad news on the injury front for the Bulls.
Noah is hobbling. It looks like he might have turned an ankle. Something to keep an eye on.

— Nick Friedell (@NickFriedell) January 27, 2013
Okafor with a tip-in and now has a double-double. 11 points and 12 rebounds through three. It looked like the Bulls were about to make a push, but the Wizards quickly squelched that. Chicago is going to have to have one heck of a fourth quarter to rally in this one.
WIZARDS 73, BULLS 55 - END OF 3RD QUARTER
Robinson had a chance to make it an 11-point game but missed a wide open three. Price hits a floater on the other end.
WIZARDS 71, BULLS 55 - 1:16 REMAINING IN 3RD QUARTER
This article is
What is the duplicate article?
Why is this article offensive?
Where is this article plagiarized from?
Why is this article poorly edited?

Chicago Bulls: Like this team?