UFC on Fox 6 Results: Power Ranking the Preliminary-Card Fights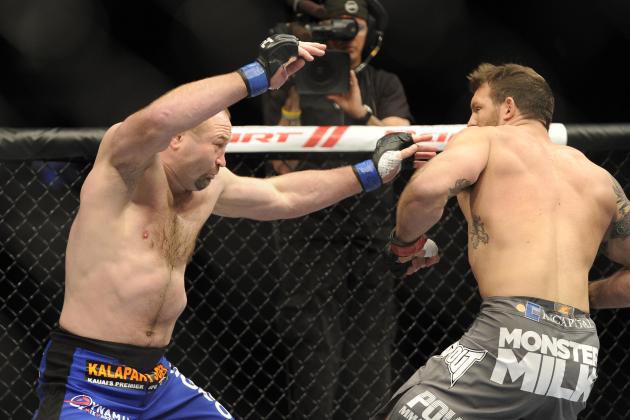 David Banks-USA TODAY Sports

Before Saturday night's action moved to Fox, Facebook and FX brought viewers seven entertainment-laden contests that delivered on all fronts. From fast-paced standup to slick submissions to closely matched contests, UFC on Fox 6's preliminaries were solid from start to finish.
The prelims may not have produced any Fight of the Year candidates, but no battle even slightly resembled a snoozefest.
Here we'll take a look back at the action-packed undercard and rank the bouts in order of how well they brought the excitement.
As unusual as it sounds, the difference between the top- and bottom-ranked fights is actually quite minimal.
Begin Slideshow

»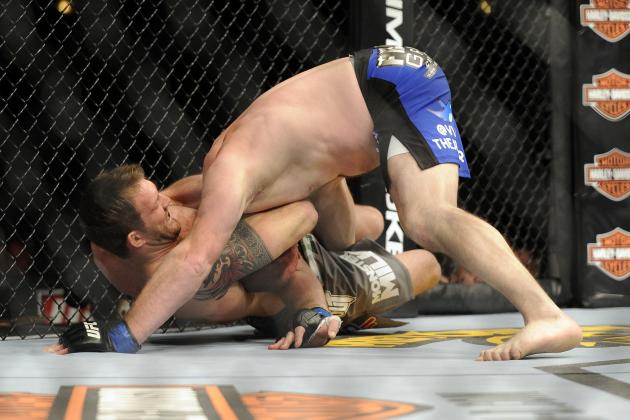 David Banks-USA TODAY Sports

Ryan Bader defeats Vladimir Matyushenko via submission, Round 1
There wasn't a whole lot to this fight. Bader dropped Matyushenko with the first punch he threw—a quick left hook—then locked up a head-and-arm choke, which he used to finish "The Janitor" from his half-guard.
The brevity of the match meant that it wasn't too thrilling, but the submission that stopped the action was both unique and impressive.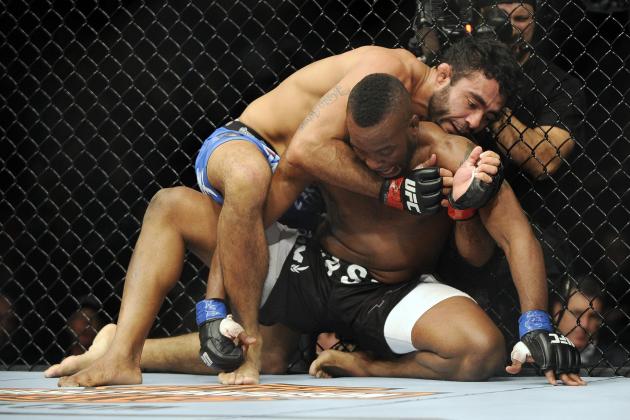 David Banks-USA TODAY Sports

Rafael Natal defeats Sean Spencer via submission, Round 3
UFC newcomer Sean Spencer flashed some dynamic striking in the early going of this middleweight affair, but Rafael Natal's takedowns and ground control nullified Spencer's efforts before they could do much damage.
Natal, the much larger fighter, nearly scored a stoppage via rear-naked choke at the end of Round 2, but he was unable to beat the bell.
No matter, though—it took Natal all of two minutes into the third round to end the match, locking in an arm-triangle from the mount.
A nice finish to a thoroughly one-sided fight.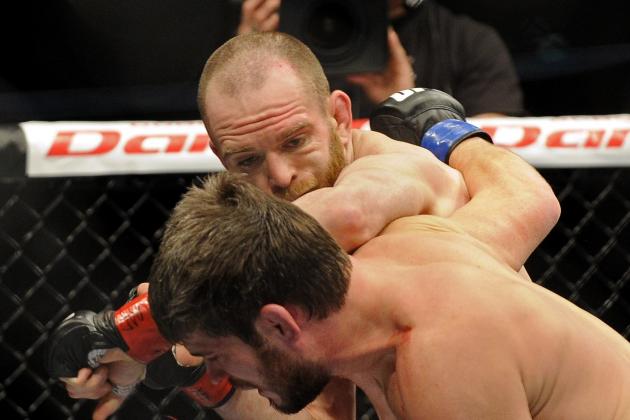 David Banks-USA TODAY Sports

T.J. Grant defeats Matt Wiman via knockout, Round 1
Aside from Bader vs. Matyushenko, this was the most one-sided fight of the night.
Grant continued his quiet ascendancy up the lightweight ladder by slaughtering the very durable Matt Wiman, scoring a first-round knockout that began with a standing elbow.
This was an outstanding performance by Grant, but the lack of competitiveness kept the match from being anything more than an entertaining finish.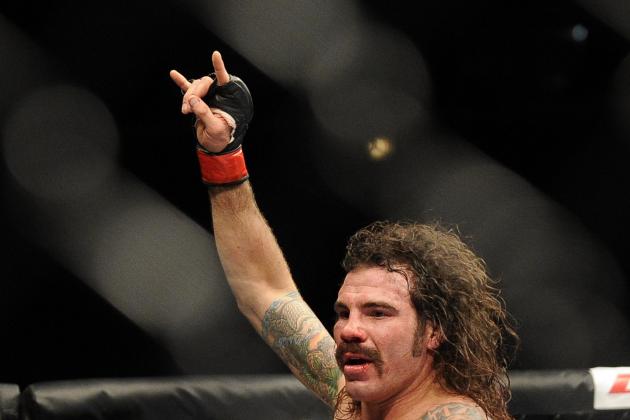 David Banks-USA TODAY Sports

Clay Guida defeats Hatsu Hioki via split decision
The newly mustache-clad Clay Guida muscled his way to a split-decision victory in this featherweight affair, slamming Hioki with regularity and shrugging aside his submission attempts.
It wasn't a barn-burner, but Guida had some explosive moments and Hioki kept things entertaining by staying incredibly active from the bottom.
It was a solid, if not terrific match.
Plus it had that mustache.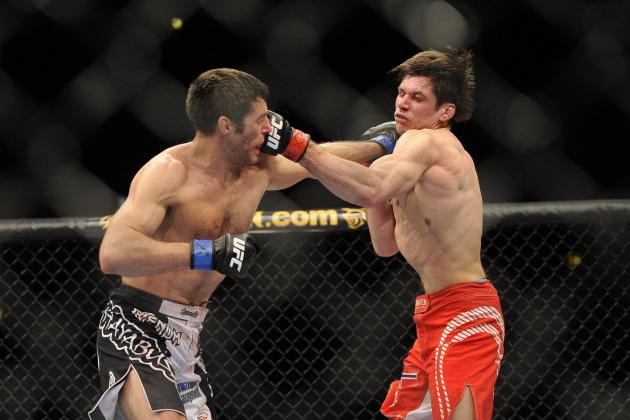 David Banks-USA TODAY Sports

David Mitchell defeats Simeon Thoresen via unanimous decision
Thoresen and Mitchell kicked off the UFC on Fox 6 undercard with a bout that featured a little bit of everything.
The standup was entertaining, albeit a little sloppy, and the ground game kept a similarly intriguing pace. Though Mitchell had a couple of moments where he might finish the bout, Thoresen stood strong, ensuring that the action would see the final bell.
Taking the fight to the judges would be the Norwegian's only victory, however. Mitchell cruised to a clear-cut unanimous-decision win.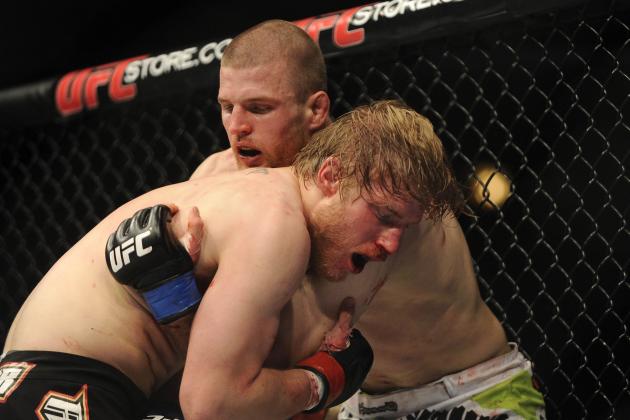 David Banks-USA TODAY Sports

Pascal Krauss defeats Mike Stumpf via unanimous decision
Though Stumpf was game all night long, Krauss put on a display in this one. The German brought active hands and feet into the Octagon and peppered away at his American counterpart for the better part of three rounds.
That both fighters remained so active kept this one interesting, even if the outcome was clear from midway through the second round.
It wasn't a spectacular fight, but it was certainly a good one—which seems to be the theme of the UFC on Fox 6 undercard.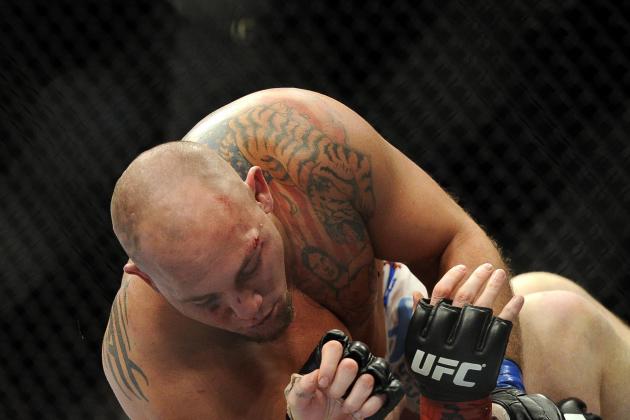 David Banks-USA TODAY Sports

Shawn Jordan defeats Mike Russow via knockout, Round 2
This fight was a tale of two rounds.
In the first round, a flabby (even for him) Mike Russow charged out and put Jordan on the defensive, nearly finishing the fight on a couple of occasions.
In the second round, the more methodical Jordan easily handled the tiring Russow, repeatedly taking him to the mat and gaining dominant position. Eventually, "The Savage" took back-mount and hammered away for a TKO victory.
The match featured good action, and the comeback storyline only added to the entertainment.
It was a very solid fight and the best of the night, even if only by the slightest of margins.