UFC on Fox 6 Superlatives: Best and Worst from the Entire Fight Card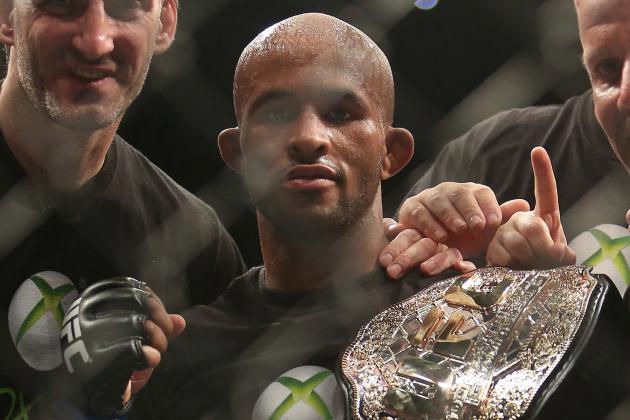 Tom Szczerbowski-USA TODAY Sports

UFC on Fox 6 was a pivotal event for several different divisions.
Demetrious Johnson maintained his position atop the flyweight class with a hard-fought decision win over John Dodson in the main event.
With their impressive knockout victories over Donald Cerrone and Erik Koch, respectively, lightweight Anthony Pettis and featherweight Ricardo Lamas emerged as top contenders in their divisions.
Additionally, Glover Teixeira proved himself a light heavyweight contender with a win over former champion Quinton Jackson.
There is a lot to be excited about as an MMA fan coming out of UFC on Fox 6. Let's take a look at some reasons why with the best and worst from the entire fight card.
Begin Slideshow

»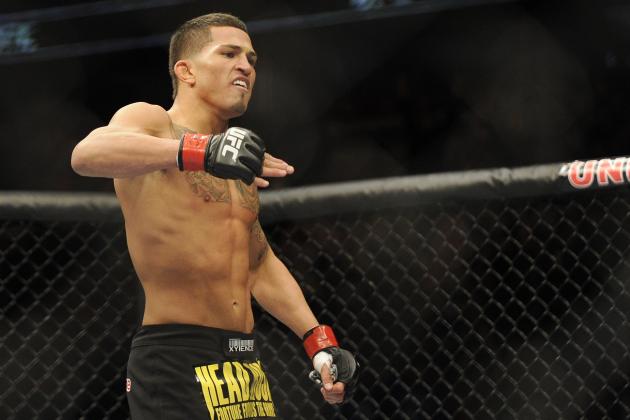 David Banks-USA TODAY Sports

There were plenty of fighters who earned big wins on Saturday, but no competitor was as impressive in victory as Anthony Pettis.
After landing a Showtime knee by jumping off of the fence and driving his knee through Donald Cerrone's guard, Pettis blasted his opponent with a body kick.
A notoriously tough fighter, Cerrone crumbled to the canvas in pain and Pettis followed up with a couple of punches to cement himself as next in line for a title shot against the winner of an upcoming bout between champion Benson Henderson and Gilbert Melendez.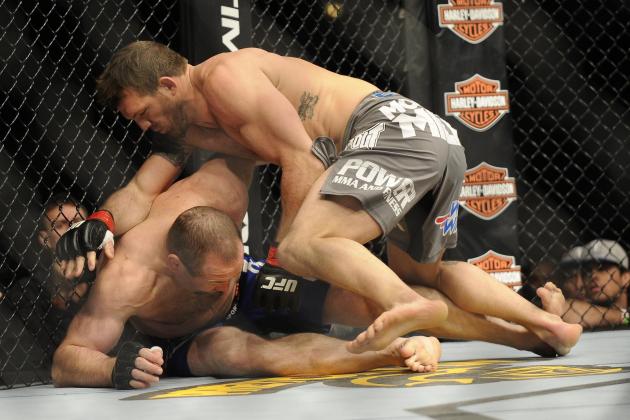 David Banks-USA TODAY Sports

At 42 years old, Vladimir Matyushenko is nearing the end of his long MMA career, and it showed in his performance against Ryan Bader on Saturday.
Matyushenko did not land a single significant strike (via FightMetric.com) before being knocked down and submitted more quickly than any other 205-pound fighter in UFC history.
"The Janitor" will probably want another fight to avoid going out with that showing, but he really should consider making his next appearance his last inside the Octagon.
John Dodson came up short in his first UFC title fight against flyweight champion Demetrious Johnson, but "The Magician" helped make the contest an entertaining five-round affair.
The TUF winner kept the bout very close through the first few rounds and even knocked the titleholder down in the second frame, but Johnson was able to take control in the later rounds by utilizing strikes from the clinch.
With the flyweight division still developing, Dodson won't fall far with the loss and should be expected to fight for the belt again at some point in the future.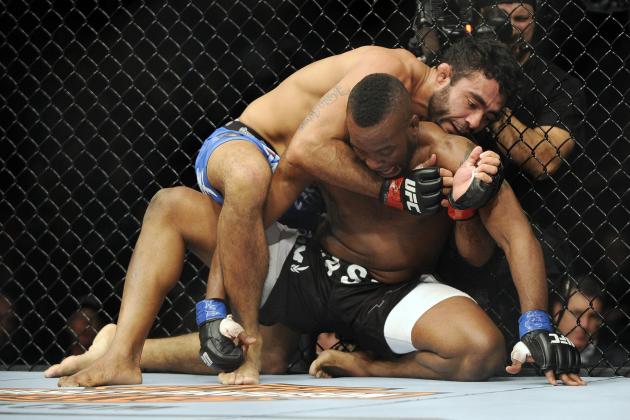 David Banks-USA TODAY Sports

After a loss to Andrew Craig, Rafael Natal needed to take a step down in competition, but he was simply too much for UFC newcomer Sean Spencer at UFC on Fox 6.
Natal was originally booked for a fight with Magnus Cedenblad, but an injury caused the Swedish fighter to pull out of that matchup and created a mismatch between Natal and his late-replacement opponent, Spencer.
The fight itself was not one of the worst in recent memory, but Natal did methodically work toward the win, which he earned with a submission midway through the final round.
Donald Cerrone had never suffered a knockout loss in his MMA career heading into UFC on Fox 6, so Anthony Pettis made a big statement by putting "Cowboy" away with strikes in the first round.
Around halfway through the opening frame, Pettis landed a left kick to the body of Cerrone, who collapsed immediately. Pettis landed an extra shot or two to the head of the downed Cerrone, and that marked the end of the bout.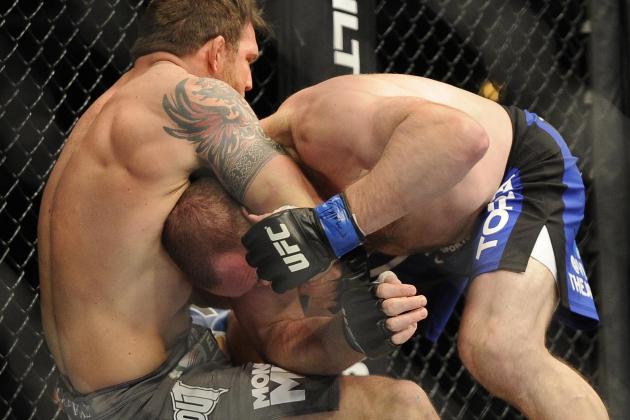 David Banks-USA TODAY Sports

Ryan Bader steamrolled Vladimir Matyushenko at UFC on Fox 6.
After knocking the veteran down with a left hook, Bader was able to latch onto Matyushenko's neck and eventually forced a tap with a guillotine choke.
The victory gave Bader the first official submission win of his MMA career.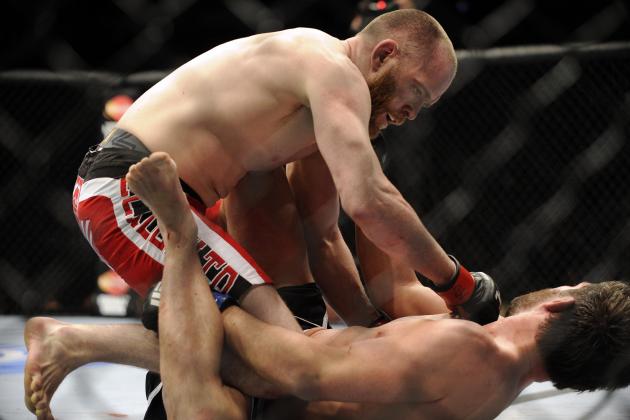 David Banks-USA TODAY Sports

T.J. Grant and Matt Wiman were supposed to go to war for three rounds. At least that was the feeling most had heading into the fight between two competitors who hadn't been finished in years.
However, Grant used the matchup to make a serious statement that he's ready for elite lightweight competition.
Grant blasted Wiman with elbows until one eventually grounded his opponent. Wiman was unable to recover, and Grant walked away with the most impressive win of his MMA career.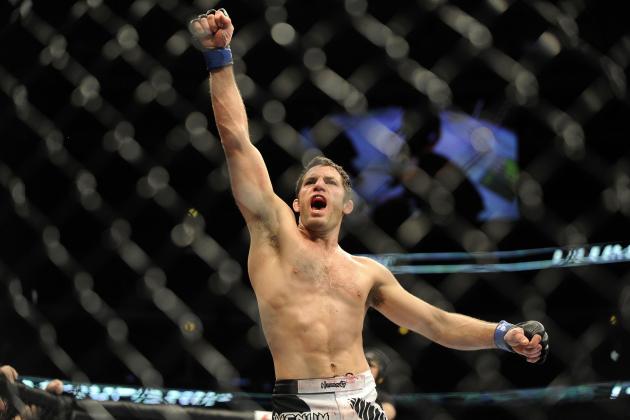 David Banks-USA TODAY Sports

After losing his first two UFC bouts, David Mitchell's spot on the organization's roster was on the line against an opponent who had already won inside the Octagon.
Though he was considered an underdog heading into the fight, Mitchell was able to edge Simeon Thoresen in an entertaining fight that went to the judges.
As a result, Mitchell should get at least a few more appearances on MMA's biggest stage.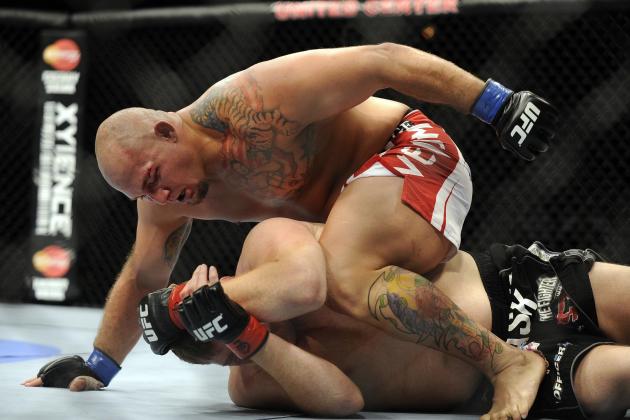 David Banks-USA TODAY Sports

In the opening round of his bout with Mike Russow at UFC on Fox 6, Shawn Jordan was rocked and looked to be in serious trouble.
However, Jordan survived to the bell and Russow was breathing heavily to start the second round.
The much more athletic Jordan was able to take advantage of Russow's lack of condition, as he took the fight to the ground and pounded his way to victory.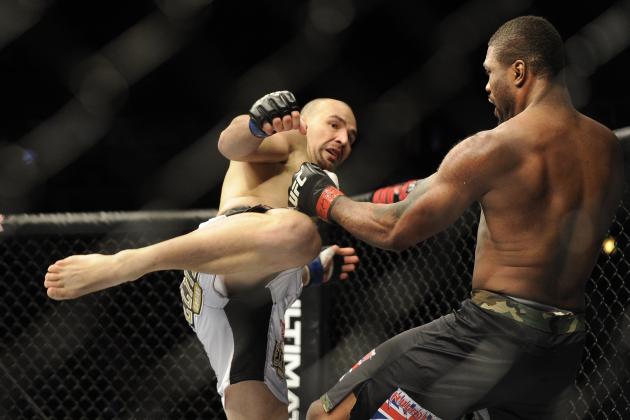 David Banks-USA TODAY Sports

Despite Quinton Jackson's decline as of late, a dominant performance against "Rampage" would have put Glover Teixeira in the running for a light heavyweight title shot.
The Brazilian wasn't quite dominant enough to make that happen, but Teixeira did prove he has the ability to contend for the 205-pound title at some point by beating a former UFC champion.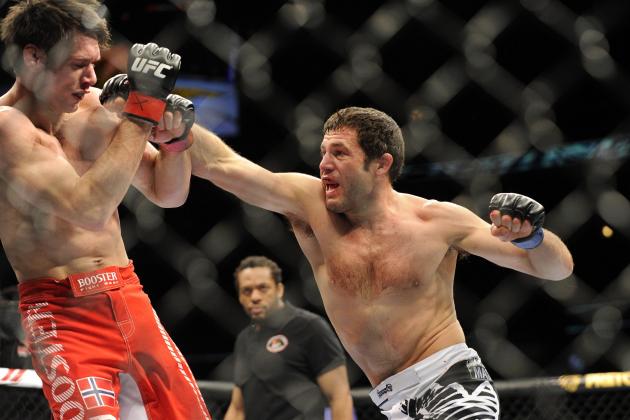 David Banks-USA TODAY Sports

David Mitchell had a rough start to his UFC career, having to fight T.J. Waldburger and Paulo Thiago in his first two Octagon appearances.
Trying to avoid a third straight loss, Mitchell's UFC roster spot was on the line against Simeon Thoresen at UFC on Fox 6.
Mitchell did what he needed to do to remain with the world's top MMA organization, beating Thoresen in a three-round battle.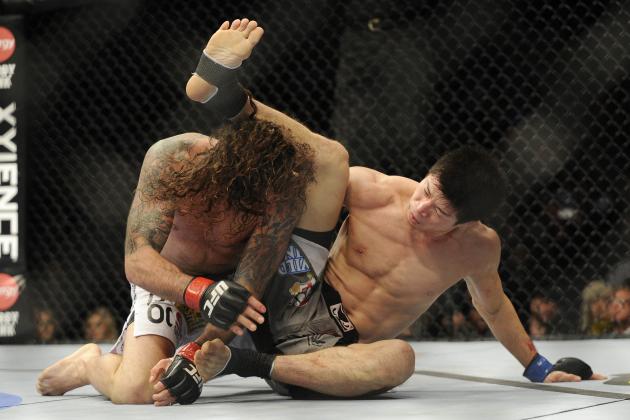 David Banks-USA TODAY Sports

Clay Guida and Hatsu Hioki were evenly matched opponents on Saturday, fighting to a split decision that went Guida's way, but that wasn't the right call.
Hioki out-struck Guida in every round of that bout (via FightMetric.com). And though he was also taken down in every frame, Hioki was able to keep an inactive Guida in his full-guard and attack off of his back.