Kansas Cruises Past Oklahoma to Stay Undefeated in the Big 12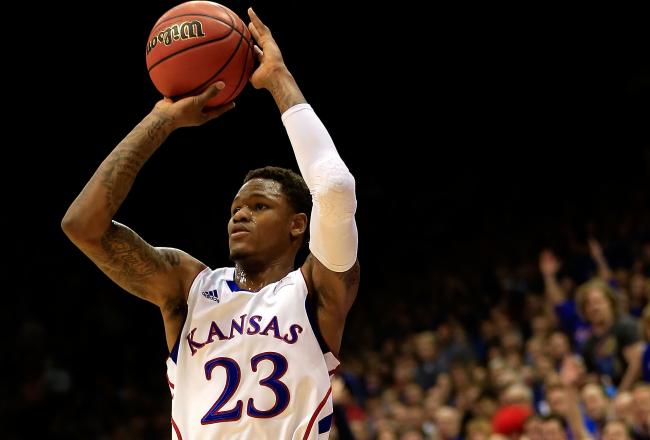 The Jayhawks seek to remain undefeated in Big 12 play when they host a tough Oklahoma squad.
Jamie Squire/Getty Images
The Kansas Jayhawks (18-1, 6-0 Big 12) extended their winning streak to 17 straight games after defeating the Oklahoma Sooners (13-5, 4-2 Big 12) 67-54 in Lawrence.
It was their 33rd consecutive home victory and continued their dominant streak in a building where they've only lost once in the past six season.
The Jayhawks were led by freshman sensation Ben McLemore who led the team with 18 points. He also added seven boards and was key in the second half.
Jeff Withey was the story in the paint adding 13 points, nine rebounds and four blocks. The Sooners were never able to find a solution for the big man's inside dominance.
Oklahoma stated close for most of the game but was undone by their poor shooting. They were led by Amath M'Baye who contributed 12 points and seven boards in the losing effort.
That'll do it for us folks! The Kansas Jayhawks remain undefeated in the Big 12 and win their 17th straight game and 33rd in a row at the Allen Fieldhouse.
For the Sooners it's back to the drawing board wondering what might have been if they'd been able to knock down a few shots.
As always stay tuned to us here at Bleacher Report your home for all things college basketball!
You do NOT want to play Kansas at Allen Fieldhouse. They just won their 33rd straight at home -> es.pn/14ibgd5

— ESPN College BBall (@ESPNCBB) January 26, 2013
Wonder why these teams even show up? Save on travel.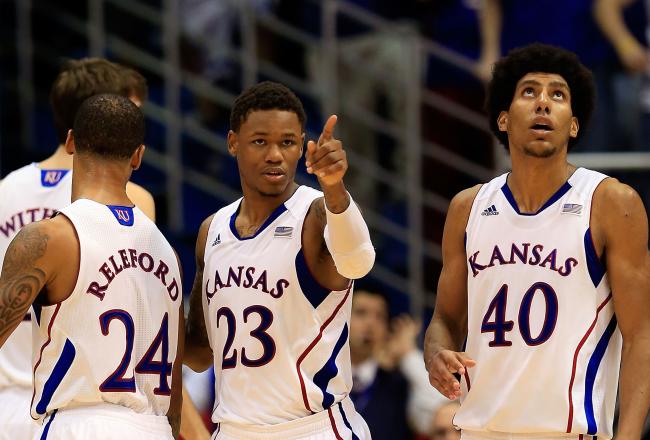 Kansas 67, Oklahoma 54 (FINAL)
Not close to the best performance offensively from Bill Self's group. But a win is a win and the Jayhawks have extended their winning streak at home to 33 games.
Kansas 67, Oklahoma 54 (15.1 Second Half)
Truly meaningless fouls here from Oklahoma...game is over.
Kansas 65, Oklahoma 54 (18.1 Second Half)
Oklahoma just couldn't get over the mountain.
Kansas 62, Oklahoma 49 (1:20 Second Half)
The Jayhawks will win but can't be happy with their performance.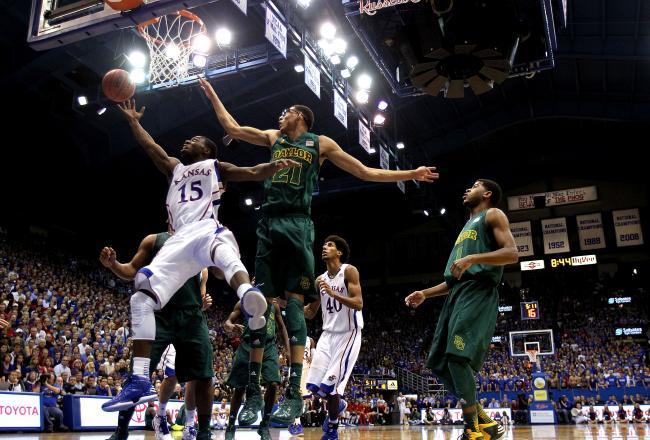 Kansas 59, Oklahoma 46 (2:15 Second Half)
Huge three from Elijah Johnson to extend the lead back to 13 for the Jayhawks. That might be the dagger.
Kansas 56, Oklahoma 46 (2:55 Second Half)
Oklahoma back within 10 points. They just can't seem to get over that hump.
OU pulls within 10 w/ 3 minutes left #kubball

— Kansas Gameday (@KUGameday) January 26, 2013
It must feel like getting to the top of the hill only to fall down every time and start again for the Sooners tonight...
Kansas 56, Oklahoma 41 (3:52 Second Half)
It's a little late but the route is finally on for Kansas. Withey now has 13 points and nine boards. Just shy of a double-double.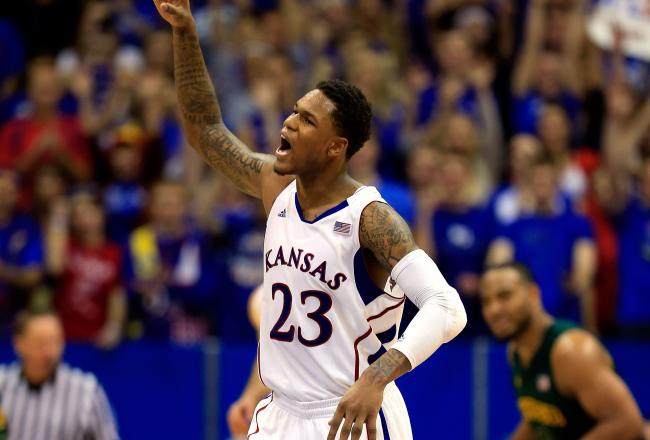 Kansas 54, Oklahoma 39 (5:04 Second Half)
McLemore with a three and he's heated up now and has 15 for the game. The score is finally starting to reflect the game that's being played...
BOOM, Withey Dunk Party!

— Kansas Gameday (@KUGameday) January 26, 2013
Kid can play.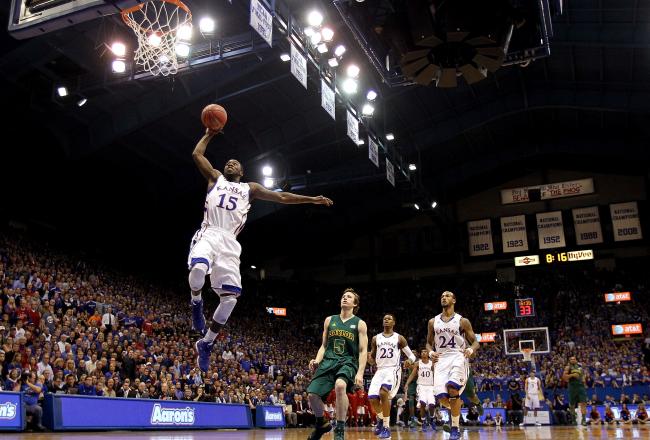 Kansas 49, Oklahoma 37 (7:29 second half)
Know how many games the Jayhawks have lost at home in the past SIX years? One.
Kansas 49, Oklahoma 35 (8:38)
McLemore with a three and Lon Kruger wants to talk it over as his team trails by their biggest deficit on the game. Kansas looking like they're finally gonna put this out of reach.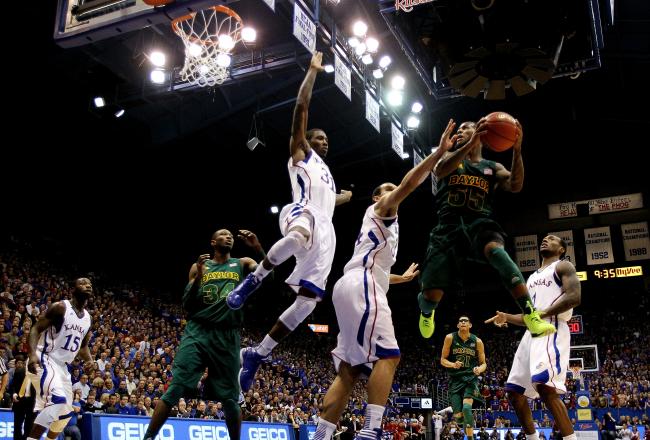 Kansas 46, Oklahoma 35 (9:09)
Withey GETS blocked. That's a new one.
Kansas 43, Oklahoma 38 (9:58 Second Half)
This feels like we are stuck in a perpetual eight point lead for Kansas.
Kansas 42, Oklahoma 33 (11:06 Second Half)
Travis Relaford, Ben McLemore and Jeff Withey all have nine for the Jayhawks who have been balanced...but not spectacular on offense.
KU leads by 10, 37-27 #kubball

— Kansas Gameday (@KUGameday) January 26, 2013
Kansas should win but Bill Self won't like this offensive performance...
#Sooners and #3 Jayhawks keeping it close, but OU trails Kansas 33-25. M'Baye with all 4 points for OU this half. (2nd, 15:50)

— OU Men's Basketball (@SoonerHoops) January 26, 2013
Kansas can't hit the shot to pull away...Oklahoma can't hit the shut to get it close...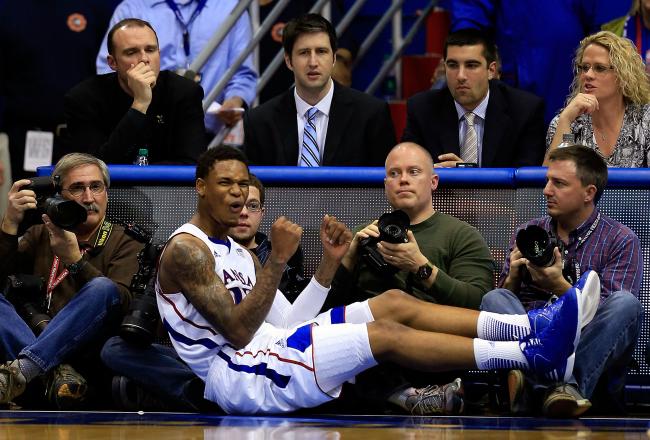 Kansas 35, Oklahoma 25 (15:42 Second Half)
Ben McLemore drains two free throws. Pretty quiet for him thus far with just nine points.
Kansas 33, Oklahoma 23 (16:19 Second Half)
Kansas has done their best on turnovers and transition runs on defense. Not much on their set offense.
Kansas 31, Oklahoma 21 (17:23 Second Half)
Withey with a foul that time but boy is he disrupting EVERYTHING from the Sooners in the paint.
This article is
What is the duplicate article?
Why is this article offensive?
Where is this article plagiarized from?
Why is this article poorly edited?