Kentucky Survives LSU Comeback to Prevail in SEC Thriller
Andy Lyons/Getty Images
The home fans had to sweat out the finish, but Kentucky held on for a 75-70 win over LSU on Saturday at Rupp Arena. The Tigers rallied furiously in the final minutes, but came up a couple of three-pointers short.
Alex Poythress was the offensive hero for Kentucky, pouring in 20 points (including 8-of-10 free throws) to go with 12 boards. Nerlens Noel added 10 points and his usual overpowering inside game, blocking six shots and grabbing eight rebounds.
Johnny O'Bryant III nearly saved the Tigers with 21 points, but it wasn't enough. A couple of late three-pointers from Anthony Hickey helped get the Tigers as close as one point in the final seconds, but Kentucky hit just enough free throws to survive.
LSU's frenetic defense forced 17 Kentucky turnovers, many of them in whittling down what had been a double-digit, second-half lead. The Tigers' offense, though, wasn't up to the same standard, with Shavon Coleman and Charles Carmouche combining to shoot just 4-for-16 from the field.
Kentucky's guards deserve a lot of credit for carrying the scoring load in this one, as Archie Goodwin, Ryan Harrow and Julius Mays combined for 35 points. The Wildcats' size advantage became less of a factor as O'Bryant heated up after halftime, but UK still won the battle on the glass, 34-23.
LSU showed a lot of heart on Saturday, but heart doesn't change a 1-5 SEC record. Kentucky gets a badly needed win, improving to 4-2 in conference as it tries to avoid going from the NCAA title to a spot in the NIT.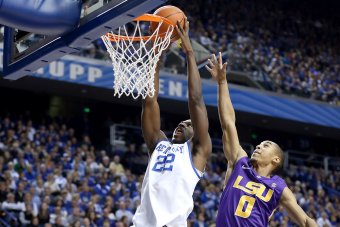 Andy Lyons/Getty Images
Kentucky 75, LSU 70 (FINAL)
Give LSU credit for not giving up in a game where their offense really wasn't at its best. The Tigers were able to scratch and claw and make Kentucky's life miserable for the last eight minutes, and they have every reason to be proud of their effort against a strong team in a fearsome environment.
Frank Haith and Missouri should be very worried. They have to go into Baton Rouge on Wednesday night, and on its home floor with the way its defense has been playing, LSU is going to give them a fight to remember.
For Kentucky, it wasn't pretty and it wasn't as easy as it should've been, but it's a win against an SEC opponent. The Wildcats go to 4-2 as they gear up for Tuesday's pivotal showdown at Ole Miss.
The best news for the Wildcats was the aggressive offensive effort from Alex Poythress. Now, he's got to maintain that mindset against a much bigger, more physical Rebels frontcourt in his next game.
Kentucky 75, LSU 70 (0:01 second half)
Well, that will do it. Hickey misses his free throw, Kentucky gets to ice it from the line.
Kentucky 73, LSU 70 (0:02 second half)
Bit of strategy from John Calipari, as Kentucky gives the foul rather than allowing a three-point attempt. Anthony Hickey to the line.
Kentucky 73, LSU 70 (0:03 second half)
Wiltjer comes through, so LSU can only tie with a buzzer-beater here. Anthony Hickey's the hot hand, but it's going to be awfully hard to get him a decent look in this situation.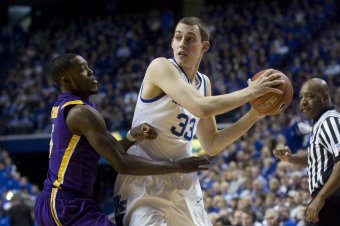 Mark Zerof-USA TODAY Sports
Kentucky 71, LSU 70 (0:03 second half)
Kyle Wiltjer is one of the few people Kentucky wants on the foul line in this situation. He's barely touched the ball in the second half, though.
Kentucky 71, LSU 70 (0:04 second half)
Johnny O'Bryant with the put-back, but it might be too little, too late. Just under four seconds on the clock and UK with the ball underneath.
Kentucky 71, LSU 68 (0:30 second half)
Mays misses from the line, last chance for LSU.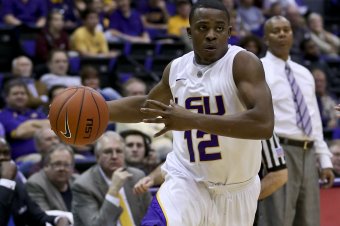 Derick E. Hingle-USA TODAY Sport
Kentucky 70, LSU 68 (0:58 second half)
Every time LSU gets a clutch jump shot, it's Anthony Hickey. Monster three-pointer makes it a one-possession game.
Lot of pressure on whoever goes to the free throw line for Kentucky now.
Kentucky 69, LSU 65 (1:17 second half)
Huge steal for LSU turns into a layup on the other end. Charles Carmouche with another fine pass to set up Johnny O'Bryant, who's worked incredibly hard today.
Kentucky absolutely must avoid another turnover on this possession.
Kentucky 66, LSU 61 (3:20 second half)
Anthony Hickey has had some good-looking shots from long range today, but misses a key one that could've cut the lead to two. Kentucky gets the ball after the TV timeout—will that turn out to be LSU's last chance?
Kentucky 66, LSU 58 (4:39 second half)
LSU is getting nothing from their full-court press. Credit the UK guards with finding the openings and not panicking.
Kentucky 65, LSU 56 (5:57 second half)
LSU catches a break as a foul that could've gone against Malik Morgan goes against Julius Mays as a flagrant offensive foul. Morgan hits his free throws, but now the Tigers must take advantage.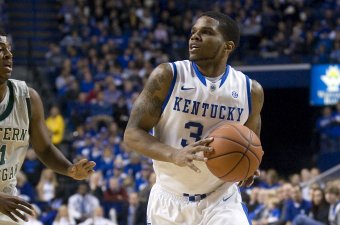 Mark Zerof-USA TODAY Sports
Kentucky 63, LSU 54 (7:10 second half)
LSU's best friend: another missed Kentucky jump shot, this one by Julius Mays. Kentucky has done a better job stopping their own offense than LSU has done stopping it for big chunks of this game.
Kentucky 63, LSU 52 (8:01 second half)
Another missed three-pointer for LSU. It's getting late early out here. LSU's long-range shooters are streaky at best, and this is a big hole to climb out of in eight minutes.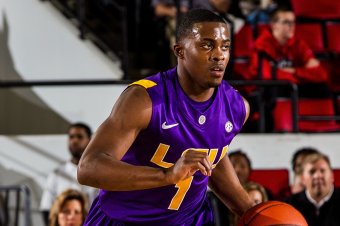 USA TODAY Sports
Kentucky 59, LSU 49 (10:31 second half)
Four personal fouls on Anthony Hickey, who has to sit. Does LSU have enough defense to survive without him at the top? Probably not.
Kentucky 56, LSU 49 (11:50 second half)
LSU has been a lot more effective cutting off Kentucky's drives in the second half. It doesn't hurt that the Wildcats aren't crashing the offensive glass very hard—lots of one-and-done possessions.
Kentucky's lack of veteran leaders is showing. Who's going to take over and put this game away?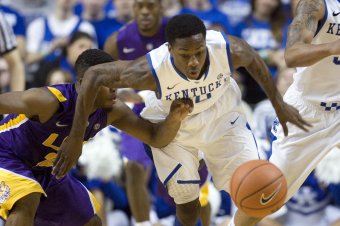 Mark Zerof-USA TODAY Sports
Kentucky 54, LSU 45 (14:15 second half)
After all that work on defense, LSU gives up a layup to Archie Goodwin. That's a momentum-killer. LSU can't seem to get the lead below seven points.
Kentucky 52, LSU 44 (15:15 second half)
Kentucky is settling for too many jump shots to start the second half. The Wildcats built their lead by playing through the low post, and they're going to lose it if they don't go back to that approach.
LSU has better defensive guards than Kentucky has offensive guards. Why would Kentucky want to turn this into a guard-focused game?
Kentucky 49, LSU 37 (17:30 second half)
LSU doing a good job attacking and getting to the free throw line early in the second half. It would be a lot better strategy if they weren't such an awful free-throw shooting team (.602 on the year), but they're hitting today.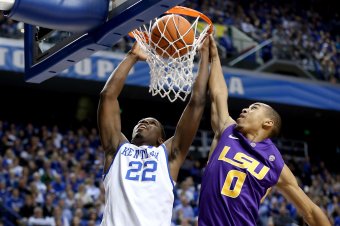 Andy Lyons/Getty Images
Kentucky 42, LSU 31 (Halftime)
Charles Carmouche is the most important player to watch for LSU when the second half starts. He's been making plays offensively (including a gorgeous pass for a cross-court alley-oop), which can't be said of most of the Tigers.
If Carmouche can put a few points on the board himself and keep handing out assists, LSU might be able to score in spite of UK's size inside. If Carmouche gets off to a slow start, expect Kentucky to put the game out of reach early on.
Kentucky 42, LSU 31 (Halftime)
Kentucky doing a remarkable job of spreading the ball around in the first half. Six Wildcats have between five and 11 points so far. Doesn't hurt to be shooting 57.6 percent from the field, of course.
The bad news for the Wildcats? They're not hitting anything when they aren't getting to the rim. 1-for-7 three-pointers, 3-for-7 free throws. LSU tried going to a zone look late in the first half, and with Kentucky shooting so poorly outside, they'll probably stick with it in the second half.
Kentucky 42, LSU 31 (Halftime)
Not the best time for the halftime buzzer to sound where LSU is concerned. The Tigers were finally starting to get a bit of an offensive rhythm going, which may well evaporate by the time they get back on the floor.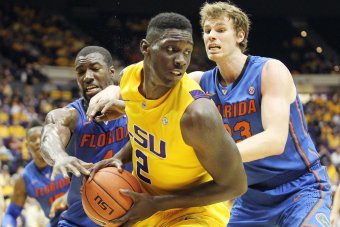 Crystal LoGiudice-USA TODAY Sports
Kentucky 42, LSU 30 (0:22 first half)
Johnny O'Bryant with five quick points, which LSU really needs. They're not going to get back into this game with the guards flinging up three-pointers all day.
Kentucky 35, LSU 25 (3:51 first half)
Andrew Del Piero with his first positive play, getting the big block on Alex Poythress. LSU has struggled to capitalize when they've gotten defensive stops, so the upcoming Tiger possession will be a big one. LSU has got to establish some kind of momentum, ideally before halftime.
Kentucky 35, LSU 25 (4:20 first half)
Hard to understand why Kyle Wiltjer is taking three-pointers. Every possession for Kentucky should get the ball inside at least once with the advantage they've had in the paint.
This article is
What is the duplicate article?
Why is this article offensive?
Where is this article plagiarized from?
Why is this article poorly edited?