In every 2013 NFL draft, there will be teams that need to trade down.
Whether the talent doesn't match the value of the pick or the team doesn't find anyone worth taking, trading down is a common occurrence.
Which teams in this draft need to trade down? Read on to find out.
Kansas City Chiefs
The Chiefs hold the first pick in the draft, and for once, it's an undesirable position. There is no consensus, clear-cut elite talent in this draft. There is no Andrew Luck or Robert Griffin III.
The Chiefs' biggest need is by far a quarterback. Matt Cassel was abysmal last season, throwing 1,796 yards, six touchdowns and 12 interceptions. And Brady Quinn was not much better. He threw for 1,141 yards, two touchdowns and eight interceptions.
The problem for the Chiefs is that there is no elite quarterback. Geno Smith, Tyler Wilson, Matt Barkley, Mike Glennon and Ryan Nassib all are mid- to late-first-round talents, at best.
The Chiefs would be wise to trade down, net a few extra picks and draft a quarterback in the middle of the first round. With the extra picks, the Chiefs can accelerate their rebuilding prospect and not put the burden of a first overall pick on a quarterback who doesn't deserve it.
San Francisco 49ers
The 49ers are stacked. They have their quarterback for the next 10 years, and they have no glaring needs at any position. The player they select at either No. 31 or No. 32 will not crack the starting lineup.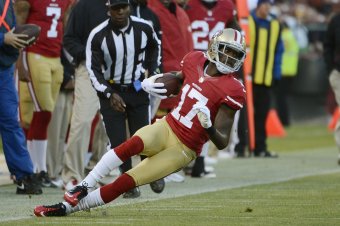 Thearon W. Henderson/Getty Images
Their pick this previous year, A.J. Jenkins, played in only three games and had zero catches.
The Niners don't need to spend money on a first-round pick. They'd be much better off trading down, taking the best player available in the second round and stacking up picks in the later rounds, hoping to find some uncovered gems.
A forced draft pick is not a good one. Staying at either No. 31 or No. 32 will force the Niners' hand. A trade down will allow them to pick a player who may not be ready to start, but won't have the pressure of a first-round pick.
Cleveland Browns
The Browns have a lot of needs, but perhaps their biggest need is for a pass-rusher. Last season, the team had only 38 sacks. Jabaal Sheard led the way with seven. They need someone opposite him.
The problem is, that person may not be available.
The two top defensive ends, Damontre Moore and Bjorn Werner, will likely be gone by the time the Browns select at pick No. 6. If the two players are gone, then the Browns should trade down. There's no use in reaching for a player who shouldn't be taken so high.
With a trade down, the Browns could get one of the lesser-ranked defensive ends while adding more depth to their roster through the extra picks they would receive.