WWE/TNA/ROH: My Top Moments of the Week, Jan. 21-25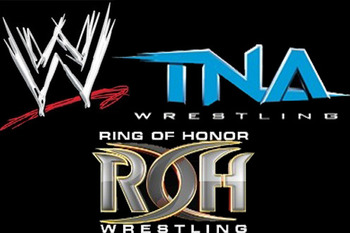 wwe.com. impactwrestling.com, rohwrestling.com
Another week of professional wrestling has come to an end, and it was an overall very good week!
WWE Raw was a solid show. WWE's flagship program featured a few good matches and excellent in-ring segments. Overall build for the Royal Rumble was done very well, too.
WWE Main Event continues to be an enjoyable and fun show. Only one match made it this week, but the show as a whole was good, and it had good hype for the Rumble.
WWE NXT was an overall good show. A tournament began to crown the first NXT Tag Team champions, which is great. The creation of a new title is always good to see.
TNA Xplosion actually makes it onto the list this week. It featured one match, but that one match was a solid one. It was a lot better than I expected, especially with the two wrestlers involved.
Ring of Honor finally featured some new content with their Jan. 19 episode of ROH Wrestling. Seeing new matches reminded me exactly why I like Ring of Honor. The company is filled with such great talent!
For those that don't know why I don't have the recent episode (Jan. 26), it's because the show doesn't air where I live. It becomes available for free on ROH's website on Thursday's. So until it begins airing in my state, it will continue to be a week behind.
TNA Impact Wrestling was an enjoyable show, but it wasn't their best. There were a couple of good matches, and an interesting development in the Aces & Eights storyline, but overall nothing special.
WWE SmackDown ended the week for WWE with an overall good show. The action wasn't as good as previous weeks, but because of the build to the Royal Rumble, the show delivered.
I did watch WWE Superstars, but I wasn't too into the two matches that were featured. Since I couldn't get into the matches, nothing from the show will be included. As for WWE Saturday Morning Slam, well, I kind of overslept and missed the show. I tried finding it online, but I wasn't able to do so.
Which one of these shows were the best this week? Well, that's up for you to decide! Click here to vote on what your favorite show, or shows, was this week.
Randy Orton vs. Antonio Cesaro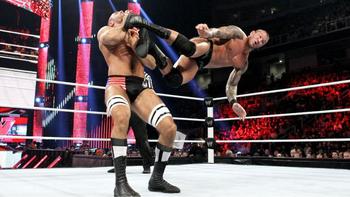 wwe.com
This would be the third match these two Superstars have had recently, and they have gotten better each time!
In the opening match of a Beat the Clock Challenge, Randy Orton took on Antonio Cesaro in what was a very good match. WWE's Apex Predator and the United States champion are proving to be great opponents with these matches.
Assuming no more injuries plague him, Orton has at least another 10 years with the WWE, and if any of today's top stars stick around for that long, I'd be glad it's Orton.
The Viper will take clean losses, unlike some other top stars, and it's his willingness to do so that will help in getting over the future stars of the company.
Cesaro is one of those future stars, and while he did lose here, he's looking like a true star having solid matches with a nine-time world champion.
I want to see more from these two Superstars, but I don't think it will happen. Orton would ultimately lose the challenge, and adding that to some other things that have been happening to him, a heel turn is definitely coming.
Cesaro is just too good as a heel to ever turn face, at least not in the immediate future, so this very well could be the end for their matches.
CM Punk's Promo
CM Punk continues to be one of the best mic workers in the business. Since the feud with The Rock officially got started, the WWE champion has been on a roll. Whether he was talking to The Rock face to face or inside a Miami football stadium, Punk is on the ball in a big way.
I thought this particular promo was dynamite! With a monotone voice, he stared directly into the camera and declared that he would defeat The Rock, among other things.
The close ups in this segment is what really sold it for me. Having the camera right in Punk's face gave us a look at the seriousness in his eyes. The serious and intense look on his face sold every word that he was saying.
With the Road to WrestleMania upon us, it's crunch time for the WWE. They have to pull out all the stops and go full force. Punk is doing exactly that. The journey may not officially begin until the Royal Rumble, but Punk is preparing very nicely.
If this is what he's like before, imagine what's going to happen during and after the Royal Rumble!
Dolph Ziggler vs. The Miz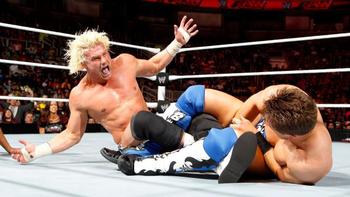 wwe.com
Dolph Ziggler and The Miz had a good, back-and forth match here. With some nice overall action, the Showoff and the Awesome One delivered the second best match of the night on Raw.
I can't remember the last time these two Superstars have faced off against each other, so this was a great reminder of the chemistry they have in the ring. They just work quite well together.
The future truly looks bright for the WWE with guys like Ziggler and The Miz on the roster. They're both great in-ring talents and can cut solid promos. With Ziggler as a heel and The Miz as a babyface, a feud over the WWE or World Heavyweight Championship is destined to happen!
Ziggler will certainly have the World Heavyweight Championship soon, my guess is WrestleMania, and I would love to see these guys fight over the belt.
I think we'd see The Miz fight for the WWE Championship before he gets a shot at the World Heavyweight Championship, but I can dream!
The Rock's Promo and Shield Attack
The Rock's segments with the cops were quite funny and entertaining, but I liked this promo much more. The reason being is that it was a completely serious People's Champion.
Since his return a few weeks ago, The Rock kept with the same old shtick. He mixed seriousness with humor, and while I enjoy it when he does that, a feud with CM Punk has no place for comedy. The humor worked when he was up against someone like John Cena, but against a serious CM Punk, it just doesn't fit.
This promo was a nice change of pace as he promised to not only take the WWE Championship away from him, but to rip his face off as well. I hope to see more of this Rock on the Road to WrestleMania, whether he wins the title or not.
After The Rock got done speaking, the lights went out and The Shield appeared to attack him. After pummeling him, they hit him with the powerbomb, which left him lying in the ring spitting up blood.
I've been waiting for this to happen since The Rock came back, but I was expecting to see him take all three of them out. Leaving The Rock spitting up blood makes the Royal Rumble match even more interesting than it already was.
Even though The Shield have been banned from ringside with the threat of CM Punk being stripped of the title, I think they will still have some kind of role in the match. It's just a matter of what that role will be.
Team Rhodes Scholars vs. The Usos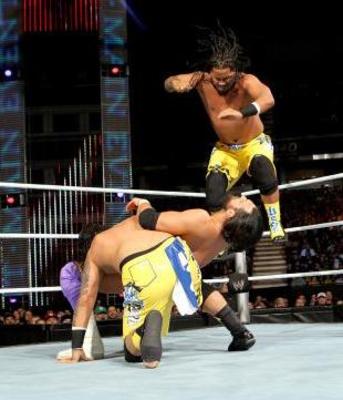 wwe.com
Team Rhodes Scholars and The Usos had a good tag team match here. With some overall good action, these two teams delivered in the final match of WWE Main Event.
It was great to see The Usos go up against Rhodes Scholars. Usually fans will see them face The Prime Time Players or another team that is nowhere near the Tag Team Championship scene. Here they faced the No. 1 contenders for the tag titles, and thus the No. 2 team in the company.
They always performed great against other teams, but how would they do against a top team? Well, the answer to that is simple: they did great.
The Usos are starting to become regulars on Main Event, and I think WWE is finally building them towards the title picture.
I strongly believe that Damien Sandow and Cody Rhodes will be defeating Kane and Daniel Bryan at the Royal Rumble, so with a heel team as champions, that makes room for a babyface team to step up to the challenge.
The Usos are a great team and are over with audiences; they're perfect for the role of challengers! Rhodes Scholars have developed into a great team as well, and if this match was any indication, the feud would be quite good.
The Creation of a NXT Tag Team Championship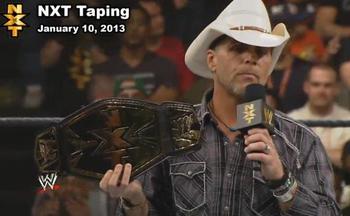 photo from wrestlingforum.com
WWE NXT has had a NXT Championship since July of last year. The title may have only seen two Superstars hold it so far, but both of those wrestlers are currently on the main roster now. The title is definitely a stepping stone for NXT Superstars, but what about the tag teams?
Tag team wrestling in NXT is plentiful. Fans will see Kassius Ohno and Leo Kruger, the Wyatt family and teams from the main roster like 3MB and The Usos. On this week's episode, Shawn Michaels made the announcement that WWE was creating a Tag Team Championship for NXT, and that is certainly great news.
With WWE rebuilding their tag team division, a Tag Team Championship for NXT is a great way to see which teams work well enough to be called up to Raw and SmackDown. It also gives the teams of the show something to fight for.
I now await the creation of a NXT Divas Championship. They have a lot of talented women there, like Paige, and it would be great to see them get rewarded for their hard work. I just hope the title looks better than the horrendous butterfly belt WWE has for the main roster.
Heath Slater and Drew McIntyre vs. Adrian Neville and Oliver Grey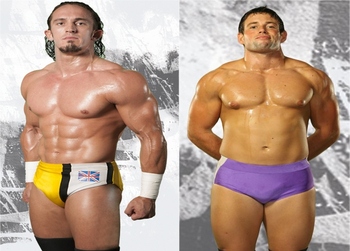 photoshopped using photos from fcwwrestling.info
This was the second tournament match for the NXT Tag Team Championship, and I thought it was quite the good one. Both teams performed very well in this match as they delivered the best match of the show.
Slater and McIntyre really do make a great team. Their respective styles mesh well together, and it creates a good chemistry as a team. Their gimmick may be for comedy and entertainment purposes, but they have really settled into their roles.
They play the gimmick of wannabe rock stars very well. If given the chance, 3MB could become a force to be reckoned with in the tag team division on the main roster with the Freebird Rule.
The team of Neville, formally PAC, and Grey are a pretty good pair. I can't remember if they ever teamed up before this, but they have some good chemistry. Neville is definitely the star of the team, though.
His 630º Corkscrew Splash finishing move was just so awesome! There really is no other way to describe it. His ring name is kind of lame, but that man has a bright future in WWE!
Jessie Godderz vs. Garett Bischoff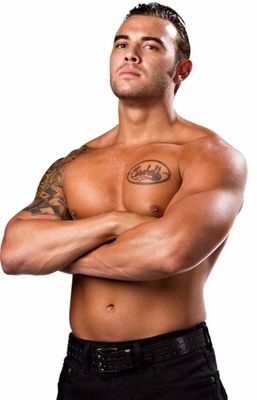 impactwrestling.com
Shocked to see these two names are on the list? So am I actually! Godderz hasn't really competed in anything more than a comedy match or segment since his debut, and I can't even remember the last time Bischoff even had a match on television.
On this week's episode of TNA Xplosion, this match was the only featured contest, and it was a good showing.
Godderz seems to be doing well in his training at Ohio Valley Wrestling. He looks like someone who would be a "meat head," but the guy has got some skill. I have to give credit when credit is due, and Godderz is progressing in the ring.
Bischoff is developing quite well, too. He went from a dropkick and a scoop slam to actually having an arsenal of moves. His training seems to be coming along nicely as well.
I doubt that either of them will be huge stars in TNA, but they could both make solid midcard wrestlers. I hope to see more of Godderz and Bischoff soon!
Mike Sydal vs. QT Marshall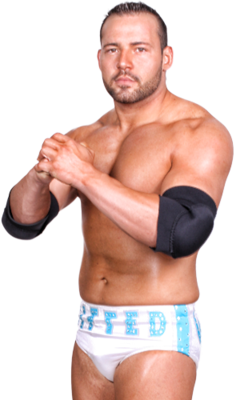 rohwrestling.com
Ring of Honor's Top Prospect Tournament kicked off last Saturday with this match, and it started off with a bang. Mike Sydal, the brother of Evan Bourne, and QT Marshall delivered a good match here with a lot of solid action.
The last time I saw Marshall wrestle on ROH television was a couple of months ago and I wasn't impressed. With the nickname "God's Gift," his performance left a lot to be desired.
He was quite good here, though. Perhaps he just didn't work too well with his last opponent. He's still no "God's Gift," but the man can wrestle and get the job done in the ring.
Sydal is a very impressive wrestler. Much like his brother, he has a high-flying style of wrestling. He's able to execute the style very well, and it makes him fun to watch.
Marshall would end up winning this match, which advances him in the tournament. I think that Sydal was the better wrestler of the two in this match, but Marshall should do quite well against the other top prospects in the tournament.
The Briscoe Brothers vs. Cedric Alexander and Caprice Coleman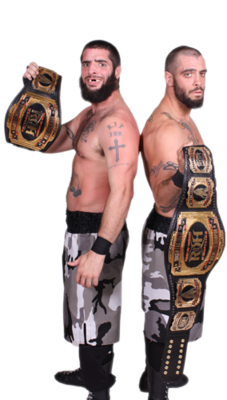 rohwrestling.com
The main event of last Saturday's ROH Wrestling was a Tag Team Championship match between champions Mark and Jay Briscoe and their challengers Cedric Alexander and Caprice Coleman. This was a great match here, as both teams gave ROH fans some excellent action.
The match started out a bit slow, but as it went on, the pace quickened and the match became quite exciting at times. The last five minutes featured a lot of great wrestling and double-team moves.
It's hard to describe some of the moves pulled off by these four wrestlers, so if you get the chance, I urge you to check out the episode. It's free on ROH's website by signing up, which is also free, or I'm sure you can find it on one of the many video sharing sites out there.
Ring of Honor is working off of some huge momentum from their Final Battle iPPV last month, and they started the New Year off strong here!
A Higher Power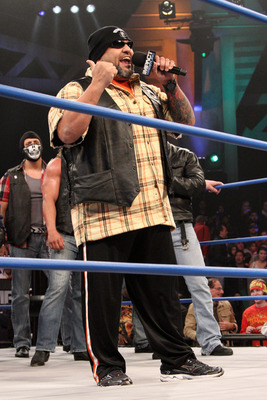 impactwrestling.com
This past Thursday's Impact Wrestling finally revealed something. For months the Aces & Eights have just been attacking people with no real explanation. They would mention taking down TNA here and there, but it was only in passing. You'd miss the line unless you were actually paying attention.
Thursday on the show featured Taz speaking up about what he did to the Bully Ray/Brooke Hogan wedding. The promo itself was good, but what really caught my eye, or ear I suppose, was Taz mentioning that the Aces & Eights were a group answering to a higher power set on revenge.
They have finally revealed why they're doing what they're doing: revenge.
I've been saying since day one that the leader was going to be Jeff Jarrett, and I think it's now adding up. Jarrett had his company taken away from him, and it was Hulk Hogan that did the taking. What better revenge than to send a huge group of masked guys after him, his daughter and the roster?
As the founder of TNA Wrestling, Double J could be seen as a "higher power," so it makes sense that it's him. Then again, it could be somebody else. A lot of people were stepped on when Hogan took control, not just Jarrett.
The higher power could be Dixie Carter or Eric Bischoff, who had their power diminished or taken away, or even someone like AJ Styles, who is sick of the treatment he's been getting despite being loyal to TNA since day one.
I think Sting could be a possibility as well. He and Hogan have had a feud dating back to WCW, so the Icon may want to take him out once and for all.
There are a lot of possibilities here and I can't wait to see what happens!
Bobby Roode vs. Hernandez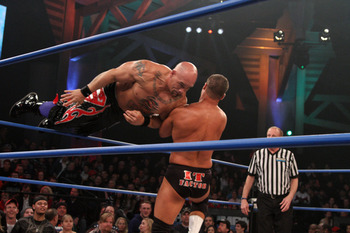 impactwrestling.com
This match was a bit shorter than I would have liked, but it was a good match. Bobby Roode and Hernandez delivered here in the time they were given. The two wrestlers gave fans a solid back-and-forth contest, which was a good start to the feud.
Last week on Impact Wrestling, Roode and Austin Aries took shots at all of TNA's champions. Chavo Guerrero and Hernandez took offense to it and attacked them. This week, the feud officially kicked off in the ring with this match.
The chemistry between Roode and Aries is already making me look forward to this feud. Their backstage segments have been great so far, and their few matches as a team have delivered. The respective styles of each wrestler mesh well together, and you add that to their overall chemistry, then you got quite the team.
Hernandez looked like a real star in this match. He went up against the longest reigning TNA World champion in the company's history, and despite losing, he was great in the match. Roode sold like a champ for him, too.
If done right, this feud could develop Hernandez for singles competition, and fans will see him as more than just a tag team wrestler.
Jeff Hardy vs. Christopher Daniels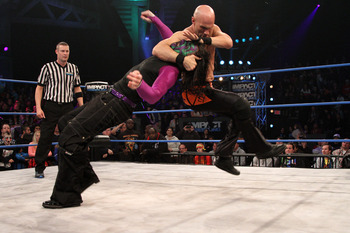 impactwrestling.com
The main event of this week's Impact Wrestling saw Jeff Hardy defend his TNA World Heavyweight Championship against Christopher Daniels. My hopes were high for this match.
Daniels is one of the best TNA has to offer and Hardy can still go, even though he looks to be in constant pain. I was not disappointed as Hardy and Daniels delivered a very good match here. There was constant action throughout the contest as I sat there cheering for Daniels to win the title.
Unfortunately he didn't win the belt, but it was still a solid match. Despite not winning, Daniels really does deserve a run with the title. The Fallen Angel is one of TNA's best overall talents, as he consistently outwrestles his opponents and talks circles around many.
At the age of 41, Daniels is at his absolute best right now. He's the kind of wrestler younger guys should take notes on every time he steps foot inside the ring, or has a microphone in hand.
Hardy is in definite need of a break. He can still go, but he pushes himself further than he should. Watching his matches, you can tell his back is in some serious pain. His style of wrestling is catching up to him.
TNA should have taken the title off of him here to let him rest up for Lockdown.
Sheamus vs. Wade Barrett
wwe.com
Sheamus and Wade Barrett faced off twice this week on both Raw and SmackDown. I thought that their match on SmackDown was the better of the two, so I included it instead of their one on Raw.
Since they weren't trying to beat a certain time here, there was no sense of urgency. Sheamus and Barrett didn't have to rush through the match, which is why I liked this one better. Both Superstars performed great here with one another as they delivered a solid, back-and-forth matchup.
The Barrett Barrage is very much ready for the main-event scene. It's only a matter of time before he's fighting for the World Heavyweight Championship, but when will it happen? I certainly hope it's soon. He'll be a fresh face in the title picture and will add some much needed depth.
With matches like this, I can't wait for Barrett and Sheamus to feud over the world title. There's no doubt that it'll happen, and I hope it occurs sooner rather than later.
The CM Punk/Shield/Rock Segment
The final build for the CM Punk vs. The Rock match for the WWE Championship at the Royal Rumble occurred at SmackDown, and it was a great segment. Both Punk and The Rock delivered solid promos here, while the involvement of The Shield was certainly interesting.
The WWE champion continues to be great on the mic, and the People's Champion is finally getting serious. He cut a great promo on Raw and he did another one here as well. Saying his closing line, "If you smell what the Rock is cooking" completely seriously is what really sold me during his time on the mic.
The feud is really becoming a great one!
As for The Shield, I have to wonder what they're going to do at the Royal Rumble. Since they said absolutely nothing to Punk, and attacked neither him nor The Rock, they have got to be up to something. I think that they will get involved during the title match, but in a way that wouldn't necessarily be considered interfering.
I don't entirely know how they would go about that, but it's just a feeling that I have.
Poll Results/Cast Your Vote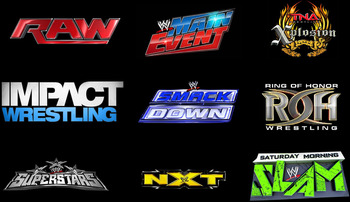 Logos copyright to WWE, TNA Wrestling and Ring of Honor
Here are the poll results of what you thought was the best show last week:
WWE Raw: 36.1%

TNA Impact Wrestling: 25%

WWE SmackDown: 18.5%

WWE Main Event: 13.9%

TNA Genesis: 3.7%

ROH Wrestling: 1.9%

WWE Saturday Morning Slam: 0.9%

TNA Xplosion, WWE Superstars: 0.0%
Don't forget to cast your vote on what you thought was the best show, or shows, this week! See you next week!
Thanks for reading, and don't forget to hit me up on Twitter, where I always follow back fellow wrestling fans and usually tweet during the shows! If your bio doesn't say you're a wrestling fan, please tweet me so I know.
Keep Reading