Ranking Each NBA Superstar by Dunking Prowess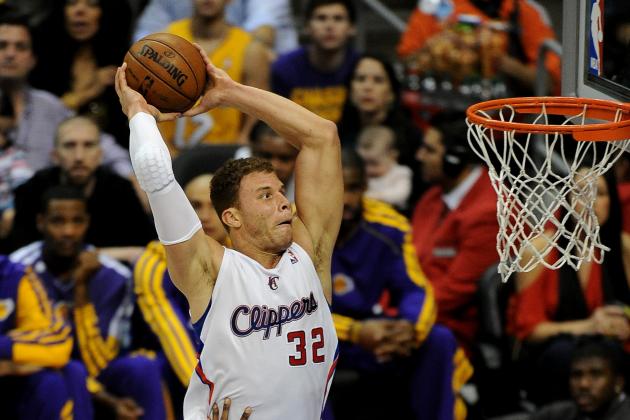 Jayne Kamin-Oncea-USA TODAY Sports

If dunking prowess were all it took to be an NBA superstar, we'd probably spend most of our time arguing over the MVP candidacy of Gerald Green and Jeremy Evans, who can do things like this and this.
The aforementioned pair enjoy short spurts of notoriety for their gravity-defying exploits, but they're not on the NBA radar for more than a few minutes at a time.
But hey, here's an idea: Let's take (arguably) the league's 10 best players and rank them by their slamming skills. You'd surely rather hear about the NBA's big names and watch clips of their forays above the rim anyway, right?
Here are the rules: First, the players we're ranking are superstars, period. That means they're All-Stars this year and have been (or will be) somewhere in the vicinity of an MVP debate at some point.
We're talking about the best of the best.
So, when you see Chris Paul on our list (spoiler alert), he's not here because he's known for dunking. He's here because he's one of the league's 10 best players, which is the pool we're drawing from.
Second, our rankings are based on the superstar's current dunking prowess, so we're only dealing with smashes that have occurred during the 2012-13 season. That'll hurt players, like Kobe Bryant, who spent their younger days churning out posters, but we're not looking at the past. These rankings are all about today.
Finally, our criteria will factor in originality, versatility, degree of difficulty and, to keep things from getting too technical, "wow" factor. That last component will weigh pretty heavily because we are, after all, still talking about highlight-level plays.
Let's go.
Begin Slideshow

»
Chris Paul doesn't do a whole lot of dunking these days, but the slam he threw down in the above clip was actually pretty impressive. In the half-dozen or so other dunks Paul has had this season, most have been of the "just snuck it over the front rim" variety.
Obviously, CP3's value isn't in his above-the-rim game; he's a floor general, and in order to stay on the court, he's made the conscious decision to save his legs by opting for layups whenever possible.
But sometimes, when he's feeling a little spry, he'll show he can still elevate. Listed at a very generous 6'0", the fact that Paul can get enough lift to put in a two-hander as authoritatively as the one in the above clip is truly impressive.
But, with persistent leg issues and a recent knee bruise that has already cost Paul his last two games, we may have seen the end of the limited dunking skills of CP3 this year.
After over 1,100 NBA games, Tim Duncan is still miraculously playing at an elite level. With a PER of 24.91, the San Antonio Spurs' ageless wonder has shown that fundamentals and smarts can make up for waning athleticism.
And although Timmy barely leaves the floor at all these days, he's still got the savvy and court awareness to cram in a few impressive dunks.
You'll rarely see a two-foot gather from Duncan, who instead opts for the quicker, more efficient one-foot, one-hand jam. He doesn't have the ability to go over the top of defenders anymore, but his length and quickness still allow him to sneak in a few nice flushes every now and again.
Best of all, TD is never afraid to try to punch one in against the league's younger, more athletic shot-blockers, a fact Serge Ibaka learned firsthand in the above clip.
Duncan's slams are efficient, never showy and devastatingly effective, which is a pretty good way to describe the overall game that has made him the greatest power forward of all time.
The same bulk that has allowed Carmelo Anthony to effectively play so much power forward for the New York Knicks this year has gradually cut inches off of his vertical leap. But Melo's strength is what ranks him ahead of Tim Duncan and Chris Paul.
Jordan Hill is a more traditionally sized power forward, and Anthony jumped through him as though he were invisible in this clip from earlier in the year.
You won't see a huge variety of dunks from Melo, but his jams aren't about aerial acrobatics; they're about finishing through contact, which is something Anthony does better than almost anyone.
In other words, whatever Anthony lacks in variety, he makes up for with power.
Like Carmelo Anthony, James Harden doesn't really elevate over anyone. Instead, he seeks out contact and then thinks about finishing.
That's been an effective strategy for Harden all year long, as his aggressiveness and ability to finish through fouls has helped him compile the league's fifth-highest scoring average at 25.9 points per game.
But we're not here to talk about stats; we're looking at Harden's dunking prowess as it relates to his superstar peers.
As you can tell, we're still firmly in the "solid, but unspectacular" territory, as the Bearded One has managed to accumulate a couple of highlight dunks, but really hasn't put together a big catalog of varied slams this year.
For a guy who gets by on threes and awkward layups, though, Harden is still a pretty decent dunker.
There's been a lot of justifiable concern over Dwyane Wade's deteriorating athleticism this year, and based on what we've seen from him in the past, it's hard to argue with the notion that he's slowing down.
Stuff like this never used to happen to D-Wade.
Nonetheless, Wade nearly makes the top half of our list because he still has the ability to produce the occasional highlight slam.
The Miami Heat shooting guard has always been an aggressive finisher, with most of his throwdowns coming over the top of waiting shot-blockers. Variety hasn't been a staple of Wade's repertoire, but his fearlessness and power are what made him a great dunker in years past.
Those qualities are still there, but the springs just aren't. We've probably seen the best of Wade as an aerialist and will have to settle for the occasional flash from yesteryear, like the one he showed against the Brooklyn Nets this season.
If we were chronicling lifetime achievements in dunking, Kobe Bryant would certainly rank much higher than he does in this list. But because we're only dealing with the 2012-13 season, the L.A. Lakers shooting guard barely cracks the top five.
As he's aged, Bryant's game has become much more focused on the high post and perimeter. That shift has allowed Kobe to remain one of the league's most effective scorers in this, his 17th season. But just like his total offensive game, Bryant still has the ability to adapt his dunks to any situation.
He's still got the in-your-face poster jams, like the one he threw down on Chris Paul in transition, but Bryant can also finish in a variety of other ways. This year alone, he has featured a two-hander on Zach Randolph, a sweet reverse and a quick spike on Al Jefferson.
How many other 34-year-olds have that kind of dunking portfolio?
Now we're talking.
Kevin Durant is the first legitimately spectacular dunker on our list who is also smack in the middle of his athletic prime.
KD has a variety of finishes at the rim, and at the risk of sounding like a fawning fan, they're all pretty darn breathtaking. Uncommon height and length allow Durant to take off from well outside of the restricted area, and his extension allows him to put the ball beyond the reach of virtually every shot-blocker in the league.
In other words, he tends to embarrass a lot of big guys.
An improved handle has allowed Durant to shake defenders on the perimeter before gathering a head of steam in the lane. And once he takes off, it's pretty much a wrap. The best course of action for most opponents is to simply get out of the way.
The presence of a second Oklahoma City Thunder player in our top four is a pretty good indicator of the athleticism that helped get OKC to the NBA Finals last year and that has made it look even more dangerous in 2012-13.
Put simply, Russell Westbrook might be the most athletically explosive guard in NBA history (with apologies to Derrick Rose). The guy looks like he's being shot out of a cannon when he elevates.
He can fire off of the floor using either foot and has a habit of cocking the ball back before rifling it through the rim for added dramatic effect.
Whether alone, on the break or in traffic, Westbrook can erupt with an arsenal of dunks at any...oh my God, Stephen Curry! Look out!
Like most things about LeBron James' game, the reigning MVP's dunks combine speed and power in a way that simply shouldn't exist.
Every one of James' slams are dissertations on the outer limits of human athleticism. That sounds hyperbolic, but until LBJ came along, nobody thought it was possible to combine Karl Malone's size with the end-to-end speed of Monta Ellis.
He spikes tip-ins with unfathomable quickness (with his off hand, by the way), elevates on the break like few others and finishes alley-oops with uncommon flair.
Add all of that up, and you've got the second-best superstar dunker in the NBA.
In order to top the likes of Russell Westbrook and Kevin Durant, you knew we'd need a true freak of nature. Allow me to introduce you to Blake Griffin, the NBA's greatest superstar dunker by a wide margin.
Griffin's dunks are angry, typically involving a two-foot gather before throwing the ball through the net with a startling fury. L.A.'s power forward generally leaves defenders with two options when he elevates: They can either lay him out with a flagrant foul or end up on a poster.
For your viewing pleasure, enjoy Griffin's breakaways, baseline moves and pick-and-roll prowess. You'll note that in all of his dunks, Griffin needs about a nanosecond to collect himself before rocketing off of the floor.
He's got power, variety and more elevation than any other dunker in the league—superstar or otherwise. Nobody should be surprised at his presence atop this list.