Duke Bounces Back with Big ACC Win over Maryland
Streeter Lecka/Getty Images
Nothing like a little good-old home cooking to cure what ails you.
The Duke basketball team, coming off of an embarrassing beatdown at the hands of Miami, dished out a little hurt of its own to the tune of 84-64 Saturday afternoon.
Maryland hung with Coach K's squad for the majority of the game and did a great job on the glass, but the Blue Devils' three-point shooting and timely offense was too much to overcome. The win moves Duke to 17-2 overall (4-2 in ACC play), and knocked the Terps to 15-5 overall (3-4 in the ACC).
Duke's offense was incredibly efficient against a Maryland defense that has had success thus far this season. Rasheed Sulaimon led the way with 25 points, and Mason Plumlee added 19 of his own.
This doesn't change the fact that the Blue Devils need Ryan Kelly back to be considered a national title contender, but they really needed this win today.
Duke 84, Maryland 64 (FINAL)
Duke showed up this afternoon with an impressive follow-up effort to Wednesday's loss to Miami.
Maryland hung around for a while, but the Blue Devils used an impressive offensive effort in the paint and behind the three-point line to come away with a 20-point victory.
Now this one I can get behind:
The "not our rivals chant breaks out in Cameron as the teams get back on the floor.

— Duke Basketball (@dukebasketball) January 26, 2013
Duke 81, Maryland 62 (1:51 second half)
And Plumlee with another flush off the alley-oop pass from Sulaimon. Maryland then calls a timeout because it wants to delay the inevitable for as long as possible.
Mason Plumlee with his own behind the head slam. He did something to draw a technical, though. K seemed satisfied with ref's explanation

— Laura Keeley (@laurakeeley) January 26, 2013
Duke 79, Maryland 60 (3:20 second half)
Duke fans chanting ACC right now must not have looked at the RPI rankings recently.
Plumlee with an unbelievable follow-up dunk. And then gets the T afterwards for taunting.
Worth it.
THANKS FOR THE UPDATE DICKIE V!
SULAIMON having a monster day 4 DUKE vs TERPS Certainly not shocked - there is a reason y Coach K IS A HALL OF FAMER

— Dick Vitale (@DickieV) January 26, 2013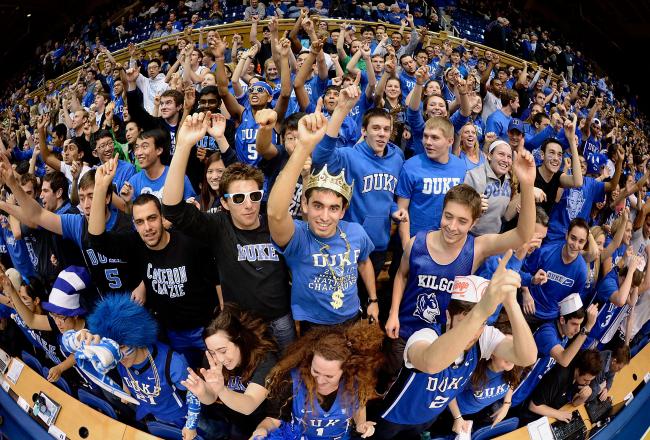 Duke 77, Maryland 59 (3:52 second half)
As we head to the under-four minute timeout, it's time for Duke to start thinking about taking a knee. Or something like that.
Maryland really needs to find a way to turn around these road woes if it is going to reenter the national discussion. Oh, and it won't get much easier in the Big Ten with trips to Indiana, Michigan State, Michigan, Wisconsin, Minnesota, Ohio State and Illinois.
Josh Vitale of The Diamondback sees the writing on the wall:
#Terps are folding. Wells misses another layup, and Duke gets the bucket and then foul on the other end. Blue Devils lead by 19.

— Josh Vitale (@JoshVitale) January 26, 2013
Shield your eyes Maryland fans (and Duke-haters), this is about to get ugly.
Duke 71, Maryland 56 (6:20 second half)
If the Terps are going to make a run, now would be the time.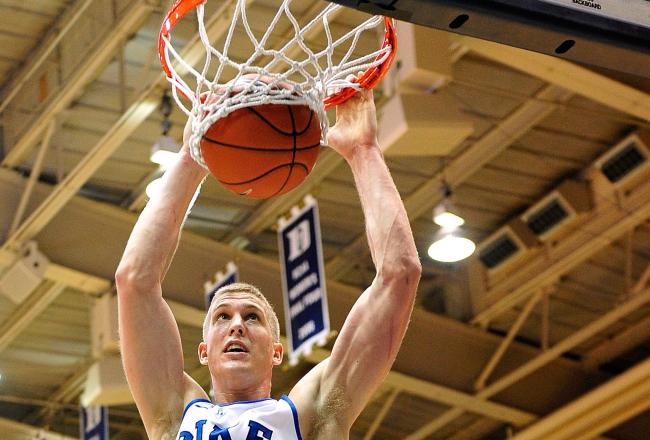 Duke 68, Maryland 53 (8:15 second half)
And there is Plumlee with the dunk to blow the roof off the place.
David Morrison from the Greensboro News & Record points out that this formula is dangerous come tourney time:
Duke is up 10 despite being outrebounded 37-22. Shooting 9-of-17 from 3-point range will salve a lot of wounds.

— David Morrison (@DavidCMorrison) January 26, 2013
Duke 64, Maryland 51 (10:40 second half)
Beautiful move by Plumlee for an easy two. NBA scouts will like that.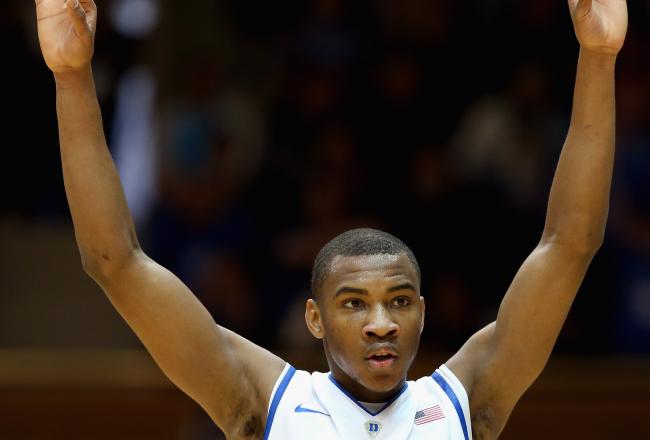 Breaking news heading into that timeout: Sulaimon actually missed a three.
Sulaimon with a career-high 20 pts and there is still over 13 minutes left to play #goduke

— Duke Men's Hoops (@Duke_MBB) January 26, 2013
Sulaimon still red hot in the second half. Six-of-six from downtown.
Duke 58, Maryland 46 (13:21 second half)
To all the Maryland fans out there, sorry for jinxing that mini-run you had there. Duke with a couple hoops and back in front by double digits.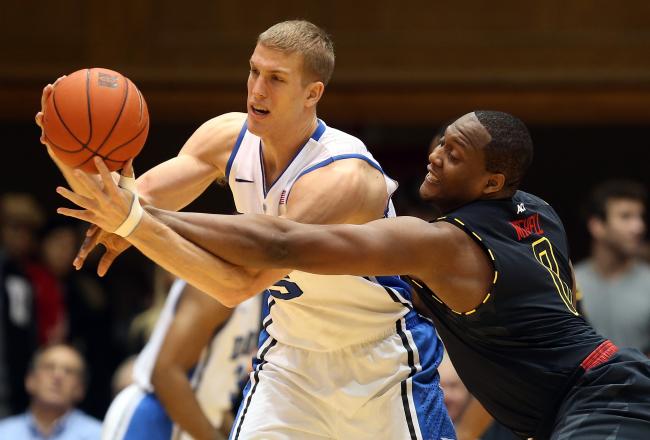 Duke 54, Maryland 46 (14:30 second half)
A bit of nervous energy in Cameron after an ill-advised Plumlee jumper. Still a lot of time left.
Will be interesting to see if Allen can help the Terps turn this momentum around at all. They really need a run.
Maryland's Seth Allen to take the floor after sitting in the first half for "disciplinary" issues

— Laura Keeley (@laurakeeley) January 26, 2013
In reference to Plumlee's "block" that set up that Curry three:
Uh, anyone else think that was a goaltend?

— Testudo Times (@testudotimes) January 26, 2013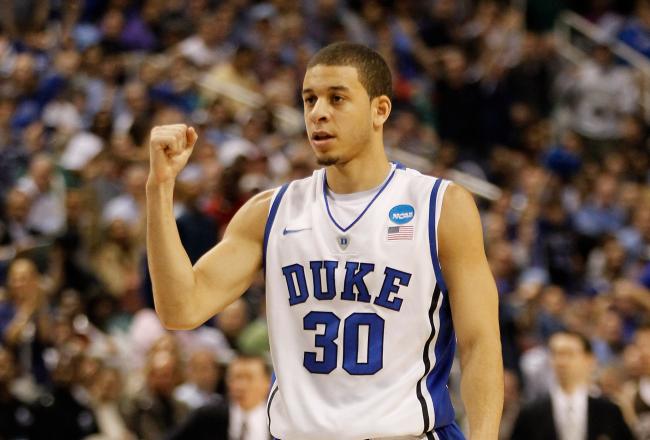 Duke 54, Maryland 42 (16:15 second half)
Curry with an early candidate for the dagger shot. He buries a three off of an offensive rebound in transition. Timeout Terps.
This article is
What is the duplicate article?
Why is this article offensive?
Where is this article plagiarized from?
Why is this article poorly edited?

Duke Basketball: Like this team?