The Rock: Ranking the 5 Best Movies of His Acting Career so Far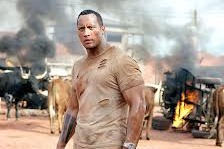 everythingaction
The Rock is the WWE champion and a bona fide Hollywood movie star. It's a weird combination, I know, but I've learned to except it.
One thing WWE and wrestling fans can be thankful for is that The Rock can wrestle. We don't have another David Arquette situation on our hands, thank God.
Dwayne "The Rock" Johnson has played many small roles and a few lead acting roles. Aside from being in The Mummy Returns (2001) for a few minutes, Dwayne's first major motion picture film was The Scorpion King (2002).
Despite the film getting negative reviews, many critics said that The Rock made a good first impression and that he has what it takes to be a promising movie star.
I apologize that there are only five movies in this slideshow.
I think The Rock is slowly becoming a phenomenal actor, but some of the movies he's agreed to do, such as the Tooth Fairy (2010), take away from his greatness.
The films I've selected for this slideshow are my own personal picks. I enjoy watching movies and I consider myself a big movie fan.
So, without further ado, here are The Rock's five best movies so far in his acting career.
Begin Slideshow

»
Many of you may disagree with this choice, but I really enjoyed Walking Tall. I thought The Rock did an excellent job playing the lead role of Chris Vaughn Jr.
Walking Tall is a 2004 remake of the 1973 film of the same name. I was thoroughly entertained from start to finish, but the critics weren't.
It seems like a lot of the critics said that The Rock played a competent hero, but everything else about the movie was just plain silly.
The Rock's co-star and buddy in the film is none other than Jackass' Johnny Knoxville. Perhaps Knoxville had something to do with all the silliness.
I'm not sure why I like Walking Tall so much. I thought it had a good blend of action and humor and it made The Rock look like a badass.
It's not the greatest movie The Rock has ever starred in, but it isn't the worst.
Movie Rating: 4.5/10
If you like Will Ferrell comedy mixed with over-the-top action scenes, then The Other Guys is the movie for you.
The Rock didn't appear on screen for more than a few minutes, so that's why I have this at No. 4. If he played a bigger role, it would be ranked higher on this list.
The Other Guys is a buddy-cop comedy starring Will Ferrell and Mark Wahlberg. The film got mostly positive reviews from the critics and had a decent showing at the box office.
There isn't much more that I can say about this movie considering Rock wasn't playing the lead role, but The Other Guys is a genuinely funny, action-packed comedy that you should definitely check out.
If you are a die-hard Rock fan and want to watch the movie only because of The Rock, watch the first five minutes and then turn it off. You won't be seeing him again.
Those first five minutes feature a great car chase with The Rock and Samuel L. Jackson.
Also, the video above is a perfect indication of what kind of comedy The Other Guys shoots for.
Movie Rating: 7/10
The Rock really shines as lead character Driver, in the movie Faster.
Faster is about revenge and justice. It's bloody, gritty and full of f-bombs. Something that WWE fans aren't used to.
It's nice to see that The Rock doesn't mind being in R-rated movies. I hope he continues to star in these types of movies.
Throughout Faster, Driver tries to get revenge on the people who killed his brother during a botched bank robbery. After being caught, Driver is sentenced to 10 years in prison.
After Driver serves the 10 years, he is released and has a list of people who played a part in the death of his brother.
Billy Bob Thornton plays a veteran cop who tries to stop Driver from murdering the people on his list.
The reason why I enjoy this movie so much is because it was full of action, suspense and had a really big twist at the end.
I recommend Faster to mature audiences.
Movie Rating: 7/10
You may think that the fifth installment in a movie series would be a big flop. However, Fast Five vastly improves the Fast and the Furious franchise.
Over-the-top action and awesome car chases make the film an exciting ride from start to finish.
Paul Walker and Vin Diesel play the two main characters in the film. Diesel is a free man after Walker breaks him out of custody. They travel all across the world trying to evade police and authorities.
The Rock plays hard-nosed federal agent Luke Hobbs. Hobbs tries to catch and arrest Diesel throughout the film.
Fast Five is one of the best reviewed movies that The Rock has starred in. It has a pretty lengthy running time (2 hr. 11 min), but if you tough it out, you won't be disappointed.
Believe it or not, The Rock bulked up for his role in Fast Five. He gained 30 pounds of muscle by weight lifting and sticking to a low-carb diet. It seems so simple...
Luke Hobbs is one of the best characters The Rock has played so far in his acting career.
In the video above, The Rock and Vin Diesel square off in an epic fight. I'd love to see Rocky and Diesel actually fight. Who do you think would win?
Movie Rating: 7.5/10
The Rundown is my all-time favorite Rock movie. Even the critics didn't mind sitting through it!
The reason why this film works so well is because of the comedic chemistry between The Rock and Sean William Scott.
The Rundown is a witty, smartly-written and fast-paced action film that forced critics to notice The Rock's acting ability.
You can tell that Rocky had a lot of fun working with Sean William Scott. Both Rock and Scott really connect and give fantastic performances that will have you laughing at almost every scene.
If The Rock making jokes and beating people up isn't enough to make you want to watch this movie, then come for Christopher Walken, who plays the bad guy.
The Rock vs. Christopher Walken does not disappoint.
Movie Rating: 8/10
What is your favorite movie starring The Rock? What is your least favorite movie starring The Rock? Which movies do you think should have made this list? Let me know in the comments box below!
Adrian Fylonenko is an aspiring writer who plans to major in journalism. His interests include writing and debating about all things wrestling. Bleacher Report has given him the opportunity to improve and perfect his craft. Adrian is active on social media and if you have any questions or suggestions, you can do so on Twitter and Facebook . Word on the street is if you follow him, he will follow back.
All comments are greatly appreciated and will be responded to. Thank you for reading and for your support.