The Biggest Question Marks Surrounding the Detroit Lions' Offseason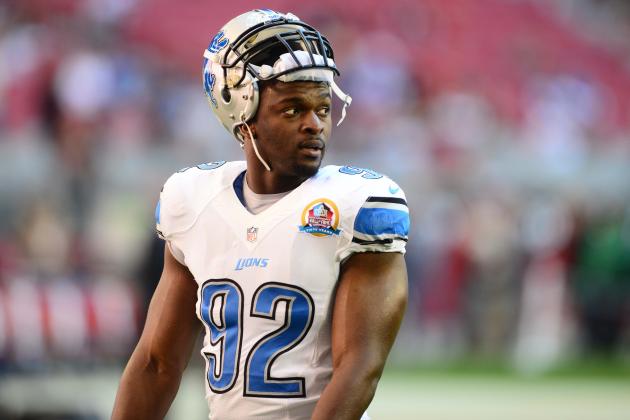 Mark J. Rebilas-USA TODAY Sports
Will he stay or will he go?
After a disappointing season in which the Detroit Lions significantly underperformed—in every aspect of the game—they now enter the most important offseason of the Martin Mayhew/Jim Schwartz era. They've had a chance to build their team; now it's time to put up or shut up.
Finishing 4-12 was an embarrassment, particularly when considering the talent the Lions have at key positions. They're a better team than their record indicated.
Yet in the NFL, you are what your record says you are, to quote Bill Parcells.
That's why this offseason is so important. It doesn't matter how much talent they have; if they finish the 2013 season with a record similar to 2012, the Ford family has made it clear there will be major changes.
Mayhew and Schwartz must pull all the right strings if they hope to stick around beyond next year.
Here are the Lions' biggest questions that need addressing this offseason.
Begin Slideshow

»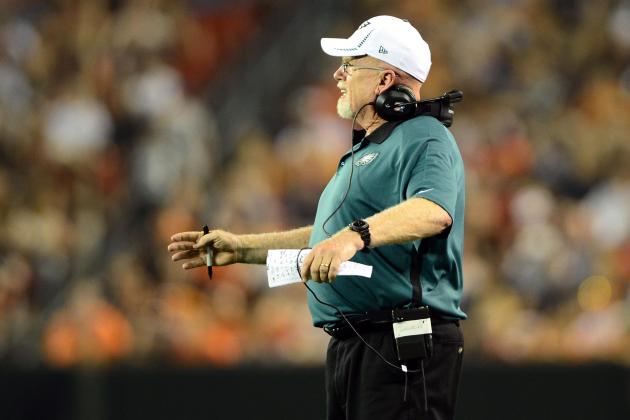 Andrew Weber-USA TODAY Sports

Last week the Lions hired Jim Washburn, formerly the defensive line coach of the Philadelphia Eagles, to take on, "an unspecified role that will include partnering with current D-line coach Kris Kocurek," according to ESPN's Kevin Seifert.
They followed that up by adding former Denver Broncos' GM Brian Xanders to the front office as a senior player personnel executive.
Both hires brought questions. Was Washburn brought in as Gunther Cunningham's eventual successor? The Lions will never say for sure, but it's a good possibility if the defense underperforms again next season.
If that's the case, then Washburn's presence might result in some behind-the-scenes friction with Cunningham. On the other hand, his son is already on the Lions coaching staff and Koceruk played under him at Tennessee.
Washburn could mesh well within the current system and light a fire under the defensive line that finally pushes them to reach their potential.
Similar questions arose when Xanders was hired. Was he brought in to be general manager Martin Mayhew's successor?
He is a scouting specialist with GM experience, and the Ford family hasn't been happy with some of the personnel choices Mayhew has made. Xanders seems like a perfect fit to take over.
The Detroit Free Press reports he won't replace Mayhew (this year), but he will develop an internal scouting system like perennial playoff teams such as the New England Patriots and Baltimore Ravens have.
If he is successful at that, his impact on the Lions might be the biggest of all.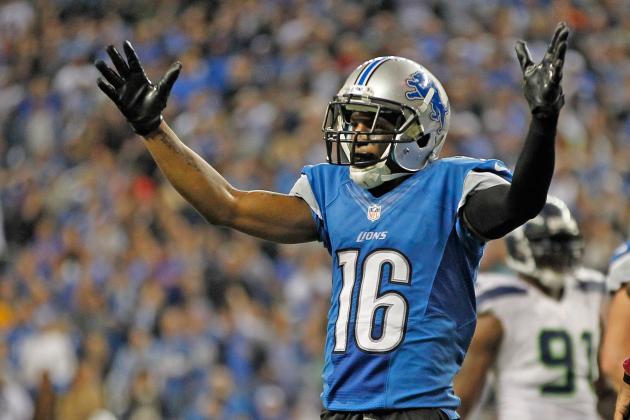 Leon Halip/Getty Images

The Titus Young saga continues. The Lions' second-year player had a rocky 2012 season that only got rockier this past week
He made a series of ill-advised tweets that served to further alienate him from his coaches, teammates and fans. He's currently public enemy No. 1 in Detroit, and his future with the Lions is seriously in doubt.
He's got loads of talent, but is he worth the immense headache?
That's the question the Lions need to answer for themselves. If they decide to cut ties with him, it will be because of the cumulative effect of his antics. He's a cancer in the locker room, and his negative impact far outweighs his production thus far.
On the other hand, it's never a good idea to give up on a second-round draft pick after only two years.
Young showed a lot of promise his rookie year, and if the Lions were able to corral his attitude, there's no reason he couldn't improve upon that in 2013.
Either way, Young's tenure with the Lions will be a major storyline this offseason. Stay tuned.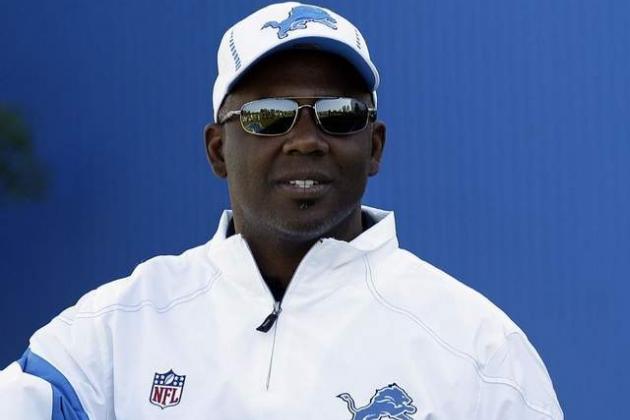 freep.com
Last season the Lions didn't make any significant additions via free agency. Actually, with all the injuries in the secondary, the Jacob Lacey signing turned out to be pretty significant.
Nevertheless, the Lions didn't make any big-name additions. They didn't need to. They returned all but one of their starters from 2011.
After a 4-12 season—and the benefit of hindsight—the decision to roll with basically the same team was the wrong one. Martin Mayhew will have an opportunity to right that wrong in 2013.
With more than 20 players entering free agency, there is potential for massive change. Some starters will not return, and it's up to Mayhew to replace them.
He can't afford to take a chance on unproven players this year. Keep in mind, he's been given one year to show improvement. For that reason he must upgrade positions vacated by veterans, not simply replace them.
He can't do that by scraping the bottom of the NFL barrel for talent.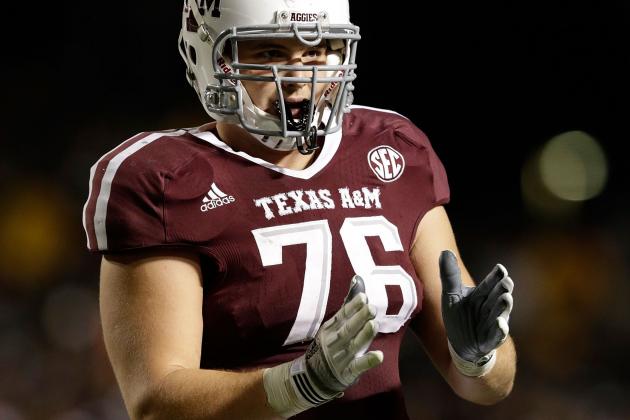 Scott Halleran/Getty Images

The Lions have a chance to land an elite talent with the fifth pick in the NFL draft this April. They have plenty of needs, of course, and there's always debate about whether they should select a player on the defensive or offensive side of the ball.
Many mock drafts predict the Lions will select a defensive end in the first round. Damontre Moore, Bjoern Werner and Dion Jordan are the usual suspects. All would bolster a Lions' pass rush that was truly lackluster last season.
Several mocks favor secondary help for Detroit. As everyone knows, the Lions always need secondary help. Cornerbacks Dee Milliner and safety Kenny Vaccaro are the best prospects at their respective position and could be top five picks.
Let's not forget that the Lions offense is far from perfect and the offensive line is the unit in most need of an upgrade. They're one of the oldest in the NFL and are subpar run blockers.
Luke Joeckel, Eric Fisher and Chance Warmack are all lineman that could start from day one in Detroit.
Let the debate rage on: defense or offense? Lions fans will find out April 25.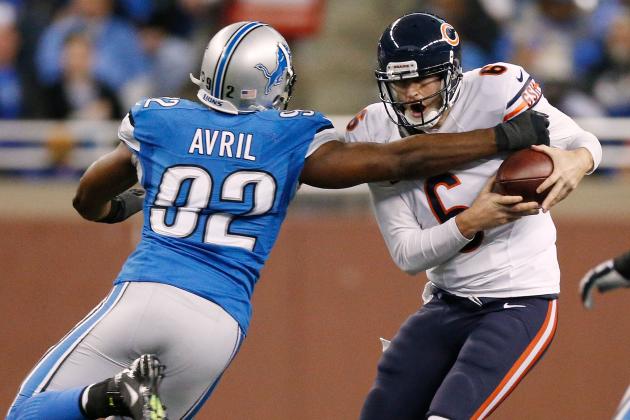 Gregory Shamus/Getty Images

Cliff Avril is the most important free agent the Lions have. If they can't re-sign him, they're in big trouble.
That's because the defensive end position is a mess. Avril was the only player that performed well enough last season; every other player regressed.
That regression will only continue for the Lions' other starter, Kyle Vanden Bosch.
He's 34 years old and his body has started to show major wear and tear. He's a great leader and energy guy, but he's no longer an NFL starter.
Avril will likely look for a deal similar to the one he wanted last year. Even though his numbers weren't as impressive, he's only 26 years old and entering the prime of his career. He's going to get even better, and some other team will pay dearly for him.
The Lions must figure out a way to either retain Avril or replace him with an equally talented player. They can't expect to win games with Willie Young and Lawrence Jackson starting—at least not based on their performances last year.
The Lions' defense needs at least one elite pass-rusher. Those are good depth guys, but they're not elite.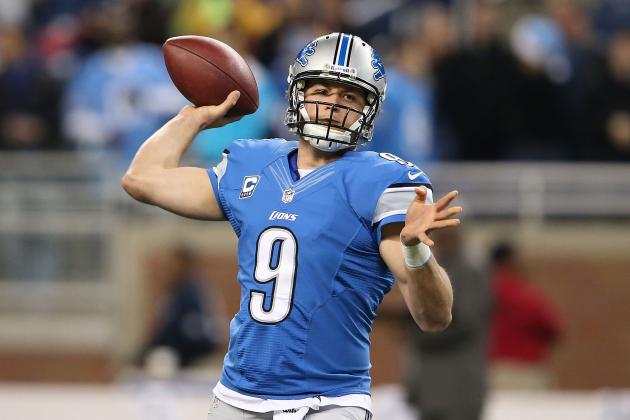 Leon Halip/Getty Images

With all of the players entering free agency this summer, reworking Matthew Stafford's contract is a huge priority this offseason. If they can't get it done, they'll have a hard time re-signing anyone.
Stafford's salary in 2013 is $12 million, but it's his salary cap hit of $21 million that is staggering (Spotrac).
If the Lions can't find some cap relief, they'll be scouring the Lingerie League and Arena Football for cheap free agents to sign. Probably in that order, too.
Needless to say, they will try to rework it so Stafford gets more money over the long haul but less per year so the annual cap hit won't be so high.
If they're successful, they'll be in a better position to keep players like Justin Durant or Cory Williams who are reliable veteran players and important cogs in the Lions' defensive machine.
If Ndamukong Suh is willing to rework his deal ($17.1 million cap hit in 2013), the Lions would have even more cap space.
I won't hold my breath on that one.