The Complete Senior Bowl Viewing Guide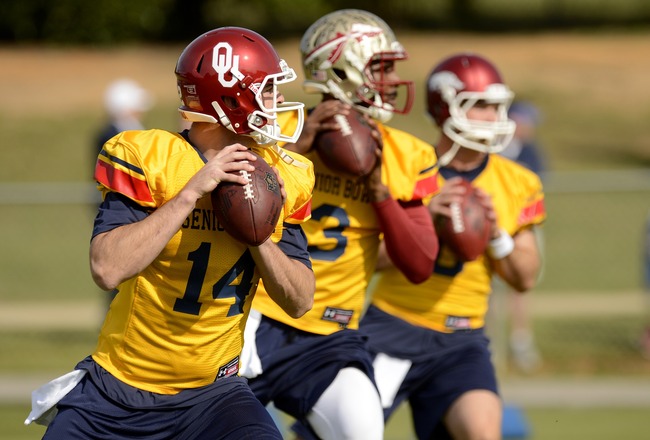 USA TODAY Sports
A week of heavily scrutinized practices will conclude Saturday when 100 draft-hopeful college seniors finally play the 2013 Senior Bowl in Mobile, Ala.
Both the North and South rosters went through four practices during the week, each of which was attended by hundreds of scouts and NFL decision-makers. Now, the players will get the chance to transfer what they've practiced this week into a live-game setting.
In the following slides, we'll present a viewer's guide for Saturday's 2013 Senior Bowl. Everything you need to know about the game—who, what and how to watch, complete rosters, game information, etc.—will follow.
Game Information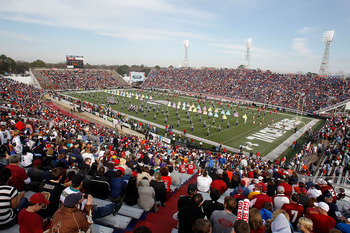 Sean Gardner/Getty Images
Date: Jan. 26, 2013
Time: 4:00 P.M. EST
Where: Ladd-Peebles Stadium, Mobile, Ala.
Television: NFL Network
Website: www.seniorbowl.com
Rosters: North Offense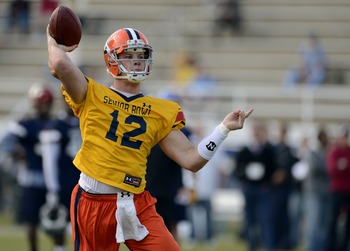 USA TODAY Sports
Coaching Staff: Oakland Raiders
QB Zac Dysert, Miami (OH)
QB Mike Glennon, NC State
QB Ryan Nassib, Syracuse
RB Kenjon Barner, Oregon
RB Johnathan Franklin, UCLA
RB Robbie Rouse, Fresno State
FB Kyle Juszczyk, Harvard
WR Aaron Dobson, Marshall
WR Marquise Goodwin, Texas
WR Chris Harper, Kansas
WR Alec Lemon, Syracuse
WR Aaron Mellette, Elon
WR Denard Robinson, Michigan
WR Markus Wheaton, Oregon State
TE Jack Doyle, Western Kentucky
TE Nick Kasa, Colorado
TE Ryan Otten, San Jose State
OL Braxton Cave, Notre Dame
OL Eric Fisher, Central Michigan
OL Kyle Long, Oregon
OL Joe Madsen, West Virginia
OL Justin Pugh, Syracuse
OL David Quessenberry, San Jose State
OL Hugh Thornton, Illinois
OL Ricky Wagner, Wisconsin
OL Brian Winters, Kent State
LS Luke Ingram, Hawaii
Rosters: North Defense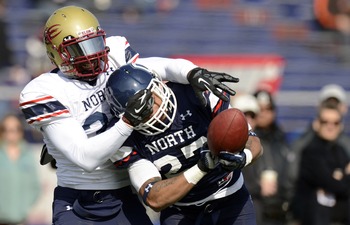 USA TODAY Sports
DL Michael Buchanan, Illinois
DL Margus Hunt, SMU
DL Datone Jones, UCLA
DL Alex Okafor, Texas
DL Jordan Hill, Penn State
DL Kawann Short, Purdue
DL Brandon Williams, Missouri Southern
DL Sylvester Williams, UNC
LB Steve Beauharnais, Rutgers
LB Khaseem Greene, Rutgers
LB Travis Johnson, San Jose State
LB Kevin Reddick, UNC
LB Sio Moore, UConn
LB Ty Powell, Harding University
DB Jonathan Cyprien, Florida International
DB Will Davis, Utah State
DB Dwayne Gratz, UConn
DB T.J. McDonald, USC
DB Jordan Poyer, Oregon State
DB Jamar Taylor, Boise State
DB Phillip Thomas, Fresno State
DB Desmond Trufant, Washington
DB Duke Williams, Nevada
DB Blidi Wreh-Wilson, UConn
P Jeff Locke, UCLA
PK Quinn Sharp, Oklahoma State
Rosters: South Offense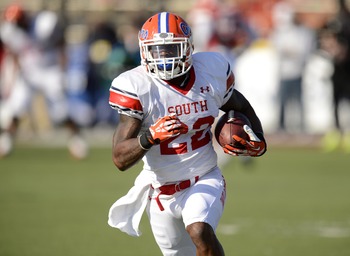 USA TODAY Sports
Coaching Staff: Detroit Lions
QB Landry Jones, Oklahoma
QB E.J. Manuel, Florida State
QB Tyler Wilson, Arkansas
RB Mike Gillislee, Florida
RB Mike James, Miami
RB Onterio McCalebb, Auburn
RB Stepfan Taylor, Stanford
FB Tommy Bohanon, Wake Forest
WR Cobi Hamilton, Arkansas
WR Tavarres King, Georgia
WR Quinton Patton, Louisiana Tech
WR Russell Shepard, LSU
WR Conner Vernon, Duke
WR Terrance Williams, Baylor
TE Vance McDonald, Rice
TE Mychal Rivera, Tennessee
TE Michael Williams, Alabama
OL Oday Aboushi, Virginia
OL Terron Armstead, Arkansas-Pine Bluff
OL D.J. Fluker, Alabama
OL Dalton Freeman, Clemson
OL Garrett Gilkey, Chadron State
OL Lane Johnson, Oklahoma
OL Xavier Nixon, Florida
OL Brian Schwenke, Cal
OL J.C. Tretter, Cornell
OL Larry Warford, Kentucky
LS Carson Tinker, Alabama
Rosters: South Defense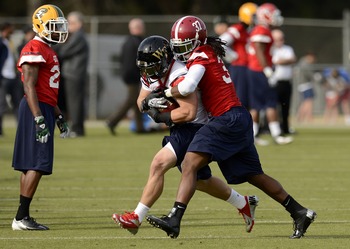 USA TODAY Sports
DL Ezekial Ansah, BYU
DL Josh Boyd, Mississippi State
DL Everett Dawkins, Florida State
DL Lavar Edwards, LSU
DL Malliciah Goodman, Clemson
DL Cory Grissom, South Florida
DL Montori Hughes, Tennessee-Martin
DL John Jenkins, Georgia
DL Cornelius Washington, Georgia
LB Jame Collins, Southeastern La.
LB Zaviar Gooden, Missouri
LB Nico Johnson, Alabama
LB Sean Porter, Texas A&M
LB Phillip Steward, Houston
LB Chase Thomas, Stanford
LB Vince Williams, Florida State
DB Robert Alford, Southern Miss
DB Marc Anthony, Cal
DB Sanders Commings, Georgia
DB Robert Lester, Alabama
DB Leon McFadden, San Diego State
DB Bacarri Rambo, Georgia
DB B.J. Scott, South Alabama
DB B.W. Webb, William and Mary
DB J.J. Wilcox, Georgia Southern
DB Shawn Williams, Georgia
P Ryan Allen, Louisiana Tech
K Dustin Hopkins, Florida State
Quarterbacks, Quarterbacks and More Quarterbacks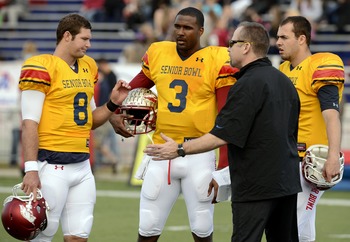 USA TODAY Sports
For a vast majority of onlookers, the Senior Bowl will be a showcase of the quarterback position.
Each of the six quarterbacks in Mobile—Ryan Nassib, Mike Glennon and Zac Dysert from the North, and Landry Jones, Tyler Wilson and E.J. Manuel from the South—are potential top-100 picks in April's NFL draft.
While there hasn't been one player from the six who has clearly separated himself from the other five this week, Saturday's Senior Bowl does allow a final opportunity to see the quarterbacks in a live-game setting. You can guarantee scouts will be taking a look at how each player handles the setting and pressure.
Saturday's contest is still a part of the evaluation process, even if the practices were a more important scouting tool. Keep an eye on how each quarterback manages his allotted snaps.
Who Are Some Names to Know?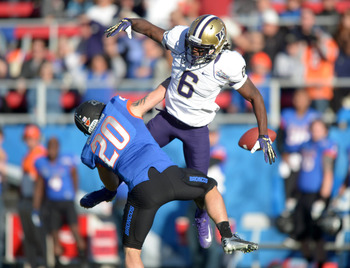 USA TODAY Sports
WR Quinn Patton, Louisiana Tech: A smooth, fluid athlete, Patton is a natural route runner without fear of making a catch in traffic. His top-end speed won't remind anyone of Pittsburgh's Mike Wallace, but Patton has a certain Greg Jennings-like feel to his game.
NT Brandon Williams, Missouri Southern: Rarely do 340-pounders move as well as Williams. Using his power and quickness, Williams has shown throughout the week that he belongs on the same stage as the big school defensive linemen.
DE Datone Jones, UCLA: Jones looks like the kind of hybrid player who can play multiple positions and in multiple schemes, giving him great value along the defensive line. If an NFL defensive coordinator is willing to get creative, Jones could be a dangerous chess piece.
CB Desmond Trufant, Washington: NFL teams are willing to spend high picks on polished college cornerbacks who can flip their hips with ease and run with the speedsters. Trufant has shown that kind of ability in Mobile this week.
S Jonathan Cyprien, Florida International: A showcase game like the Senior Bowl rarely lends itself to in-the-box, big-hitting safeties, but Cyprien has made his presence known. He could lay an impact hit or two today.
Who Needs a Strong Performance?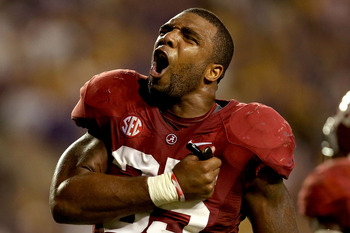 Matthew Stockman/Getty Images
QB Mike Glennon, NC State: Glennon's week in Mobile depends on who you talk to. But as a guy with a huge frame (6'7") and big, strong throwing arm, Glennon could have really helped his stock this week. Maybe a big day Saturday gives him that momentum leaving the Senior Bowl.
WR Denard Robinson, Michigan: The former Michigan quarterback is attempting the switch to receiver, but he had a tough week with the adjustment. He's still raw catching the football. Teams want to see Randall Cobb in Robinson, but he has a ways to go.
S Robert Lester, Alabama: A cog in the Crimson Tide's top defense, Lester struggled to stand out in a practice setting. He's better against the run than pass, so Saturday's live-game setting could see Lester put a better performance together.
LB Nico Johnson, Alabama: Like Lester, Johnson was a key part of what Alabama accomplished on defense, but there are worries about his sideline-to-sideline capabilities at the NFL level. He can help cure some of those concerns by being all over the field Saturday.
Who Was the Best Player in Mobile?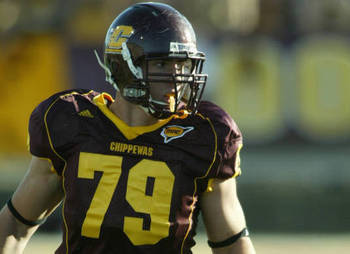 While scouts coming away from Mobile typically agree about very little, one constant in 2013 seemed to be the reception of Central Michigan offensive tackle Eric Fisher.
According to Matt Miller, Bleacher Report's lead draft writer, Fisher was the "winner of the Senior Bowl" and is now "a top-10 pick walking away from Mobile."
Doug Farrar of Yahoo! Sports said that Fisher reminds him of San Francisco 49ers tackle Joe Staley and Cleveland Browns All-Pro tackle Joe Thomas, and that Fisher should go in the top half of the first round.
Very few have anything bad to say about the rising prospect. When Fisher comes off the board high in April, expect his performance this week in Mobile to be one reason why. He'll protect the blind side of the North quarterbacks Saturday.
Keep Reading