UFC on Fox 6 Results: Questions Heading into UFC 156 Aldo vs. Edgar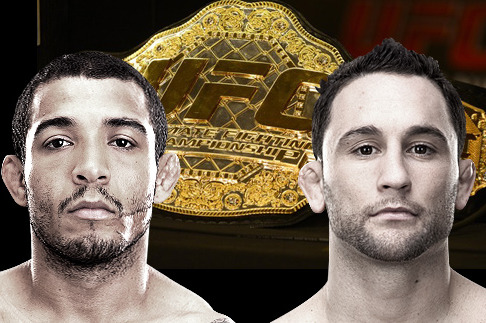 Ron Chenoy-USA TODAY Sports

UFC on Fox 6 is in the books and Demetrious Johnson successfully defended his UFC flyweight title.
Below are the full results for the Chicago fight card:
Demetrious Johnson defeats John Dodson (48-47, 49-46, 48-47)
Glover Teixeira defeats Quinton Jackson via unanimous decision (30-27, 30-27, 29-28)
Anthony Pettis defeats Donald Cerrone via TKO (liver kick) at 2:35 of Round 1
Ricardo Lamas defeats Erik Koch via TKO (strikes) at 2:32 of Round 2
T.J. Grant defeats Matt Wiman via knockout (elbows) 4:51 of Round 1
Clay Guida defeats Hatsu Hioki via split decision (28-29, 30-27, 29-28)
Pascal Krauss defeats Mike Stumpf via unanimous decision (30-27 x 3)
Ryan Bader defeats Vladimir Matyushenko via submission (guillotine choke) at :0:50 of Round 1
Shawn Jordan defeats Mike Russow via TKO (strikes) at 3:48 of Round 2
Rafael Natal defeats Sean Spencer via submission (arm triangle) at 2:13 of Round 3
David Mitchell defeats Simeon Thoresen via unanimous decision (30-27 x 3)
If you think the UFC was going to take some time off after this event, you would be wrong. The promotion swings back to Vegas for the Feb. 2 card at the Mandalay Bay Events Center. That card, UFC 156, will be headlined by a featherweight title bout, as champion Jose Aldo puts his title on the line against former UFC lightweight champion Frankie Edgar.
What follows are some questions we have heading into the UFC's first pay-per-view card of 2013.
Begin Slideshow

»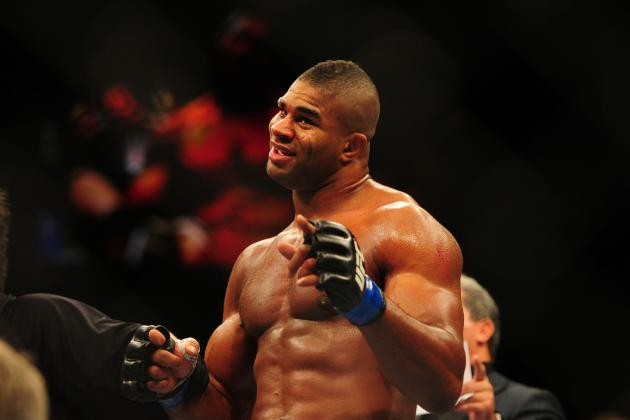 Mark J. Rebilas-USA TODAY Sports

Find a list of the fights on the UFC 156 fight card. No really, do it. You got it? Alright. Now start at the bottom of that list and run your eyes up to the main event and try to not get excited about the fight card.
Every fight on this card improves on the one before it, and it all comes to a head with the UFC featherweight title bout between champion Jose Aldo and former UFC lightweight champion Frankie Edgar, as close to a superfight as you're going to find in the UFC these days.

Now go back down that card and see that every fight on the main card will have some pretty deep repercussions for the winners and losers.

I know it's early in the year, and I know we tend to get caught up in the moment when discussing fight cards, but if the UFC pay-per-view events for 2013 can all look like UFC 156, we're in for a hell of a year with the UFC.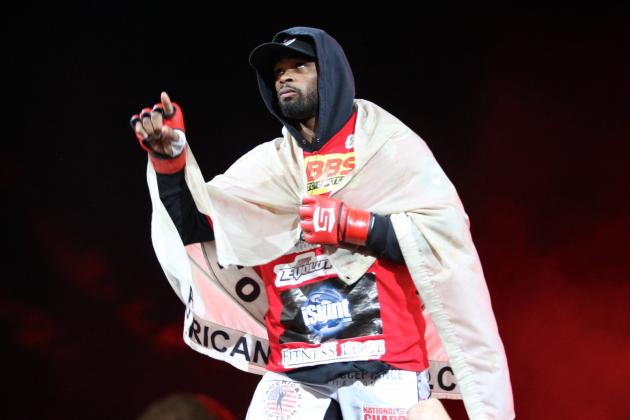 Scott Olmos-USA TODAY Sports

Three former Strikeforce fighters will make their UFC debut on the UFC 156 fight card—Isaac Vallie-Flagg, Bobby Green and Tyron Woodley.

Vallie-Flagg enters the UFC with a record of 13-3-1, with his last bout being a split-decision win over Gesias "JZ" Cavalcante. He'll get no favors in his UFC debut as he will face off against the veteran Yves Edwards.

Green comes to UFC with a record of 19-5, while riding a four-fight winning streak. Green will be welcomed to the Octagon by Jacob Volkmann.

Tyron Woodley is the biggest name of the transfers, having recently fought Nate Marquardt for the Strikeforce welterweight crown. Woodley tasted defeat for the first time in his career in that bout, falling by way of a fourth-round knockout and putting his career record at 10-1. Woodley's opponent will be Jay Hieron.

None of these three transfers is getting an easy ride in their first UFC bout. Add to the fact that they have also all been out of action longer than their UFC opponents and the odds may be stacked against them in their debuts.

Is that by design? It's hard to say, but it will be worth watching to see how they fare when they step inside the Octagon for the first time.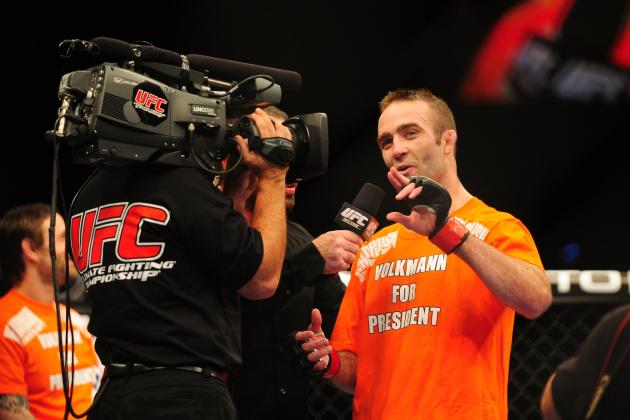 Mark J. Rebilas-USA TODAY Sports

Ah, Jacob Volkmann. Whenever Volkmann fights, I kind of hope he loses, just so he doesn't get a microphone put in his face forcing us to endure some of the most awkward post-fight interviews in the history of professional sports.

I'm not even talking about when Volkmann goes off on some political tangent. I'm just saying, in general, this dude takes the awkward meter way past the Nick Diaz level.

On second thought, you know what, let's root for a Jacob Volkmann victory and that there's plenty of time to fill on the broadcast, just to see what type of car crash comes out of his interview.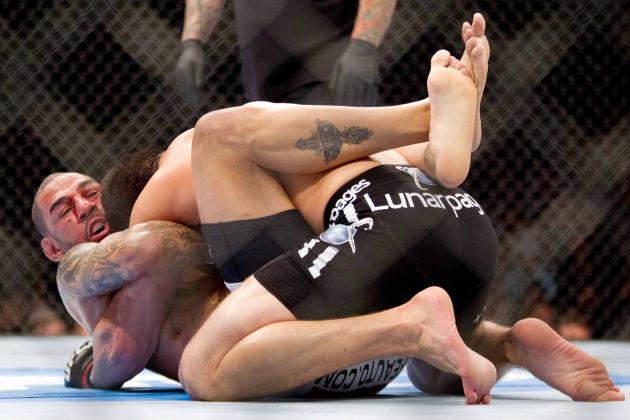 Bruce Kluckhohn-USA TODAY Sports

Jay Hieron made his UFC debut back in June 2004, facing some dude by the name of Georges St-Pierre. Hieron lost that bout by first-round TKO.
Hieron rebounded after the loss, going 3-0 before rejoining the UFC at UFC Ultimate Fight Night 2, losing that fight as well.

Hieron then slugged it out with smaller promotions before getting a call to replace an injured Josh Koscheck, stepping in to face Jake Ellenberger, a fighter he had defeated back in 2006. Hieron dropped a unanimous decision to Ellenberger, moving his overall record to 23-6 and his UFC record to 0-3.

At UFC 156, he will not catch a break, as he faces Tyron Woodley. The pressure is on for Hieron—a loss and it could be back to the smaller promotions for him. Let's face it, coming in as an injury replacement and dropping two straight won't bode well for the veteran fighter.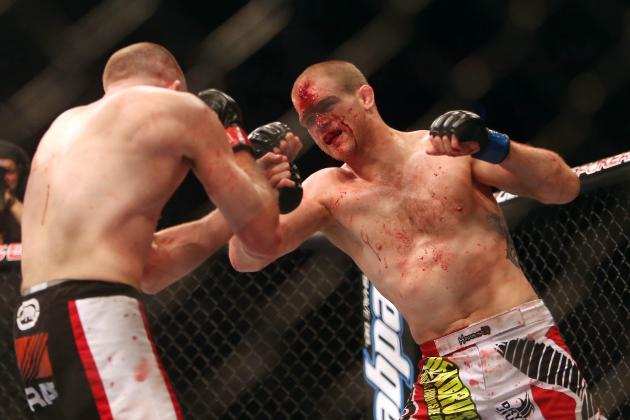 Tom Szczerbowski-USA TODAY Sports

The last time Evan Dunham fought on a UFC main card, he was TKO'd in the first round by Melvin Guillard at UFC: Fight for the Troops 2. Since then, he has been banished to the preliminary cards, putting together a record of 2-1. But it's not all bad for Dunham. He's raked in some extra cash while fighting on the preliminary cards.

In Dunham's first seven UFC fights, he pulled down a total of two "Fight Night" bonuses. In his last two bouts, he's earned two "Fight of the Night" bonuses.

Every fighter wants to compete on the main card of a UFC event, but I'm sure the sting of competing on the preliminary card lessens when UFC president Dana White hands you a hefty check at the end of the night.
It will be interesting to see if Dunham can make it three in a row on a card as stacked as UFC 156. If he does earn that third consecutive bonus, I would be very surprised to see him on the preliminary card the next time he competes.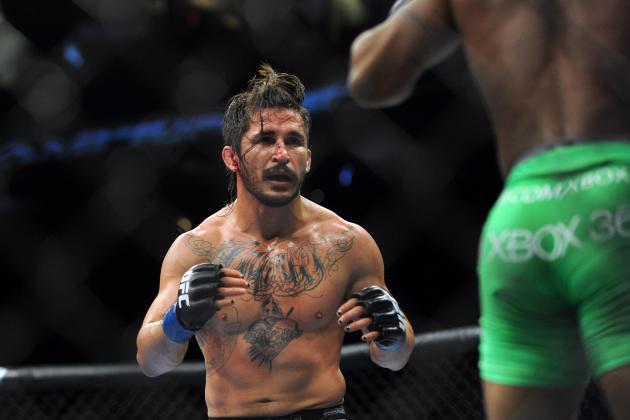 Steve Mitchell-USA TODAY Sports

I'm not one of those people who hates on the UFC's flyweight division just because they're the shortest and lightest dudes on the UFC's roster. In fact, I enjoy watching them compete, but I will say this, the depth of the division is sorely lacking.

It's not out of the question that the winner of Joseph Benavidez and Ian McCall could earn the next shot at the flyweight title, and that goes a long way toward showing how badly the UFC needs to beef up this division, considering how recently Benavidez and McCall fought Demetrious Johnson.
Maybe it's time for an all flyweight season of The Ultimate Fighter, coached by heavyweights, of course.
Mark J. Rebilas-USA TODAY Sports

Jon Fitch had a reputation as a boring fighter. Fans, and maybe even UFC matchmakers, heard the name Jon Fitch, and the first thing that popped into their heads was "lay and pray." And let's face facts, between September 2007 and February 2011, Fitch went to decision in each one of his nine UFC bouts.

That streak ended when Johny Hendricks lowered the boom on him at UFC 141, knocking him out in a scant 12 seconds. Injuries kept Fitch from competing again until October 2012, but when he did come back, he looked like a new fighter.
Sure, he went the distance in defeating Erick Silva, but he was aggressive during the fight and took home "Fight of the Night" honors and seemed to earn a new level of respect from the fans who saw him compete.

It was an impressive performance from a fighter who had been pigeonholed in the past. If the most recent version of Fitch shows up at UFC 156 and earns another victory, he may once again find himself "in the mix" in the welterweight division.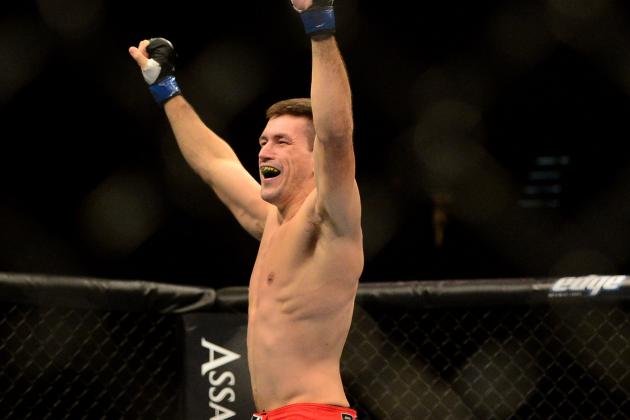 Mark J. Rebilas-USA TODAY Sports

Much like Fitch, Demian Maia was beginning to be looked upon as a fighter whose best days may have been behind him.
Once a feared submission artist, Maia seemed interested in turning into a striker, and he was having some mixed results in that department, most memorably (not in any good sense of the word) dropping a unanimous decision to Chris Weidman in January 2012.

That loss to Weidman put Maia's record at 15-4 and obviously caused him to do a little soul searching. When he finished contemplating his navel, he dropped to welterweight and emerged a new Demian Maia, or did he emerge as the old Demian Maia in a new weight division?

Whatever the case, he has put together two first-round stoppage wins since dropping to welterweight with one being a ghoulishly memorable neck crank of Rick Story (seriously find video of that if you have never seen it.)

Maia will be facing Jon Fitch at UFC 156, and just as we will be watching to see which version of Fitch shows up, we'll all have our eyes on Maia as well.
Mark J. Rebilas-USA TODAY Sports

This is an interesting one. On one hand, hell yes we want to see one of the most dangerous strikers in mixed martial arts compete for the UFC crown, on the other hand, there's some baggage that comes along with Alistair Overeem.

The most noticeable baggage being 263 pounds of what appears to be pure muscle on a frame that was once A LOT thinner. That wouldn't be so bad in and of itself if Overeem hadn't delivered a drug test that showed an excessively high level of testosterone to epitestosterone and earned him a nine-month suspension from the Nevada Athletic Commission.

Overeem kept his nose clean (or is that urine) clean and passed several random as well as voluntary drug tests and was licensed to fight at UFC 156, but when asked if he would continue to participate in voluntary drug tests now that he was once again licensed, he replied that he "probably wouldn't." In my opinion, that was the wrong answer.

Overeem has a question mark hanging over his head, he should do whatever he can to erase that, especially since he may very well end up wearing UFC gold.

Until Overeem does everything in his power to remove any doubt from the minds of MMA fans, I'm not so sure I want to see him fight for the title.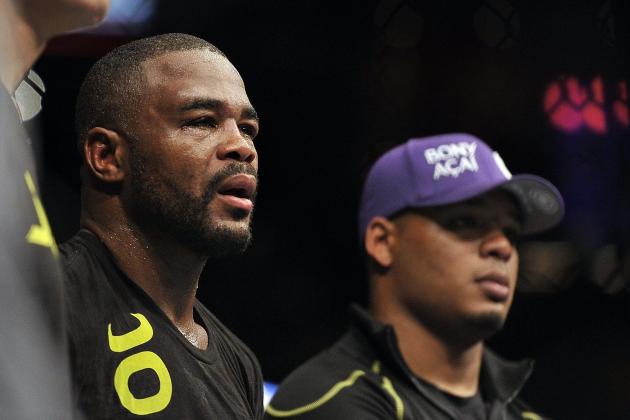 Paul Abell-USA TODAY Sports

Rashad Evans' name has been bandied about as of late as a possible opponent for UFC middleweight champion Anderson Silva. Where his name has not been mentioned is as an opponent for UFC light heavyweight champion Jon Jones. Oddly, Evans' fight at UFC 156 will be at light heavyweight and not middleweight.

The fact that Dana White is throwing around the names of Dan Henderson, Gegard Mousasi and Alexander Gustafsson as possible opponents for Jones should give Evans a clear view of where he stands in the light heavyweight pecking order, and that view would be of the backs of the aforementioned fighters.

Win or lose, and yes, you can get a title shot in a new weight division coming off a loss (right Chael Sonnen?), Evans needs to consider dropping to 185 and going after Silva.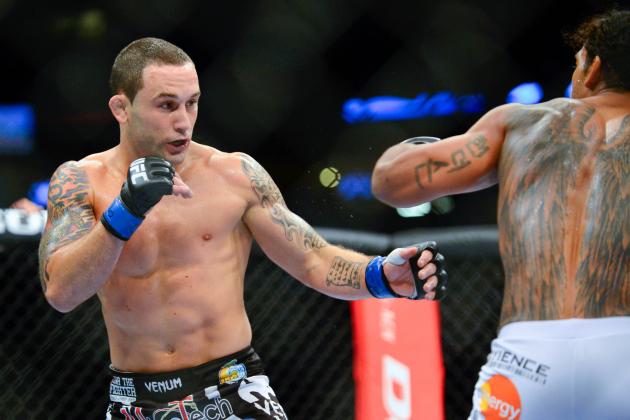 Ron Chenoy-USA TODAY Sports

Simply put, a lot is on the line for Frankie Edgar at UFC 156. Edgar didn't drop from lightweight to featherweight because he wanted to. He did so because the road to the title at 145 was a lot shorter than the one he would have had to endure to get back in the mix at 155.

If Edgar drops the fight to Aldo, he'll have a tough choice to make. Does he go back up to 155 and slug his way through the ranks again, or does he stay at 145 and either wait for Aldo to move up to 155 and vacate his title or earn a few more wins and get another shot at Aldo?

A win over Aldo makes things a whole lot easier for Edgar.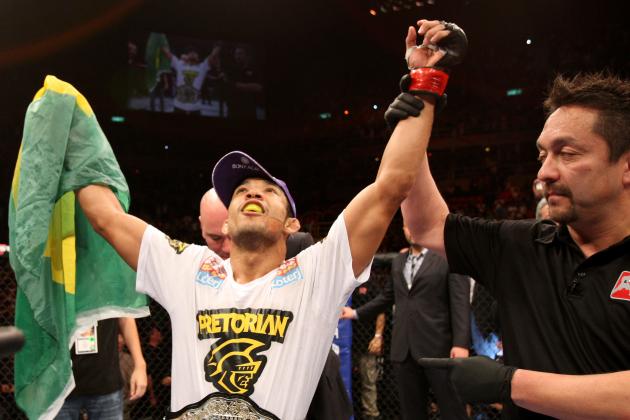 Josh Hedges/Zuffa LLC UFC via Getty Images
In November, word came that UFC featherweight champion Jose Aldo was contemplating a move up to lightweight after he fought Frankie Edgar. More recently, Aldo said he wasn't thinking about the move up to 155. Now we're left to wonder, what's the truth?

I would bet the answer to that question lies in just how difficult of a weight cut Aldo has when he faces Edgar on Feb. 2. If Aldo has as rough a weight cut, as he did at UFC 129, you can bet he'll probably be making the move to lightweight even with a win over Edgar.

If the weight cut goes smooth and Aldo wins, I could see him hanging around 145 and waiting for the lightweight division to clear itself out a bit before making the move up. On the other hand, a loss with a rough weight cut may cause him to make the jump a lot sooner. A loss with a smooth cut and he's probably going to be looking for an immediate rematch with Edgar.

Big picture, who cares where Aldo fights, as long as we get to see him compete, right?