10 Reasons the 76ers Will Be Competing for a Title Soon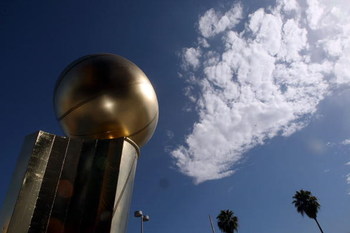 It's the Philadelphia Phillies' fault.
Once they won the World Series, every other Philly sports team was put on notice. The message a simple one; win now!
Even though any journalist worth his keyboard will tell you that's an unreasonable request, in the case of the 76ers, that could very shortly be a reality.
The NBA Playoffs are around the corner, and as much as I'd like to tell you they'll be contending this year, that just isn't true. But I can guarantee you this will be a team to watch out for and here's why:
Under New Management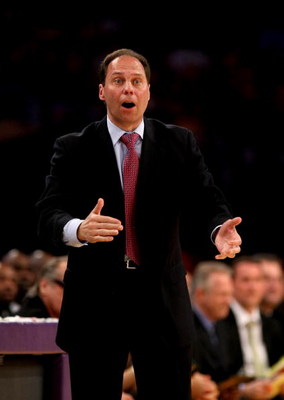 Not to make light of Ed Stefanski's impact, but the real change came with Tony DiLeo taking over as head coach.
Not that Maurice Cheeks was a bad coach, but from the players comments it seems he was from that Larry Brown School of coaching.
Berate, correct, applaud, and repeat. When players aren't afraid of making mistakes, a funny thing happens: They stop making them! Tony also allows the offense to run more, which plays to their strengths.
He also, better than Cheeks, understands the need for in-game adjustments. That's why there are times late in the fourth quarter you'll see starters like Dalembert or Miller on the bench, in favor of bench players.
Coach reacts to what the other team is doing, giving his team a chance to win. Under his leadership ,those chances will start turning into more Ws.
Don't Call Him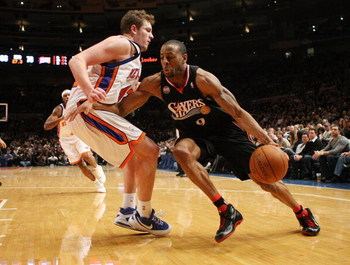 This "A.I." has the potential to be even better than the original. He may never have the volume of shots to be a scoring champion, but he doesn't need to be.
He does the one thing that in today's NBA is somewhat of a lost art: making his teammates better.
Iguodala not only guards the toughest players night after night, but in the process, leads the team in scoring, and is in the top three in every other category except blocked shots.
He gets rebounds, which is something a lot of athletic leapers don't do well, because he understands the game. He can go unnoticed through a game until you look up at the box score and see him fill the stat sheet.
It's because he allows the game to come to him and most of the things he does is in the flow of the game. He's become a better than average passer and sees the floor well.
As he continues to improve his jump shot, the scoring numbers will climb. If he could ever be selfish enough, you could be looking at a Hall of Famer, but he'd prefer being an NBA Champion.
All Signs Point to a Great Future
Is he a one with a two's skill or a two in a one's body? This time we're not talking about Allen Iverson, we're talking about Lou Williams. His game, however, is similar to A.I.'s in that he can create his own shot and has blazing speed.
The difference is that he looks to set up other players first. Ask Maurice Speights, as Lou is solely responsible for the rookie forward's scoring average.
Lou has had the advantage of being schooled by former Sixers guard Mo Cheeks, and current Sixers Guard Andre Miller—two guys who understand the game. Now that DiLeo is at the helm, he's been set loose and allowed to succeed (and fail) on his own.
This should be the final year of his understudy role, and if that's true, Williams' game is built for center stage.
If he can continue to balance his scoring with his passing ability, he will be the point guard of the future.
Not All That Young
Hard to believe that this is only Thaddeus Young's second year in the NBA. He plays like a six-year vet. He is a terrific rebounder and solid on-the-ball defender, who, under DiLeo, will only get better.
Offensively, with his speed and myriad of moves, he has become a force to be reckoned with. If Andre Iguodala is the No. 1 option for the Sixers on offense, then Young is 1A.
Comfortable at the small and power forward spots, he creates constant matchup problems; too fast for traditional fours and too strong for the average three.
As his game continues to mature, he gives the Sixers the one-two punch they haven't had since they went "fo, five, fo."
What Growing Pains?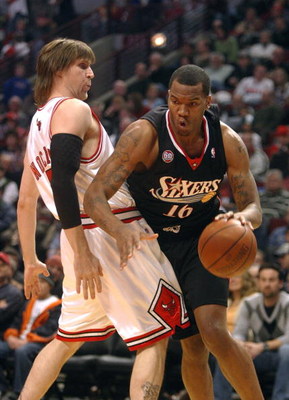 Rookies are supposed to struggle. The NBA season is nearly three times the college season, the competition is faster and stronger, and the offenses are more complex.
Though they may show flashes of brilliance, the further down in the draft the pick is, the more erratic their play is supposed to be. If that's the case, what exactly is the ceiling on a player like Marreese Speights?
The young man is already showing he can not only be counted on for quality minutes, but he doesn't make the normal rookie mistakes. Doesn't take bad shots, or bad fouls.
He plays with the calm of someone who knows exactly what he's doing and that is scary. With the injury to Brand, he's seen significantly more playing time than the normal rookie would.
And given the fact that there's normally a huge jump in ability from year one to year two, when Brand comes back, he may still see a good chunk of minutes.
PTP: Prime-Time Players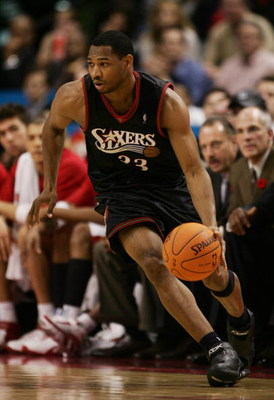 Successful teams have a solid bench. With scorers like Willie Green and defenders like Royal Ivey, the 76ers are one of the few teams that don't suffer a huge drop off when the starters leave.
Green has been a starter before, but has really embraced his role as instant offense off the bench, as well as being a good floor leader when called to be. Ivey can lock down the other team's guard and heat up from the three point line, an asset in today's NBA.
The bench will only improve with the return of Jason Smith from injury. Likewise, the bench will see benefits from Elton Brand's return from injury as he returns to the starter's role.
Rodman Lite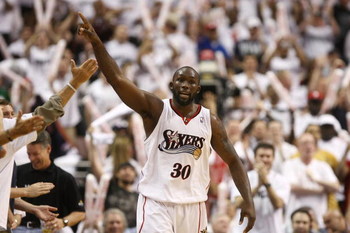 Say what you will about Tyrone Hill (confining your comments to his game and not his appearance...), he was a guy who knew his role. Most guys in the NBA are the MAN in college, so the transition to "role player" is often difficult.
Most of the time, the "non-elite" are journeymen, never really finding a niche.
Not so with Reggie Evans.
He puts his hard hat on and goes to work on the boards and on the opposing teams' forwards. So much so, teams visibly groan when he's at the scorer's table.
Philly is the perfect place for a guy like him, because he does the things that may not show up in the box score but get the win.
And just as you can't coach speed, you can't teach toughness. You either have it or you don't. Reggie has it in spades, and come playoff time, there's no more valuable asset.
Not Your Normal Brand of Circumstances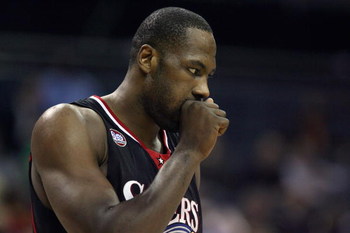 No one, least of all Elton Brand, expected things to go so wrong when the former Clipper was given the "Philly Max" last summer.
Fans and players alike were practically drooling over the thought of finally have a true post presence to complement the slashing of Andre Iguodala.
Another rebounder to help out Samuel Dalembert. A true four, so that Thaddeus Young could slide back to his more natural position of small forward. The outcome was a seemingly bad fit for a run-and-gun offense, an injury, and then a return to status quo. But if anyone reasons the Sixers are somehow better off without Brand in the lineup, they are entitled to their opinion—regardless of how wrong it is.
When Elton returns, he will be far removed from the knee and foot problems, and have more upper body strength due to his rehab.
He will have spent a year around his teammates, seeing what they're good at and how he can fit. And he'll be ticked off.
He's earning the stigma of being injury prone, there are whispers that he's the reason for the Sixers slow start, and there are doubters who say he'll never again be an all-star level player.
If you know anything about Elton the man, you know that he's thinking about treating his critics to a dinner of crow and several slices of humble pie for dessert.
X-Factor or X marks the spot?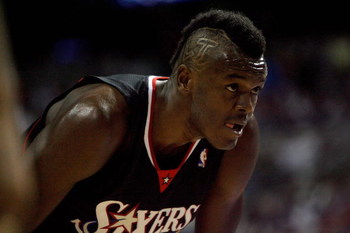 Will the real Samuel Dalembert please stand up? Are you the center who can dominate the glass and rule the paint, or are you the sulking whiner I see post game, upset about your minutes, shots, etc.?
If you're like me, you have mixed feelings about the 6'11" center from Seton Hall. You love his athleticism, but you wish he had more post moves. You love his defense and his nose for the ball, but you wish he'd foul out a little less.
There's no denying this simple fact, though: Big men with his skill-set don't grow on trees. Guys with 91 inch wingspans aren't sitting outside Wachovia Center waiting for a tryout. When his focus is correct, there is not another Sixer on the defensive end with more of an impact on the game. Much like Hakeem Olajuwon, he "adjusts" three times as many shots as he blocks.
The Sixers ability to contend rests in large part on whether his boundless potential ever becomes reality. Scary thought to be sure, but exciting to think of what could be if Jekyll and Hyde were to ever meet...
If They Can Do It...?
The last time the Sixers won an NBA title... Sixers' leading scorer, Andre Iguodala, wasn't out of diapers yet. True, athletes don't feel the true weight of that as much as the die-hard fan. They do feel the weight, though, of teams like the Celtics (ugh) and the Cavs on the rise, with the Magic and Heat not far behind.
When teams in your conference and in your division start enjoying success, you start asking "Why not us?" Ask any Sixer now, and it's now a matter of putting it all together. They've got young players that will continue to develop, established veterans and mentors who can provide on and off court guidance. They've got a coaching and management committed to do everything they can to get better.
Who better to topple the Eastern and Western Conference giants than the city of the underdog?
Keep Reading

Philadelphia 76ers: Like this team?