Barcelona 5-1 Osasuna: Messi's Four Goals Lead to Big Win at Camp Nou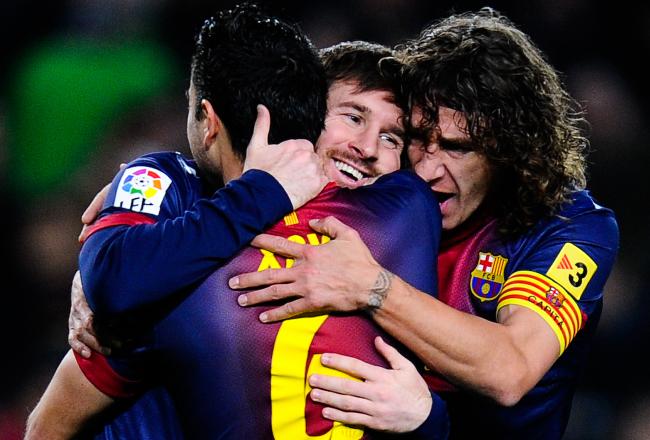 A rather harsh pair of yellow cards for Alejandro Arribas changed the game early, but it is Lionel Messi's four-goal performance that will be the talk of the town tonight.
Cristiano Ronaldo's hat trick brought him within eight goals of Messi earlier in the day, but Messi took a big step forward in the Pichichi race just hours later.
Final Score
Barcelona 5-1 Osasuna
Goal Scorers
Messi—11'
Assist: Xavi
Loe—24'
Messi—28' (PEN)
Red Card: Arribas
Pedro—40'
Assist: Alves
Messi—56'
Assist: Villa
Messi—58'
Assist: Adriano
Starting XIs
Barcelona: Valdes, Alves, Puyol, Mascherano, Adriano, Busquets, Xavi, Thiago, Pedro, Messi, Villa
Osasuna: Andrés Fernández, Marc Bertrán, Arribas, Flaño, Nano, Lolo, Raoul Loe, Oier, Cejudo, De las Cuevas, Llorente
Adios
Thank you all for following this live coverage of Barcelona vs. Osasuna.
Keep an eye out for a post-match article soon.
Full Time
That's it! Barcelona have won all three points after a historic day from Lionel Messi.
The Argentinian scored four goals to greatly extend his lead over Cristiano Ronaldo and Radamel Falcao in the Pichichi race.
Alejandro Arribas was perhaps harshly sent off and it changed the entire game.
90'—Wow, what a pass from Thiago!
He sent a Xavi-like pass in for Alexis from midfield who then unselfishly laid a pass for for Villa again.
Great effort from Sanchez tonight, even though the goal is missing.
88'—Thiago tries to pull off a bicycle kick in the box, but ends up whacking Ruben in the jaw instead.
No card given, but it wouldn't have been unfair for that to happen.
#Messi has scored more goals this season (33) than any other La Liga side, with the exception of Atletico & Real Madrid [via @barcastuff]

— Gary Linton (@AlbaEspana) January 27, 2013
83'—They may be up by four goals, but Barcelona are not letting up at all.
They have basically been camped near the Osasuna box for the last half hour and it is a bit surprising that a sixth goal has not been found.
The attack is just relentless from La Blaugrana.
80'—Poor Sanchez.
Messi sends him a low cross in front of n open net, but the pass is just behind the South American and he is unable to score.
77'—Alexis Sanchez almost scores a sixth team goal after being sent through on goal by Thiago, but the Chilean unselfishly lays the ball off for Messi whose shot is blocked.
After 67 minutes of this, is there anyone who still wants to argue that Messi and Villa don't get along and can't play together?

— Sidonie Blaugrana (@SidonieM10) January 27, 2013
73'—Barcelona Sub
It's Sergio Busquets, not Messi who is taken off with the final substitution here as Alex Song comes on for him.
71'—One would think that Barcelona would stop attacking with a four-goal lead, but that isn't really the case here.
La Blaugrana have definitely taken the foot off the gas, but they are still slowly breaking Osasuna down and consistently going forward.
Also, not having Xavi on the pitch to close the game is only making it harder for Osasuna to slow the hosts down.
66'—Barcelona Substitutions
Xavi comes off after an incredible match and makes way for Cesc Fabregas.
Also, about five minutes earlier, Alexis Sanchez came on for Pedro.
Messi scores 4 goals in 56 minutes. Funny thing is, he's not even 100% fit.

— Gary Linton (@AlbaEspana) January 27, 2013
Last times Messi scored 4 goals in a game was last season against Espanyol at the Camp Nou, last home game Guardiola [via catradio]

— barcastuff (@barcastuff) January 27, 2013
Who needs Neymar? We're already leaving Pedro or Villa on the bench half the time.

— Sidonie Blaugrana (@SidonieM10) January 27, 2013
More on the goal
Yet another bit of great work from Villa who runs down the left flank before laying off a perfect ball for Adriano in front of goal.
Rather than shooting with a man in front, the full-backs puts Messi through on goal and the forward makes no mistake with this one.
That makes it four goals for Lionel Messi tonight.
More on the goal
Only Messi will get the praise, but this goal belongs as much to David Villa and Xavi as it does the Argentinian!
Xavi sends a slick pass by Bertran before Villa sends a perfect through ball for Messi to finish.
53'—Another offside goal!
This time it's Messi who sends a slow roller past Fernandez who had come way out of goal, but the forward is rightly called offside and the goal does not count.
50'—YELLOW CARD
Oier is rightly shown a card for taking Dani Alves down from behind around midfield.
46'—And we're back!
Two changes made after the break here as Shojaei comes on for De Las Cuevas and Puñal replaces Cejudo for Osasuna.

Yellow cards for handball's in 2011/12: La Liga: 133, Serie A: 30, Ligue 1: 24, Bundesliga: 15, EPL: 14. Says it all really.

— La Masia (@Youngcules) January 27, 2013
This article is
What is the duplicate article?
Why is this article offensive?
Where is this article plagiarized from?
Why is this article poorly edited?

FC Barcelona: Like this team?