Demetrious Johnson vs John Dodson: Round by Round Recap and Analysis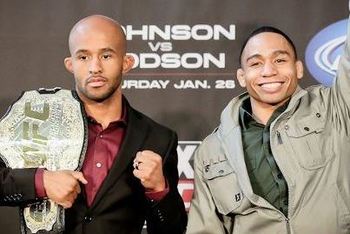 Photo credit: Will Fox/MMA Weekly
The UFC flyweight belt is on the line Saturday night at UFC on Fox 6. The fight will be nationally broadcast live and in living color from Chicago, Illinois.
This is the first defense for champ Demetrious Johnson (16-2-1). In fact, it's the first title defense of any kind in the UFC's 125-pound division. Challenger John Dodson (14-5) has mowed a path through the Octagon, going 3-0 including a spotless 2-0 mark as a flyweight.
Keep an eye on this slideshow for real-time, blow-by-blow recap and analysis for all five rounds (as needed) of this unprecedented title bout.
Round 1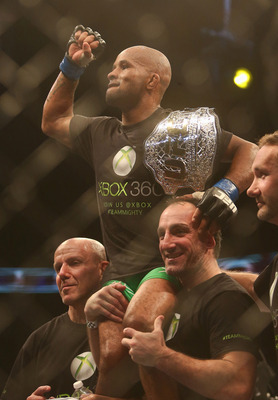 Tom Szczerbowski-USA TODAY Sports
OK, don't blink...here come the flyweights.
Your referee for this title fight is "Big" John McCarthy.
They touch gloves and go to work. Dodson, fighting southpaw, lands first, a leg kick. Dodson is thicker. Overhand right from Johnson misses. Sharp switch kick from Dodson lands. Dodson drops Johnson with a straight right. DJ back up but that was hard.
Dodson catches Johnson kick and throws him down. Johnson pretty aggressive here early, misses again on an overhand, this time a left. Both men flying around the cage just as expected.
Johnson walks into a left with about 1:45 left. Johnson goes for a takedown and finally gets it. Dodson working to push out and does. Back on feet, Johnson lands a right and they clinch up. They break free with 30 seconds remaining. Was Dodson about to do a Pettis cage kick? Not sure. Round ends.
My score: 10-9 Dodson
Round 2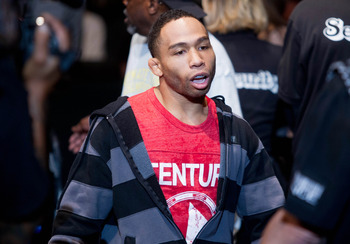 Bruce Kluckhohn-USA TODAY Sports
Dodson takes the center of the Octagon. They skitter around the canvas with neither man landing much.
Dodson perhaps being a bit more evasive so far in the second. They clinch up against the fence. A takedown for Johnson, and he presses Dodson against the cage.
Back up and Johnson again presses forward. Is Dodson getting tired? Johnson lands a jab. But Dodson lands a huge left hook! Man that was fast. Johnson falls but pops back up.
They trade body kicks. Another huge punch drops Johnson! Johnson is seriously backpedaling now; he tries for a takedown but nothing doing. Dodson has Johnson hurt, no question. He catches a DJ kick and lands another punch. Dodson lands another left hook. They're all getting through now.
Johnson keeps throwing body kicks, Dodson keeps catching them. Johnson shoots at the 1:00 mark but again it doesn't work. They exchange near the fence and Johnson gets the better of it. He appears to be fully recovered, for now. Dodson catches yet another Johnson kick. Why's he still throwing those?
My score: 10-9 Dodson
Round 3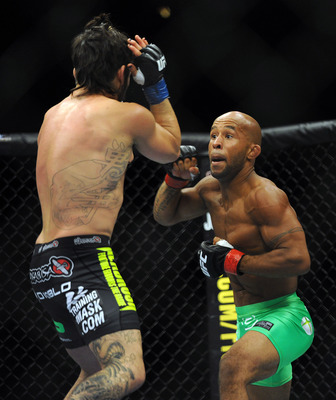 Steve Mitchell-USA TODAY Sports
Dodson launches a jump kick. DJ staying well out of Dodson's range now. Now DJ catches a Dodson kick and tries to take him down but Dodson has great balance and stays on his feet.
Accidental groin shot from Johnson stops the action at 3:35. They touch gloves and resume.
Johnson just ducks under a flying knee from Dodson. Johnson is still moving forward, though he's not doing much damage when he attacks. They're trading straights and leg kicks in the middle of the cage.
Two-minute mark and not much going on. Kick to the body from Dodson. Both men taking a breath and then Johnson lands a takedown. He has top control. Dodson scoots back to the fence and tries to inch up, but Johnson pulls him away. Johnson working from inside the guard. Ref just called Johnson "Deej." Huh. Here come the boos...great job, Chicago.
They're standing again but Johnson fed him a couple knees on the way up. They're clinched up and trading knees. Big counter left from Dodson glances away.
My score: 10-9 Johnson
Round 4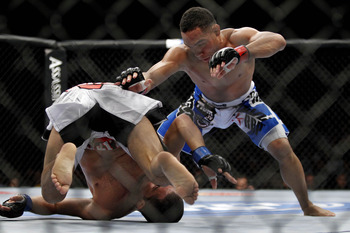 Bruce Kluckhohn-USA TODAY Sports
Welcome to the championship rounds. Greg Jackson to Dodson during the break: "stay busy." I bet Dodson can do that.
They're exchanging in the Bud Light oval. Johnson pressing forward, darting in and out like a sandpiper. He lands a takedown. They're on their feet but Johnson gets a front headlock. He lands a knee to the head but McCarthy stops the fight because Dodson had a hand on the ground. I'm not sure Johnson saw the hand. The knee landed to Dodson's eye and the doc checks it out.
Dodson takes a few more moments and they resume. DJ apologizes. Dodson catches yet another kick from Johnson, then lands a shot to the body. Johnson still darting forward, goes for a takedown but Dodson stuffing it. Johnson really outlanding Dodson but Dodson's probably done more overall damage.
Johnson pressing forward, lands a left hook at about 2:15 mark. Johnson again shoots in but Dodson resists. They're against the fence. Johnson lands a knee to the body and it was rock solid.
Front head lock again for Johnson, Dodson reaching for the ground and touching it sort of intermittently. Wisely, Johnson aims those knees toward the body and Dodson's left leg. Dodson back up, and Johnson goes immediately to the head. He's not letting Dodson up, just forcing him to bend over and put his hand on the ground to avoid knees to the head. Dodson's nose is bleeding.
My score: 10-9 Johnson
Round 5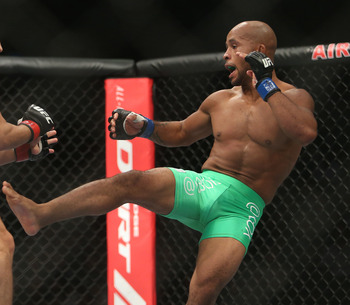 Tom Szczerbowski-USA TODAY Sports
I've got this fight even coming into the final round. They're in the deep water now. Historically, Johnson has thrived here.
They trade in the middle. Surprise! Johnson is pressing the action. He clinches Dodson then drops for the takedown and hits it. That's five takedowns for Johnson to zero for Dodson.
DJ has him smushed against the fence. Dodson still kicking but tired. He's trying to struggle to his feet. They're up now against the fence and Dodson is forcing him against the fence.
They're in the center and not landing much. Johnson lands a right and then another. Now Dodson shoots in but Johnson stuffs it. Dodson gets him down but it wasn't emphatic. Johnson wriggling out. Two minutes to go.
They're back up. Left jab from DJ. Another takedown attempt from Dodson stuffed. Johnson darts in and they clinch up. Johnson lands a hard knee. They're against the fence and Johnson's landing big uppercuts. Well, "big," anyway. More knees.
Thai plumm for Johnson and he's banging Dodson's face with knees. Dodson's bloody. Thirty seconds left. Dodson with a half-hearted knee. The plumm again for Johnson and he's banging home those knees. Fight ends.
My score: 10-9 Johnson
My fight score: 48-47 Demetrious Johnson
Official result: Demetrious Johnson def. John Dodson by unanimous decision, 48-47, 49-46, 48-47
Keep Reading