5 Questions We Have About Hatsu Hioki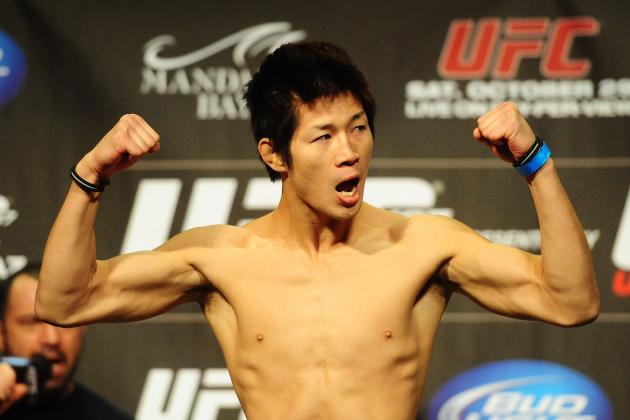 Mark J. Rebilas-USA TODAY Sports

Hatsu Hioki returns to the Octagon after dropping his first fight in three years in his last outing. Picking up the victory will not be easy, as he meets Clay Guida in the featherweight tilt.
Hioki entered the UFC as a highly ranked featherweight, and with a few wins, he was expected to get a crack at Jose Aldo's crown. However, a lackluster debut and a loss to Ricardo Lamas put Hioki back in the middle of the pack.
Now, Hioki has the chance to pick up a big victory over a popular fighter and thrust himself back in to the title picture.
These are five questions we still have about Hioki.
Begin Slideshow

»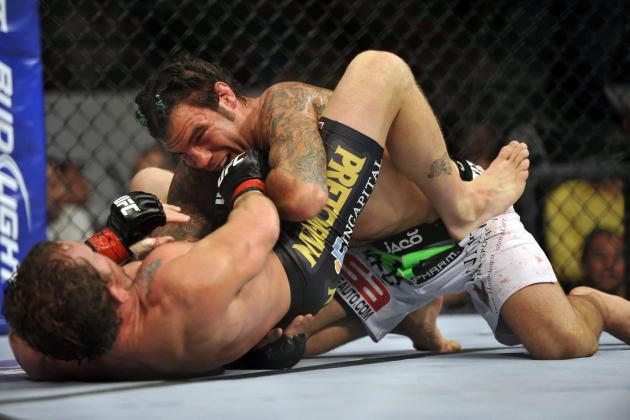 Joe Camporeale-USA TODAY Sports

Clay Guida's wrestling ability can create problems for Hioki in this fight, and there's no doubt that will be a part of his game plan.
In Hioki's last outing, he was taken down repeatedly by Ricardo Lamas. The top game of good wrestlers prevents Hioki from using his submissions effectively.
Hioki has to be able to stop Guida's takedowns to win this fight. He cannot rely on fighting off his back for three rounds to win on the judges' scorecards. Even though it is possible to do just that, we know how judges view that scenario.
Saturday night will be a good test for his takedown defense.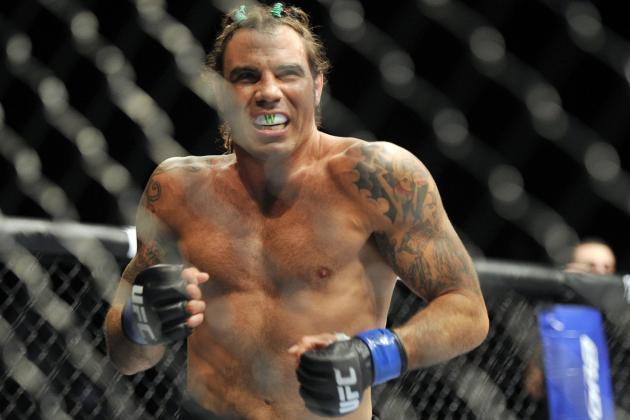 Joe Camporeale-USA TODAY Sports

Guida is a ball full of energy in every fight he is in, and recently, his energy has manifested itself into making him a non-stop moving fighter.
He bounces in, out and around his opponents. Takanori Gomi had a difficult time dealing with the movement, and it frustrated Gray Maynard as well. It makes it difficult to be an effective striker or grappler, and Hioki needs to stop his motion.
Hioki can use his length in the striking game to keep Guida from getting inside, or close the distance and grapple to stop him.
Guida will have no issues going 15 minutes, and Hioki needs to find time in the fight to slow him down.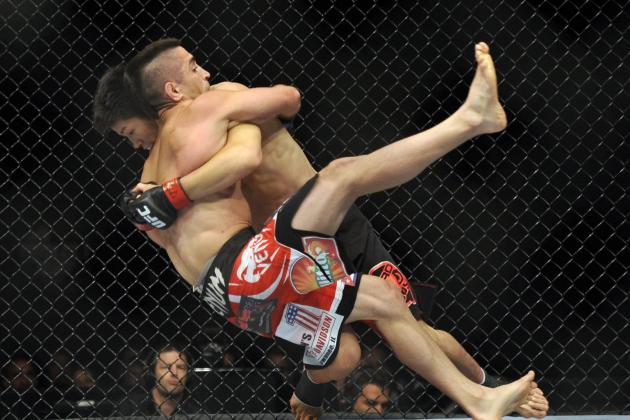 Joe Camporeale-USA TODAY Sports

If he can get a hold on Guida, will he be able to show off his grappling skills? He may have to in order to win the bout.
Hioki has some quality takedowns and trips. Once on the ground, Hioki is a fun fighter to watch. He is one of the elite grapplers in the featherweight division, but Guida is a crafty veteran.
Guida has only been submitted twice inside the Octagon. Roger Huerta got a rear-naked choke on him and so did Kenny Florian. However, Florian only did so after rocking him with clean punches.
Hioki has the skills to submit anyone in the division, but he must get Guida down first. It will be hard to do off his back. Hioki needs to work from top position.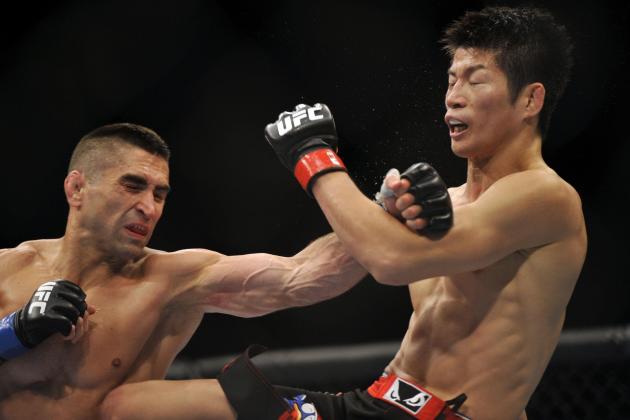 Joe Camporeale-USA TODAY Sports

Japanese fighters have a tough time replicating their successes in the states. There is something about the travel that affects them. This is not a problem related only to Hioki.
In Hioki's UFC debut, he looked rather poor but was still able to get the decision victory—a split decision over George Roop.
Then, in his second UFC fight, he looked phenomenal against Bart Palaszewski. That fight was in his home country of Japan. And when Hioki returned to the states, he had a rough go against Ricardo Lamas.
To Hioki's credit, Lamas is one of the top-ranked fighters in the division, and it was a evenly contest bout. However, he still did not look as crisp as he did in Japan. Fighting in Chicago will be an interesting test for Hioki.
Can he solve his travel woes and fight at his best against a quality veteran? We will find out at UFC on FOX 6.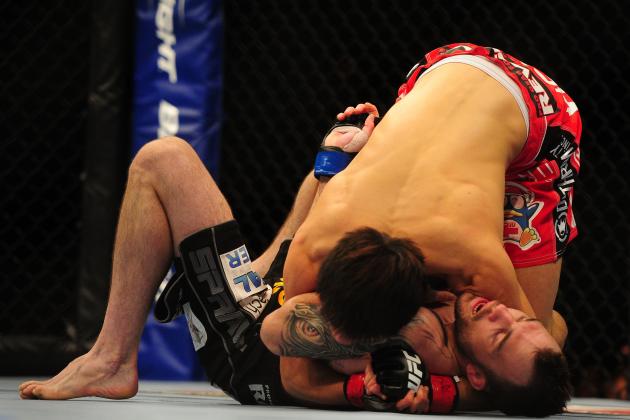 Mark J. Rebilas-USA TODAY Sports

Yes, Hioki lost his last outing, but it was in a tightly contested fight to one of the top-ranked featherweights.
Will a win over Guida put Hioki back in to the mix at 145 pounds?
It will depend on his performance.
If Hioki struggles against Guida, then it will be likely he still will need a couple more wins to challenge whoever the title holder will be. Yet if he is impressive against Guida, that will surely increase his stock and make him an interesting player in the division.
This is a big fight in the featherweight division that can put Hioki right back in the thick of things, but he must be impressive.