The Top 10 Storylines Heading into Super Bowl XLVII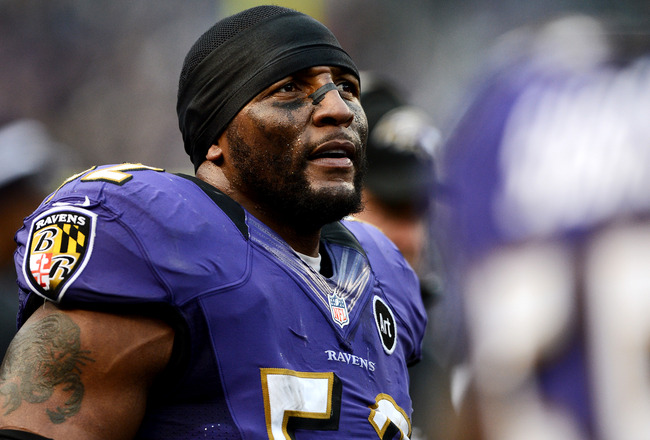 Super Bowl XLVII will be the final game of Ray Lewis' illustrious career.
Patrick Smith/Getty Images
Two teams playing for the championship all 32 NFL teams strive to earn is reason enough to be captivated by Super Bowl XLVII. The matchup between the San Francisco 49ers and Baltimore Ravens, however, has more than its fair share of captivating and unique storylines that will make this more than just a championship contest.

For the first time ever, two brothers will coach against one another in the Super Bowl. Meanwhile, a future first-ballot Hall of Famer will take the field for the last time ever, and two other likely Hall of Famers could also be playing in their final NFL games. On top of that, the game features a quarterback matchup that few could have predicted before the season began.

If you're looking for compelling storylines to follow in the week leading up to the game and through the game itself, here are 10 concepts that go a long way in defining the matchup.
10. A Ring for Randy Moss?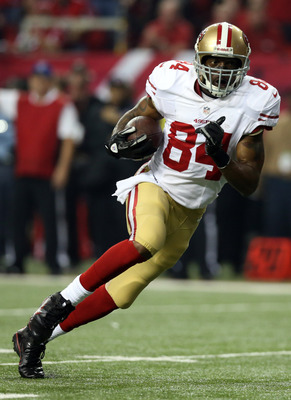 Randy Moss is looking for his first Super Bowl ring.
Matthew Emmons-USA TODAY Sports
Randy Moss was on two of the four highest-scoring NFL teams of all time. He also ranks second all-time in receiving touchdowns and third all-time in receiving yards.

One accolade that Moss' career does not yet have, however, is a Super Bowl championship.

Now a wide receiver for the San Francisco 49ers, Moss has what could be his final chance at earning a Super Bowl ring, in what could be the final game of his NFL career.

Moss hasn't exactly been a key player in the 49ers' run to the Super Bowl: He was only the team's fourth-leading receiver this season with 28 receptions for 434 yards and three touchdowns, and only has five receptions for 71 yards in two playoff games.

He is, however, one of the greatest wide receivers to ever play in the NFL, even if also one of the most frustrating and enigmatic players of all time.

The all-time leader in receiving touchdowns and yards, Jerry Rice, was a three-time Super Bowl champion with the 49ers. Terrell Owens, who is the other receiver in the top three of both categories, played five seasons across from Rice with the 49ers, but never won a Super Bowl.

Moss will forever be a much closer comparison to Owens than Rice, but will have a chance to take one step closer to the other side of the bridge if the 49ers win this game.
9. Can 49ers Defense Stop Torrey Smith?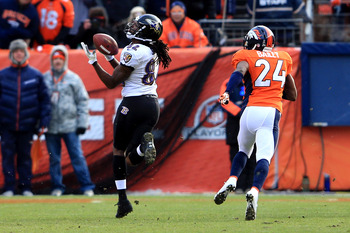 Torrey Smith has been a big weapon this postseason.
Doug Pensinger/Getty Images
The San Francisco 49ers won five Super Bowls between 1981-1994 largely on the strength of their star-studded offenses, while the Baltimore Ravens' 2000 Super Bowl team was one of the NFL's most dominant defensive teams ever. The script, however, has been flipped going into Super Bowl XLVII.

For the first time since 2002, the Ravens' defense finished outside of the NFL's top 10 in both scoring and total defense. Meanwhile, the 49ers have the NFL's best defense, ranking second in scoring and third in total defense.

If it is true that defense wins championship, the 49ers certainly have the advantage. Their defense includes stars at every level, including four first-team All-Pros this season (inside linebackers Patrick Willis and NaVorro Bowman, outside linebacker Aldon Smith, free safety Dashon Goldson).

The one shaky area of the 49ers' defense, however, has been their cornerbacks. The 49ers have given up a fair share of big passing plays this season, but they will have to step up and be at their best against one of the NFL's most dangerous deep threats in Ravens wideout Torrey Smith.

Smith has been a big-play machine all season, and he will be a tough matchup for Chris Culliver, Tarell Brown and/or Carlos Rogers throughout the game. So will Anquan Boldin, a very good wideout in his own right who leads all receivers this postseason with 276 yards and three touchdowns in three games.

The 49ers can expect their consistent and dominant defensive front seven to play well, but if anything is going to crack the 49ers' defense in this game, it will be big plays from the Ravens' deep passing offense.
8. Ravens Dominant In Series History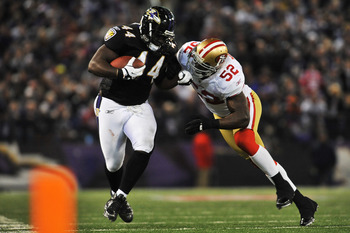 The Ravens won last year's matchup 16-6.
Larry French/Getty Images
While the 49ers' defense was the more dominant unit this year, the Ravens' defense has had its way with the 49ers in past meetings. The Ravens have won their last three games against the 49ers, and held the 49ers to seven points or less in all three of those games, including Thanksgiving night in Nov. 2011.

Granted, much has changed even since last November. The 49ers have a much more explosive offense this year with Colin Kaepernick leading the way at quarterback. The Ravens, however, displayed they can still be a dominant defense in the AFC Championship Game, holding this year's No. 1 scoring offense of the New England Patriots to only 13 points.

The Ravens haven't lost to the 49ers since the two teams first played in 1996.
7. Can David Akers Make The Big Kick?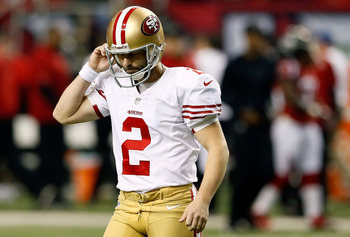 David Akers is having a rough season kicking field goals.
Kevin C. Cox/Getty Images
If there is one issue going into this game that will have San Francisco 49ers fans agonizing, it very well could be the unreliability of their kicking game.

One year removed from breaking the NFL's all-time field goals record with 44, David Akers has struggled mightily in his second year with the 49ers. Akers missed a league-high 13 field goals during the regular season, and missed a 38-yard field goal off the left upright in the NFC Championship Game.

If the Super Bowl is a close game late, can the 49ers afford to send Akers onto the field for a potentially game-deciding field goal? If they do, 49ers fans will be the edge of their seats, hoping for the 2011 Akers to re-emerge from the shell of that he has been in 2012.
6. Will Justin Smith Be Healthy?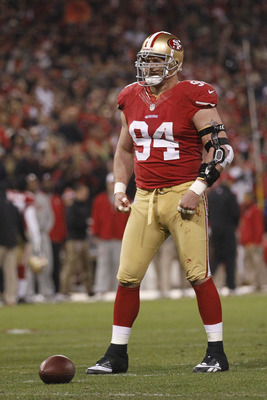 Justin Smith's health will be very important to this game.
Cary Edmondson-USA TODAY Sports
Justin Smith is one of the NFL's elite 5-technique defensive ends, but the second-team All-Pro hasn't been the same player since suffering a partially torn triceps in the 49ers' victory over the New England Patriots in Week 15 of the regular season.

After missing the final two games of the regular season—the first two games he missed of his 12-year NFL career—he has played in the 49ers' first two postseason games. He has evidently played hurt, however, as he has fallen short of being the typically disruptive and/or blocker-filling force he is on the 49ers' defensive front.

Smith's health could be a huge factor in the success of the 49ers' defense in this contest. A healthy Smith could dominate the battle against Ravens left tackle Bryant McKinnie and left guard Kelechi Osemele. But if he continues to be a shell of his usual self, expect the Ravens to have more success rushing the ball, and to be able to set blockers free to pick up the 49ers' star pass-rusher, Aldon Smith, off the edge.
5. Ed Reed's Final Game With Ravens?
Ed Reed is looking for his first-ever Super Bowl win.
Jared Wickerham/Getty Images
Free safety Ed Reed already announced that he won't be joining Ray Lewis in retirement this offseason (per The Baltimore Sun), but that doesn't necessarily mean he'll be finishing his career with the Baltimore Ravens. Reed is an impending unrestricted free agent, and there has been no indication whether he will return to the team in 2013.

Reed isn't the stud he once was, but he remains the leader of the Ravens' secondary. Reed was drafted by the Ravens in 2002, two years following their Super Bowl win, but it would certainly be a fitting end to his Ravens career for one of the franchise's all-time greats to earn his first Super Bowl ring.

Other key Ravens slated for unrestricted free agency this offseason include outside linebacker Paul Kruger, cornerback Cary Williams and left tackle Bryant McKinnie.

Reed also isn't the only star free safety who could be playing his final game with his current team in the Super Bowl. All-Pro safety Dashon Goldson, who was franchise tagged by the 49ers this season, is also set to become a free agent.
4. Money On The Line For Joe Flacco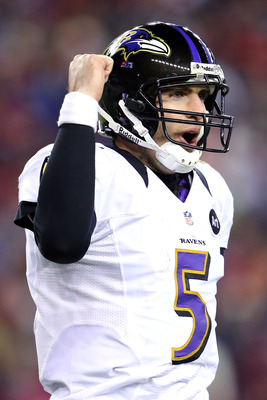 Joe Flacco's agent is likely just as happy as Flacco is here.
Al Bello/Getty Images
Back in December, there was reason to question whether the Baltimore Ravens should pass on re-signing impending free agent quarterback Joe Flacco to a long-term contract extension. Now that he has led the Ravens to a Super Bowl berth, it is a virtual certainty that he will get a lucrative long-term deal, but how much money that contract holds could be partially determined by his performance in the big game.

Regardless of outcome, Flacco should be among the top-10 highest-paid quarterbacks when he gets his new deal. If the Ravens win the Super Bowl, however, he could very well be the league's highest-paid, period.

If Flacco can lead the Ravens to their first championship in 12 years, he will have all of the leverage in the negotiation room. In that case, how could the Ravens not ensure that the quarterback who won them a championship does not remain with the franchise for at least the next five years?

That is certainly the point Flacco's agent Joe Linta will sell the Ravens upon should they win this year's Super Bowl. Flacco has already earned his long-term deal with a great postseason, but he now has a chance to earn a contract that tops the league's books.
3. Colin Kaepernick: From Backup to Super Bowl Quarterback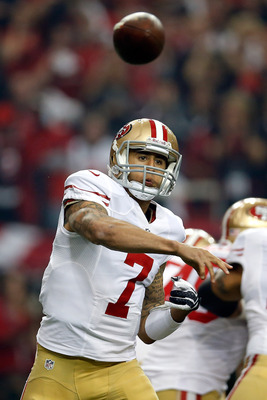 Colin Kaepernick could be the 49ers' next great quarterback.
Chris Graythen/Getty Images
Between the 1999-2001 seasons, all three Super Bowls were won by quarterbacks who started the season as their team's backup. Now 11 years since Tom Brady won his first Super Bowl with the New England Patriots, Colin Kaepernick has a chance to do what Trent Dilfer also did for the Baltimore Ravens and Kurt Warner did for the St. Louis Rams.

The 49ers' original starter, Alex Smith, had a terrific first half of the season. With a completion percentage above 70 and a quarterback rating above 104, Smith was playing the best football of his career, and presumably also could have led the 49ers to the Super Bowl.

Second-year quarterback Kaepernick, however, has simply been too good and too special since taking over as the starter for Smith to re-gain his job. A true dual-threat who has a rocket arm and terrific athletic ability, Kaepernick has added a new dimension to the 49ers' offense, all the while passing the ball with great efficiency.

Although Kaepernick was a backup for half of the regular season, and Joe Flacco could be on the verge of one of the NFL's biggest contracts, a strong case could be made that Kaepernick is the best quarterback playing in this year's Super Bowl. If Kaepernick can finish his outstanding season by hoisting the Lombardi Trophy, he will already be considered one of the NFL's best entering his first full season next year.
2. Harbaugh vs. Harbaugh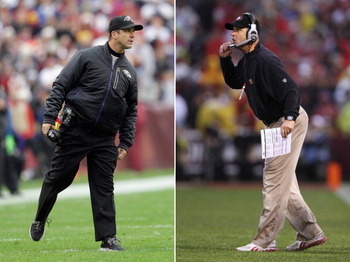 Getty Images/Getty Images
When Jim Harbaugh became the San Francisco 49ers' head coach in 2011, he and Baltimore Ravens head coach John Harbaugh became the first pair of brothers to ever both be NFL head coaches. Just two years later, in a storyline made for Hollywood, the two brothers are set to coach against one another in the Super Bowl.

The sons of Jack Harbaugh, who coached at the NCAA level for 40 years, both Harbaughs have clearly established themselves as being among the NFL's best coaches. Now, the two intense yet brilliant football coaches are focused on one goal: ensuring that their brother is on the losing end of Super Bowl XLVII.

The "Harbowl" should truly come down to which team's players execute better on the field, but there will be no shortage of attention placed upon the two men leading their teams from the sidelines on Super Bowl Sunday.
1. Can Ray Lewis Go Out on Top?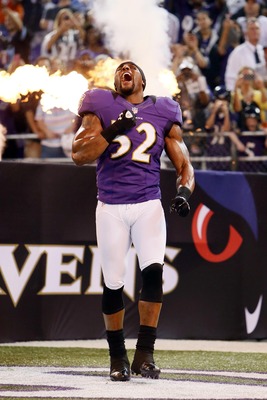 Ray Lewis has a chance to finish as a champion.
Mitch Stringer-USA TODAY Sports
As a rookie in 1996, Ray Lewis' first career sack came against Jim Harbaugh. More than 16 years later, the legendary Baltimore Ravens inside linebacker will play the final game of his illustrious NFL career against Harbaugh's San Francisco 49ers.

Regardless of what happens Sunday, Lewis will go down as one of the NFL's all-time great linebackers. A seven-time first-team AP All-Pro selection, Lewis is the defensive standout of his generation, and will almost certainly be a first-ballot inductee to the Pro Football Hall of Fame in 2018.

The Super Bowl XXXV MVP now has the chance to follow in the footsteps of former New York Giants defensive end Michael Strahan and Denver Broncos quarterback John Elway as current or future Hall of Famers who ended their careers by winning the Super Bowl in their final NFL game.

Lewis is picking the right time to retire, because he is no longer the player he used to be. Win or lose Sunday, he will end his career as a player who was always great, and did not hang on too long to a dying career.

It sure would be a storybook ending, nonetheless, should the last player remaining from the Baltimore Ravens' inaugural season cap his career by hoisting the Lombardi Trophy before his team.

Even more appropriately, Lewis' final game will come against the 49ers, who have arguably the NFL's two best inside linebackers in Patrick Willis and NaVorro Bowman.
Dan Hope is an NFL draft Featured Columnist for Bleacher Report. He'll gladly discuss the Super Bowl also on Twitter.

Keep Reading