UFC on Fox 6 Live Results and Play by Play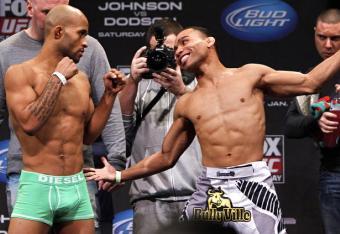 Demetrious Johnson retained his flyweight title at UFC on Fox 6, defeating John Dodson by unanimous decision in a thrilling five-round fight.
Quinton "Rampage" Jackson lost in what was likely his last fight in the UFC octagon.
Scroll down for updates from throughout the UFC on Fox 6 fight card.
Demetrious Johnson d. John Dodson by (48-47, 49-46, 48-47)
This was a seriously great flyweight fight, and should win fight of the night. Dodson looked strong in the first few rounds, but faded as Johnson turned up the heat and kept relentless pressure in the championship rounds.
I don't know how Johnson could have been given a 49-46, but man, that was still a fantastic fight. Anyone who thinks flyweights are boring, or that they can't hit hard and do damage, should be forced to watch this fight.
It's been fun tonight. Stay tuned to BR for more post-fight discussion and analysis from myself and the rest of the team.
JOHNSON vs. DODSON
Round 5: This round may decide the championship. Both guys hype up the crowd. They hug to start.

Leg kick from Johnson, then Dodson lands one of his own. Right hands from Dodson. He clinches Dodson and lands two big knees, then drops down for a takedown and gets it. Dodson breathing heavily. Dodson seated against the cage.

Dodson trying to get back up, but Johnson pulls him away, then lands a big uppercut. Dodson gets back to his feet, though, and clinches Johnson against the cage using knees to the body. Johnson climbs up on Dodson and uses elbows to the head. I've never seen that before.

They separate. Johnson presses forward, but Dodson gets him against the cage again. Separation. Johnson just relentless. Left hook from Dodson but Johnson still coming forward. Dodson looking for his first takedown of the fight.

He picks Johnson up and dumps up, but Johnson back up immediately. Two minutes left. They separate. Johnson pressing forward, Dodson grabs a leg but Johnson escapes. Dodson grabs him and clinches him against the cage. Huge knee from Johnson staggers Dodson, and he pounces, landing more knees and punches. Knee from Johnson to the body. Johnson with the clinch again and he's landing huge knees, then a right hook to the body, then the head. Dodson is hurt.

Dodson grabs Johnson and presses him against the cage. Knee to the body from Dodson, but Johnson grabs the clinch again and lands more knees to the head. 10 seconds left. Big knee from Johnson again. The fight ends.

BR scores the round 10-9 for Johnson. BR scores the fight 48-47 for Johnson.
Official decision coming shortly.
JOHNSON vs. DODSON
Round 4: Leg kick from Dodson. And another. Right then left hooks from Dodson. Dodson catches another kick. Johnson shoots and gets it, but Dodson back up immediately. Johnson has a front headlock, but then he knees Dodson while he's got his hand on the ground. Knees to the head of a downed opponent.

McCarthy asks Dodson to look at him with his bad eye, then says "am I ugly?" The docs come in to check the eye, then say the fight can continue.

Here we go again, touch of gloves. Leg kick from Johnson, right hand from Dodson. Left hook from Dodson off a catched kick again sends Johnson to the mat. Dodson is really good at that. And also good at counterpunching. Johnson shoots and grabs a single, but Dodson stays standing.

Dodson gets away. Dodson lands a left. Right hand off a counter from Dodson. Johnson lands a sweet left hook. Johnson shoots and grabs a single again, but Dodson stays up. They're against the cage. Dodson gets away, but Johnson grabs him again and has the clinch. Dodson is down again and Johnson is using knees, but McCarthy can't see it.

Dodson appears to be bleeding. Johnson using knees. Lots of knees, actually. Dodson appears to be cut open pretty badly. He's bleeding from the nose, it appears. Johnson really coming forward and laying it on Dodson. This was easily his strongest round.

BR scores the round 10-9 for Johnson
JOHNSON vs. DODSON
Round 3: Leg kick from Johnson. Switch kick from Dodson blocked. Dodson lands three left hooks in about 3 seconds. Amazing.

Body kick from Johnson. Dodson hits a big knee when Johnson comes in for a takedown, but Johnson keeps the leg and keeps going for the takedown. There's a low blow at some point on Dodson, and they take a break. Yep, it was a knee from Johnson that grazed Dodson.

Back to the action. Leg kick from Dodson. Body kick from Dodson. Johnson misses big hook and Dodson hits a flying knee. Dodson catches the kick again and drills Johnson with a straight right. That keeps happening.

Trading leg kicks. Right and left hook from Johnson, but Dodson fires back. These are the fastest punches. Right hand from Johnson. Dodson catches another kick and hits him with a left straight. Body kick from Dodson, that was a big kick that hurt Johnson.

Johnson gets a takedown and he's in Dodson's guard, but Dodson lands a sweet elbow. Dodson scoots away and nearly gets back to his feet, but Johnson pushes him back down and goes back into the guard.

Dodson scrambles away and gets back to his feet. He's amazing at getting off his back. Johnson shoots again but only gets a clinch against the cage this time. Knee and left hook from Dodson. Counter left from Dodson and the round ends.
BR scores the round 10-9 for Johnson
JOHNSON vs. DODSON
Round 2: Leg kick from Johnson opens the round. He's pressing forward, Dodson counterstriking. Seriously, I can't describe all of this action. Knee and a left hook from Dodson.

Johnson shoots and clinches against the cage. He drags Dodson to a seated position against the cage, but Dodson gets back up immediately, then they separate. Right hand from Johnson. Leg kicks from Dodson, then a right hook.

Right hand from Dodson but he smiles. Dodson drops Johnson with a huge left hand, but lets him back up. He needs to pounce. Dodson drops Johnson with another big punch. Johnson is rocked, but shoots for a takedown but doesn't get it.

Dodson has big power. Leg kick from Johnson. A left from Dodson sends Johnson falling back but he gets up. A huge left hook rocks Johnson again. Johnson does recover quickly. Left hook from Dodson again. Dodson so good at escaping from Johnson. Johnson is bleeding from his nose. Another big left counter hook from Dodson. Johnson shoots but Dodson escapes. A right from Johnson lands.

30 seconds left. Left hook again from Dodson off a leg kick catch. Knee from Dodson. The round comes to a close.

BR scores the round 10-9 for Dodson
DEMETRIOUS JOHNSON vs. JOHN DODSON (FLYWEIGHT TITLE)
Round 1: Seriously, I don't know how I'm going to do play by play on this; these guys are just too fast for my hands to keep up. Also, Big John McCarthy is twice the size of both of these guys.

Here we go. Feeling out period, both guys throw a bunch of strikes that miss. Left hand from Dodson. Leg kick from Johnson. And idiots in the crowd are already booing. Why buy tickets, you morons?

Jesus, these guys are so fast. Leg kick and punch from Johnson misses, then same from Dodson. Dodson lands a leg kick. Johnson pressing forward. Big right from Dodson drops Johnson, but he gets back up immediately. Head kick from Johnson but Dodson catches it and throws him.

Right misses from Dodson. Johnson grabs Dodson but he gets away. Overhand right misses bad from Johnson. Dodson lands two shots. Dodson is really making Johnson miss. Another escape from Dodson and he lands two punches. Johnson misses a wild right hook. Big straight left from Dodson catches Johnson.

Johnson shoots for the takedown and drags Dodson down, but he's back up, then Johnson picks him up and takes him down. Dodson pushing away, trying to get up, and he does. Right hand from Johnson and they clinch against the cage. Dodson has Johnson pressed against the cage and they separate. They clinch against the cage and the round ends.

BR scores the round 10-9 for John Dodson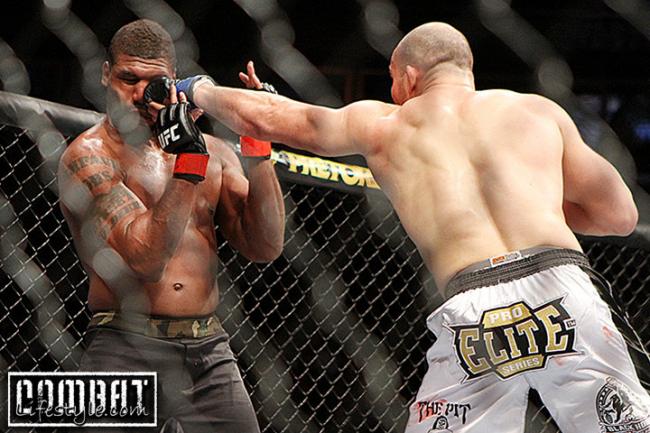 Glover Teixeira d. Rampage Jackson by unanimous decision (30-27, 30-27, 29-28)
I'll say this: Teixeira is a very good fighter, but after seeing this, I'm not nearly as interested in seeing him fight Jon Jones. He needs at least two more impressive fights before I'm ready to see that.
That is 18 straight victories for Teixeira, though, which is quite impressive.
If this is Jackson's swan song in the UFC, then I wish him well. He's always been entertaining, even when his commitment to training didn't quite match up to the words he used to build up fights.
We'll have a bit of a break before we get to the Johnson/Dodson main event. I have no idea how I'm going to do play by play for this fight, but I'll give it my best shot.
JACKSON vs. TEIXIERA
Round 3: Touch of gloves starts the third, then they start trading punches. Glover lands a huge left hook. Right hand from Glover while Rampage lands a kick to the body. Rampage needs a finish.

Big right from Rampage. He looks energized, but can he keep it up. Glover shoots and dumps Rampage on the ground. The crowd is booing the takedown. Punches and hammerfists from the top by Glover. Elbow from Glover. Rampage gets to a seated position, then gets back up, but Glover punishes him with punches. They separate, but Rampage comes forward and starts swinging. This is an awesome fight.

Rampage looks for a takedown, but doesn't get it. He's tired again. Left hook from Glover hurts Rampage, then an uppercut lands. Rampage tries a huge uppercut. Glover keeps coming forward and lands a head kick. They trade punches.

Glover lands two more punches, then grabs a leg and dumps Rampage, but he gets right back up. Body shot from Glover. Superman punch from Glover. Rampage is so very tired, he can barely punch now. Rampage does land an uppercut. Smart fight here from Glover, he's mostly picking his shots. Another body hook from Glover.

45 seconds left. Takedown from Glover and he gets it, then goes into full mount. He rains down big punches and is looking for an arm triangle, but there's not enough time left. Glover lands big shots from the top as the round and fight ends.

Glover helps Rampage up and they hug. What a fight.

BR scores the round 10-9 for Teixiera. BR scores the fight 30-27 for Teixiera.
Official decision coming up shortly.
JACKSON vs. TEIXIERA
Round 2: Rampage wanted a fight and he's got one. Rampage lands a left. Glover shoots for a takedown and gets it emphatically, then gets in Jackson's guard. Jackson appears to be talking trash to Teixeira while on the bottom. Rampage sits up, but Glover lands a nice elbow and pushes him back down.

Glover works on passing the guard, but Rampage has his ankle caught so he can't move into side control. Big punches from the top from Teixeira, but Jackson escapes and gets back up. Wild miss from Jackson.

Huge uppercuts from Jackson, but they don't faze Teixeira. Big left hook from Glover, and again, then a clinch but they separate. Another left hook from Glover lands. Rampage has a mouse under his left eye. Rampage trying wild haymakers while Glover appears to have settled down.

Overhand right from Glover, then two big uppercuts. Rampage is tired. Rampage tries a takedown but doesn't even come close. He's winging punches now. Body kick from Glover, then a head kick is blocked. Rampage shakes his hands and urges Glover to come forward, saying Glover's got nothing. Three punches from Glover land. Jab from Glover. Big body punch from Glover. Rampage is so tired. Glover lands a left, then an uppercut. 30 seconds left. Rampage lands 3 punches and Glover tells him he's got nothing. Right hand from Rampage and Glover smiles. What an interesting fight.

Body punch from Glover and the round ends.

BR scores the round 10-9 for Teixiera
RAMPAGE JACKSON vs. GLOVER TEIXEIRA
Round 1: Here we go. Both guys swinging to start. Uppercut misses from Glover. Rampage throws a rare leg kick. Teixeira pressing forward with punches but Rampage using head movement. Teixeira takes Jackson down and takes his back immediately. Teixeira is looking for an arm triangle. Now he's using hammerfists. Teixeira has both hooks in. He lets go of the hooks, but Rampage is up and escapes. Another leg kick from Rampage.
Big left hook from Rampage after Glover misses a haymaker. Straight right from Teixeira followed by a head kick. Uppercut from Rampage. Another miss from Glover and a huge hook from Rampage. And again. Now Rampage misses a haymaker. Left/right from Glover. Left hook from Rampage, leg kick from Glover. Rampage tries a takedown but misses and Glover lands a huge right hand on the scramble. Glover lands a big knee to the body against the cage, then they separate. Left hook from Glover wobbles Rampage. He's on shaky legs. Teixeira drops Jackson with a punch, but Jackson gets back up quickly, but he's in trouble.

Right hand from Jackson, then a hook. He's getting his senses back now. Big punches from Teixeira, then Rampage lands a nice shot.
BR scores the round 10-9 for Teixeira
Upon further review, the Showtime kick attempt I referred to earlier was actually a Showtime knee! I'll post a gif if I can find one.
There may be no more exciting fighter in mixed martial arts than Anthony Pettis.
Jackson vs. Teixeira is up next.
When Pettis was interviewed by Rogan, he asked Dana White what he has to do to get the title shot. I think he's probably done enough after this, and he'll likely face the winner of the 4/20 bout between Benson Henderson and Gilbert Melendez on the next Fox event. And if Melendez is injured, Pettis can easily fill in.
What do you think? Is Pettis deserving of the next title shot?
Yup..... I want that fight

— Gray Maynard (@GrayMaynard) January 27, 2013
Check out what UFC lightweight Gray Maynard had to say about the Pettis win: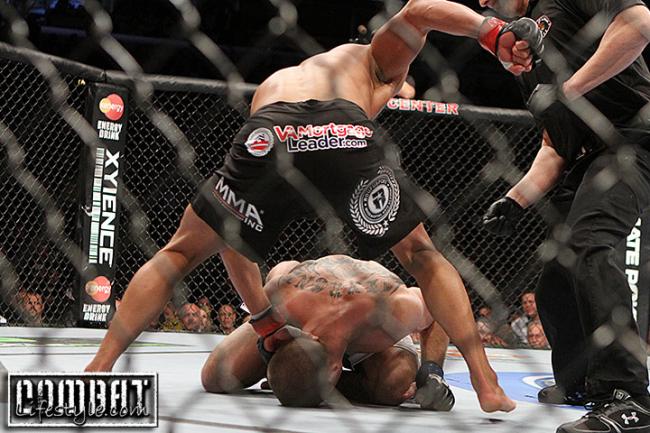 DONALD CERRONE vs. ANTHONY PETTIS
Round 1: No touch of gloves from Pettis. Cerrone shakes his head. Pettis lands a solid right to start, then a leg kick. Pettis lands a left/right combo. Pettis tries a crazy cartwheel kick, but Cowboy lands a knee to the body while it's happening. Goldberg and Rogan don't mention that it happened. Head kick from Cerrone blocked by Pettis.

Pettis lands another left/right combo. Left straight from Pettis, then a kick to the body hurts Cerrone. Pettis looked like he wanted a Showtime kick against the cage. Man, that would have been awesome. A huge kick to the liver drops Cerrone, he curls up into a ball and the fight is over.
Anthony Pettis d. Donald Cerrone by TKO, round 1
Man, what a performance from Anthony Pettis. It was quick, but it was dominant, and Pettis re-establishes his claim to lightweight title contendership.
I only wish the fight had gone longer, because I feel like we've been robbed by a first-round finish. But kudos to Pettis on a great win.
While we wait for the next fight, I'll open up the floor and ask you a question: do you think Lamas earned a shot at the winner of Aldo/Edgar with the win tonight?
Let me know in the comments below.
KOCH vs. LAMAS
Round 2: Koch opens with a leg kick and a nice left hook. Lamas leg kick. These two are very good fighters and this is a very good pairing. Koch leg kick. Lamas jumps in for a hook, but Koch dodges and clinches Lamas into the cage. Koch separates almost immediately though. Koch got poked in the eye, just a tad, but the fight continues. Lamas falls while trying a leg kick, Koch tries to jump on him but somehow ends up on his back. Lamas lands nice shots from a standing position. Big elbow from Lamas opens up a nasty cut on Koch, and Koch is in trouble. More big elbows from Lamas and John McCarthy steps in.

Ricardo Lamas d. Erik Koch by TKO, round 2
Very impressive performance from Ricardo Lamas here, and he likely earned himself a shot at the winner of next week's Aldo vs. Edgar bout at UFC 156. Koch has one of the nastier cuts I've seen in quite awhile.
ERIK KOCH vs. RICARDO LAMAS
My prediction: Erik Koch
Round 1: This crowd is amped for these fights. Arianny's looking in top shape tonight. Lamas starts off with a leg kick. Lamas tries a sweet roundhouse head kick but hits nothing but air. Koch has the center of the cage. Head kick from Koch partially lands. Lamas using a lot of kick feints. Koch misses a front kick but lands a head kick. Lamas shoots, Koch stuffs it but Lamas pushes him against the cage and continues working for the takedown. Lamas drags him to the ground with one leg, but Koch gets back up still using one leg, and Lamas puts him back into the cage. Koch has really good takedown defense and amazing balance.

Koch tries to get off the cage, but Lamas pushes him back in. We've got a clinch battle. Lamas trips Koch to the ground but Koch immediately springs back up. Spinning back elbow from Lamas lands, but Koch lands a punch of his own and they separate. Another wild head kick misses from Lamas. Ref McCarthy warns Lamas about closing his hands. Lamas clinches Koch back into the cage with 25 seconds left, then drags him to the ground, but Koch is right back up and he clinches Lamas into the cage as the round ends.

BR scores the round 10-9 for Ricardo Lamas
The Fox broadcast opens up with some audio problems on host Curt Menefee's microphone, so they cut to commercial. When we come back, they go to Goldberg and Rogan instead of the hosts booth, but Goldberg promises that they'll have the audio fixed soon.
That's two glitches during today's event, the first being the fact that the Facebook broadcast cut away from the first prelim bout with one minute remaining in the fight. Let's hope there are no more.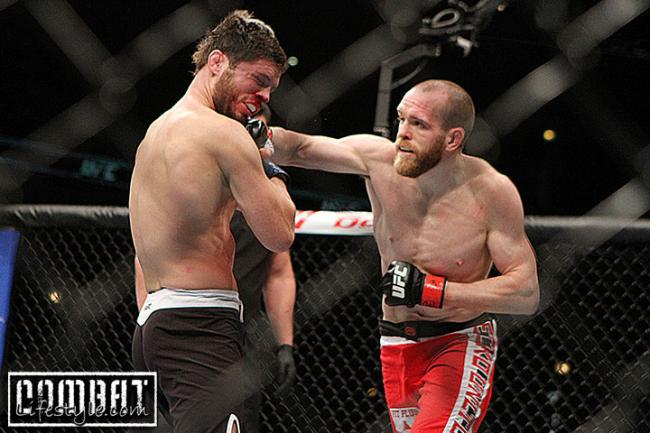 T.J. Grant d. Matt Wiman by TKO, round 1
T.J. Grant has come a long way since he fought Ryo Chonan in his UFC debut.
Grant, using pinpoint accuracy and a startling sense of calmness, battered Matt Wiman for much of the first round before dropping him to the canvas with an elbow and finishing the fight using ground and pound with just 10 seconds left in the round.
It really was a spectacular performance from Grant, who has two outstanding consecutive wins over Evan Dunham and Wiman, and he's 4-0 as a lightweight in the UFC. This performance likely earned him a step up in both competition level and in name value. He has the second-longest winning streak in the lightweight division behind champion Benson Henderson, and he's the first man to finish Wiman since 2006.
Joe Rogan said that Grant was on the verge of being a title contender, and I'm not sure that's true. Not yet, anyway. But it's clear that Grant has the skills to go a long way in the division.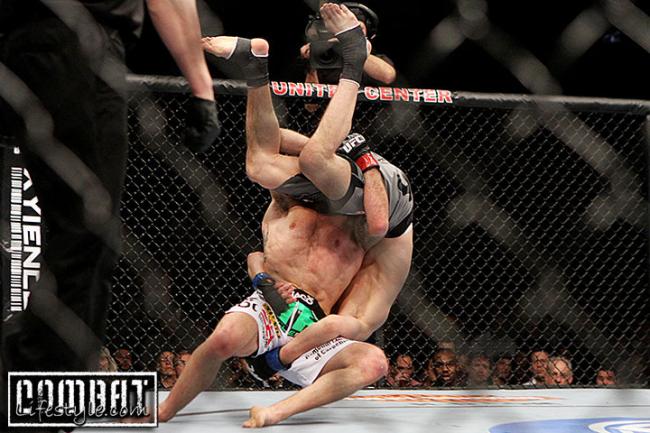 Clay Guida d. Hatsu Hioki by split decision (28-29, 30-27, 29-28)
Well, I can't say I agree with this one. But I also cannot say that I'm surprised.
Guida spent more time on top of Hioki throughout the fight, but Hioki was far more effective off his back than Guida was with that top position. Hioki punched and consistently went for submissions and attacks, but the dumb judges in this sport apparently believe that being on top is the same thing as winning. It's not, and it's a shame.
This wasn't a great featherweight debut for Guida. When your hometown crowd is booing you for inactivity on the ground, you need to change up your style. Guida has the wrestling, but he no longer has the smothering, striking style he used to employ on the ground.
I'm not saying that Hioki was robbed, because I knew this was close and that the scores could fall in a wide range. But I am saying it's a shame that MMA judges are too incompetent to see that attacking off the back is quite effective.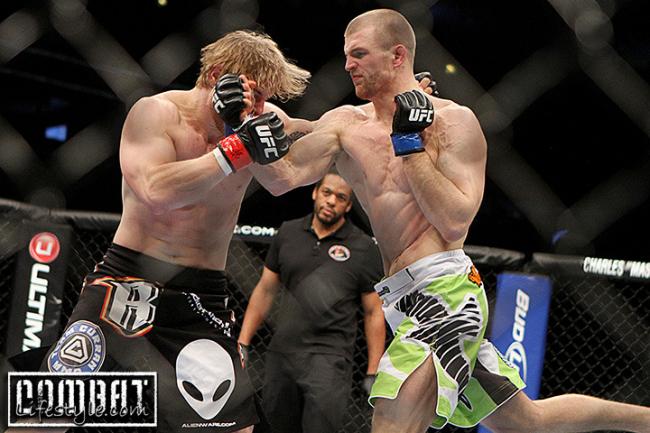 Pascal Krauss d. Mike Stumpf by unanimous decision (30-27, 30-27, 30-27)
This was, for almost the entirety of the fight, a one-sided display of striking technique from Krauss.
The German-born fighter looked fantastic, mixing up his strikes in effortless combinations while battering Stumpf. He even used a punch that I've never seen before, which was a Superman uppercut. Yes, it was awesome.
Krauss was dominant in every facet of the fight, with Stumpf only really finding success with leg kicks. Krauss seemingly landed at will with very technical striking.
I don't have much else to say about this one because there just isn't much to say, but it was a good showing for Krauss.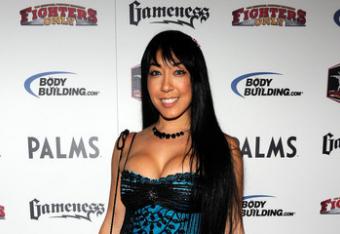 While we wait for the next fight, I'd like to send a shout-out to the lovely Tracy Lee for allowing me to use her live photography from tonight's event. Check out all of her photography at Combat Lifestyle.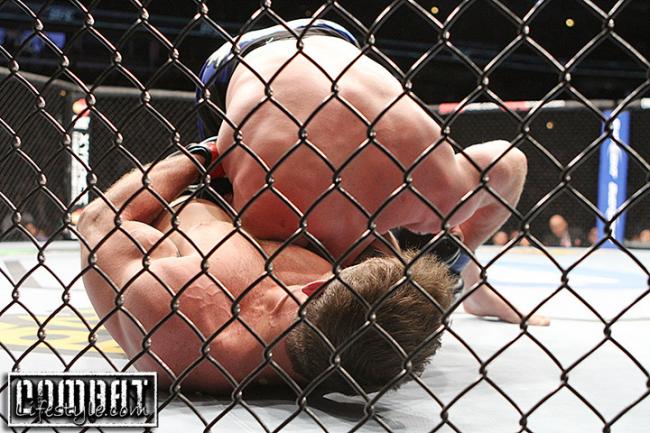 Ryan Bader d. Vladimir Matyushenko by submission, round 1
Well, there's not much to say about this one, is there?
Bader clipped Matyushenko early in the first round, sending him staggering to the canvas. From there, he secured what Joe Rogan referred to as a head and arm choke, but from the bottom. I've always heard the term "head and arm choke" used to describe an arm triangle, and this looked nothing like an arm triangle; I've even seen guys use the arm triangle from the bottom, and again, this did not look anything like that.
Bader didn't have it secured at first, but then hooked Matyushenko's leg and torqued the choke, forcing Matyushenko to tap out.
But I'll take Rogan's word for it. Whatever it was, Bader scored the fastest submission in UFC light heavyweight history. It's probably time for Matyushenko to consider retiring; he's only lost two in a row, but he's 42 years old.
It's also worth noting that this was the first time Matyushenko has ever been submitted.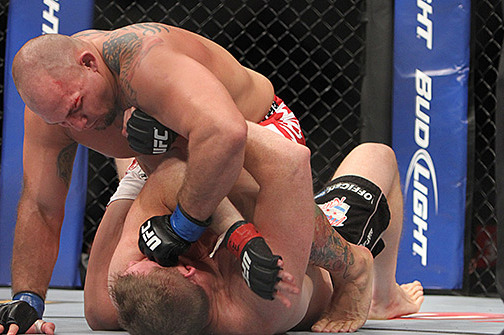 Shawn Jordan d. Mike Russow via TKO, round 2
Former LSU fullback Shawn Jordan had a rough first round against Chicago hometown favorite Mike Russow. Russow battered Jordan and opened up a cut under his eye, and looked to be on his way to a one-sided heavyweight win.
But Russow, perhaps a little too excited by the idea of securing a finish in front of his hometown crowd, expended a lot of energy, leaving the door open for Jordan to capitalize in the second round. After a brief back-and-forth battle, Jordan took the mount and stayed on when Russow rolled over, then pounded Russow with hard strikes until the fight was stopped.
Greg Jackson calls Jordan the strongest heavyweight he's ever seen, and he may be right. But he's got a long way to go before he develops into an all-around talent. He's still young, though, and has the talent to go a long way.
There's no question, however, that this was a good win for Jordan, and it was his 10th career win by KO or TKO.
Rafael Natal d. Sean Spencer by submission, round 3 (arm triangle)
Sean Spencer was a game opponent, but he is a natural welterweight taking a fight on short notice against a master of the ground game in Rafael Natal.
Spencer looked good in the first round and was winning on our scorecard until the very end, when Natal finally took him to the ground and did enough to steal the round by nearly finishing with a modified rear-naked choke.
The second round was pure dominance for Natal, however, as was the third, and Natal finished the fight in easy fashion by securing full mount on Spencer early in the third. He moved to a crucifix position and rained down elbows on the helpless Spencer before switching to a painful-looking Americana, then finally an arm triangle for the win.
After the fight, Natal told the cameras that "I have a beautiful body and a beautiful girlfriend." I don't know about all that, but I do know that Natal looked great in this fight, and it's amazing that this was his first submission win in the Octagon.
Spencer has already noted he'll move to welterweight for his next fight.
This article is
What is the duplicate article?
Why is this article offensive?
Where is this article plagiarized from?
Why is this article poorly edited?