College Basketball: Ranking the Top 10 Backcourts in the Country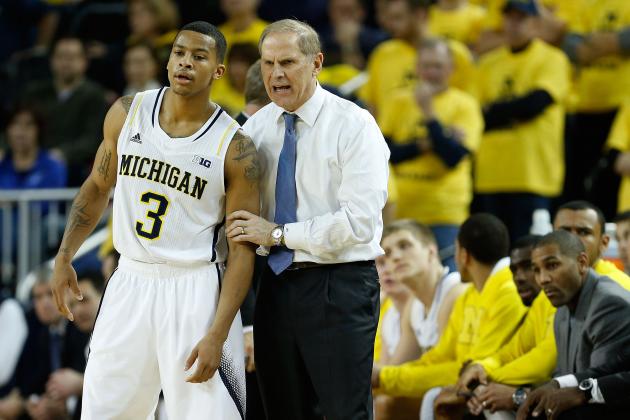 Gregory Shamus/Getty Images

One of the most important keys to success in college basketball is having dynamic guards up front to spearhead your team's attack.
Actual production (points, rebounds, assists, steals and blocks) was the primary factor that placed backcourts on this list.
Defensive abilities and head-to-head showdowns were also considered.
Five of the top backcourts in the country are from the same conference. Can you guess which one?
No other conference has more than one tandem that made this list.
Stats provided by this article from ESPN.com
Begin Slideshow

»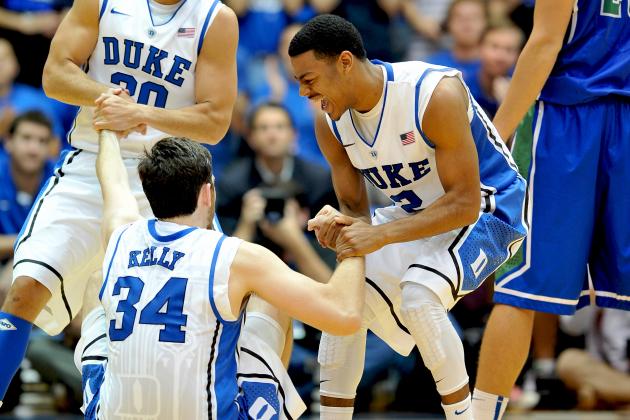 Lance King/Getty Images

So many dynamic backcourt duos in college hoops, only 10 spots to give.
Here are ten tandems that just barely missed making the cut:
Seth Curry and Quinn Cook (Duke)
Lorenzo Brown and Rodney Purvis (NC State)
Andre Hollins and Austin Hollins (Minnesota)
Keith Appling and Gary Harris (Michigan State)
Scottie Wilbekin and Kenny Boynton (Florida)
Marshall Henderson and Jarvis Summers (Ole Miss)
Darius Theus and Traveon Graham (VCU)
Kendall Williams and Hugh Greenwood (New Mexico)
Aaron Craft and Lenzell Smith Jr. (Ohio State)
Chase Tapley and Xavier Thames (San Diego State)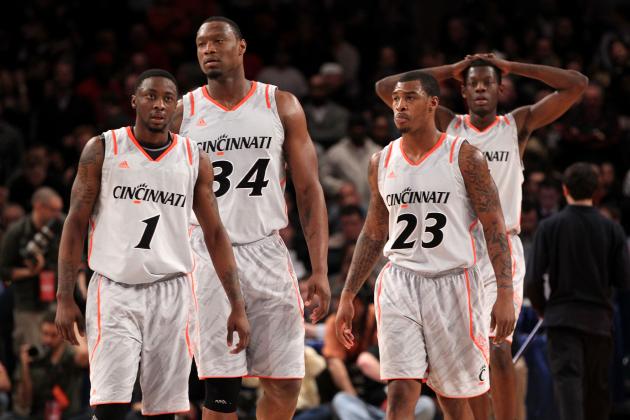 Michael Heiman/Getty Images

The Bearcats play an in-your-face brand of basketball, and that starts with their relentless backcourt of Sean Kilpatrick and Cashmere Wright.
Because they are constantly in attack mode, Kilpatrick and Wright punish their opponents on both ends of the court. They lead Cincinnati in both scoring and in steals.
Kilpatrick is the No. 4 scorer in the Big East (18.4 ppg).
Another facet to the Bearcats' backcourt beastliness is how strong they are on the glass.
Kilpatrick pulls down 5.4 rpg, and Wright adds 2.6 rpg.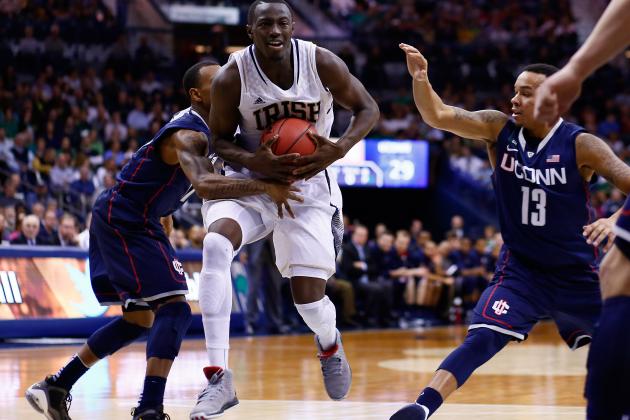 Michael Hickey/Getty Images

One of the reasons that Notre Dame is a treacherous team to play is their talented backcourt of Jerian Grant and Eric Atkins.
With Grant (12.5 ppg; 5.3 apg) and Atkins (11.9 ppg; 6.5 apg), Fighting Irish head coach Mike Brey has the luxury of having two fantastic floor leaders who can score and distribute equally well.
It's uncommon for two guards in the same backcourt to both be on their conference's assist-leader list. But that's exactly how it is with Atkins (No. 3 in the Big East) and Grant (No. 5).
Also, Atkins' 3.2 assists-to-turnover ratio currently ranks No. 15 in the nation.
In ND's road victory over South Florida this past weekend, the junior guards combined for 31 points and 12 assists.
That's backcourt production.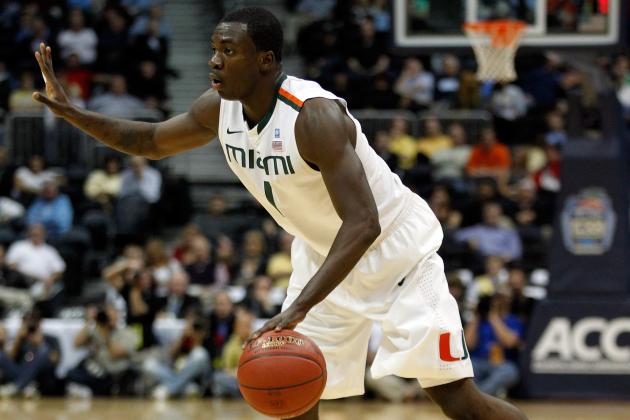 Streeter Lecka/Getty Images

Miami isn't sitting on top of the ACC by coincidence.
Strong guard play by Durand Scott and Shane Larkin has helped the Hurricanes beat North Carolina, Maryland and Duke already this season.
This versatile pair impacts games in every possible way.
Both Scott (14.6 ppg; 4.6 rpg; 2.9 apg) and Larkin (12.5 ppg; 4.1 rpg; 3.9 apg) are confident about moving in and out of the lead guard role on the floor.
A good example of Larkin's versatility is the fact that the 5'11" guard led the U in rebounding (nine boards) as well as assists (six) in their blowout victory over Florida State this past weekend.
Scott and Larkin provide the right skills mix to lead this 'Canes team to what could be their best season in the modern era of Miami basketball.
Christian Petersen/Getty Images

Arizona's Mark Lyons and Nick Johnson are a matched backcourt set.
The Wildcats depend on both of these gifted guards to both score and distribute.
While Lyons leads U of A in both scoring (14.9 ppg) and assists (3.1 apg), Johnson gets things done by being leading the Pac-12 in steals (2.2 spg) and crashing the boards (3.7 rpg).
Jamie Squire/Getty Images

Mizzou's Phil Pressey and Jabari Brown have only played 10 games together, but they already look like a pair who have worked together for years.
Pressey devastates opponents with his quickness and his blow-your-mind passing skills. He is currently averaging 7.2 apg (No. 8 in the country).
Brown immediately stepped into a lead role for the Tigers when he became eligible (as a transfer) at the semester. He is the Tigers second-leading scorer (14.4 ppg).
In Missouri's lopsided weekend win over Vanderbilt, Brown paced the Tigers with 21 points and Pressey added 12 points and six assists.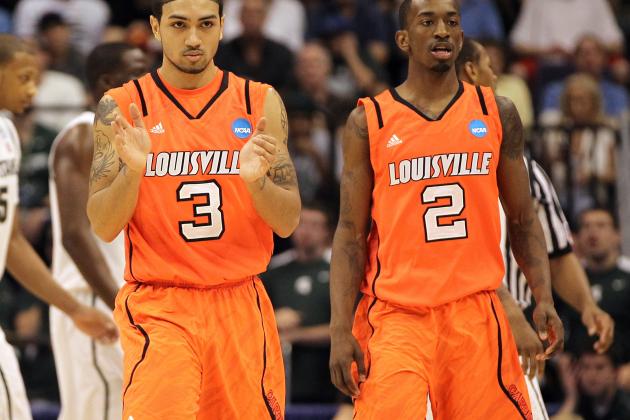 Jamie Squire/Getty Images

Peyton Siva and Russ Smith make life absolutely miserable for Louisville's opponents.
On the defensive end, they apply non-stop pressure resulting in getting steals (combined almost 5 per game) and forcing turnovers.
On offense, they lead the team in scoring, with Smith averaging 18.4 ppg and Siva chipping in 11 ppg.
Siva's strong floor leadership helps the Cardinals (16-4; 4-3 Big East) play every possession like it was their last.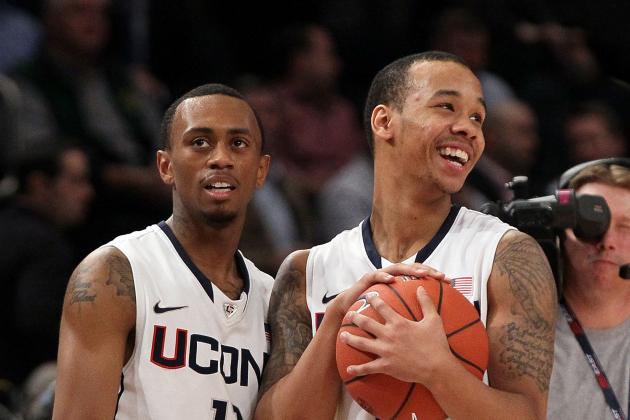 Jim McIsaac/Getty Images

Is it just me or does it seem like UConn has dropped off the face of the college hoops planet this year?
I know one thing...It's not for lack of quality backcourt play by Shabazz Napier and Ryan Boatright.
Napier (16.6 ppg; 4 apg) and Boatright (16 ppg; 4.7 apg) have nearly-identical outstanding statistics on the year.
Together, they also pull down over even rebounds per game.
The fact that they are both about six-feet tall and weigh around 170 pounds makes their accomplishments that much more impressive.
Neither one hesitates going into the lane or has any trouble getting to the rim. Contact doesn't bother them or slow them down.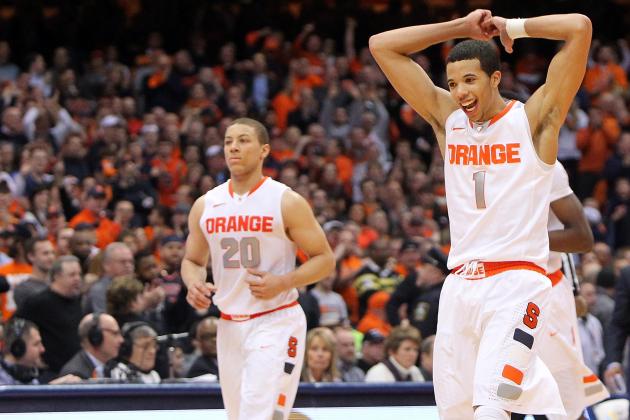 Nate Shron/Getty Images

If you like a backcourt with length and size, you'll love Syracuse's combo of PG Michael Carter-Williams (6'6") and SG Brandon Triche (6'4").
MCW is the nation's assist leader (8.9 apg) and No. 5 in steals (3 spg), while still averaging 12.6 ppg and 4.9 rpg.
Triche leads the Orange in scoring (14.9 ppg), also adding 3.5 rebounds and 3.5 assists per game.
In Syracuse's OT loss to Villanova over the weekend, the dynamic duo went for 40 points, nine rebounds and eight assists.
It's good news that Jim Boeheim's bunch will go as far as these two outstanding guards will take them. They rank right up there with the long line of super Syracuse backcourt duos.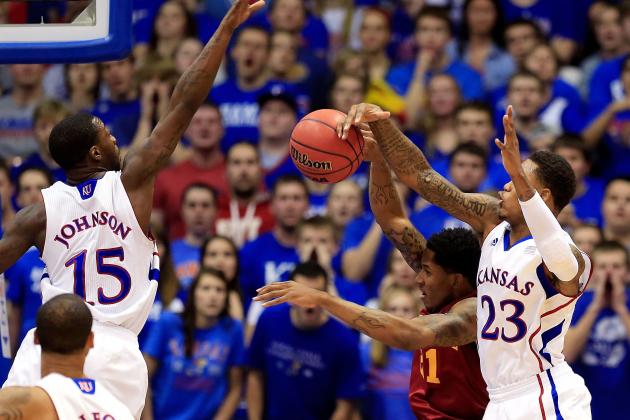 Jamie Squire/Getty Images

Kansas (18-1; 6-0 Big 12) looks ready to make another deep run in this year's March Madness.
The Jayhawks backcourt of Elijah Johnson and Ben McLemore is the best in the Big 12, no questions.
Johnson has settled quite nicely into his role as floor leader for KU. The 6'4" senior played SG for most of his first three years in Lawrence. But with Tyshawn Taylor's graduation, Bill Self needed Johnson to take over the floor leadership role.
Redshirt freshmen Ben McLemore is one of the best SGs in college hoops, averaging 16.2 ppg and 5.5 rpg.
In NBADraft.net's most recently updated 2013 Mock Draft, McLemore is predicted to be the No. 1 overall pick.
McLemore is putting together a rare collection of shooting stats. So far this season, the 6'5" SG from St. Louis is hitting 51 percent from the field, 88 percent from the line and 45.6 percent from beyond the arc.
That's impressive.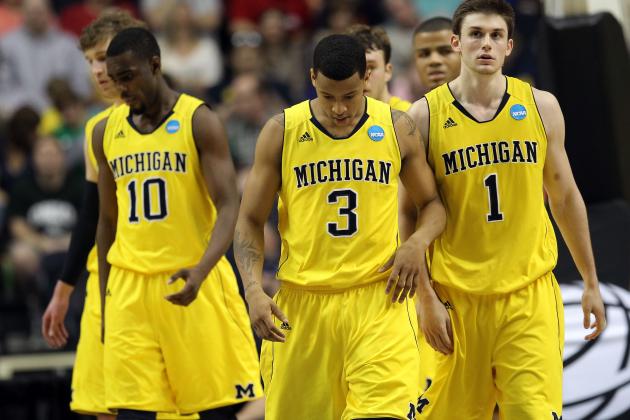 Jamie Squire/Getty Images

The top college basketball team in the nation, Michigan (19-1; 6-1 Big Ten), has the best backcourt: Trey Burke and Tim Hardaway, Jr.
Burke is a legitimate contender for the Cousy Award (Top PG) and just about any national player of the year award that will be given at the end of the 2012-13 season.
The six-foot sophomore from Columbus (OH) is putting up crazy numbers (17.8 ppg; 2.9 rpg; 7.9 apg; 1.3 spg). His 3.9 assist-to-turnover ratio currently puts him at No. 4 in the nation.
Tim Hardaway Jr. gives the Wolverines a big (6'6") SG who can score (16.2 ppg) and crash the boards (5.3 rpg).
As long as Burke and Hardaway are doing their thing for the Maize and Blue, Michigan will be one of the best teams in college hoops.