Breaking Down Super Bowl XLVII's Impact on Ravens' Free Agency Plans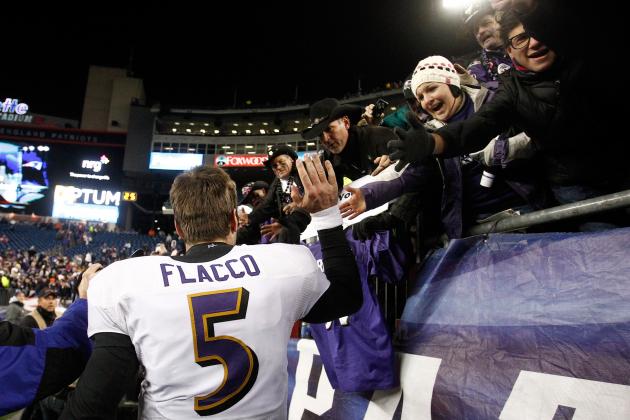 Jim Rogash/Getty Images

In breaking down the biggest winners from the Baltimore Ravens' Super Bowl run, most mention Ray Lewis, the fans, the coaching staff and Joe Flacco. These are all true. But Flacco and the other Ravens who have expiring contracts have the most to gain.
Guys like Paul Kruger, Cary Williams and Flacco stand to make a lot of money after excellent playoff performances.
The Ravens, meanwhile, could struggle to retain everybody. Further, the team's cap may be even tighter due to the guaranteed increase in salary that Flacco will receive.
Win or lose, this will be quite an offseason in Baltimore. Let's take a look at what that will mean for seven key players.
Begin Slideshow

»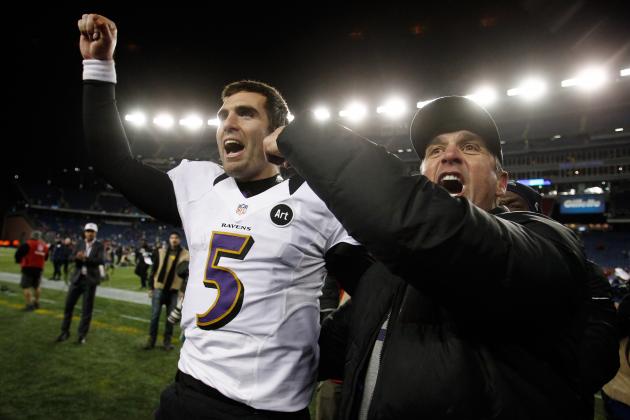 Jim Rogash/Getty Images

Let's save the elite debate for another day. For now, dealing in absolutes is much easier, and this is absolutely true: Joe Flacco is going to break the bank in 2013.
Flacco's playoff run has been remarkable, with three wins, eight touchdowns passes and no interceptions. Elite or not, Flacco has proven to be a true franchise quarterback.
That means he will get a massive contract this offseason. Five quarterbacks will exceed a $20 million cap hit in 2013. Don't be surprised if Flacco becomes the sixth.
Even if that doesn't happen, Flacco will be guaranteed to improve on his $8 million figure from 2012. A fair comparison would be between Flacco and Eli Manning's deal. Manning signed a seven-year, $106.9 million deal before the 2009 season. Flacco could sign something similar.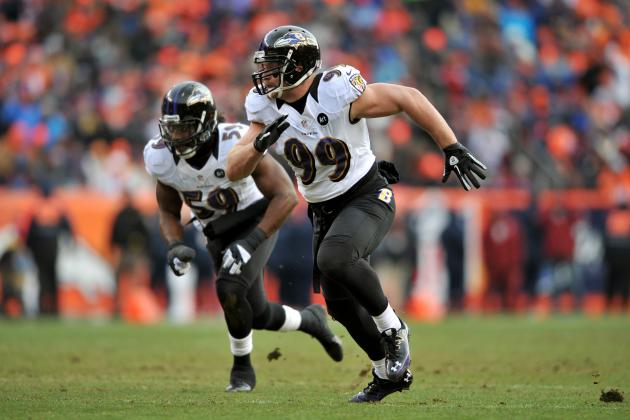 Dustin Bradford/Getty Images

On one hand, Kruger is a one-year wonder who only excelled in his contract season. On the other hand, Kruger was the only consistent pass-rusher for the Ravens this season, and his elite technique and motor should carry over to future seasons.
His breakout performance against the Colts in the Wild-Card Round should ensure him a big contract. He had 11 pressures in that game and 73 on the season, playoffs included.
I'd be surprised if Kruger gets a contract in excess of $10 million. But after his elite performance in these playoffs, anything is possible. The Ravens need to try to re-sign him if they can.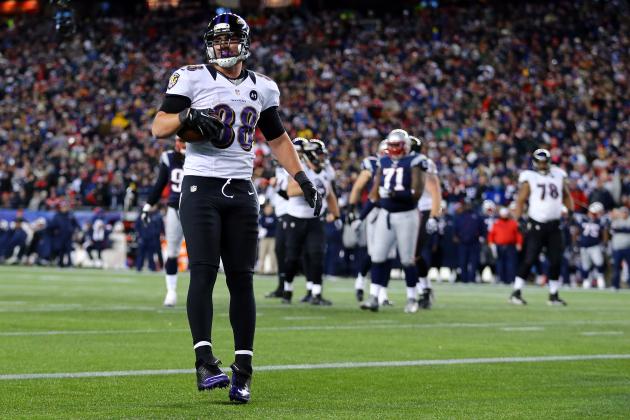 Al Bello/Getty Images

Though inconsistent, Dennis Pitta has broken out as one of the better receiving tight ends in the NFL. He is perhaps Joe Flacco's favorite target, especially on third down, and keeping Flacco happy has to be a priority.
Thankfully, Pitta is a restricted free agent, making him easier to keep around.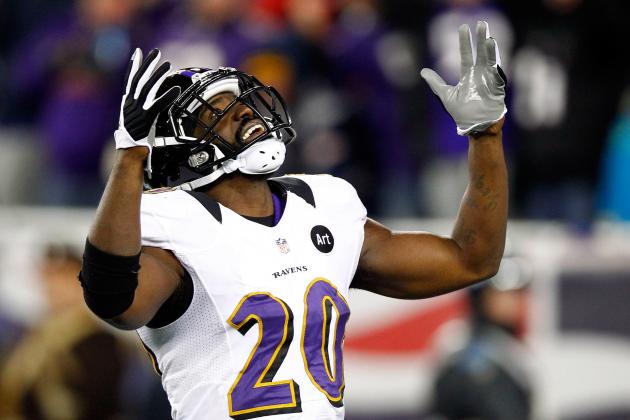 Jared Wickerham/Getty Images

Like Kruger, I have mixed feelings about the re-signing of Reed. The rapidly aging star will almost certainly get a massive salary this offseason, despite his play hardly being worthy of such a deal.
That having been said, Reed would be much more valuable to the Ravens than any other team. His leadership will be valued in the post-Ray Lewis era.
If the Ravens can get Reed to take a pay cut, that would be ideal. But even at his 2012 price, Reed might be worth it.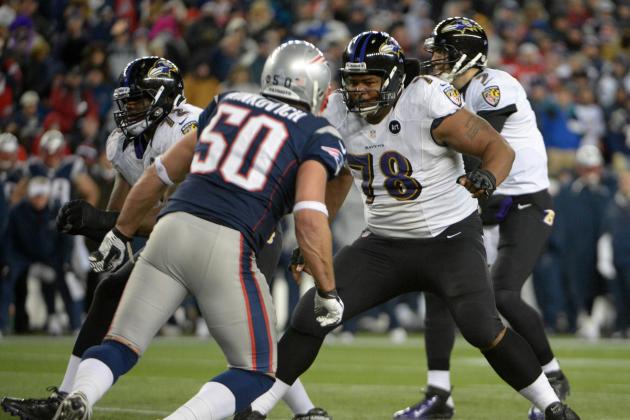 Kirby Lee-USA TODAY Sports

Before the playoffs, Bryant McKinnie was a non-factor in Baltimore. Now, he is proving what most close to the franchise already knew: he is the team's best pass protector.
Well past 30 years old, McKinnie's play will eventually fall off. Still, the Ravens should be able to get him at an affordable price. He's well worth re-signing.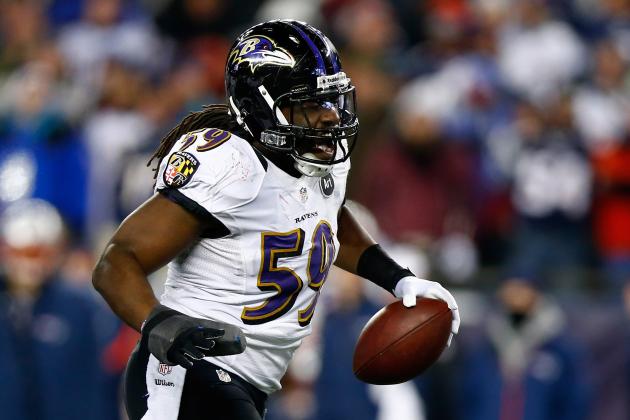 Jared Wickerham/Getty Images

With Ray Lewis gone, Dannell Ellerbe will step in as the Ravens' top inside linebacker. That is, assuming he re-signs with the team.
The Ravens need Ellerbe, who has become an excellent run defender and playmaker. Though he needs work in coverage, Ellerbe was the Ravens' best inside linebacker this year, and he must be retained.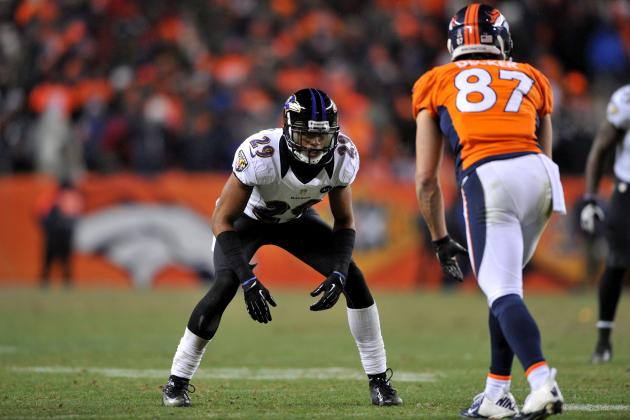 Dustin Bradford/Getty Images

Cary Williams has done an excellent job recovering from a tough start to the season, but he is still a terribly limited cornerback. Some team will overpay him on the strength of his four interceptions and stellar performance in the AFC Championship Game, but the Ravens won't make the same mistake.