UCLA Football: Projecting Stats for the Bruins' Rushing Leaders in 2013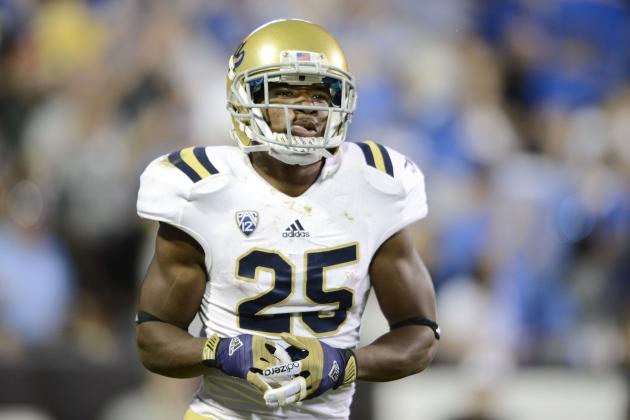 Ron Chenoy-USA TODAY Sports
Damien Thigpen's health will be paramount to UCLA's success
As the UCLA Bruins enter winter workouts in preparation for the 2013 season, there is plenty of excitement and anticipation for the second year of the Jim Mora era.
After showing marked improvement as a program in 2012, UCLA is armed with a solid core of returning starters and a stacked recruiting class, so expectations are elevated.
But there are still a number of questions left unanswered, the most notable of which comes in the wake of RB Johnathan Franklin's graduation.
Who is going to step up to replace The Mayor's production?
Franklin was UCLA's heart and soul last season, leading the way on the field, in the locker room and just about anywhere the Bruins needed leading. The senior captain compiled 1,734 yards and 13 TDs en route to becoming the program's all-time leader in rushing and all-purpose yards.
Needless to say, Franklin's departure raises serious doubts about the depth and experience in the UCLA backfield.
There are a few returning Bruins plenty capable of shouldering the burden, but only time will tell if any of them can handle being the go-to guy week in and week out.
As we move forward in this slideshow, it's important to consider the framework for these way-too-early stat projections.
Returning (or incoming) personnel, production lost to graduation and individual player statistics from previous seasons will each weigh heavily in the decision to divvy up touches.
Read on for complete statistical projections of UCLA's most likely leading rushers for the 2013 college football season.
Begin Slideshow

»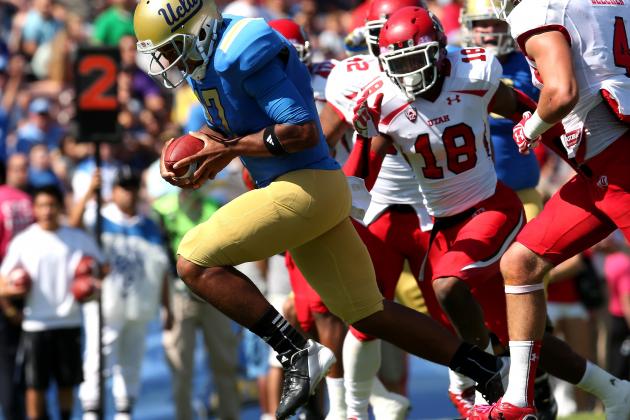 Stephen Dunn/Getty Images
QB Brett Hundley
Projected 2013 Rushing Statistics
815 yards, 12 TDs, 5.6 YPC
If the 2013 season is anything like last year, the UCLA offense will lean heavily on the mobility of emerging star QB Brett Hundley.
The 6'3", 223-pound dual threat out of Chandler, Ariz. was sensational in his first season leading the Bruins, passing for 3,740 yards and 29 TDs, while accounting for nine scores on the ground. Hundley finished the year with 355 net rushing yards on 2.2 yards per carry—but those totals are incredibly deceiving.
UCLA was one of the worst teams in the country in sacks allowed in 2012, as Hundley was taken down a whopping 52 times (No. 118 nationally). The mountain of negative yardage from those sacks ravaged Hundley's YPC average and total rushing numbers.
But if you remove those "rushing attempts" from the stat sheet, Hundley's potential becomes all the more apparent.
In gross positive yardage, Hundley accounted for over 700 yards of forward progress on 108 true rushing attempts as a redshirt freshman, which would leave his average closer to 6.5 yards per carry. There were a number of times during the season that Hundley was downright incredible on the run, including on his first collegiate snap.
On the road against Rice, Hundley turned his first UCLA play into a 72-yard touchdown on a zone-read keeper. The scintillating scamper ignited the Bruins, and Hundley established himself as the antidote for UCLA's anemic play under center.
As Hundley prepares for his second season as a starter, there's no reason to believe the Bruins won't be better next year.
The offensive line should be solid as last year's young starting group returns with experience, and recruiting has provided talented depth. If Hundley can learn to throw the ball away under pressure, UCLA's horrid sack numbers should drastically improve.
The stability on the O-line will provide a major boost to Hundley's rushing stats, as he should be able to run more and be sacked less frequently. Of course, this is all just depth-chart conjecture, but the Bruins front line looks good on paper.
It's also important to consider how the graduation of Franklin (and his 1,734 yards of production) will affect how much emphasis Hundley gets in the ground game. If Mora gives his young signal-caller free rein to move the chains with his legs, Hundley could be UCLA's leading rusher in 2013.
Gary A. Vasquez-USA TODAY Sports
WR Damien Thigpen
Projected 2013 Rushing Statistics
720 yards, 7 TDs, 4.8 YPC
There are a number of Bruins who'll be vying for snaps in the backfield next year, including rising redshirt senior Damien Thigpen.
Thigpen has had a tumultuous time in Westwood to date, missing the entire 2011 season due to injury and going down with a torn ACL against USC in November. But despite sitting out for a whole year and being sidelined for the last three games in 2012, Thigpen has shown flashes of his 4-star potential for UCLA (via Rivals.com).
The 5'8", 178-pound wide receiver was an extremely versatile weapon before busting his knee last season, racking up 849 all-purpose yards, including 262 yards rushing and two TDs on the ground.
If Thigpen can rehab from his injury by the time fall camp rolls around, he figures to get the first look for the starting RB spot based solely on his experience.
Having a listed WR as the No. 1 option in the backfield may seem strange at first, but in offensive coordinator Noel Mazzone's spread attack anything is possible. As the OC at Arizona State in 2011, Mazzone pioneered a rushing attack that featured two wideouts and a quarterback among the top four rushers.
Considering Hundley and Thigpen finished second and third behind Franklin in 2012, it's entirely conceivable that they could top the rushing list by season's end.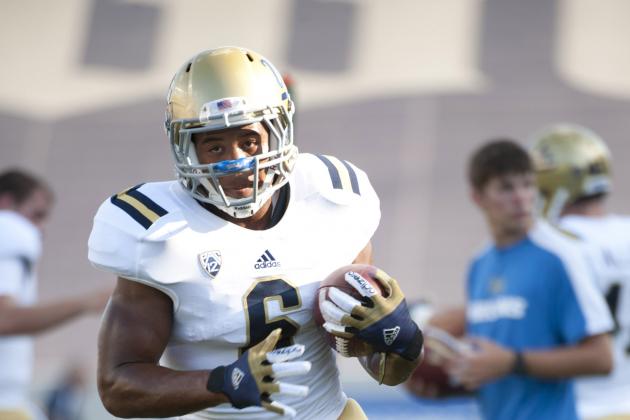 Brendan Maloney-USA TODAY Sports
RB Jordan James
Projected 2013 Rushing Statistics
375 yards, 5 TDs, 4.3 YPC
Based on the division of labor last season, the Bruins' third-leading rusher in 2013 could end up being rising junior Jordan James, the first running back to appear in these projections.
James was a key reserve behind Franklin in 2012, accumulating 215 yards on 61 attempts to go with two touchdowns. At 5'8" and 193 pounds, James doesn't have the ideal size for a feature back, and his 3.5 YPC average can attest to that.
Nonetheless, James will still be a factor next season, as he's proven to be the shiftiest rusher on the Bruins bench. If he can continue to develop physically and become more of a downhill runner, James could become a reliable change-of-pace back for UCLA.
Factor in his aptitude as a pass-catcher (28 receptions for 204 yards and one TD in 2012), and it's clear that James is on the verge of a breakout season for the Bruins.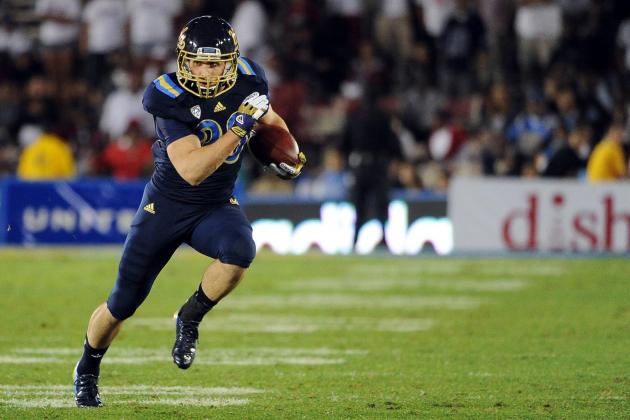 Jayne Kamin-Oncea-USA TODAY Sports
RB Steven Manfro
Projected 2013 Rushing Statistics
190 yards, 3 TDs, 6.1 YPC
Another Bruin looking to grab a piece of the pie is RB Steven Manfro, a 5'9", 192-pound redshirt sophomore with sneaky-fast speed.
Like James, Manfro is undersized for high-frequency punishment, but he has the raw talent and competitive drive to excel in Mazzone's spread offense.
In limited action in 2012, Manfro was used primarily as a receiver, hauling in 28 balls for 287 yards and a touchdown. And while that may be his most valuable contribution to the UCLA offense, his potential in the ground game can't be overlooked.
Manfro carried eight times for 70 yards and two TDs, which averages out to a hefty 8.8 yards per carry. The "White Mamba" showed an unexpected elusiveness as a rusher, as well as a return man fielding punts and kickoffs.
If Manfro can rectify his ball-security issues next season, he should get more touches out of the backfield and see a subsequent bump in his rushing stats.