Utah Jazz vs. LA Lakers: Live Score, Results and Game Highlights
After the best four quarters that they have played this season, the Los Angeles Lakers snapped a four-game losing streak, breaking the Utah Jazz's four-game winning streak in the process.
A balanced attack led by Kobe Bryant's near triple-double allowed Los Angeles to pull away with a 102-84 victory, as they prepare to face Oklahoma City on Sunday.
Expectations weren't high entering tonight's contest for the struggling Lakers, but they soon erased all doubt finishing with a 102-84 victory in what was likely their best game of the season.
Here are a few reasons why they were able to come out on top:
Kobe Bryant: The Lakers had plenty of above-average performers, but Kobe Bryant finished as the team's best player. Though his 14 points are a bit uncharacteristic of him, he added 14 assists as well as nine rebounds. His distribution allowed other stars to get easy buckets, as he single-handedly picked apart the Jazz's defense—in what was another stellar night from the Black Mamba.
Pau Gasol: Gasol entered the night with many questioning his ability to contribute in positive ways, but after entering the game off of the bench and leading the Lakers to a late third quarter comeback, few will continue to doubt Gasol. His chemistry with Howard was spot on, and his offense, defense and rebounding were all incredibly impressive.
Inside dominance: With so many excellent big men featured tonight, the battle in the post was a major storyline throughout. Led by Dwight Howard's double-double, the Lakers outscored the Jazz 54-40 in the paint, and finished with 15 more rebounds.
Efficiency: The Lakers seemed to capitalize on almost every opportunity, shooting 54 percent from the floor. They held the Jazz in check on defense, and though they only enforced 10 turnovers, they capitalized with 18 points as a result of these mistakes on Utah's behalf.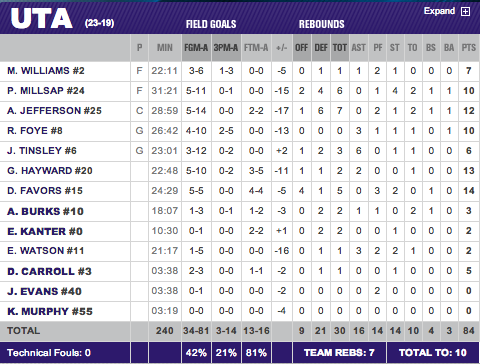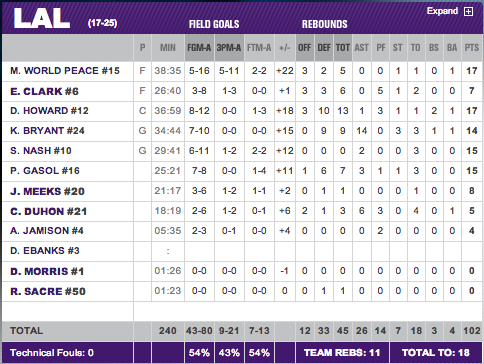 Here are your box scores from tonight, via NBA.com.
FINAL: Jazz 84, Lakers 102
Dwight Howard leaves with 17 points and 13 assists. The crowd gives him a standing ovation—quite a difference from the boos he entered to at the game's start.
Kobe is coming out of the game one shy of his career high (15) in assists. He has 14 points and nine rebounds also with 1:26 left.

— KEVIN DING (@KevinDing) January 26, 2013
Guess he isn't making history tonight.
Jazz 80 Lakers 99; 1:26 remaining in 4Q
Kobe is now one rebound away from a triple double, and one assist away from his career high in assists. Maybe this will spark a second-half of the year comeback.
What's the word for what's happening at Staples tonight?I think it's "winning?"

— Eric Pincus (@EricPincus) January 26, 2013
If they play this well, it will be very, very hard to contain them.
Jazz 76 Lakers 92; 3:38 remaining in 4Q
Lakers 92, Jazz 74 with 5:18 left in the game. The Lakers are on their way to being 1-0 in my new season. (Hey, I can have one too.)

— Arash Markazi (@ArashMarkazi) January 26, 2013
What do you think? Are the Lakers for real?
Jazz 74 Lakers 92; 5:19 remaining in 4Q
Kobe Bryant singlehandedly halts a small run made by the Jazz.
Fancy footwork leads to an easy bucket down low, and a steal on the other end leads to a transition dunk.
Lakers up 18 with about five minutes left. Barring a complete collapse, they should have this one in the bag.
Jazz struggling to find the offense and Lakers are beginning to pull away with a 86-69 lead. 8 mins left in regulation. #UTAatLAL

— Utah Jazz (@utahjazz) January 26, 2013
Via the Jazz's official Twitter account.
Jazz 69 Lakers 85; 8:13 remaining in 4Q
Meeks takes it coast to coast and draws the foul. When we return, he'll have the opportunity to extend the lead to 17.
Things are starting to get out of hand.
Jazz 69 Lakers 80; 9:04 remaining in 4Q
Gasol's been terrific tonight, now up to 13 points and 6 rebounds in 21 bench minutes. He's been aggressive on O. LAL bench loves it.

— Mike Trudell (@LakersReporter) January 26, 2013
Make that 15.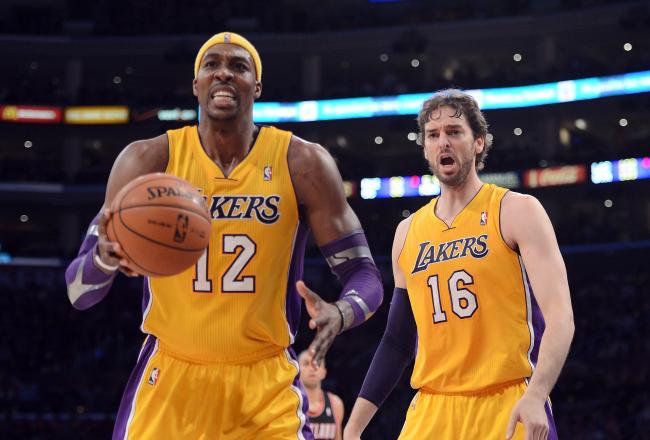 Jazz 63 Lakers 76; 11:06 remaining in 4Q
Duhon hits the layup and draws the foul, then misses the free throw but LA retains possession. Gasol capitalizes on the second chance opportunity.
Lakers have regained control.
Kob'es career high is 15 (asssits) - he has 12 near the end of the third

— Eric Pincus (@EricPincus) January 26, 2013
We may be witnessing a historic moment in the Mamba's career.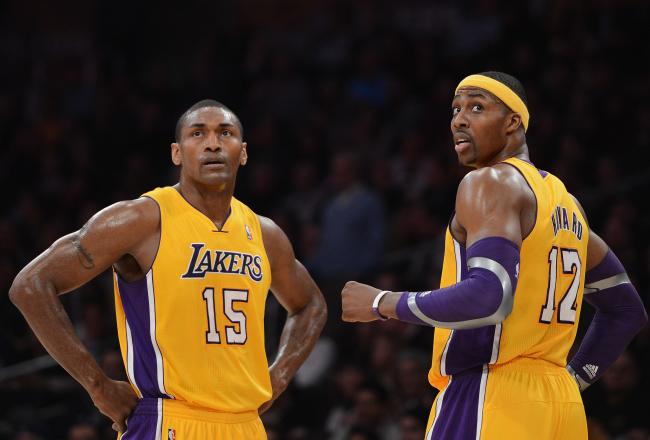 Jazz 63 Lakers 72; End of 3Q
The Jazz's comeback is short-lived, as a combination of Kobe passing and Metta World Peace awesomeness puts the Lakers up nine.
Emotions starting to boil over, with Gasol and Millsap getting into a scuffle. Double technicals awarded.
Jazz 56 Lakers 64; 2:00 remaining in 3Q
An amazing alley-oop to Favors cuts the lead down to three, but Duhon responds with a strike from downtown.
Al Jefferson and Dwight Howard each lead their teams in both points and rebounds.
Both have 12 points, but Howard has 12 rebounds. Jefferson has half of that.
Kobe is also has a game-high 8 assists.
Jazz 52 Lakers 59; 5:13 remaining in 3Q
Turns out this Gasol guy can play. Dwight finds him for a deuce, but shots from Foye and Favors chip away at LA's lead.
And to think...this was against the same team, in the same season.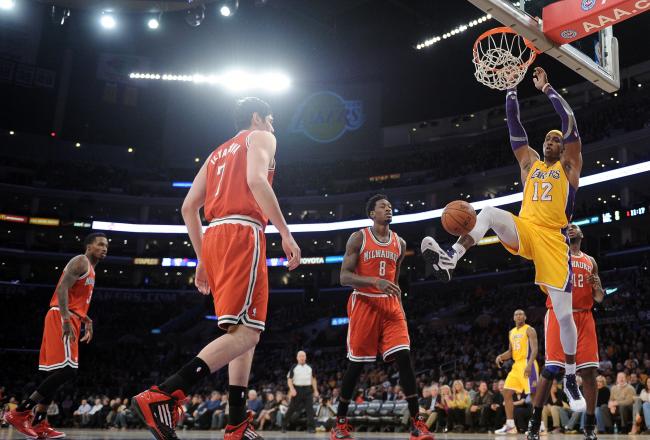 Jazz 48 Lakers 57; 6:30 remaining in 3Q
Nash hits Howard for another alleyoop. I wonder if Blake Griffin, Chris Paul and the Clippers feel threatened.
Jazz 44 Lakers 53; 8:31 remaining in 3Q
Randy Foye airballs the transition three pointer. The usual chants fill the Staples Center.
Jazz 44 Lakers 53; 9:17 remaining in 3Q
After Steve Nash hits a jumper, Randy Foye knocks down the long ball to cut the lead the single digits.
Nash finds Earl Clark for his first assist of the night.
Mike D'Antoni singled out second-chance points as a major pregame focus. Good job by him, as LAL allowed only 2. Up 25-14 on the glass.

— Mike Trudell (@LakersReporter) January 26, 2013
They've been getting their fair share of second chance points, too.
LA isn't alone in the dunk party. Millsap has the most impressive slam dunk yet!
Kobe has been excellent tonight, with 8 points, 7 assists and 4 rebounds in the first half.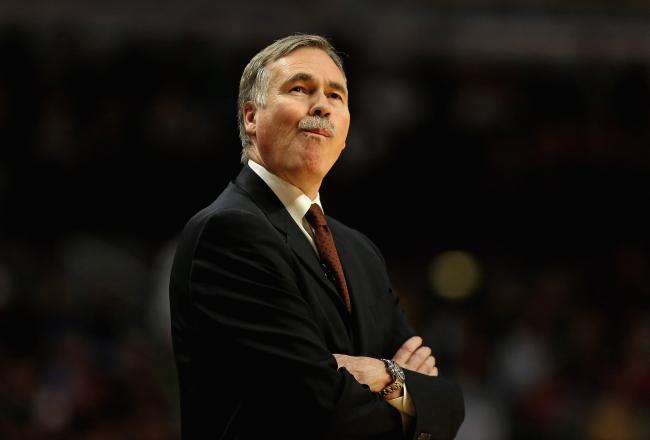 The Lakers finish with a strong first half, executing beautifully unlike that style that we've grown accustomed to this season.
Their offense has been efficient, and they have dominated the inside matchup, winning both the rebound battle and the points in the paint contest.
Gasol and Howard are coexisting nicely, and Kobe's work as the facilitator has resulted in seven of the team's 11 assists.
The Jazz aren't playing bad, by any means—but the Lakers are playing the way we had expected during the preseason.
There is still plenty of time for the Jazz to come back, and given the numerous runs that both teams have gone on, this one is anyone's ballgame.
This article is
What is the duplicate article?
Why is this article offensive?
Where is this article plagiarized from?
Why is this article poorly edited?