10 Reasons to Watch the 2013 Senior Bowl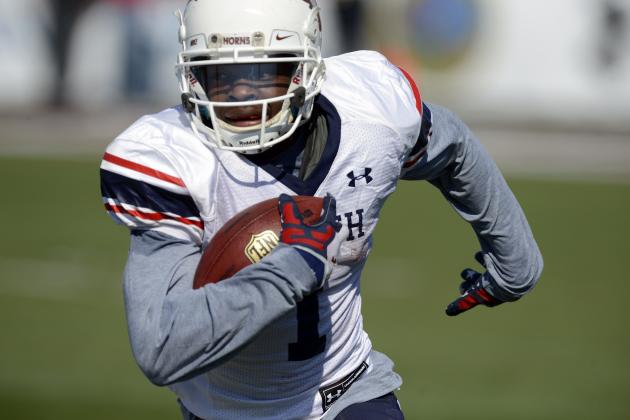 USA TODAY Sports

The 2013 Senior Bowl will be played today in Mobile, Ala., and the story lines for a week that could be called the greatest reality show in human history are all over the place.
It began with the National Scouting Weigh-In, the world's burliest bikini show that old-timers call the "meat market." Athletic men of all shapes and sizes get their first glimpse of NFL life standing alone on stage, wearing only their boxer briefs, while 700 NFL staffers feverishly take notes on their physiques.
Then, it was off to the practice field at Ladd-Peebles Stadium. Monday comes and goes, and through the hurried shuffle in and out of meetings with NFL teams, prospects must also focus on making a good impression with the limited number of reps they receive in practice.
All in the name of making millions of dollars.
With all of the emphasis put on the week of Senior Bowl practices, it's easy to forget that a game is indeed scheduled to be played.
For those who have had great weeks of practice and impressed teams in their interviews, the onus is on them to keep it up. For those who have not looked good, (and rest assured, these players' agents do not mince words with their clients about the feedback they receive from the teams), this is their last chance.
A great showing at the NFL combine isn't enough to make up for blowing it on the field in Mobile. When a player accepts an invitation to take part in college football's most elite all-star game, they do so knowing this.
That's why the stakes are so high for the players in today's game.
(All reports and quotes were obtained firsthand by Alex Dunlap unless noted otherwise.)
Begin Slideshow

»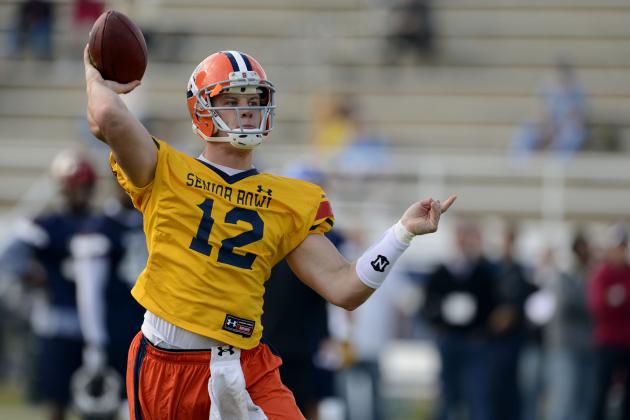 USA TODAY Sports

The quarterbacks are likely the biggest story line of all.
In short, no QB in Mobile this week did anything to establish himself as the clear leader of the pack. For every great throw by any QB, detractors could point at an equal number of ducks, clunkers, bad reads and general slop-hurling.
The good news is, there are no Kellen Moore- or Ryan Lindley-type prospects in this class. No player in this group is simply awful. In fact, all six are quite good.
Just not at everything. At least, not yet.
Will one player finally step up come game time?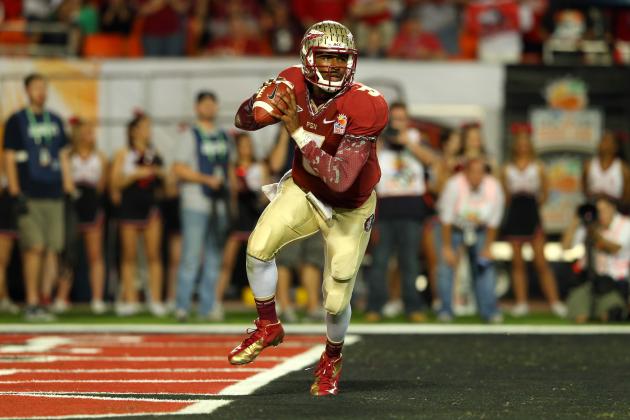 Mike Ehrmann/Getty Images

Tyler Wilson, Arkansas: The closest to a "consensus" selection as tops in Mobile this week. Wilson is the only quarterback who made at least a few completions on every type of throw. His issue is decision-making, hanging too long in the pocket and forcing plays at bad times.
E.J. Manuel, Florida State: The best physical specimen of any QB in Mobile, Manuel is a long-striding athlete who loves to throw on the run. He likes short, timing routes the best and is unbelievably accurate throwing quick, catchable balls through the shallow zone. Manuel was the most improved player through the week, but continued to struggle somewhat throwing the deep sideline routes.
Landry Jones, Oklahoma: The player that I expected to be a surprise practice all-star this week wasn't a world-beater by any stretch of the imagination. But he puts a zip on the ball on shorter out routes that others have trouble executing.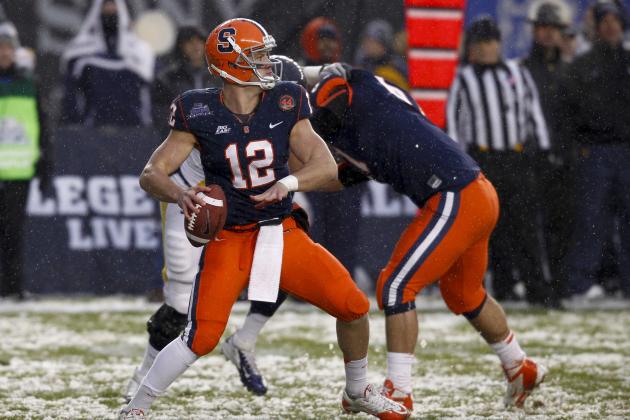 Jeff Zelevansky/Getty Images

Ryan Nassib, Syracuse: His was the second-most frequent name heard when asking league types and media experts who they think may be taking the lead in this QB battle. Nassib has a cannon arm and thick base, but only throws at one speed, the kind that breaks people's fingers. When trying to put "touch" on deep balls, you can bet the pass will not be accurate.
Mike Glennon, N.C. State: The quarterback who threw the most consistent deep ball of the week was still no knight in shining armor. Glennon showed he needs work on his mobility, pocket presence and, most importantly, his consistency. At 6'6" and 200 pounds, there is a question whether his very thin frame will hold up in the NFL if he continues to be unable to escape pressure.
Zac Dysert, Miami (Ohio): He struggled in passing drills without defenders, but looked much better when facing an actual defensive front. Dysert has a strong arm and made some good throws while improvising. Given this odd phenomenon, he could be a player who jumps back into the conversation after the actual game is played.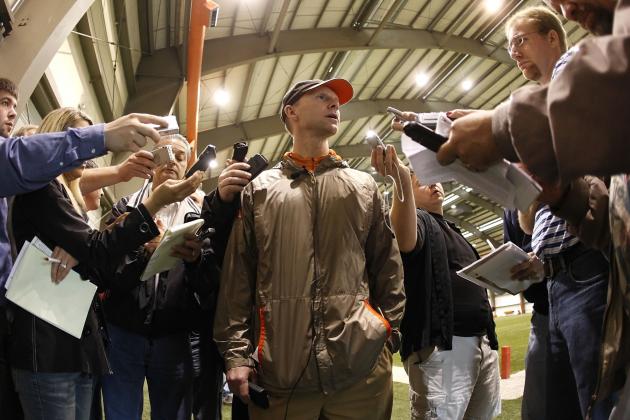 Gregory Shamus/Getty Images

New Senior Bowl director Phil Savage has breathed new life into the game in his inaugural season. The former Cleveland Browns GM and color commentator for the Alabama Crimson Tide is clearly a no-nonsense operator.
The level of talent at this year's Senior Bowl is the best we have seen in years. The near-unamimous sentiment of those who flock to Mobile annually to attend practices was that they were amazed by the level of competition and physicality of both squads.
Savage made the players solely responsible for honoring their commitments to teams, reporters and Senior Bowl officials. Players managed their own schedules, giving evaluators a better idea of how they organize their time and prioritize their responsibilities in a professional setting.
As an NFL GM at heart, Savage knows that this information is invaluable to NFL executives who are evaluating the player as an overall package.
We are also seeing wrinkles added to the defensive schemes, which was a big no-no under the previous regime that would only allow for a very vanilla one high-safety look.
A new era has begun in Senior Bowl history, and this is the first time anyone will witness it. The stage is set for the most physical game we have likely ever seen in Mobile.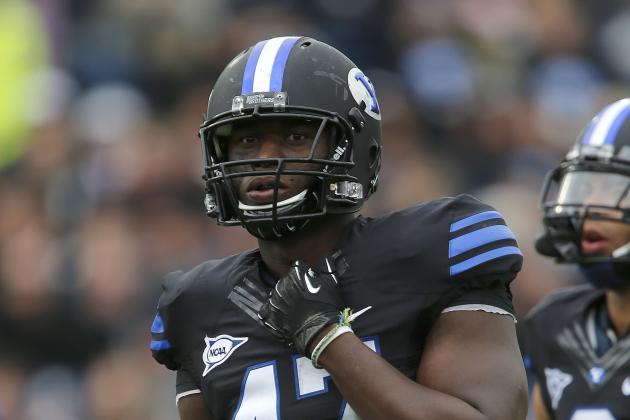 George Frey/Getty Images

One of the major disappointments of the week, at least to many in attendance, was the play of Ezekiel Ansah.
He is a physical freak of nature who has only played football for just more than two years. A native of Ghana, Ansah is a converted track star who oozes with athleticism and looks like he was built to be a pass-rushing 4-3 defensive end.
On the practice field, though, Ansah did not magically turn into a dominating player during the month separating the end of the college football season and the Senior Bowl.
Ansah still plays with high pad level, misses assignments, wastes too much motion standing up out of his stance at the snap. Instead of engaging the offensive lineman, he generally patty-cakes with the opposition until he can figure out exactly where the play is developing.
At that point, he is great. But at that point, the play has expired at his level, and all he can do is pursue.
Just when Ansah was seeming to look a bit more comfortable against this new level of competition on Wednesday, he got poked in the eye and missed much of the 9-on-9 running-play drills. Then he seemed to revert to the standard, pedestrian form we noticed all week once cleared to return for 11-on-11s.
When the switch flips for Ansah, he's going to be a monster. That could be in the Senior Bowl game, and you don't want to miss it when it happens.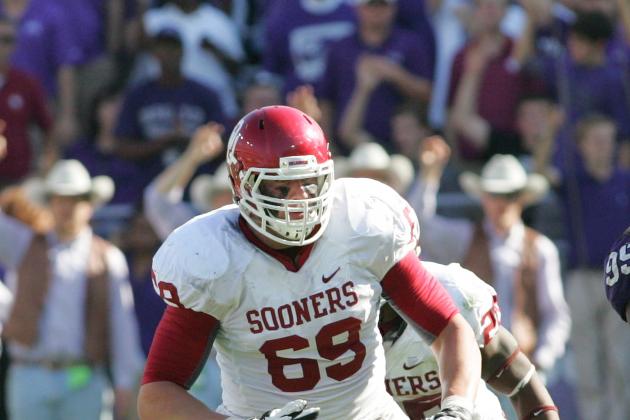 R. Yeatts/Getty Images

Fans of the San Diego Chargers, Arizona Cardinals and Chicago Bears will want to get an early look at the Eric Fisher of Central Michigan and Lane Johnson of Oklahoma, players their teams are likely to draft .
With Jake Matthews and Taylor Lewan deciding to head back to school for their senior seasons, Fisher and Johnson are right behind Texas A&M's Luke Joeckel as the top offensive tackles in the draft.
Johnson looked like a monster at the weigh-in and was one of the most naturally thick and well-muscled line prospects I have ever seen. Johnson is extremely smart and speaks with a deliberate, serious manner.
Scouts love his natural gifts that allow him to man the edge of the offensive line. He showed all week that there is virtually no way he will fall out of the top-20 picks.
Fisher was the talk of the town all week and a nightmare of defensive linemen. The only player to beat him consistently was Datone Jones of UCLA, and even in those instances, Fisher looked much better against Jones than any other player who faced him.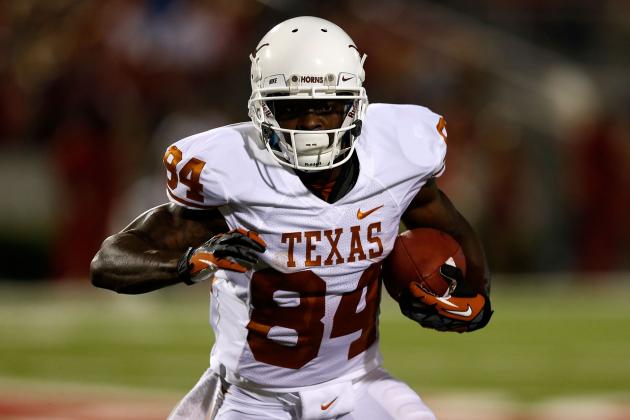 Scott Halleran/Getty Images

The speed in this game is going to be world class, at least in the case of Marquise Goodwin, who could well be the MVP of the 2013 Senior Bowl.
He is an Olympic sprinter who was horribly underutilized at Texas the way that so many other offensive players have been in recent history.
That won't be the case in this game. The Raiders' coaching staff loves speed—even in the absence of the legendary Al Davis—and if the North squad has its way, it will get Goodwin free in space out of the slot and let him show off the fastest straight-line speed of any player in Mobile and possibly in the entire NFL.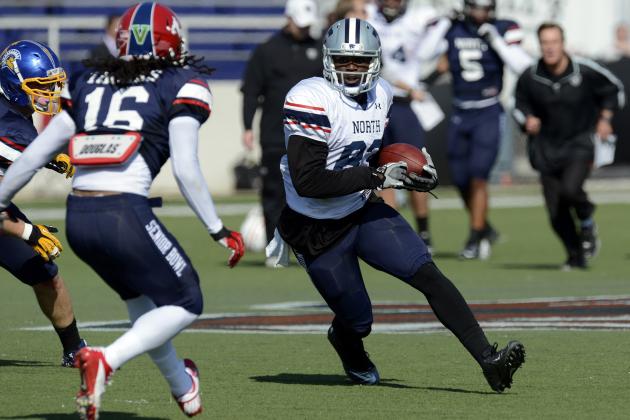 USA TODAY Sports

Marquise Goodwin is the fastest player on either roster, but that does not mean that no other elite receiving weapons will be on display Saturday afternoon.
Quite the opposite is true, in fact.
Here's a quick primer of some key WRs to keep an eye on.
Chris Harper, Kansas State: The biggest surprise of all to many coming in, Harper has a large body with great moves and sticky hands. He also dominates as a run-blocker and plays with an all-around polish that makes him seem NFL-ready.
Markus Wheaton, Oregon State: He's an over-the-top burner who struggles against press coverage. But once he separates, any DB is in trouble. Wheaton is a Mike Wallace-type player.
Aaron Dobson, Marshall: He is a dependable threat who made some fantastic catches during the week and was one of the best-looking prospects going through the ladder and rope drills, although he is a bit of a body-catcher.
Quinton Patton, Louisiana Tech: He's a player who has a lot of fun playing the game. Patton has deceptive speed and seemed to have the best hands of any WR on either squad when making true "hands catches." He also has a knack for the huge play.
Cobi Hamilton, Arkansas: An acrobat that is simply fun to watch. Hamilton loves to high-point the ball and snatch it out of the air on deep-developing routes. When Tyler Wilson is in at QB, expect a few big shots to his Arkansas teammate.
Conner Vernon, Duke: He's a player who will jump off the screen and make a name for himself operating out of the slot and running the best inside-breaking routes of any player on either roster.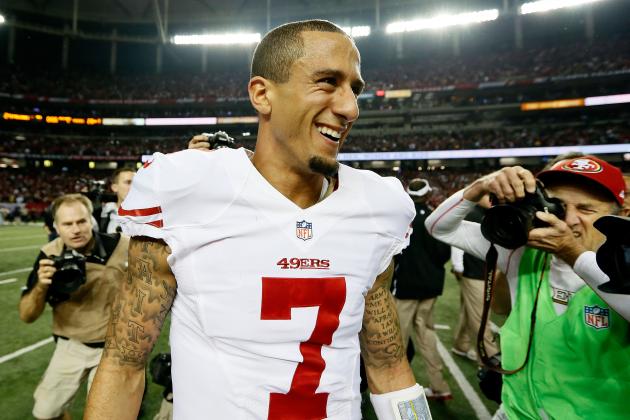 Kevin C. Cox/Getty Images

If you didn't watch the Senior Bowl last year, you had to wait until the 2012 season to get your eyes on players like Doug Martin, Russell Wilson, Bobby Wagner, Janoris Jenkins, Brandon Weeden and Alfred Morris.
In 2011, the game showcased Colin Kapernick, DeMarco Murray, Jake Locker, Titus Young, Richard Sherman, Andy Dalton and Von Miller.
We are starting to get to that horrible time of year when there will be no football on television. Weekends will be filled with errands around the house and—shudder—the NBA.
Don't miss this chance to get a peek into the future while holding onto a small piece of the past NFL and college football seasons.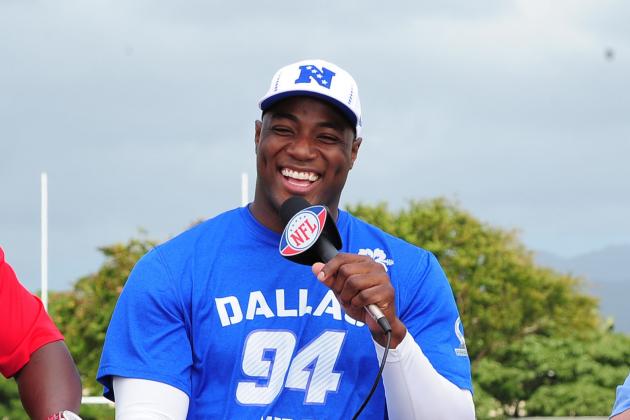 Kyle Terada-USA TODAY Sports

The Pro Bowl is an absolute sham. It celebrates entitled, narcissistic play from athletes whose teams are losers.
You need your football fix this weekend, and the Senior Bowl is where to get it. Why watch millionaires play a glorified flag football game on their vacation in Hawaii when you can watch these young men, the best senior NFL prospects in all the land, fight their guts out for a seat at the table?