Colorado vs. San Jose: Avalanche Aim for Three Straight Against Sharks
Use your ← → (arrow) keys to browse more stories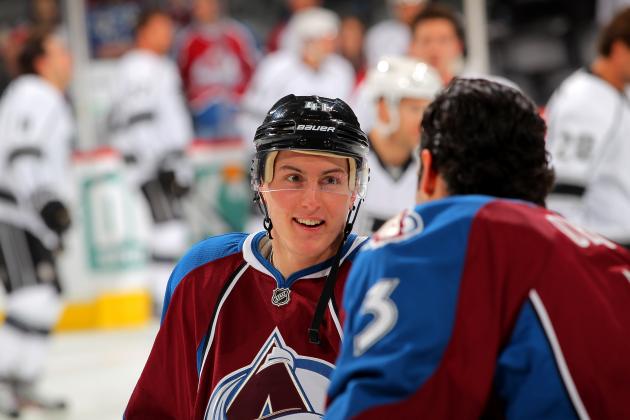 Doug Pensinger/Getty Images
Can Colorado come away with its third straight victory?
The red-hot Colorado Avalanche start a four-game road trip on Saturday with a matchup against the undefeated San Jose Sharks.
Colorado has won its last two games after opening the season with a loss at the hands of the Minnesota Wild. The Avalanche shut out the Columbus Blue Jackets on Thursday night behind a great performance by goalie Semyon Varlamov. Matt Duchene also played well, scoring twice and adding an assist in the 4-0 victory.
San Jose has been on fire since the season started, winning three straight games. The Sharks aren't squeaking by either—they're averaging five goals per game. Goalie Antti Niemi has been strong in net with a 2.34 goals against average and a .927 save percentage. San Jose's Joe Thornton leads the NHL in points while Patrick Marleau leads the league in goals.
Where: HP Pavilion, San Jose, California
When: Saturday, Jan. 26, 4:00 p.m. ET
TV Information: NHL Network, Altitude TV (check local listings)
Live Stream: NHL GameCenter
Colorado Projected Top Lines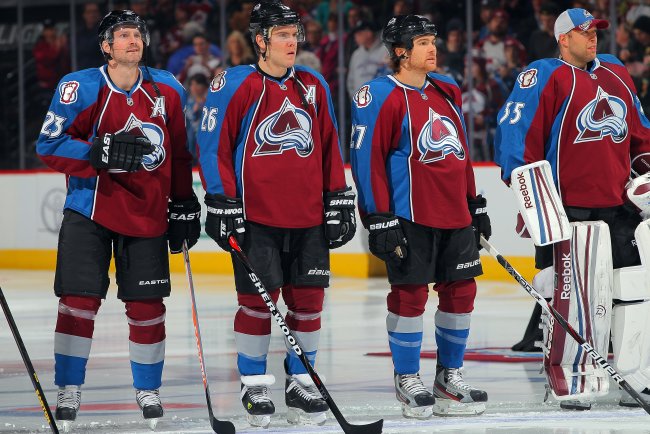 Doug Pensinger/Getty Images
Forwards 1: Jamie McGinn-Paul Stastny-David Jones
Defense 1: Erik Johnson-Shane O'Brien
Goalie: Semyon Varlamov
Forwards 2: Gabriel Landeskog-Matt Duchene-P.A. Parenteau
Defense 2: Jan Hejda-Ryan O'Byrne
Colorado Injury Report
John Mitchell, Forward (Probable)
In the first period of Colorado's most recent game, John Mitchell attempted to block a shot and got a puck to the face in doing so. Mitchell would return later to the game and scored the Avs' third goal of the night. Mike Chambers of The Denver Post reports that he should be available in San Jose.
Matt Duchene, Forward (Probable)
Much like Mitchell, Matt Duchene also took a puck in the face, but this came against the Los Angeles Kings. The puck hit Duchene right in the chin and he got 11 stitches. There is still some swelling, but according to Chambers, he won't wear a chin guard. Duchene seemed fine against the Blue Jackets, racking up three points.
Colorado Key Storyline: Can Semyon Varlamov stay hot?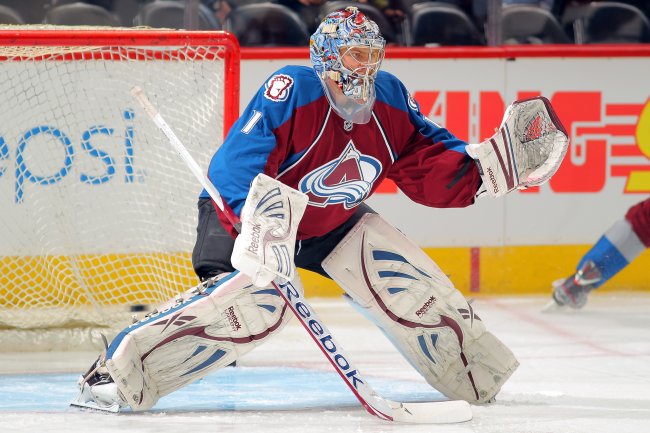 Doug Pensinger/Getty Images
It may only be three games into the season, but goalie Varlamov has easily been Colorado's Most Valuable Player.
Varlamov has a 1.68 goals against average and a .948 save percentage—both of which are among the top ten in the NHL. After allowing four goals to the Minnesota Wild in the season opener, he's had only one shot get by him since. He's actually been perfect the past five periods.
Varlamov is going to have to be on his best game when Colorado takes the ice against San Jose. The Sharks have some of the best players in the NHL and are a very dangerous team. As I mentioned earlier, they average five goals per game—the second most in the league.
The Sharks also own one of the NHL's best power-play squads, scoring 38.9 percent of the time. San Jose will likely get around 31 shots on Varlamov, and he'll have to save nearly all of them for Colorado to come out with a win.
Prediction: Colorado 3-2 (OT)
The Sharks have yet to lose and will be tough to beat at their home rink, but Colorado has been playing exceptionally well lately and will take the road victory.
The Avs will come out firing shots at Antti Niemi, hoping to sneak one by the San Jose netminder. P.A. Parenteau will come away with his third goal of the season on a wrist shot from the middle of the zone, but San Jose will respond quickly on a goal from Joe Thornton.
Varlamov will get blinded midway through the second period, and the Sharks will take a 2-1 lead. Colorado will get the equalizer from Milan Hejduk with time winding down in the period.
After a scoreless third period, Colorado and San Jose will head to overtime. The Avs will go on the power play and Matt Duchene will take full advantage on a breakaway, breaking the tie and giving the Avs their third straight victory.