Grading Each NY Knicks Player's Performance at the Midseason Mark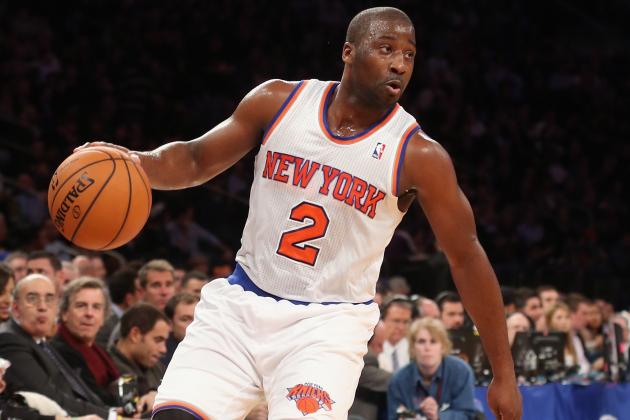 Bruce Bennett/Getty Images

The New York Knicks are at the midpoint of their best season in recent memory. Led by MVP-candidate Carmelo Anthony and a balanced, veteran attack, the 'Bockers are 27-15 and second in the Eastern Conference standings.
Unlike several contending teams, Mike Woodson's club boasts a roster stocked with 15 contributing players. Woodson has called upon each and every Knick at various points throughout the season, and very seldom has a Knick disappointed their authoritarian leader in 2012-13.
Forty-one games in—the numerical halfway mark—seems like an opportune occasion to grade each Knick's performance in this exciting campaign for New York, so we'll do so here.
Begin Slideshow

»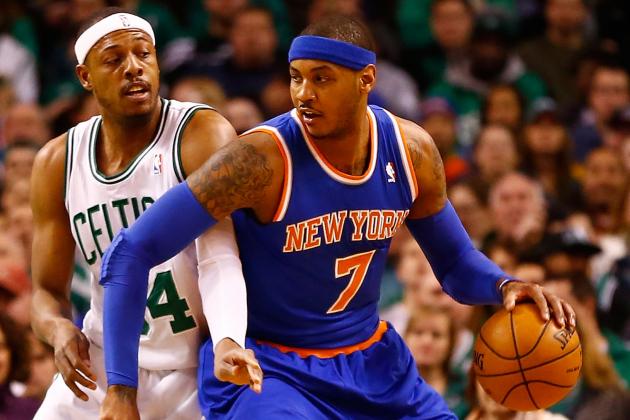 Jared Wickerham/Getty Images
Anthony has been the catalyst for New York throughout the season.
Player Grade: A-
Through much of the season's first half, Carmelo Anthony had been a completely reborn player. He was visually dedicated on both ends of the hardwood thanks in part to his gold-medal experience last summer and also due to his accountability-preaching head coach.
Through the season's first 27 games, 'Melo was arguably the leading MVP candidate. He was shooting at a 48 percent clip, including a career-high 44 percent mark from beyond the arc. He was scoring 29.3 points per contest while pulling down 6.3 boards and averaging a steal per game.
In his last seven games, though, this Anthony is awfully reminiscent of the Carmelo of 2011-12. In his current stretch, he's shot the ball poorly—sporting a .364 number from the field and a grotesque .294 from three. The Knicks 3-4 record in those seven is exceptionally telling.
Anthony is by far and away New York's most talented and important piece. There's a large likelihood that his recent struggles are merely signs of a slump, and 'Melo should soon revert back to his dominant ways when the team's schedule softens a bit in the coming weeks.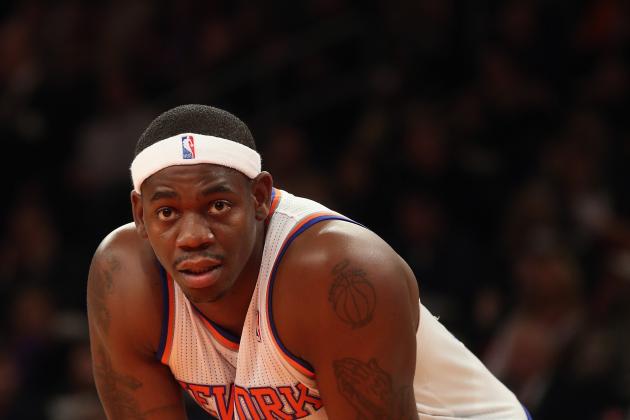 Bruce Bennett/Getty Images
Brewer has played his way out of the rotation since his hot start.
Player Grade: D+
Brewer was brought to New York as a short-term stopgap on the wing until Iman Shumpert returned from knee surgery. The addition seemed like a novel idea—Brewer specialized in defense as a Chicago Bull, and any offense he'd provide would be icing on the cake.
His Knicks tenure began as gracefully as any expert could've predicted. Through his first seven games in the orange and blue, the 27-year-old developed an affinity for the corner three. His clip from beyond the arc soared to .417, and he was a .454 overall shooter. Added to his solid isolation defense and one steal per game, Brewer's package was warmly welcomed by Knicks fans.
That was until he began playing like the real Ronnie Brewer.
Since Dec. 6, Brewer has shot a brutal 17 percent from downtown. His field-goal percentage has dropped from .454 to .370 thanks to his 25 percent mark in his last 23 games.
Oh, and that defense his game was predicated on? Gone. Since Dec. 6, he's averaged just .6 steals per contest, and his individual D-rating has inflated from 103 to 109, according to Basketball-Reference. This, added to his 74 O-rating in his last 23 games, has forced Brewer out of Mike Woodson's rotation.
With Shumpert back in action, it's tough to see where Brewer fits into the Knicks' plans from here on out.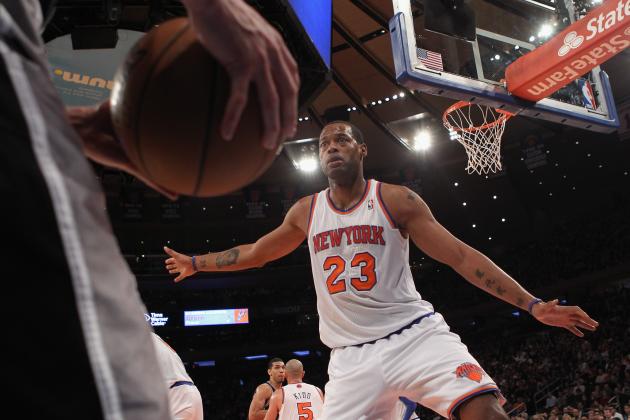 Bruce Bennett/Getty Images
It's been a struggle for Camby to stay on the floor this season.
Player Grade: C+
In 2012-13, it's been a struggle for Marcus Camby to stay on the court. The 38-year-old center has played in 14 games this season while often on the losing end of battles with foot and subsequent conditioning issues.
When he has played at full health, Camby has proven effective. Per 36 minutes, he's contributed 7.2 points and 12.9 boards while swatting away 2.7 shots. Before his most recent injury on Jan. 10, he even worked his way into Mike Woodson's starting five.
His 102 D-rating is second on the Knicks, and his 20.6 total-rebound percentage is tops on the team, according to Basketball-Reference.
Camby's health will be imperative come playoff time, as New York will need his boarding ability and post defense against bigger teams.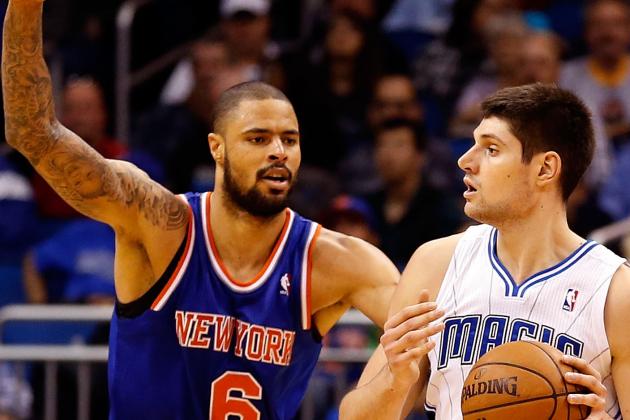 Sam Greenwood/Getty Images
Chandler has played well enough to earn his first ever All-Star nod.
Player Grade: A-
Tyson Chandler's season started a bit slower than he anticipated following a leg injury to conclude the preseason, but for the last two months, the Knicks center has been the class of the NBA's driest position.
Excluding the team's first eight games, Chandler's line looks like this: 12.5 PPG, 11.6 RPG, 1.2 BPG, .694 FG%.
The chemistry he's developed with point guard Raymond Felton has led to various alley-oop lobs at the rim for points coming more easily than Chandler has ever seen.
He's tops in the NBA in O-rating (137.5), true shooting percentage (.700), effective field-goal percentage (.675), field-goal percentage and total offensive rebounds (179).
On defense, Chandler has been the Knicks' rock. His D-rating of 104 is a bit bloated compared to his standards but is still good for fourth best on the Knicks.
His efforts have earned him the first All-Star selection of his career, and when you look at starter Kevin Garnett's stat line, you'll realize that Chandler should be the East's starting center.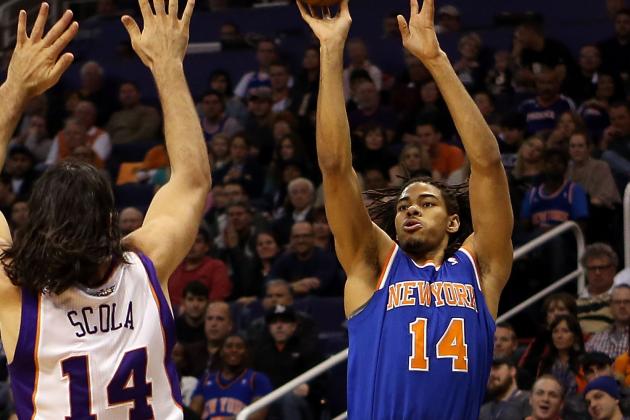 Christian Petersen/Getty Images
Copeland has surprised many in his rookie season.
Player Grade: B-
In five months, Chris Copeland has played his way from playing in Belgium to non-guaranteed invitee to training camp, to rotation player on a championship-contending NBA team.
Copeland's defense and rebounding are still in the improvement process, but his scoring ability is already NBA-caliber. Per 36 minutes, he's averaging 19 points on 48 percent shooting, including 37 percent from beyond the arc.
His 6'9", 235-pound frame should constitute more than the four rebounds the 28-year-old rookie averages per 36 minutes, but his skill set should round off in time. For now, Copeland acts as an adequate scorer for the Knicks on one of the most efficient offensive teams in the NBA.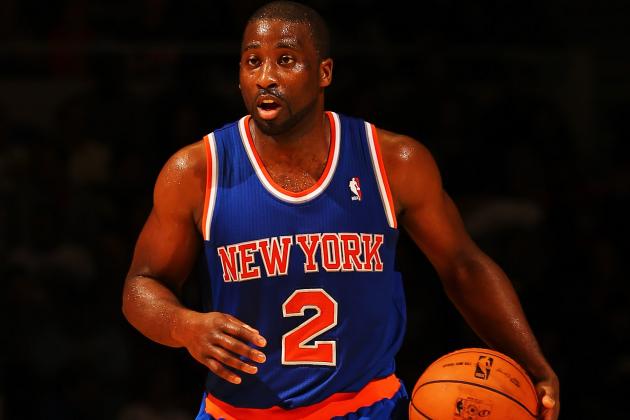 Al Bello/Getty Images
Felton shouldered much of the offensive load pre-injury.
Player Grade: B
Perhaps more telling than Raymond Felton's time on the court is his time spent off it. In Felton's 12 games out with a broken finger, the Knicks went 6-6.
Without Felton, the offense was visibly out of sorts with Jason Kidd running the point.
On the court, Felton has shown a propensity to launch a bit too many field-goal attempts but has played solidly otherwise. His chemistry with center Tyson Chandler and power forward Amar'e Stoudemire is a large part of his Knicks' success, and the same can be said about Carmelo Anthony.
He has a good ability to penetrate the paint and create chances at the rim. Without him, the duo of Jason Kidd and Pablo Prigioni isn't fit to handle the point-guard duties full time, and we saw that over the last month. It proves Felton's value to the Knicks even more than his skill set.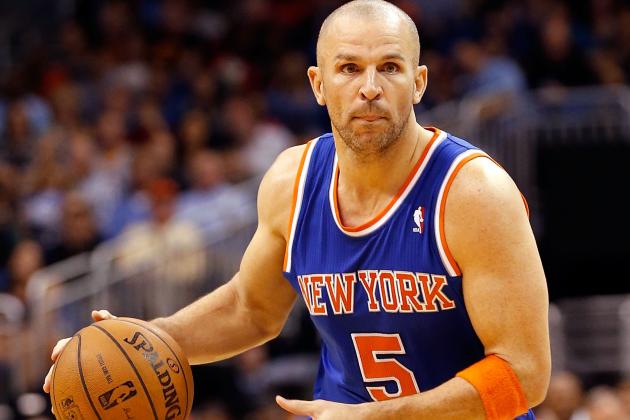 Sam Greenwood/Getty Images
Jason Kidd has revamped his career in New York.
Player Grade: B+
At 39 years old, Jason Kidd has a clearly defined role on the Knicks. That role isn't the starting point guard, as Raymond Felton's injury did its best to convince us.
Kidd is best as either a reserve or the starting off-guard—the latter has been his role for the majority of the season. Moving forward, Mike Woodson might be inclined to move Kidd over to the bench to preserve as many minutes as he can for April and May.
As part of various two-point-guard lineups that Woodson has sent out this year, Kidd did an exceptional job at directing traffic for the Knicks and knocking down open looks.
On defense, Kidd's isolation skills are pretty putrid at this stage of his career, but he always tends to be in the perfect place at the right time, coming away with timely steals more often than not.
Christian Petersen/Getty Images
Novak hasn't been as effective as he was last season, but effective nonetheless.
Player Grade: C+
It's not that Steve Novak hasn't shot the ball well; he's shot phenomenally. Again. He's a 44 percent shooter from three-point range, good for fourth league-wide.
Novak's problem in 2012-13 is quantity, not quality. He's averaging just 4.6 three-point attempts per game and just 3.4 in his last eight games. Compare those numbers to last season: Once entering the Knicks rotation full-time, Novak was launching 6.1 per contest, according to Basketball-Reference.
Teams have learned to defend Novak well and restrict his shot attempts. For the sharpshooter, the harsh reality is that if he isn't shooting the ball, he has no value and shouldn't be on the floor.
Unless Mike Woodson can do a better job of drawing up sets specifically designed for Novak, he may have a tough time finding some burn come playoff time.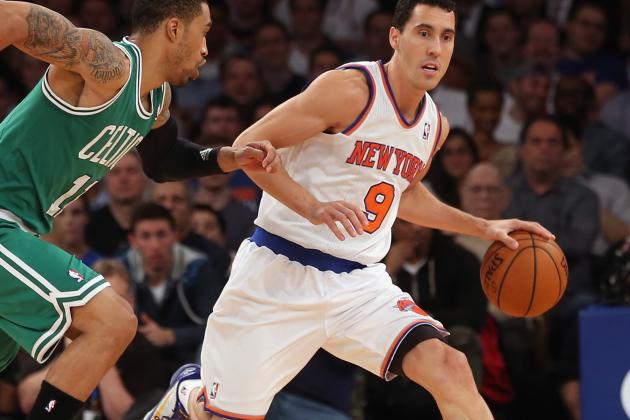 Bruce Bennett/Getty Images
Prigioni has brought his overseas talent to the Big Apple.
Player Grade: B
As the oldest rookie in NBA history, 35-year-old Pablo Prigioni has been incredibly reliable off the bench for New York. He's averaged 3.5 points and 3.0 assists in just 15 minutes per game in his inaugural American campaign.
The Argentine import demonstrates a knack for the flashy pass, almost to his own detriment. There was an extended period during the season's beginning where Mike Woodson would harass Prigioni to shoot more. By now, with 40 NBA games under his belt, the maestro has his field-goal percentage up to 45 percent with a 37 percent number from three.
Prigioni has seen extended minutes in the absence of Raymond Felton and Jason Kidd recently and hasn't disappointed. He's delivered about all you could expect from a 35-year-old rookie, and probably more.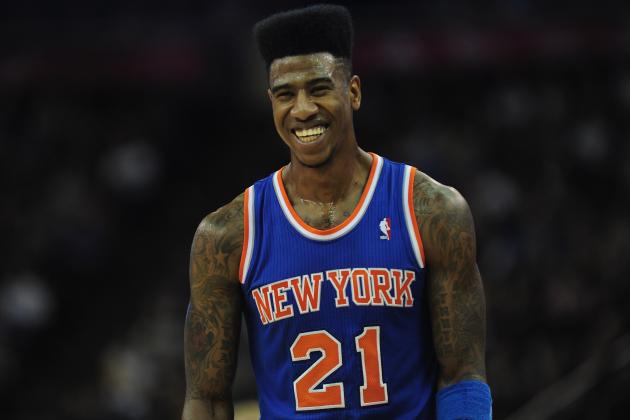 Jamie McDonald/Getty Images
Iman Shumpert is still playing his way into basketball shape.
Player Grade: B
The sophomore is only five games into his 2012-13 campaign, but Iman Shumpert is showing signs of a full recovery from ACL surgery.
On the defensive end, he's picked up right where he left off. In his rookie go-around, Shumpert established himself as one of the league's best defenders in the backcourt. This season, he's taken on defensive challenges, such as guarding the likes of Joe Johnson and other top threats.
He's still on a bit of a minutes restriction at this stage of recovery, so his stats can be a bit misleading. Per 36 minutes, the swingman is scoring 10 points and pulling down a swollen eight boards.
His three-point percentage is something to look out for since his outside game has been widely regarded as his weakness. Through his first four games, though, he's nailed treys at an improved .364 clip. His mark was a mere .306 in 59 games last year.
One strand of his defensive game that needs to improve is the ability to work around screens. He's struggled at defending the picks in limited action thus far, so improvement will be needed before we can call Shumpert a truly elite defender.
He could just as easily receive an "incomplete" so early on, but Shumpert has impressed enough to earn a solid grade at the season's halfway mark.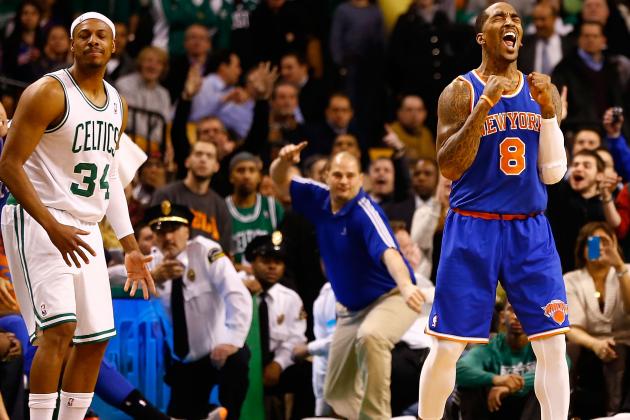 Jared Wickerham/Getty Images
Smith has been very effective under Mike Woodson.
Player Grade: B
It's been another up-and-down season on the roller coaster that is J.R. Smith's career.
He started the season a brand new J.R. He was moving the ball astoundingly, and shooting at a spectacular rate. From Nov. 4 to Nov. 21, he shot 48 percent from the field, including 54 percent from three-point range in nine sizzling games.
Since, however, Smith's numbers have regressed back toward his career averages, but he's scoring more than ever before. His 16 points per game are a career high, as are his 5.1 rebounds.
Smith is in the running for Sixth Man of the Year this year, and for good reason. He's second in bench scoring to Jamal Crawford of the Los Angeles Clippers and has made several strides in his game under Mike Woodson.
His occasional lapses, although more rare than in previous years, are still restricting him from taking the next step in becoming a great player. At the age of 27, this stage of Smith's career is crucial in determining where he goes from here.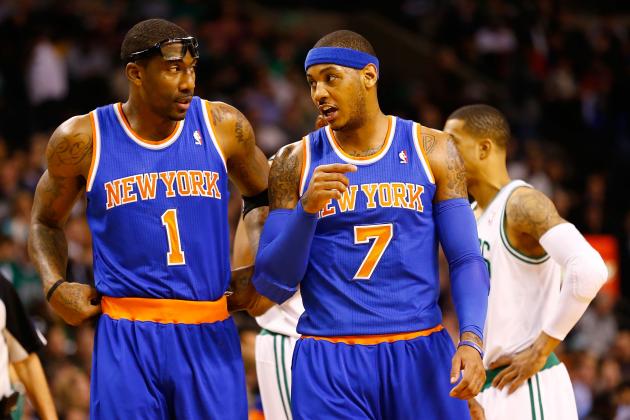 Jared Wickerham/Getty Images
It appears that Stoudemire has finally regained dominant form.
Player Grade: B+
Much was made of Amar'e Stoudemire's return to the Knicks and what sort of effect it would have on the Atlantic-leading team. By now, it looks like we have the answer.
After nearly a month back on the court, Stoudemire has regained dominant offensive form. As a bench player, he's scored at least 15 points in five straight games. His back-to-back games with at least 18 points are STAT's first since March 20-21 of last season.
His offseason work with Hakeem Olajuwon is paying immediate dividends, as his footwork seems phenomenal on the offensive end. He seems energetic on the floor and has a regained bounce to his step.
The rebirth of his relationship with Raymond Felton can't hurt his renaissance, either.
He's accepted his role of sixth or seventh man without hesitation and is fully embracing a team-first and winning mentality. All that's left for Amar'e is to continue his domination of reserve squads until he earns his promotion to the starting squad—if Mike Woodson deems it necessary.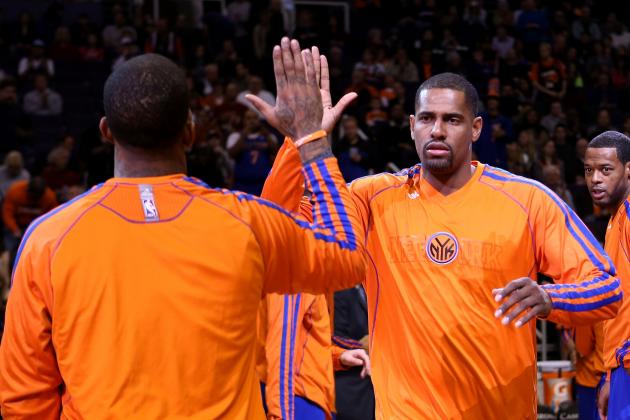 Christian Petersen/Getty Images
Thomas, 40, is the NBA's eldest player.
Player Grade: C-
Kurt Thomas, the Association's eldest player at age 40, finds himself in and out of Mike Woodson's rotation.
He'll see an occasional start and maybe some minutes sprinkled here and there, but Thomas is far from being an impact player on the Knicks.
And that's fine. Thomas doesn't really perform poorly enough to constitute any sort of demotion. He keeps himself in great basketball shape and is always ready to step on the floor at Woodson's request.
He's defended well in the post and has the ability to knock down the mid-range jumper with his soft touch.
Per 36 minutes, he's averaged eight points and nine boards, but the veteran big has averaged just 10 minutes per game in 27 appearances.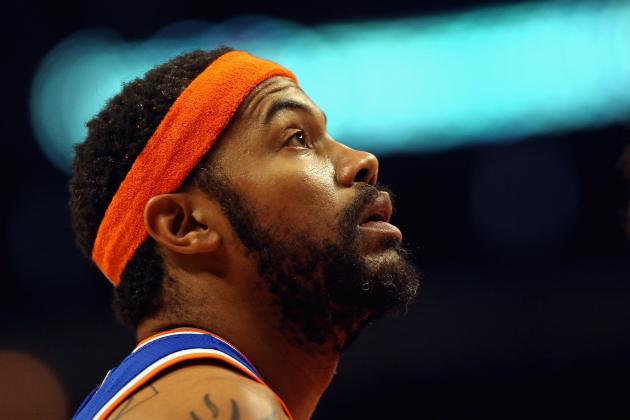 Jonathan Daniel/Getty Images
It's been a while since we've seen 'Sheed on the MSG hardwood.
Player Grade: B-
Rasheed Wallace brought more to the table than anyone could've expected. In 20 games before going down with a foot injury, Wallace averaged 18 points and 10 rebounds per 36 minutes for the Knicks and impacted the game on the defensive end as well.
'Sheed has been absent since Dec. 13, though, and still hasn't resumed practice.
With Amar'e Stoudemire back on the court, it will be interesting to see if Wallace can resume his role as the reserves' big man.
That, of course, is if Wallace does return this season.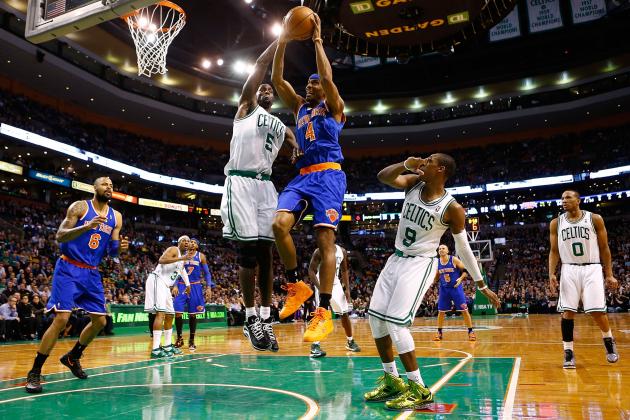 Jared Wickerham/Getty Images
Flight White has been reliable in limited duty this year.
Player Grade: B-
James White is one of the last guards off Mike Woodson's bench, but don't let that sour your thoughts on Flight.
White has been reliable on both ends in limited time under Mike Woodson. He offers the athleticism to provide suitable isolation defense in the backcourt and is 6-of-16 from three-point range as a Knick, for a clip of .375.
He's shooting 48 percent overall and is a fine emergency option. But given the Knicks' abundance of point guards and Iman Shumpert returning from ACL surgery, White's minutes on this Knicks team are scanty at best.
Follow me on Twitter at @JSDorn6.