The 20 Ballsiest Decisions in Sports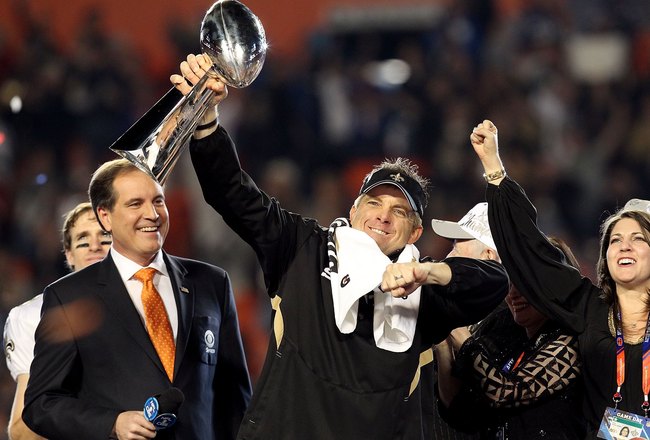 Ronald Martinez/Getty Images
There are conservative decisions, the decisions you'd expect, risky decisions, and then some decisions that are just plain ballsy. These are the latter.
Of the incredible moments in sports history throughout the years we have seen some truly incredible decisions that 99.99 percent of the population would refuse to make.
We have to honor the guts these guys showed, and of those ballsy calls, these are the top 20.
20. MJ's Blind Free Throws
The only reason this isn't higher is because it didn't really count for much.
Michael Jordan stepped to the free throw line against Dikembe Mutombo's Denver Nuggets and decided that normal free throws just weren't challenging enough. Instead, he decided to take them with his eyes closed to taunt Mutombo.
Nothing but net.
MJ did what few players would even think of attempting, and he nailed it. If he had done that today, he would have been ripped by every sports show in the country...but different times call for different free throws, apparently.
19. Devin Hester Returns the Missed Field Goal
Remember when Devin Hester actually got the chance to return kicks? I miss those days, and this is a good reason why.
Hester was the most exciting player in the NFL, and in 2006 against the New York Giants he gave us one more example.
The Chicago Bears would have gotten the ball on their own 42-yard line and would have been in great shape if Hester didn't take the missed 52-yard field goal out...but this is Devin Hester.
After hesitating and lulling the Giants into a false sense of security, he tore up the right side of the field, found daylight and was gone. A play that could have gone horribly wrong resulted in a 108-yard return for a touchdown on the missed field goal.
18. Ali Farokhmanesh Is Serious
Un. Freaking. Believable.
In the 2010 NCAA tournament, the No. 1-seeded Kansas Jayhawks ran into a pesky No. 9-seeded Northern Iowa team with everything to prove.
The Jayhawks trailed early but worked their way back to make it a one-point game with 43 seconds to go.
Northern Iowa broke the press easily, and Ali Farokhmanesh got the ball with space. Most people would play conservatively at this point, running down the shot clock a bit more since it was still at 29 seconds, or driving for an easier shot.
Farokhmanesh, however, decided that the time was ripe to shoot an open three that would essentially decide the game. If he made it, his team would be up by four with about 36 seconds left. If he missed it, Kansas would get the ball and a chance to win.
As though he had ice in his veins, Farokhmanesh knocked it down, leaving the announcers speechless and wondering if he was "serious."
Yes, he was....Yes. He. Was.
17. Michigan State vs. Notre Dame
The 2010 matchup between Notre Dame and Michigan State was legendary. The two teams went back and forth all night, and eventually found themselves in overtime.
Notre Dame had already kicked a field goal when the defense came up big, and it looked like the Spartans would need to make a 46-yard field goal to send the game into a second overtime.
Coach Mike Dantonio had different plans, however, as he faked the field goal, and his team completed a huge pass on fourth down for a touchdown and the victory.
The 34-31 win for the Spartans came on one of the most unexpected and ballsiest calls I've ever seen.
16. Kirk Gibson Steps Up
Kirk Gibson barely had any energy in Game 1 of the World Series after dealing with a stomach virus that kept him from introductions, batting practice, and most of the game.
However, manager Tommy LaSorda had the balls to listen to his player, and he sent Gibson up to bat in the ninth inning.
Facing Dennis Eckersley, Gibson took two strikes before he really got settled in. He then fought back to a 3-2 count before finally letting one rip, sending the ball to deep right for a two-run, game-winning home run.
Gibson's feat was incredible, but the gutsy call came from LaSorda.
15. Barry Switzer Hates to Punt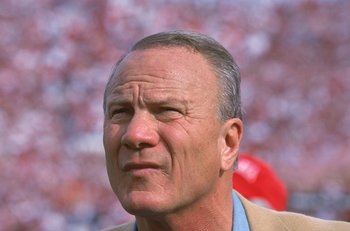 Brian Bahr/Getty Images
Barry Switzer must really hate punting into the wind, because he made one of the ballsiest calls in sports just to avoid doing it.
Faced with a fourth and one late in a tied game against the Philadelphia Eagles, Switzer elected not to punt into the wind, and risked giving the Eagles great field position.
In an infamous call that Dallas Cowboys fans will never forget, Switzer called the same play twice, and was stuffed both times. That gave the Eagles the ball and a chance to win.
Philly kicked a game-winning 42-yarder to win 20-17, and Switzer was the goat of the game.
14. Pitching Pedro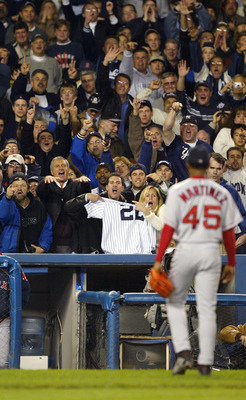 Ezra Shaw/Getty Images
In the 2003 ALCS, the Boston Red Sox looked to finish off the series against the New York Yankees in Game 7.
Pedro Martinez was on the mound for the Sox, and despite being over 100 pitches, he came out to start the eighth with a 5-2 lead.
That's where it all went wrong.
Pedro surrendered five straight hits, and the Yanks completely erased the deficit. The team would then go on to win the game and the series in the 11th inning on an Aaron Boone home run.
Manager Grady Little is now known best for this gaff, and 2003 was his last year in Boston.
13. Scioscia Brings K-Rod to the Postseason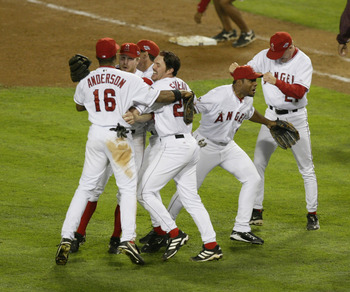 Donald Miralle/Getty Images
In 2002, K-Rod had yet to be born. Very few people even knew of Francisco Rodriguez, unless you were a die-hard Angels fan.
After being called up the previous month and pitching just 5.2 innings in the big leagues, the 20-year-old reliever earned the trust of manager Mike Scioscia, who put him on the postseason roster.
This seemed like a complete waste of a roster spot to most fans, and he was scrutinized for the decision. However, it turned out to be the right one.
K-Rod finished the 2002 postseason with a record of 5-1, a 1.93 ERA and 28 strikeouts in 11 appearances. He helped lead Los Angeles to a ring, and the legend was born.
12. Boise State's Statue of Liberty
Boise State has always been known for a bit of trickery, but this Statue of Liberty play with the game on the line takes the cake.
After battling with Oklahoma in the Fiesta Bowl for 60 minutes, the two teams headed to overtime.
The Sooners scored a touchdown on their first possession, putting all the pressure on the Broncos. Boise State responded with a touchdown of its own, but instead of kicking the extra point and forcing a second overtime, the team decided to go for broke and attempt the two-point conversion.
With a perfectly executed Statue of Liberty, the team punched it in for two, and won the game 43-42.
11. Rondo Plays Through the Pain
Rajon Rondo recently went down with a torn ACL and is done for the year, but there's no doubt in my mind that if it were physically possible for him to play, he would.
Rondo showed just how tough he is against the Miami Heat in Game 3 of the 2011 Eastern Conference semis, when he was taken to the ground by Dwyane Wade and dislocated his elbow.
However, Rondo wasn't done just yet. He had the trainers pop his arm back into place and went back into the game.
He came back and played well, including scoring two clutch baskets in the fourth quarter as he led his team to a 97-81 victory. He finished with six points and 11 assists despite playing with just one arm for a large portion of the game.
10. Phil's Miracle
I really don't even think my words can do this shot justice, but I'll try my best.
Phil Mickelson was returning to golf after taking time off because his wife was battling cancer. It was one of the most tragic stories in golf history, but he decided to come back and play in the Masters.
As you can hear the announcers say, this shot was really the tournament for Lefty, and it wasn't an easy shot.
Mickelson couldn't even see in front of him because there was a tree in his way, but he powered through the rough and hit a beautiful shot that landed within a few feet of the cup.
This shot helped propel Phil to the victory, winning his third Masters.
9. The Music City Miracle
Down 16-15 with 16 seconds left in the 2000 AFC Wildcard round, the Tennessee Titans couldn't afford to hold back; but no one expected this.
The Buffalo Bills kicked off with a high, short kick that was intended to stop the Titans from pulling off a backyard play involving 17 laterals or so.
However, the Titans decided to try a play that no one thought about: Throwing it across the field.
The play worked incredibly well, as Kevin Dyson caught the ball with room to run, and found his way into the endzone to win the game.
The Titans would go on to advance to the Super Bowl, where they lost to Rams, while that was the last time the Bills were in the playoffs.
8. Dan Marino's Fake Spike
Look, I'm a huge fan of the fake spike in Madden because everyone on your team knows it's coming, and it usually works. But in real life it's just plain risky.
Dan Marino found that it was a risk worth taking, however, in a game against the New York Jets.
Marino's Miami Dolphins were trailing 24-21 and had just gotten into field goal range with about 30 seconds left on the clock.
He signaled for a spike to stop the clock and set up the offense, but he must have given some warning to a few of his guys, as some of his teammates knew it would be a fake—although several did not.
Marino faked it, dropped back and threw a touchdown pass to lift the Dolphins to an incredible victory.
This was a huge risk because, as we saw from some of his teammates, the fake spike can also trick your own players. If his receivers didn't know it was coming, this could have been disastrous in a position where the team could have tied the game.
7. MJ's Flu Game
Everyone knows about Michael Jordan's "Flu Game." Everyone.
To go out with a 103 degree fever and drop 38 points on the Utah Jazz in Game 5 was extraordinary.
The fact that MJ went out and won the game for the Chicago Bulls was unbelievable, and the accounts of that night truly say it all.
SportsGrid.com tells us just how bad MJ was the night before.
Michael Jordan woke up in the middle of the night, feeling 'partially paralyzed.' The Bulls medical staff told him, 'There's no way you'll be able to play Game 5.'
While ESPN gives MJ's teammate Scottie Pippen's account of the night.



'I was scared; I didn't know what was happening to me,' Michael Jordan would say.

'The way he looked, there's no way I thought he could even put on his uniform,' [Scottie} Pippen would say. 'I'd never seen him like that. He looked bad -- I mean really bad.'



38 points later, no one would ever questions Jordan's dominance again.
6. Gary Reasons Fake Punt
Bill Parcells has a habit of making ballsy calls on fourth down, but none was bigger than this one.
In the 1990 NFC Championship Game, his New York Giants trailed 13-9 and faced a 4th-and-2 inside their own territory.
However, instead of punting it like any normal human being would have done, Parcells called a direct snap to linebacker Gary Reasons, who took the ball and ran 30 yards, setting the G-Men up for another field goal.
The Giants would go on to win the game 15-13 on the road, and eventually beat the Buffalo Bills in the Super Bowl because of this call.
5. Eli Manning Throws It Up
Considering this is arguably the greatest play in Super Bowl history, this is a pretty boring call.
Despite my mourning at the lack of more excitement in the call, Eli Manning took a huge risk on this play that he is rarely given credit for.
After somehow escaping the Patriots' rush, Manning gets out into open space and could have thrown the ball away to bring up fourth down and tried again, but instead he decided to chuck the ball up.
There were four Patriots around David Tyree. Four. But Manning still trusted his wide receiver to go up and make a play, and he sure made a spectacular one.
I can't believe Manning threw into quadruple coverage, but it worked.
4. Chuck Noll Loves His Defense
Chuck Noll apparently trusted his defense more than he trusted his special teams in Super Bowl X, and it's not all that hard to see why.
After the Dallas Cowboys attempted and failed an onside kick, Noll's Steelers took over with great starting field position. However, the team failed to convert offensively, leaving Noll with a decision.
On 4th-and-9, Noll decided not to punt the ball with under two minutes left for fear of it being blocked. He instead elected to run the ball and let his defense take care of the rest.
With guys like Jack Lambert on the squad you can see why he loves his D, but this much?
It was the right call, as the Steelers stopped the Cowboys and won the game 21-17.
3. Bart Starr's Ice Bowl Sneak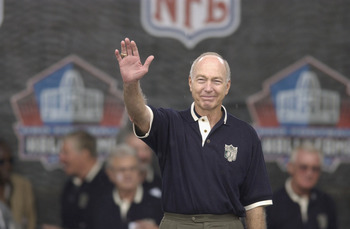 David Maxwell/Getty Images
Bart Starr was supremely confident in himself.
In what was later dubbed "The Ice Bowl," the Green Bay Packers and Dallas Cowboys played in the 1967 NFL Championship Game.
Down 17-14 and on the goal line, Vince Lombardi called two running plays that were both stuffed. With time on the clock for one last play, he was going to hand it off to his fullback, but Starr had a different idea.
After talking his coach into it, Starr went onto the field and successfully sneaked the ball into the endzone, winning the game.
It takes a lot of guts to let your players talk you out of your play, but Lombardi was one of the greats for a reason, and he trusted his quarterback.
2. 1984 Orange Bowl
With an undefeated season, college football's longest winning streak and a national championship on the line, Nebraska coach Tom Osborne decided not to play it safe in the 1984 Orange Bowl.
After scoring a touchdown in the final minute of the game to cut Miami's lead to 31-30, Osborne could have easily kicked the extra point to force overtime, but he decided that he wanted things to end in regulation.
Unlike many of these decisions, going for two might have been the biggest mistake of Osborne's career.
Miami stopped the Cornhuskers, and the Hurricanes became champs, winning 31-30.
1. Saints Onside Kick
No one saw this coming. No one could have possibly guessed at what Sean Payton had in store for the second half of Super Bowl XLIV.
The Indianapolis Colts held a 10-6 lead over Payton's New Orleans Saints at the end of the first half, as well as momentum.
But that all changed after this one, single play.
Payton elected to surprise everyone with an onside kick, and when the pile was finally sorted out, his Saints had recovered.
Energized by this play, the Saints marched down the field to score a touchdown, and ended up winning the game 31-17 by outscoring Indy 25-7 in the second half.
This lone play completely changed Super Bowl XLIV, and if it had gone wrong the Colts would have almost certainly won.
Payton knew the risk and called the onside kick anyway, and that's what warrants the top spot on this list.
Keep Reading