Top 10 Pleasant Surprises of the 2012 Mets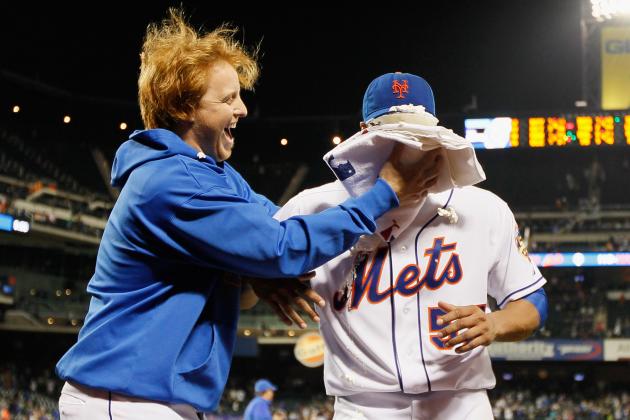 Mike Stobe/Getty Images
Jeremy Hefner
It was another tough year for the New York Mets, but 2012 was not without its surprises.
From a no-hitter crafted by a surgically repaired left arm, to a 38-year old journeyman winning the Cy Young and the debut of some young guns, here's a list of the 10 best things Mets fans were not expecting coming into the season.
Begin Slideshow

»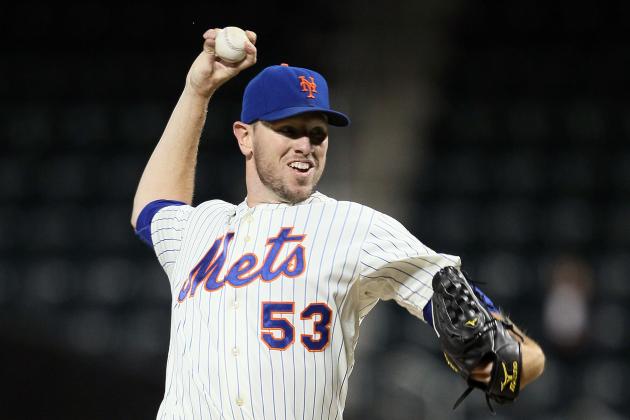 Alex Trautwig/Getty Images

I know what you're thinking, what did Jeremy Hefner do that was so great? But what you should be asking is, what didn't he do? Hefner was the Hisanori Takashashi of 2012, filling whatever role the Mets needed and doing so adequately.
He finished 4-7 with a 5.09 ERA, but some of his deeper numbers suggest he pitched much better. If you take out his seven-run debacle against the Phillies in late September, his ERA becomes a respectable 4.42.
And how did Hefner respond to that adversity? He won his last two starts, pitching 14-and-one-third innings and allowing just two runs on eight hits, while striking out 14 and walking only three.
It was an up-and-down rookie season for Hefner, but who expected he would chew up 93 innings for the Mets prior to the season? No one. That's why he sneaks onto this list of surprises, and he'll have a chance to do it again in 2013, either as a long man or as a member of the rotation.
Jim McIsaac/Getty Images
Collin McHugh
After Johan Santana was shut down for the season, the Mets called on an 18th rounder out of a tiny Georgia college. Collin McHugh arrived to the ballpark just hours before he was set to take on the Colorado Rockies at Citi Field.
He took the mound and never looked back, tossing seven shutout innings of two hit ball, walking only one and striking out nine. McHugh struggled as the swingman in September, but his Aug. 23 debut provided a much-needed shot in the arm for a struggling team and showed the potential that McHugh and the entire Mets farm system has in the years to come.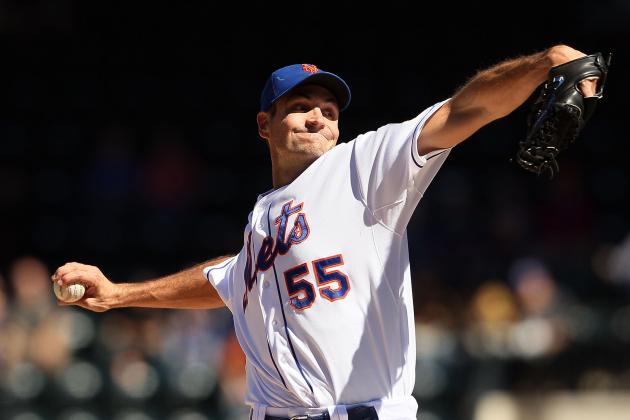 Alex Trautwig/Getty Images
Chris Young
The Mets pitching staff had a lot of holes to fill this past season, especially after Mike Pelfrey and Dillon Gee went down with season-ending injuries.
While the Mets struggled to fill those gaps with average pitchers, two veterans who did step up—despite physical ailments—were Jon Rauch and Chris Young.
Young overcame a second major shoulder surgery to become as reliable as anyone in the rotation. While a 4.15 ERA might not win him a Cy Young award anytime soon, the Princeton grad gave New York 12 quality starts and never missed a start, finishing the season strong with a 2.73 September ERA.
Rauch, on the other hand, flourished in the middle of the season, allowing just two runs in 25 appearances between July and August.
What makes Rauch's effort so remarkable was that he put together a solid season at age 33 after a rough 2011, which left many wondering whether he would ever amount to his old self again.
But Rauch answered the questions by grossing a WHIP below one, somehow managing to stay off the disabled list despite battling two balky knees that had to be drained several times throughout the season.
And yes, I know, the joke's on me but you have to admit the headline of this section is clever (Rauch is 6'11" and Young is 6'10").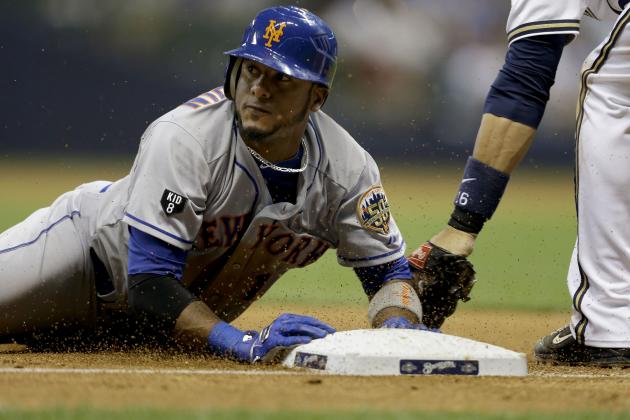 Mike McGinnis/Getty Images
Jordany Valdespin
Of the many Buffalo Bisons that emerged out of the Mets dugout this year, Jordany Valdespin and Josh Edgin proved they belong in the orange and blue.
Edgin allowed just three runs in his first 13 outings, and backed it up with a stretch of 16 straight scoreless appearances in August and September.
After two disappointing outings against the Phillies, his ERA ballooned to 4.56 and the Mets shut him down. But don't overlook the mediocre ERA. Edgin's WHIP was only 1.13 and he struck out 30 batters in under 26 innings.
The southpaw out of Francis Marion College proved he can get Major League hitters out and even overpower them at times. At the very least, Edgin can be a lefty specialist. He held left-handed hitters to a remarkable .164 average last year.
Valdespin, on the other hand, has a package of talent unmatched throughout the organization. In my opinion, he's the only current Met that could have competed with Jose Reyes and Angel Pagan athletically.
If you extend Valdespin's production over a full MLB season, he would have hit 25 home runs and stolen over 30 bases. That's a rare speed-power combo to say the least when you look across the Mets' skill set.
On top of it all, Valdespin broke the club record for pinch-hit home runs in a season and provided a large portion of exciting moments in 2012.
But in addition to his long swing, Valdespin's primary downside has always been his behavior. He was suspended for two games for not running out a batted ball in the Dominican Winter League last month and decided it would be a good idea to tweet pictures of himself in fancy clothes wearing a Miami Marlins hat.

Selfies on Twitter? What grown man does that? Imagine Bill Gates tweeting a picture of himself smiling with an iPod. I'm sure that wouldn't go over well.
As Valdespin continues to walk the fine line between swagger and obnoxiousness, there's no doubting his ability to be an impact player at the highest level.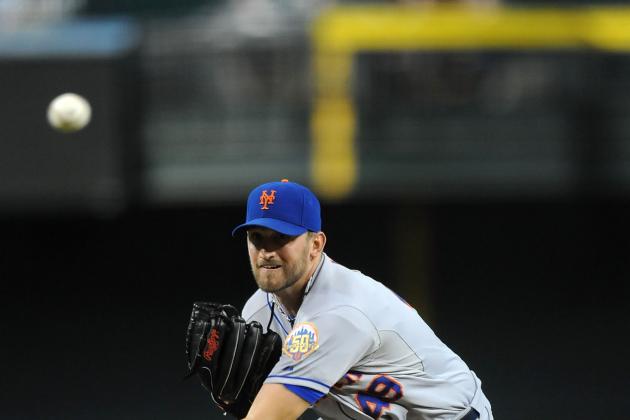 Norm Hall/Getty Images
Jon Niese
Not only did Jon Niese finish his first full and healthy season in the Big Leagues in 2012, but he achieved the most success he's ever experienced in the Major Leagues. The lefty from Ohio put up career highs in wins, innings, strikeouts, ERA and WHIP; essentially the five most important basic statistics for a starting pitcher.
After fading down the stretch each of the previous two years, Niese stayed healthy and effective until the end of 2012. In fact, he put up some his best efforts in the final two months, earning an ERA of 2.57 over that span.
With R.A. Dickey in Toronto, Niese heads into 2013 as the de facto ace. Johan Santana may still get the ball on Opening Day, but Niese will likely be the best pitcher the staff, as he enters his prime at age 26.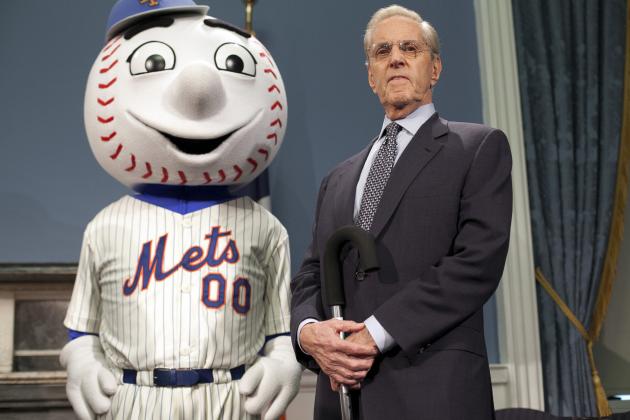 Allison Joyce/Getty Images

Rumors had swirled that Major League Baseball had interest in moving the All Star Game back to New York in 2013, but when the announcement was formally made in mid-May, every Mets fan had to be delighted.
It will be the first Mid-Summer Classic to be hosted by the Mets since Shea Stadium's inaugural season of 1964. The entire baseball spotlight will be focused on Citi Field for a few days, and that thought alone has to make Mets fans smile. Because, let's be real, the good memories at Citi have been few and far between in the stadium's lackluster history.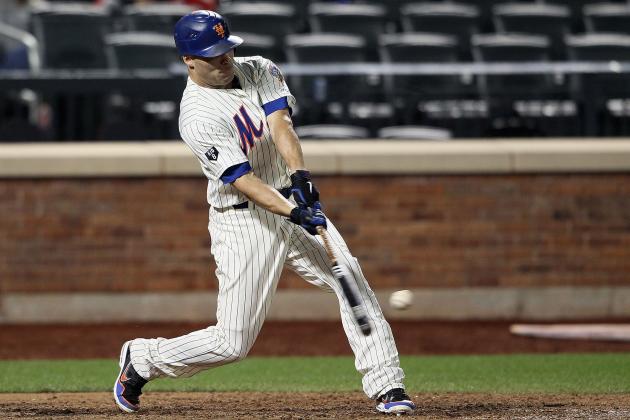 Alex Trautwig/Getty Images
Scott Hairston
One of the biggest offseason questions still surrounding the Mets' 2012-13 offseason is certainly whether Scott Hairston is worth bringing back on a two-year contract.
When you look at his value to the team in 2012, he undoubtedly is. Hairston stepped in to start 86 games in 2012, much more than he signed up for.
Usually, extended at bats will expose a bench player, but Hairston more than held his own, leading the entire club in slugging (earning a .504 mark) 12 points ahead of David Wright.
He never got cheated on a single swing, spanking several missiles into orbit during his tenure with New York.
Hairston hit 20 home runs for the first time in his career in 2012, and appears to be getting better at age 32. If the Mets fail to acquire an impact outfield bat this offseason, they will miss Hairston's power tremendously.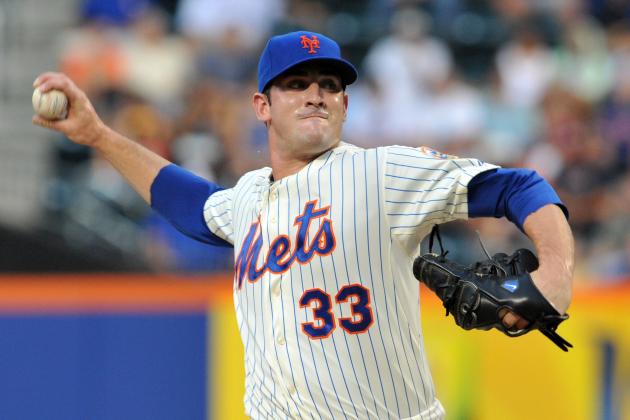 Jason Szenes/Getty Images
Matt Harvey
There is no greater source of hope for the Mets than Matt Harvey. The 23-year-old from Connecticut set the National League on fire following his promotion to the Major Leagues.
Harvey provided one of the highlights of the season on July 26, dazzling the Diamondbacks in his Major League debut, punching out 11 Arizona hitters over five-and-one-third shutout innings in a truly dominating performance.
But the best part was that Harvey sustained his effectiveness over 10 starts, finishing strong with a seven-inning, one-run gem against Philadelphia to end the year.
All in all: 70 strikeouts in 59-and-one-third innings, an ERA of 2.73 with eight of his 10 starts going for two earned runs or less.
With R.A. Dickey gone, more weight falls on Harvey's shoulders to be a stopper in 2013. With his perfectionist attitude and razor-sharp focus, Harvey should blossom into a superstar very soon.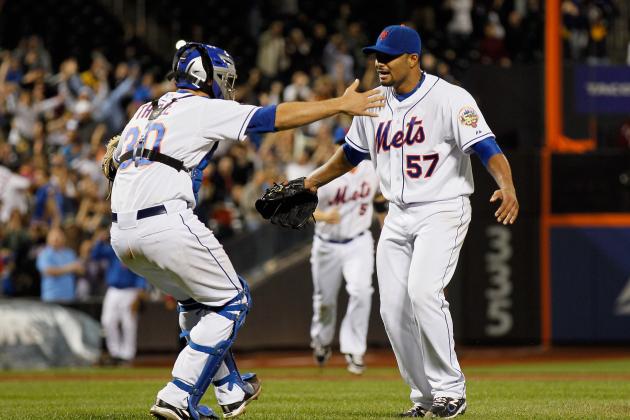 Mike Stobe/Getty Images

Most Mets fans may be surprised to find Johan Santana's no-no at No. 2. Some might put it No. 1 for the decade. But you'll find out why in a bit.
June 1 was a night to remember for Mets fans. A left arm trying to return to relevance after a devastating injury that left Santana wondering if he would ever pitch well again.
Dramatic words aside, everything about Santana's no-hitter was indeed, theatrical. From Mike Baxter's spectacular catch, to Carlos Beltran's line drive that clipped the third base line (or, didn't), to the final inning, it was undoubtedly the best night in the history of Citi Field.
Eight strikeouts, five walks, 134 pitches, nine innings and no hits. History sealed for the aging lefty legend from Venezuela. Every bit of that six-year, $137.5 million contract was earned.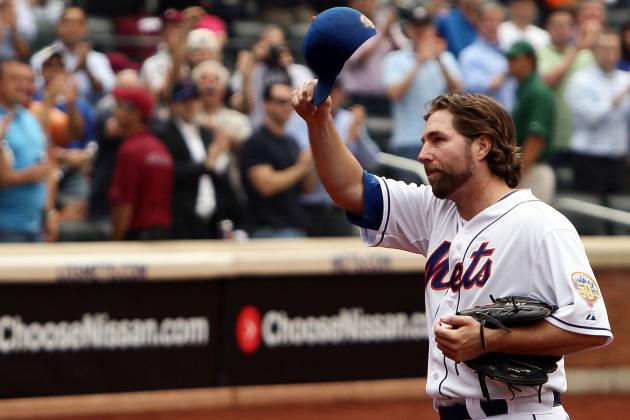 Alex Trautwig/Getty Images
R.A. Dickey
As impossible as a Mets' no-hitter seemed, a Cy Young Award season from a journeyman knuckleballer was an equally as unlikely tale.
R.A. Dickey came into 2012 with 1,283 innings logged in the Minor Leagues over 14 painstaking seasons. He had been through four organizations and had been released, discarded or demoted more than anyone could count.
With only one full Major League season under his belt, Dickey not only proved he belonged, but dominated a level of baseball that had eluded him for over a decade.
The numbers tell the story: 233 innings, 230 strikeouts, a 20-6 record and an ERA of 2.73. He finished it off with a day to remember, picking up his 20th win in front of a grateful Citi Field crowd, who came to celebrate Dickey's brilliance and cheer for him one last time.
Dickey baffled the National League with the most effective pitch Planet Earth has ever seen. Seriously though, what other pitcher has ever been able to dictate an entire league with one pitch?
Dickey's six years of work with the knuckleball has finally come to fruition. Just in time for New York to cash-in on two front-end prospects. After all the memories Dickey has provided the past three years, there is no doubting how much he will be missed in 2013.