Jon Jones Talks Move to Heavyweight, TRT, Push Kicks and More
Use your ← → (arrow) keys to browse more stories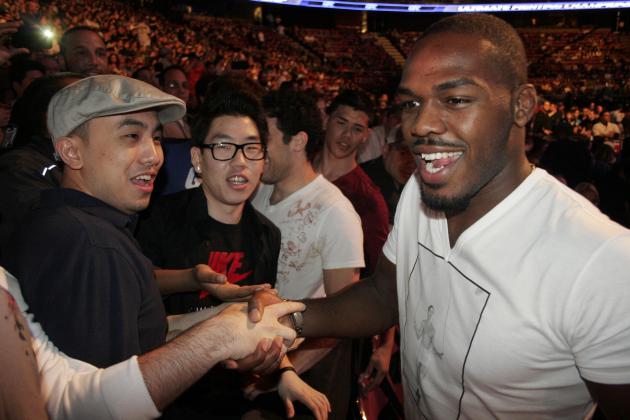 Joe Camporeale-USA TODAY Sports

UFC light heavyweight champion Jon Jones has finished his coaching stint on The Ultimate Fighter, and on April 27 he will defend his title against the man he coached against, Chael Sonnen.
A few weeks before heading out to Jackson's MMA in Albuquerque to prepare for that bout, he made a pit stop in Chicago to meet with UFC fans prior to the UFC on Fox 6 weigh-ins.
The fight with Sonnen was on the minds of many who crowded the Chicago Theatre on Friday afternoon. And when we're talking about Sonnen, at some point we're going to be talking about testosterone replacement therapy.
"If you have a doctor's note for TRT, then whatever," Jones said. "I'm looking for the greatest challenge and with Chael being older I don't want that to be a disadvantage for him, so if that's going to make him compete at a high level I'm not going to hate on him. I'm looking for the greatest challenge and I want to beat him at his best."
As for how he would like to finish Sonnen when they meet at UFC 159, Jones said a knockout would be nice since he has never had one in the UFC. But his punching power may make that difficult.
"I hit like a sissy," Jones said.
Beside Sonnen, another name that comes to mind is Vitor Belfort, who recently called for a rematch against Jones after winning a middleweight bout against Michael Bisping.
Jones didn't put much stock in Belfort's call out, chalking it up to Belfort getting caught up in the moment of winning a fight in Brazil.
"Vitor's a great guy and I respect him a lot, I just think he got real emotional. I think with it being in Sao Paulo he got all fired up and ended up calling me out."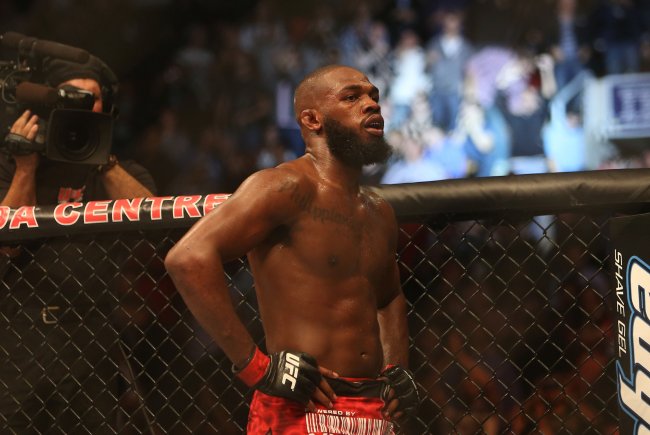 Tom Szczerbowski-USA TODAY Sports
Another fighter who recently had Jones on his mind was Quinton "Rampage" Jackson. Jackson offered the opinion that the push kicks Jones uses to the knees of his opponents should be banned.
To that, Jones replied, "Someone's trying to give me brain damage, I think me giving them a limp for the rest of their life is a fair trade off."
Jones also addressed the topic of his weight, more specifically when he might make the move to the heavyweight division.
"I have a nutritionist now, so I've been making weight a lot easier, and so I think heavyweight is going to be prolonged until 2014, maybe late this year."
As for whom he would like to face in his heavyweight debut, Jones wouldn't offer a name. When the crowd tried to help him on that front, shouting out Daniel Cormier, Jones was quick to shut that down.
"DC is going to have to come and get me, he's been talking a lot of trash. I'm going to make him cut that weight."
With a successful title defense over Chael Sonnen, Jones will be looking for a few more defenses in the light heavyweight division. Jones claimed that one of the factors that motivates him to perform at a high level is the pursuit of records.
If Jones does defeat Sonnen, he will be tied with Tito Ortiz with five consecutive light heavyweight title defenses. Therefore, it wouldn't be surprising to see Jones look to break Ortiz's record.
One of those defenses may even be a rematch against Rashad Evans, a fighter whom Jones said he would gladly give a rematch so that he "could finish him this time."
Before Jones can put his name in the record book and consider rematches, he has to get past Chael Sonnen at UFC 159.
All quotes obtained firsthand by Bleacher Report MMA.