Jeff Hardy Is Injured, and 5 Things We Learned from Jan. 24 TNA Impact!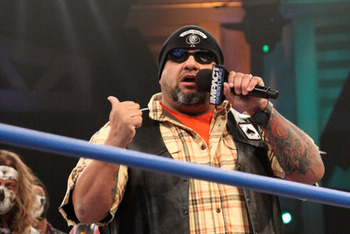 Photo courtesy of Impactwrestling.com
Here we are again friends, basking in the glow of what was, in my opinion, a fantastic episode of TNA Impact!
It was great for two reasons: For one, the episode was heavy on the wrestling and passionate promos. Secondly, because it built for the future—namely next week's Open Fight Night in the Manchester, England.
Now, the upcoming episodes will be taped, but United Kingdom crowds are incredibly hot for TNA wrestling. And with England being the birthplace of catch-as-catch-can wrestling, fans are students of the game. Much like Canada, Japan and Mexico, they know their wrestling.
This week's episode included a good Knockouts Title Match between champion Tara and challenger Velvet Sky, a great X-Division tag match, a single's match between Super Mex Hernandez and Bobby Roode and the main event, the TNA World Title match between champion Jeff Hardy and Christopher Daniels.
I give the episode a very strong B+.
All of the matches were great, and I have no qualms with that side of the coin. Similarly, the promos were spot on. Joseph Park, Kurt Angle, Bully Ray and Sting all came down to the ring at some point to work their mic magic. Most importantly, however, Taz—the new mouthpiece for Aces & Eights—came out and did his thing, explaining why he turned his back on the Impact Zone.
There was a lot accomplished this episode, and there was a lot that was built for the next episode, so we have a lot to cover. Let's get into it!
TNA Is Addressing Holes in Aces & Eights Properly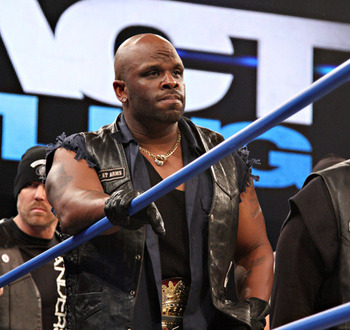 Photo courtesy of Impactwrestling.com
Aces & Eights, as an idea, has so much potential. They are menacing, they do damage, and they are mysterious. But they have no direction.
When Devon was revealed as the "inside guy" for the biker gang back at 2012 Bound for Glory, the stable was at its height. Since then, however, things have sort of lagged. Most of this can be attributed to the lack of direction the story seems to have.
Who is behind Aces & Eights? Who is the vice president, and who is the president? Are they here for a purpose, are they here for revenge, or do they simply wish to cause havoc? This Thursday, for the first time, TNA seems to have taken large proactive steps towards addressing these holes.
By making Taz a member of the group while keeping him at the commentator desk, Aces & Eights are given a constantly present voice. This adds to the feeling that they're always around. Before, when they weren't randomly attacking someone, you could almost forget they were there.
Plus, having a heel commentator is something wrestling promotions are moving away from. It can still be a good way of getting heels over with the home audience. This will be incredibly helpful in future reveals, where someone has to explain just who these people are.
When Mike Knox was revealed, the commentators had to feign ignorance and surprise, all while the home audience just wanted to know who this new guy was. Now there's a voice who can walk the audience through the reveals, which is very important since we're not talking about big names here.
Also Thursday, the biker gang took another step toward making itself more of a threat by attacking TNA World Champion Jeff Hardy. After celebrating his victory against Christopher Daniels, Hardy was interrupted by Taz, who took to the mic to distract the champ while a member of the gang sneaked up behind him and took out one of his legs.
This does two things: First, it offers an explanation for Hardy's absence during the UK tour. Secondly, it promotes Aces & Eights from merely a mid-card threat to a main-event menace.
For a long time, Aces & Eights and the TNA World Championship seemed to exist on two separate planes. One never had anything to do with the other, which made no sense.
If Aces & Eights really wanted to affect the company, they wouldn't start at the Television Title, they'd start at the top and work down.
Attacking Hardy addresses this minor lapse in logic. This may also mean that there is going to be a major reveal soon.
One reason Aces & Eights may have never focused on the World Title is because there hasn't been a member big enough to compete for it. Perhaps one of the top members of Aces & Eights is about to lose his mask.
TNA Is Rediscovering the Importance of Tag Teams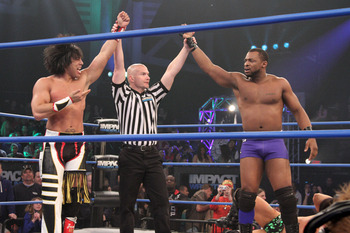 Photo courtesy of Impactwrestling.com
This Thursday, we once again got a dose of a revitalized X-Division, when Kenny King tag teamed with Zema Ion to face X-Division Champion Rob Van Dam and Christian York.
The action focused mostly on the heels and was fast-paced and exciting. The ending of the match saw King hitting Rob Van Dam with a flipping neckbreaker, while Ion stole the easy pin for the victory.
One thing that struck me while I watched the match was how good Ion looked. His exchanges with Van Dam looked clean and perfectly timed, and he sold well. Putting him in a tag match with King, who is smoking hot at this point, was a great way of reinserting him in the title picture.
But TNA has been doing a lot of that lately, and it deserves credit.
Whether it's King and Ion, Roode and Austin Aries, Matt Morgan and Joey Ryan, Jesse and Tara or Bad Influence, tag team wrestling is a great and time-honored method of getting one or two wrestlers over.
The technique is especially useful when you're working with a lot of wrestlers and a limited time frame to showcase them all.
Christopher Daniels has become so over following his stint with Bad Influence that he recently (and believably) competed for the TNA World Heavyweight Title.
Jesse continues to shine alongside Tara. Meanwhile, Morgan and Ryan could have easily been forgotten if not for their pairing. It's good that TNA has rediscovered what makes Tag Teams useful.
At the end of Thursday's match, King and Ion appeared to have tension developing between them. This means that we are pretty much guaranteed to see more of the pair, which is great for Zema Ion fans and fans of the X-Division.
More Money Means Better Production
Judging from Thursday's episode, TNA's production value seems to have taken a huge step forward.
From the video package accompanying its theme music (at 5:15), to the video package about Christopher Daniels (at 11:42) to the Jeff Hardy video package (at 49:15), TNA looks better than it has in a while.
Maybe it's just me.
I'm not sure if this has to do with the money the company saves by dropping to only four pay-per-views a year, but if it is, then this was possibly the best decision TNA has made in years.
One of the things that always separated TNA from WWE, for me at least, was that it just looked different. It was obvious that WWE had the better equipment and production personnel. But if Thursday is a sign of things to come, then TNA is taking the right steps toward finally competing.
Losing Hardy Is Both Curse and Gift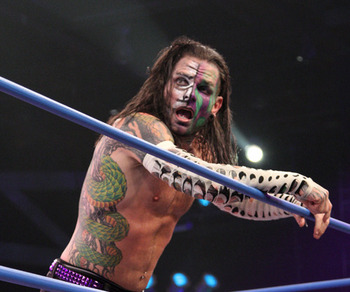 Photo courtesy of Impactwrestling.com
As I said before, TNA World Champion Jeff Hardy will not be accompanying the promotion for its UK tour. Possibly due to his past legal troubles, the champ was forced to sit this one out.
This can be both a good and a bad thing.
For one, TNA fans overseas want to see their champion. And it's a shame that, with as few opportunities that they have to see him, they'll have to miss out this time.
Still, this can also be turned into a positive. Ever since Hardy won the belt, the TNA World Title has been elevated above all other storylines to the point that it could almost be the center of its own show. And although this can be a good thing, it can also become a bit stale.
Removing Hardy forces TNA to be creative and play with the main event picture a bit more. Now things aren't as cut and dry as they once were.
Will there be a No. 1 contender match, and between who? What will Christopher Daniels do now? With Hardy out of the picture throughout the tour's entirety, will there be an interim title of sorts?
Also, you have to remember that it was Aces & Eights who took Hardy out. Will they have more to do with the main-event picture? Will they vie for the World Heavyweight Title now? If so, just who does Aces & Eights have up their sleeve who could realistically compete for the top strap?
All of these questions mean intrigue, excitement and unpredictability. Although the UK crowd will not get a chance to see Hardy, they are almost guaranteed to get a great show. That seems like a decent and fair trade.
The UK Tour Will Help Keep TNA's Momentum Going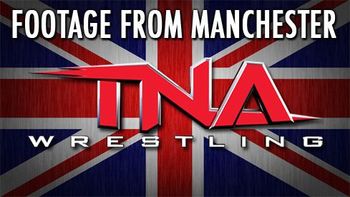 Photo courtesy of Impactwrestling.com
If last year's UK tour is any indicator, TNA stands to get a major bump in excitement during its international trip.
TNA seems to know this as well. Most of Thursday's episode was spent building interest in the coming trip across the pond.
Joseph Park went to the ring and worked his usual magic, Aces & Eights grew even stronger in their attack on Hardy, Bully is on the warpath, and the X-Division is stronger than it's been in a long time. All together, next Thursday is set to be explosive.
Recently, TNA has experienced promising spikes in its ratings. Compelling action and drama-filled stories, paired with the Bellator cross-marketing and a growing television audience have proven to be very beneficial.
For the sake of continuing positive momentum, this trip couldn't have come at a better time.
Credit should be given to TNA for this build. There was a time the company would've just turned up in England with out any explanation or warning. Okay, I'm being a bit extreme, but it has to be acknowledged that TNA's ability to build an event seems to be getting better.
With the storylines that have been put into place and with a white-hot UK crowd all but guaranteed to blow the roof off the building, there is no way any TNA fan would want to miss next Thursday.
Keep Reading