One Player from Every MLB Organization Who Could Be Traded in 2013
J. Meric/Getty Images
Carl Crawford's albatross of a contract was thought to be the most immovable object in all of baseball, yet the Boston Red Sox found a way to move the injured outfielder—and much more—in one fell swoop.
From MVP candidates (Justin Upton) to Cy Young Award winners (R.A. Dickey), the last six months have seen big names—and big salaries—change hands throughout MLB.
That's not going to change between now and the end of the 2013 regular season, as teams will be looking to fill holes, upgrade rosters and shed salary over the seven months.
Which players could find themselves playing elsewhere as spring training gets underway and the season progresses?
Let's take a look.
Arizona Diamondbacks: Jason Kubel, OF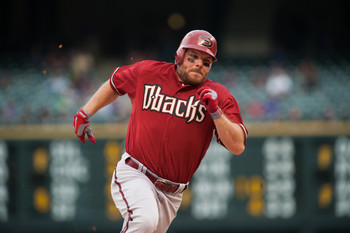 Dustin Bradford/Getty Images
Just because Justin Upton is gone doesn't mean that Jason Kubel is a sure thing to finish the season with the Diamondbacks.
General manager Kevin Towers says that Kubel, who celebrates his 31st birthday in May, is not going anywhere at the moment, via USA Today's Bob Nightengale:
The #Dbacks will now keep Jason Kubel, GM Kevin Towers says.

— Bob Nightengale (@BNightengale) January 25, 2013
But with the Diamondbacks needing to work out contract extensions with second baseman Aaron Hill and the recently acquired Martin Prado, coupled with the fact that.outfield prospect A.J. Pollock is waiting in the wings—Baseball America ranks him as the 10th-best prospect in Arizona's farm system—Kubel and his $7.5 million salary this season (and $7.5 million team option for 2014) could be moved.
Atlanta Braves: Julio Teheran, RHP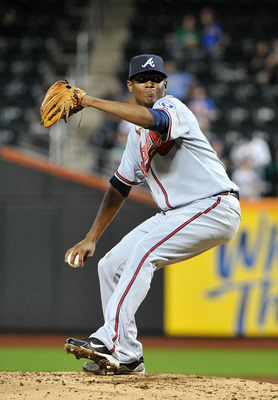 Christopher Pasatieri/Getty Images
Something we touched on when breaking down the Braves' acquisition of Justin Upton was that Atlanta didn't have to give up its best prospects in the deal.
That includes Julio Teheran, the team's best prospect.
While Atlanta moved two starting pitchers, Randall Delgado and Zeke Spruill, out of its system in the Upton deal, the Braves still have plenty of arms at their disposal.
The Braves clearly don't have any immediate needs, but should one arise, Teheran could be dangled to fill it.
Baltimore Orioles: Jake Arrieta, RHP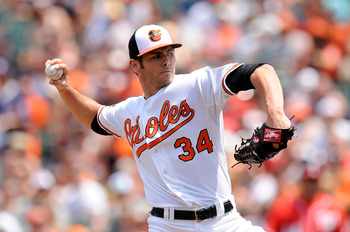 Greg Fiume/Getty Images
Twice a member of Baseball America's preseason Top 100 prospects list (2009 and 2010), soon-to-be 27-year-old Jake Arrieta finds himself on the outside of the Orioles' major league pitching staff, either as a starter or a reliever.
While he's struggled in parts of three seasons with the Orioles, Arrieta is a talented pitcher who is still young enough to turn things around.
That makes him a somewhat valuable commodity. Sure, Baltimore isn't going to get a superstar in return, but Arrieta certainly could fetch a role player or veteran bat off the bench.
Boston Red Sox: Jacoby Ellsbury, CF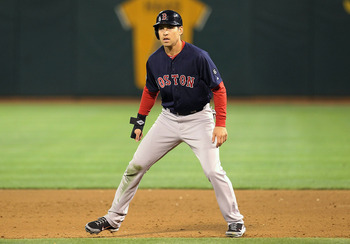 Tony Medina/Getty Images
A free agent at the end of the season, center fielder Jacoby Ellsbury is going to test free agency because, well, that's what clients of Scott Boras do.
An MVP candidate in 2011 who missed significant time with injury in 2010 and 2012, the 29-year-old center fielder is not someone who Red Sox GM Ben Cherington plans on dealing anytime soon, as he told ESPN Boston's Gordon Edes:
Cherington reiterated his intent is not to trade Ellsbury and expects CF to be key part of club in 2013

— Gordon Edes (@GordonEdes) December 19, 2012
But if the Red Sox are out of contention when the non-waiver trade deadline rolls around, Ellsbury will be a trade chip that Cherington simply can't afford not to play.
Chicago Cubs: Matt Garza, RHP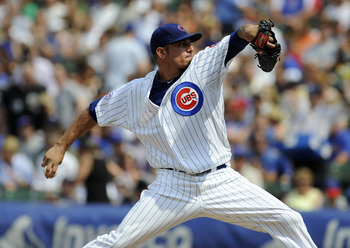 David Banks/Getty Images
Rather than a final step in the Cubs' rebuilding process, the signing of Edwin Jackson to a four-year, $52 million deal gives the team insurance should they pull the trigger on a deal that sends free agent-to-be Matt Garza out of the Windy City.
Jackson is an innings-eating starter who has averaged 199 innings pitched over the past five seasons, and Garza, 29, has been the subject of rampant trade speculation in each of the past two years. He might have been traded last season if not for an elbow injury that cut his 2012 short.
At the very least, look for the Cubs to shop Garza to see what the market may bear.
Chicago White Sox: Gavin Floyd, RHP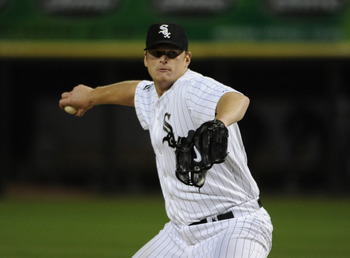 David Banks/Getty Images
With prospects Simon Castro, Nestor Molina and Andre Rienzo all itching for a chance to prove their worth in the major leagues, Gavin Floyd could find himself leaving Chicago before he hits free agency at the end of the season.
Floyd, 30, has been a solid yet unspectacular contributor for the White Sox over the past four years, going 45-48 with a 4.20 ERA and 1.28 WHIP. But he's never lived up to the promise he showed in 2008, when he posted a 17-8 record, 3.84 ERA and 1.26 WHIP.
CBS Sports' Danny Knobler reported last month that Chicago had let other teams know that Floyd was available, though it's more likely that the team will wait to ensure that John Danks, who was limited to only nine starts in 2012, is healthy before making a move.
Cincinnati Reds: Mike Leake, RHP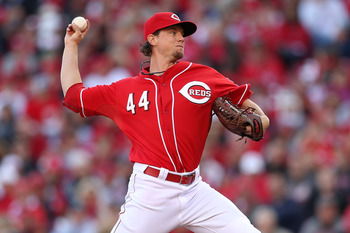 Andy Lyons/Getty Images
Someone was going to be bumped from the Reds' starting rotation when the decision to move Aroldis Chapman from the ninth inning to the first was made, and it appears that Mike Leake is paying the price.
Not only is there not a spot for him in the Reds' rotation, but with Sam LeClure handling long relief, there isn't a spot in the bullpen for the 25-year-old either.
With prospects Daniel Corcino and Tony Cingrani waiting in the wings for a shot at Cincinnati's starting rotation, Leake could be on the move should Cincinnati need to acquire another piece on its quest to win the NL Central for the third time in the past four years.
Cleveland Indians: Ubaldo Jimenez, RHP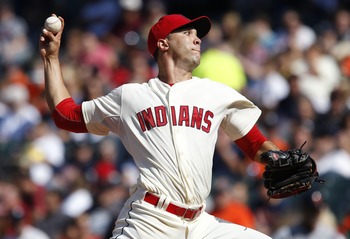 David Maxwell/Getty Images
Prior to Ubaldo Jimenez being dealt to the Indians in 2011, I wrote about how he was simply too risky—and mediocre—to give up anything substantial to obtain.
At this point, the Indians would sign up for mediocre, because Jimenez has been nothing short of miserable since his arrival.
Over his first 42 starts under the watchful eye of Chief Wahoo, the 29-year-old has gone 13-21 with a 5.32 ERA and 1.61 WHIP.
Whether there is actually another team willing to take a chance on Jimenez...that's another story. But there's little doubt that the Indians would move him if afforded the opportunity to do so.
Colorado Rockies: Rafael Betancourt, RHP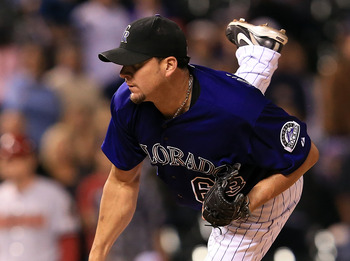 Doug Pensinger/Getty Images
As we approached the non-waiver trade deadline last season, multiple teams were linked to Rockies closer Rafael Betancourt, including Atlanta, Boston, Texas and Toronto, according to Jeff Passan of Yahoo! Sports.
Betancourt, who celebrates his 38th birthday in April, is sure to attract interest from contenders once again this season, especially if the Rockies fall out of contention early in the NL West race.
With youngster Rex Brothers looking more and more like the closer of the future for Colorado, Betancourt, who makes $4.75 million this season (and with a team option for the same salary in 2014), could be moved.
Detroit Tigers: Brennan Boesch, OF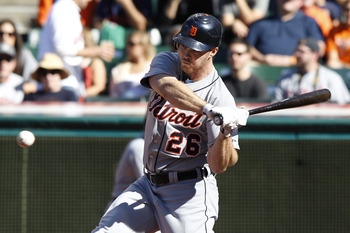 David Maxwell/Getty Images
There were few players in baseball who were quite as disappointing as Brennan Boesch in 2012.
My pick for the Tigers' breakout player heading into last season, Boesch, 27, was unable to take advantage of hitting between Austin Jackson and Miguel Cabrera, getting bounced around the lineup before landing in a platoon and, ultimately, being replaced entirely.
Relegated to bench duty with Torii Hunter now entrenched as Detroit's full-time right fielder, Boesch is expendable.
As recently as last week, as reported by CBS Sports' Danny Knobler, the Tigers were still shopping the outfielder around the league. With Quentin Berry the team's fourth outfielder and prospects Avisail Garcia and Nick Castellanos waiting for playing time to open up, Boesch has no future in Detroit.
Houston Astros: Jed Lowrie, SS
Bob Levey/Getty Images
Jed Lowrie isn't a superstar by any stretch of the imagination, but the soon-to-be 29-year-old shortstop is the biggest trade chip on an Astros team that is still years away from contending for a playoff berth.
In his first crack at playing on a daily basis in 2012, Lowrie flashed a power stroke that many didn't think he had, hitting 14 home runs in 80 games before landing on the disabled list in mid-July, missing nearly two months of the season before hitting two more bombs upon his return in September.
A healthy, productive Lowrie is sure to attract interest from contenders who are looking to shore up their infield.
Kansas City Royals: Jeff Francoeur, RF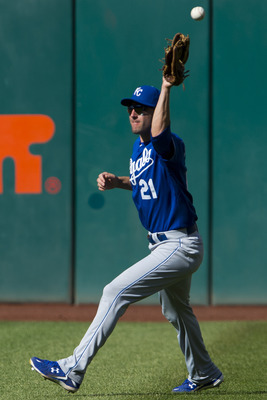 Jason Miller/Getty Images
Blessed with one of the great throwing arms in baseball, Jeff Francoeur led all outfielders with 19 assists in 2012, two ahead of teammate Alex Gordon, who finished second in the majors with 17 from his spot in left field.
Despite trading top prospect (and Francoeur's eventual replacement) Wil Myers, the Royals have options when it comes to right field, including veteran Xavier Nady, who struggled with injuries in 2012 for both the Washington Nationals and San Francisco Giants.
A free agent following the season, Francoeur could be on the move in 2013 for an additional piece as the Royals try to return to relevance in the AL Central.
Los Angeles Angels: Vernon Wells, OF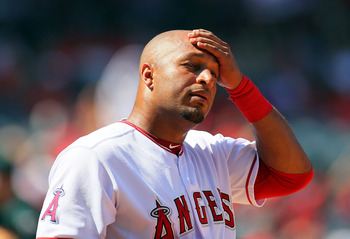 Victor Decolongon/Getty Images
Sooner or later, Angels owner Arte Moreno is going to realize that eating a large chunk of the $42 million remaining on Vernon Wells' contract over the next two seasons is beneficial for his team, which is saddled with the most expensive backup outfielder in the history of the game.
Wells, 34, offers power but little else at this point in his career. But all it takes is a starting outfielder on a contender to go down for interest in Wells to pick up.
With prospect Kole Calhoun under team control for quite some time, Wells is more than expendable—he's someone that the Angels simply don't have a use for.
While it's understandable that Moreno doesn't want to pay for Wells to produce for another team, the time has come to remove the Halo from atop Wells' head and send him on his way.
Los Angeles Dodgers: Chris Capuano, LHP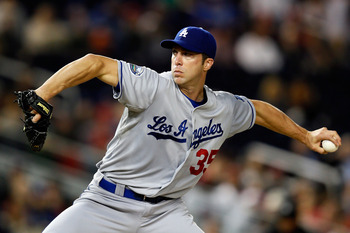 Rob Carr/Getty Images
Coming off the best season of his career that saw him go 12-12 with a 3.72 ERA and 1.22 WHIP in 33 starts for the Dodgers in 2012, 34-year-old southpaw Chris Capuano finds himself relegated to the bullpen as the team's long reliever in 2013.
With veterans Chad Billingsley and Ted Lilly working their way back from injury and top prospect Zach Lee getting closer to being major league-ready, Capuano, one of eight starting pitchers on the roster, has become expendable.
He'll be one of the hottest names on the rumor mill once spring training gets underway and other teams watch starting pitchers go down with injury.
Miami Marlins: Giancarlo Stanton, RF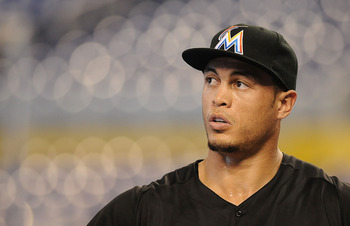 Jason Arnold/Getty Images
After watching owner Jeffrey Loria blow up the Marlins in one fell swoop this winter, Giancarlo Stanton didn't hide his feelings:
Alright, I'm pissed off!!! Plain & Simple
— Giancarlo Stanton (@Giancarlo818) November 13, 2012
It's hard to imagine that the addition of veterans like Juan Pierre and Placido Polanco have done anything to make the Marlins' superstar slugger feel any better about the current state of affairs in South Florida.
Teams around baseball would sell the farm to get their hands on the 23-year-old All-Star, and the package of players and prospects that the Marlins could receive in exchange for him would be tremendous.
While the Marlins insist that Stanton isn't available, nobody, myself included, believes that's the case.
Stanton is unhappy and Miami is years away from contending. Moving on may be best for all parties involved.
Milwaukee Brewers: Corey Hart, 1B/OF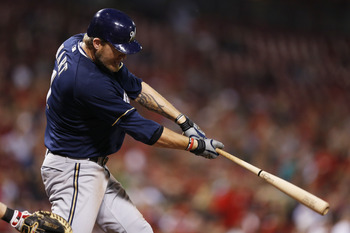 Joe Robbins/Getty Images
A free agent at the end of the season, 2013 hasn't gotten off to a good start for 30-year-old Corey Hart.
Sidelined until June after undergoing surgery to repair an injured right knee, Hart's future in Milwaukee will largely be dictated by how Mat Gamel, who is returning from injury himself, handles things at first base.
If Gamel produces with the bat and the glove, Hart could be expendable.
Of course, Hart will have to show that he's healthy upon his return, but he could be moved for another piece in a win-win deal between contenders as the non-waiver trade deadline nears.
Minnesota Twins: Justin Morneau, 1B/DH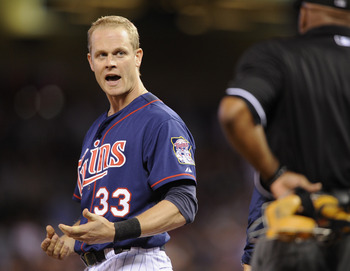 Hannah Foslien/Getty Images
No longer a perennial MVP candidate, Justin Morneau seems to finally be past his concussion issues, putting together a solid 2012 season with a .267 batting average, .773 OPS, 19 home runs and 77 RBI.
A free agent after the season, Morneau's penchant for getting on base and his power from the left side make him an intriguing addition for contenders at the trade deadline.
It'll take young pitching to obtain him, but there's no doubt that if healthy, Morneau's name will be one of the most bandied-about on the rumor mill as we get closer to the end of July.
New York Mets: Johan Santana, LHP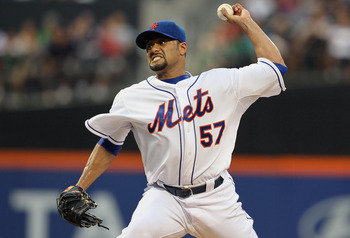 Mike Stobe/Getty Images
One of the worst kept secrets in baseball is that the Mets are going to decline the $25 million team option they hold on 33-year-old Johan Santana following the season, making the two-time Cy Young Award winner a free agent.
To that end, Nick Cafardo of the Boston Globe reported last month that the cash-strapped Mets may not be quite as strapped for cash as previously thought:
Even though Mets would be willing to eat some money they have had no inquiries on Johan Santana to this point.

— Nick Cafardo (@nickcafardo) December 5, 2012
With pitching prospects Jeurys Familia and Zack Wheeler waiting in the wings, the odds of Santana being dealt to a contender as the trade deadline nears will only increase, as long as he's healthy and somewhat productive.
New York Yankees: Curtis Granderson, CF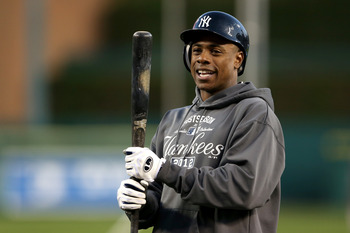 Leon Halip/Getty Images
One of the many Yankees set to hit free agency following the 2013 season, Curtis Granderson's name will be bandied about in trade rumors throughout the year, especially if the Bronx Bombers get off to a slow start and find themselves falling behind in the AL East race.
It was only last month that ESPN's Buster Olney reported that the slugger, who has hit 84 home runs and driven in 225 runs over the past two seasons, was available:
NYY have been open to talks about Curtis Granderson. If they move his $15m salary, it would provide more flexibility to do other things.
— Buster Olney (@Buster_ESPN) December 4, 2012
While the Yankees don't have a fourth outfielder that they could plug into regular duty (Matt Diaz isn't the answer), the chance to obtain more than draft-pick compensation for Granderson should he depart as a free agent may be too tempting for the Yankees to pass up if the opportunity to make a deal materializes.
Oakland A's: Grant Balfour, RHP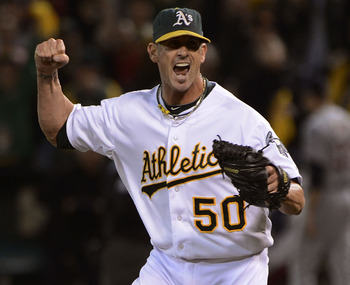 Thearon W. Henderson/Getty Images
The veteran spokesman for the A's bullpen, 35-year-old closer Grant Balfour is entering the final year of his deal, which makes him a prime trade candidate for the A's, who shocked the world in winning the AL West in 2012.
With hard-throwing All-Star Ryan Cook the closer-in-waiting, Balfour, entering his 10th major league season, is sure to garner interest from contenders looking to bolster their bullpens as the trade deadline nears.
Blessed with a plethora of pitching talent on the major league roster and in the minors, Oakland could afford to move Balfour and not miss a beat as the team tries to advance to the playoffs for the second consecutive season.
Philadelphia Phillies: Domonic Brown, OF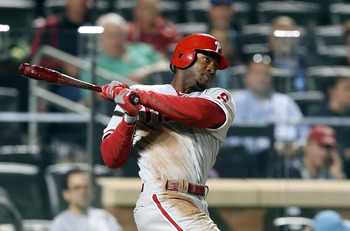 Jim McIsaac/Getty Images
Domonic Brown has been given ample opportunity to win a starting spot in Philadelphia's outfield during spring training in each of the past two seasons and failed to impress.
In 492 plate appearances over the past three years, Brown has posted a .236/.315/.388 slash line with 12 home runs and 58 RBI.
That's not impressive by any means, and with Philadelphia signing Delmon Young to play right field, that pushes Brown into a platoon situation in left field with John Mayberry Jr..
At this point, a change of scenery would benefit both parties: Brown gets a chance to play every day, while Philadelphia can stop waiting for Brown to perform like his natural talent leads you to believe that he should.
Pittsburgh Pirates: Jose Tabata, LF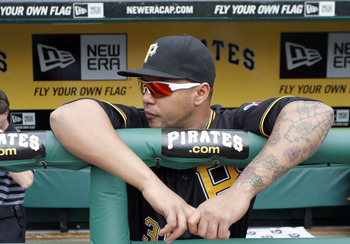 Justin K. Aller/Getty Images
No longer a top prospect, 24-year-old Jose Tabata has been passed on the Pirates' depth chart by prospect Starling Marte, relegating him to fourth outfielder status.
Under team control through the 2017 season on a deal that gets significantly more expensive than the $1 million salary he'll command in 2013, it's difficult to imagine the small-market Pirates paying Tabata $3 million to play sparingly in 2014.
Tabata could be attractive to a club looking for long-term answers in the outfield.

San Diego Padres: Chase Headley, 3B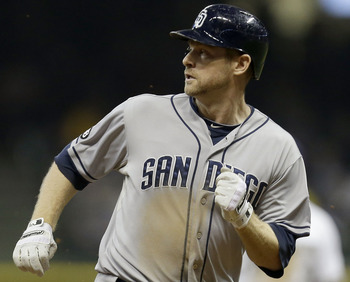 Mike McGinnis/Getty Images
Coming off a breakout season that saw him garner significant MVP support and lead the National League in RBI, the rumor mill is sure to be spinning fast and furious as it relates to 28-year-old Padres third baseman Chase Headley.
One of the hottest names in baseball as the 2012 non-waiver trade deadline approached, Headley is under team control through the 2014 season and is as valuable a trade chip as any general manager has at his disposal.
It would take a significant package of major league-ready players and prospects to pry the All-Star from San Diego. But with the Padres still needing to fill some holes, the long-term success of the team may be best served by moving its best player, who will have no shortage of suitors should he become available.
San Francisco Giants: Tim Lincecum, RHP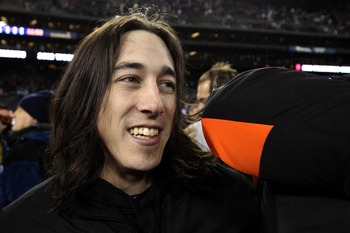 Ezra Shaw/Getty Images
Sources within the Giants organization told CBS Sports' Jon Heyman that there's no way the team would trade Tim Lincecum, largely because of the massive public-relations nightmare that it would create among the team's passionate fanbase.
Yet Lincecum's performance in 2012, coupled with how the Giants perceive their chances of working out an extension with the 28-year-old hurler, who is entering his walk year making $22 million, could change that train of thought.
A two-time Cy Young Award winner, Lincecum had a terrible 2012 season, pitching to a 5.18 ERA and 1.47 WHIP, the worst numbers of his career, numbers that certainly aren't worth what Lincecum will be earning this season, or what he's likely to be asking for if he hits the open market as a free agent.
San Francisco would have to be overwhelmed by an offer to even consider moving him. But the possibility that "The Freak" gets his freak on elsewhere to finish the 2013 season cannot be totally discounted, especially if that overwhelming trade offer comes across GM Brian Sabean's desk.
Seattle Mariners: Taijuan Walker, RHP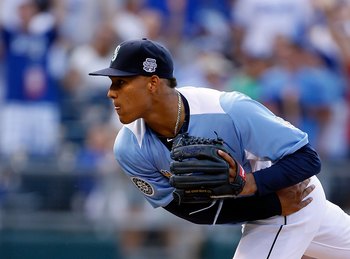 Jamie Squire/Getty Images
One of the top pitching prospects in baseball, we know that the Mariners are willing to move the 20-year-old starter, as he was almost dealt to Arizona as the key piece of a package that would have landed the Mariners All-Star right fielder Justin Upton before Upton put the kabosh on the deal, according to Yahoo Sports.
Walker, who has drawn comparisons to a young Dwight Gooden, could well be in play once again if a big bat under team control becomes available...say Miami's Giancarlo Stanton, perhaps?
St. Louis Cardinals: Matt Adams, 1B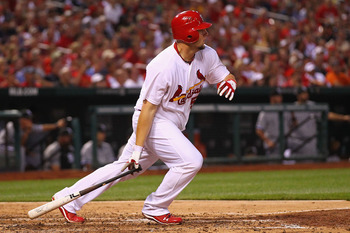 Dilip Vishwanat/Getty Images
His path to the major leagues blocked by the grossly underrated Allen Craig, who is entrenched as the starting first baseman for the Cardinals, 24-year-old Matt Adams needs a change of scenery if he hopes to play on a regular basis in the major leagues.
St. Louis doesn't have any glaring needs heading into spring training, and the team will put Adams through the motions to see where he's at heading into the season.
But with no chance for regular playing time at Busch Stadium, Adams will be relegated to Triple-A, where he has nothing left to prove.
If and when a need develops for the Cardinals, whether it be due to poor performance or injury, Adams is a valuable trade chip that GM John Mozeliak can pull out of his pocket to fill that void.
Tampa Bay Rays: Chris Archer, RHP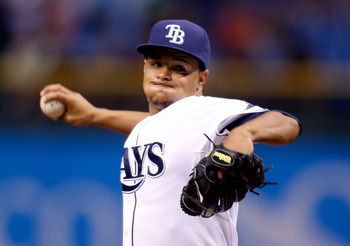 J. Meric/Getty Images
Trading Wade Davis and James Shields to the Kansas City Royals may have relieved some of the pitching logjam in Tampa Bay, but the Rays still have an inordinate number of excellent pitchers, both on the major league roster and in the minor leagues.
The team's top pitching prospect, 24-year-old Chris Archer, seems to be the odd man out in the Rays' rotation heading into the season, with Jeff Niemann and Alex Cobb laying claim to the final two spots.
Even after acquiring über-outfield prospect Wil Myers in the Shields deal, the Rays can still use another impact bat in the lineup. Packaging Archer in a deal could be the means to reach that end.
Texas Rangers: Mike Olt, 3B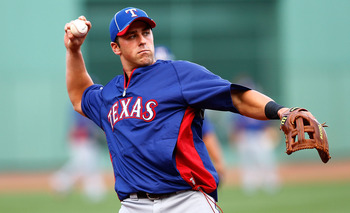 Jared Wickerham/Getty Images
Blocked at third base by All-Star Adrian Beltre, there's seemingly only two ways for Mike Olt to get significant playing time in the major leagues in 2013: Re-invent himself as a corner outfielder or to be dealt to another team.
Involved in multiple trade rumors throughout the winter, Olt could be used to land a veteran starting pitcher to bolster the Rangers' starting rotation.
Toronto Blue Jays: J.A. Happ, LHP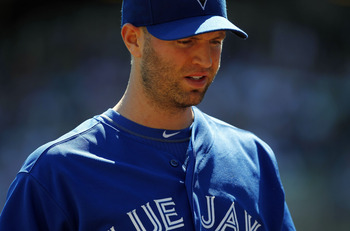 Jeff Zelevansky/Getty Images
Never able to match his numbers from his breakout 2009 season in Philadelphia, when he went 12-4 with a 2.93 ERA and 1.24 WHIP, 30-year-old J.A. Happ has become something of a journeyman, now playing on his third team since 2010.
Versatile enough to pitch as a starter or in relief, where Happ fits into the scheme of things in Toronto this season is up in the air. There's no room in the team's revamped starting rotation, while Brett Cecil seems to have the inside track on serving as the team's long reliever/spot starter.
Toronto doesn't have any obvious holes to plug heading into spring training, but Happ could find himself elsewhere as an inexpensive addition if and when another team loses an arm to injury in the Grapefruit or Cactus leagues.
Washington Nationals: Anthony Rendon, 3B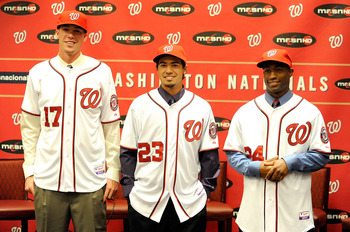 Rendon is in the middle, No. 23.
Greg Fiume/Getty Images
As we saw in Texas, the Nationals have a third base prospect who is blocked by a perennial All-Star.
Anthony Rendon, 22, has all the tools to be a future All-Star and mainstay in the middle of a team's lineup. But with Ryan Zimmerman firmly entrenched at third base in Washington D.C., either a change of positions or scenery is the only way he'll see regular playing time in the big leagues for the foreseeable future.
He's battled injuries since the Nationals drafted him in the first round of the 2011 MLB draft, and with no immediate needs, there's no reason for the Nationals to even consider moving him right now.
Should a need arise, Rendon is a big-time trade chip that GM Mike Rizzo can put into play to fill that hole.
Rick Weiner is a Featured Columnist covering all of MLB.
Keep Reading