Arizona Basketball: Report Card Grades for the Wildcats' Loss to UCLA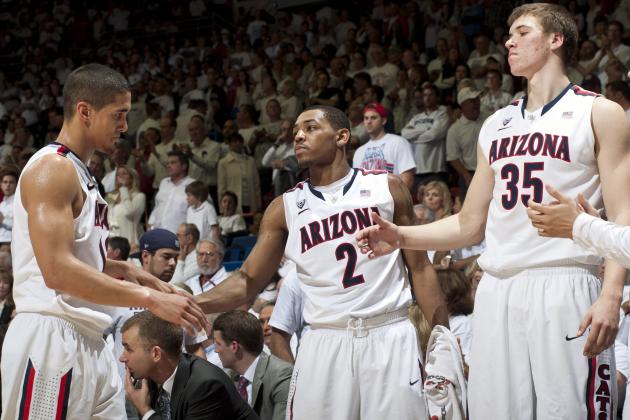 Casey Sapio-USA TODAY Sports

The Arizona Wildcats basketball team likes living close to the edge.
The excitement is so much more palpable when the Cardiac Cats bring the team back to life after so many have written them off—time and time again.
They weren't so lucky on Thursday night.
The No. 6 Wildcats (16-2, 4-2 Pac-12) started off with a 1-0 lead yet never led the rest of the game. It wasn't until four minutes later that they scored their first field goal and another four minutes until they scored their second. By that point, the UCLA Bruins had opened up a huge 21-5 lead.
Arizona would pull within five but trailed by 10 going into the intermission. The second half saw many swings by both teams, with the Bruins going up by as many as 15 and the 'Cats pulling within four.
There were no late-game heroics this time for the Wildcats as they hit only 1-of-7 from beyond the arc in the final 2:22 and turned it over twice before falling 73-84.
Here is the analysis of where the breakdown came into play for Coach Miller and the 'Cats.
Begin Slideshow

»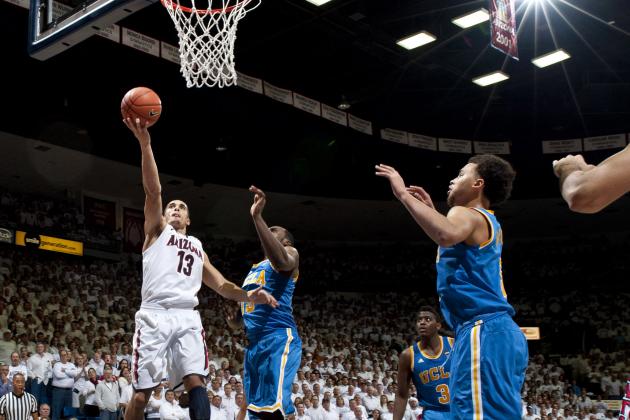 Casey Sapio-USA TODAY Sports

Nick Johnson had a nice game finishing with 23 points, but like all Wildcats on Thursday night, he struggled from the field hitting only 9-of-19 and an abysmal 1-of-5 from three-point land.
Johnson was a perfect 4-of-4 from the line, and the Wildcats fared well from the line, hitting 75 percent.
He added five rebounds, two assists and two steals while only committing one turnover, so all in all, not a bad game for Johnson.
Grade: B+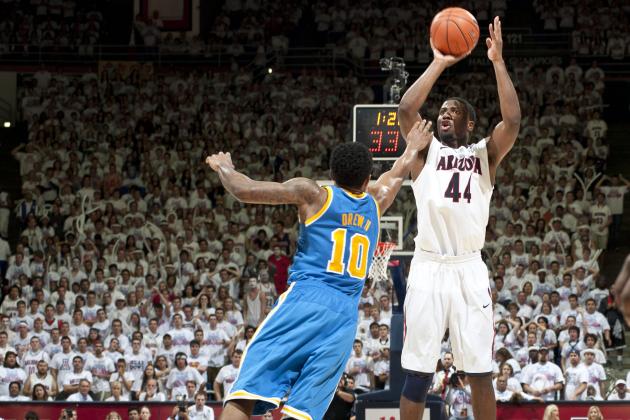 Casey Sapio-USA TODAY Sports

Solomon Hill is the heartbeat of this Wildcats team, and it showed Thursday night when he played all but three minutes. Hill leads the team averaging 32.3 minutes, but Coach Miller only rested him sparingly throughout the game as his leadership was needed on the court.
Hill finished with a double-double with 13 points and 10 boards. His field-goal percentage of 50 percent was tops on the team, but his 1-of-4 shooting from beyond the arc was a far cry from his team-leading 42 percent.
He committed four turnovers, with two coming in the final minute of the game.
Grade: B-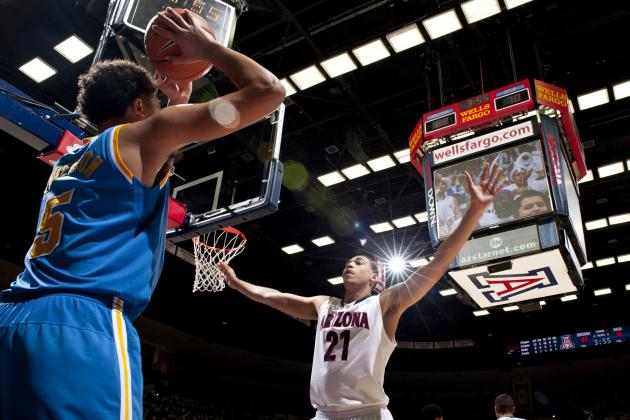 Casey Sapio-USA TODAY Sports

Brandon Ashley once again proved that he was the best freshman on the court for the Wildcats, although he also showed that there are areas needed for improvement.
Ashley fared well on defense grabbing eight rebounds and two steals, but defense for the Wildcats was all but non-existent against this Bruins team on Thursday night.
He tallied nine points on 3-of-6 shooting from the field but unfortunately had the same numbers from the line. Fifty percent shooting from the field is acceptable. Fifty percent from the line is abhorrent.
Grade: C+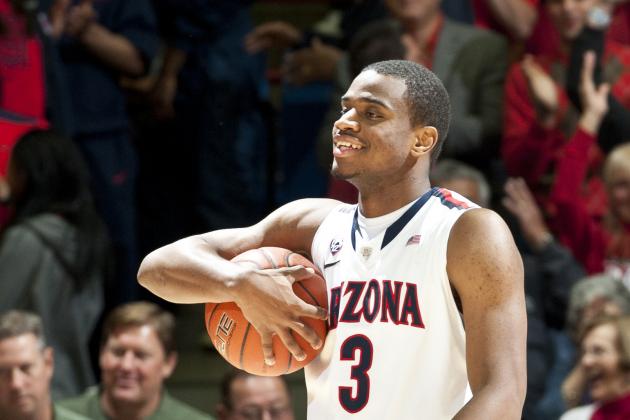 Casey Sapio-USA TODAY Sports

Once again, Kevin Parrom came into Thursday night's game ready to provide that spark from the bench to ignite the Wildcats. He came in after the first media timeout and drew a quick foul.
He finished the game with six points on 2-of-7 shooting and was 3-of-4 from the charity stripe. Parrom, like the rest of the Wildcats, couldn't find his range, missing all three shots that he took from three-point territory.
He did, however, lead the team in assists with four and added to what little defense Arizona showed with six rebounds, a block and a steal.
Grade: C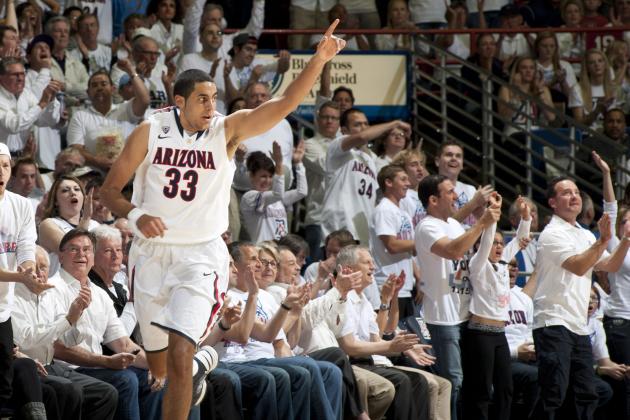 Casey Sapio-USA TODAY Sports

Grant Jerrett played well above his average of 18 minutes on Thursday night with 24 minutes in the game, including the final two minutes of crunch time.
He finished the game with 10 rebounds, six defensive, but that was his only high point. The 6'10" forward and sometime center had zero blocks and zero steals.
His range was also off the mark, hitting only basket from the field and one from beyond the arc to finish with five points.
Grade: C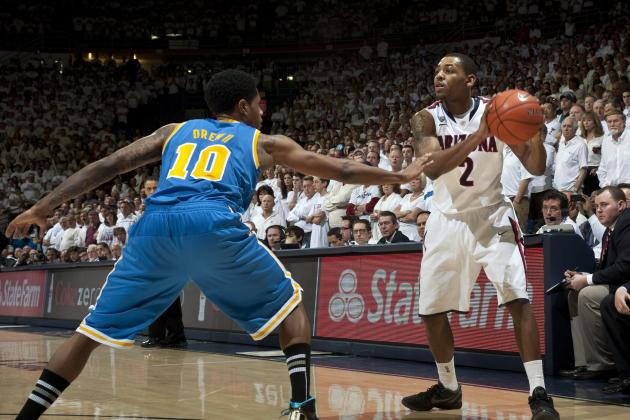 Casey Sapio-USA TODAY Sports

Mark Lyons had arguably the worst game of his Wildcat career on Thursday night.
Although he finished with 16 points in 33 minutes, he just couldn't get his shots to fall. His 35 percent shooting from the field included an abysmal 2-of-7 from beyond the arc including two misses in the final minutes before he fouled out.
The real story of this game was the number of assists the point guard tallied on the night—zero. Yes, you read that right, the point guard had zero assists. In fact, the entire team only had 10 assists on the night, UCLA's point guard, Larry Drew II had nine by himself.
Lyons bettered his average in one area— turnovers. He was averaging 2.88 turnovers per game, he had five on Thursday night.
Grade: D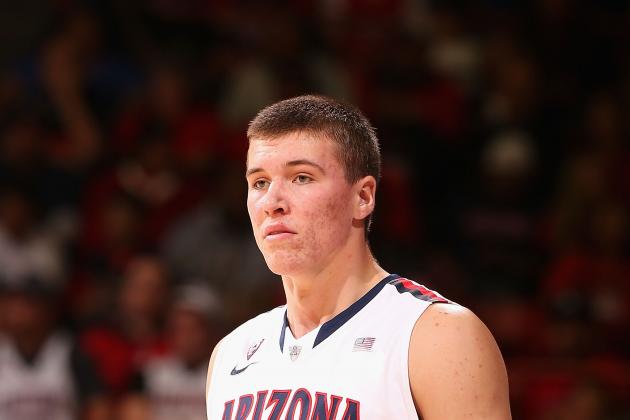 Christian Petersen/Getty Images

Zeus started at center in both halves and really didn't do much of anything in the game.
The 7'0" freshman looked overwhelmed and outmatched whenever he took the court. He did finish the game with two blocks, but when the center grabs only one rebound in the game, there is a problem.
Granted, he only played 15 minutes in the game, giving way to fellow freshman Jerrett, but come on, one rebound?
I have talked about the other players missing on their range, but Zeus' range was right under the basket, and he missed both gimmes that he took.
Grade: F
Casey Sapio-USA TODAY Sports

Sloppy play, bad defense and poor execution of plays led to a disappointing performance all around.
Coach Miller had this to say in the postgame press conference (h/t Doug Haller, azcentral.com):
We ran into a really good team tonight. No excuses.… Did we miss a few shots early that we normally make? Yes. But they did a lot of things throughout that game that caused us problems, and we have to learn from it.
He went on to say:
It was hard for us to adjust once we got down that big, and to me, we played a style that just isn't going to work against a team that's good. We needed much more poise, much better execution, much better passing. From a defensive perspective, we had no answer for them.
What makes Thursday night's loss any different than the prior games when the 'Cats put in into overdrive and finished strong? We may never know the answer to that.
Grade: C
The key to moving forward is having a very short memory. Block out the game and focus on the next task at hand. Arizona welcomes the USC Trojans to McKale Center on Saturday night. Although the Trojans are a measly 8-12 and 3-4 in the conference, they put on quite a show in Tempe on Thursday night.
The Trojans hit on all cylinders and showed incredible range from downtown, shooting 54 percent from beyond the arc, including three super shots in the final 22 seconds to force overtime. That type of finish is akin to the game the Wildcats have played all year.
If the Wildcats are to beat the scrappy Trojan team, they cannot live so close to the edge as is their M.O. They need to score early and often and get back to the defense that they showed last weekend against the Sun Devils.