Playing Fact or Fiction with Every Scenario for Tiger Woods' 2013 Season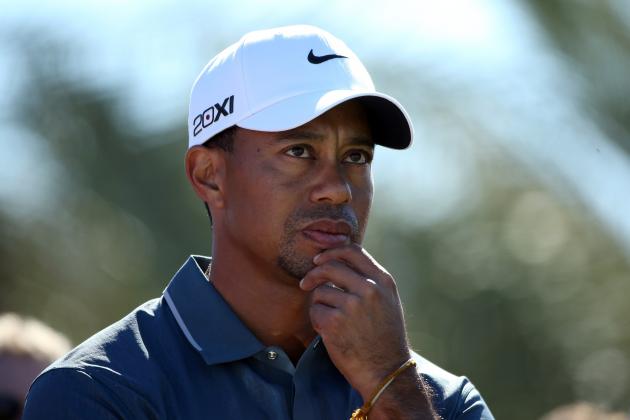 Andrew Redington/Getty Images
There's much to ponder for Tiger Woods in 2013.
Tiger Woods is one of the most complex athletes in sports.
On the course, off the course, he does things that few others can do or have even dreamed of doing.
And because he is who he is, speculation, rumor and innuendo are always associated with him.
So why wouldn't it be fun to put together a list playing a little fact or fiction with all things Tiger for 2013?
Check out that list and see what you think.
Begin Slideshow

»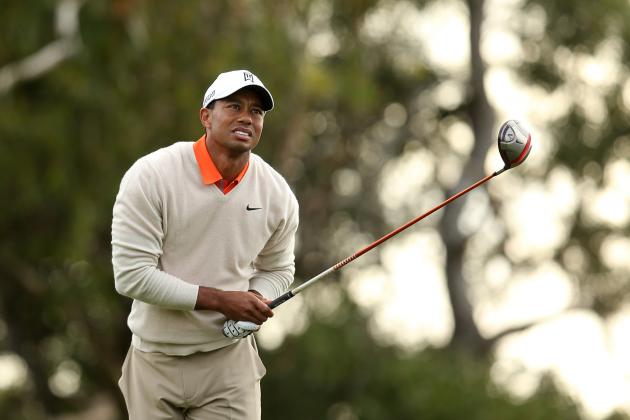 Stephen Dunn/Getty Images
Tiger Woods is looking forward to the 2013 major championships.
Considering he hasn't won a major since the U.S. Open in 2008, it wouldn't be out of the realm to think he might not win one again this year.
He finished in a tie for third at the Open Championship and a tie for 11th at the PGA, but he was never a serious contender.
He won three tournaments in 2012, however, and may be poised for an even bigger year.
Conclusion: Fiction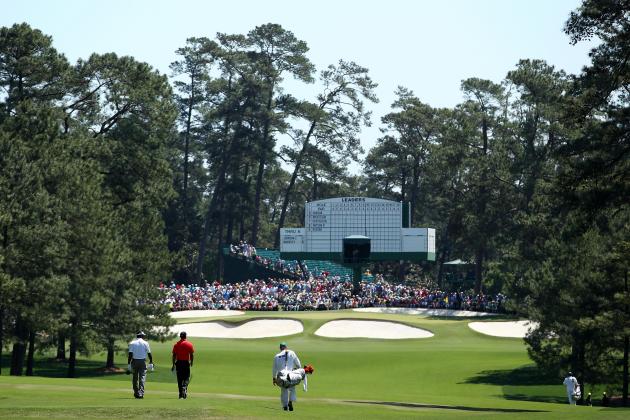 Andrew Redington/Getty Images
Don't count out Tiger Woods at the Masters.
He's won four green jackets at Augusta National Golf Club.
He shot an 81 in horrid conditions at Muirfield in the 2002 Open Championship and finished tied for 39th at Oak Hill Country Club in the 2003 PGA Championship.
He, as well as a lot of others in this year's U.S. Open, has never seen Merion Golf Club.
Conclusion: Fact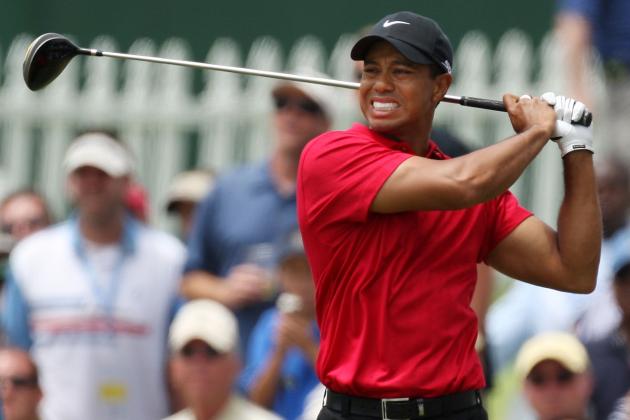 Ross Kinnaird/Getty Images
Tiger Woods grimaced to a U.S. Open title in 2008.
He seems to have rounded back into shape and appears to be healthier than he's been in several years.
His new swing, while still in its early stages, will take less of a toll on his 37-year-old body.
But because he's already had problems with his Achilles tendon and a bulging disc in his neck, he might be susceptible to problems in those areas again.
Conclusion: Fact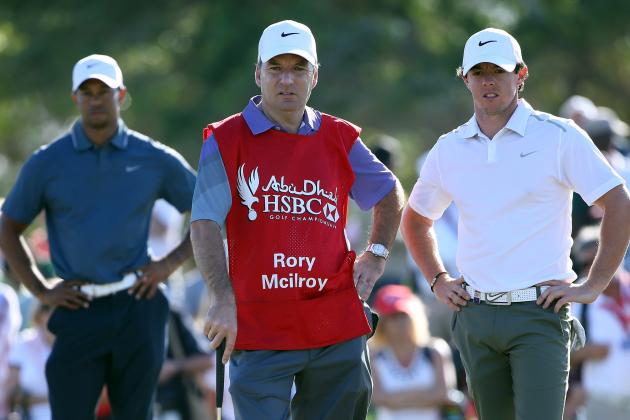 Ross Kinnaird/Getty Images
Tiger Woods, Rory McIlroy. Attached at the hip?
So at the top of golf's totem pole we have 23-year-old Rory McIlroy who has just discovered where the accelerator is to power his career.
Challenging him is the grizzled veteran (Woods) who dominated the game for over a decade like no one ever has.
Age might become a factor over the course of the season and McIlroy could separate himself from Woods.
Conclusion: Fiction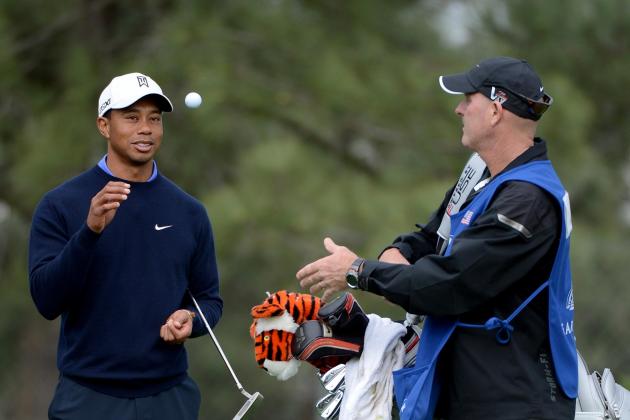 Donald Miralle/Getty Images
Can Tiger Woods become the ultimate weekend warrior again?
Tiger Woods used to own the weekends. His scoring averages for the final two rounds were eye-popping.
And if he led after 54 holes, the tournament was over.
That's one of the areas of his game that hasn't returned, costing him opportunities to win at least a couple majors.
Playing more makes even a once-great player more comfortable in those situations.
Conclusion: Fiction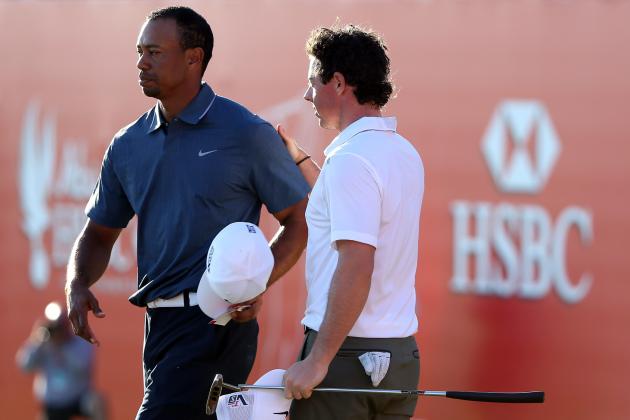 Ross Kinnaird/Getty Images
The unhappy faces of those missing a cut.
In 293 PGA Tour starts, Woods has missed just 17 cuts.
That's one of the barbs that critics use against Rory McIlroy and his chance to overtake Woods.
McIlroy has missed the cut nine times in 54 starts.
Yes, Woods missed two last year. Although he missed the cut in Abu Dhabi, don't expect that to become a trend.
Conclusion: Fiction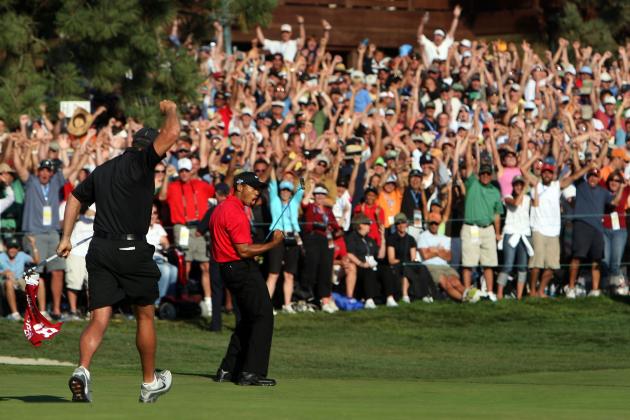 Donald Miralle/Getty Images
Was there ever a more dramatic moment than Tiger's birdie putt on the 72nd hole of the U.S. Open in 2008?
There are few players in the history of the game with more of a flair for the dramatic (Torrey Pines 2008, blowouts at Augusta National in 1997 and Pebble Beach in 2000).
Bobby Jones completed the Grand Slam on Merion's East Course in 1930 and Ben Hogan struck one of the greatest shots in championship golf there in the 1950 U.S. Open.
Would it be surprising if Woods did something special to win the 2013 Open?
Conclusion: Fact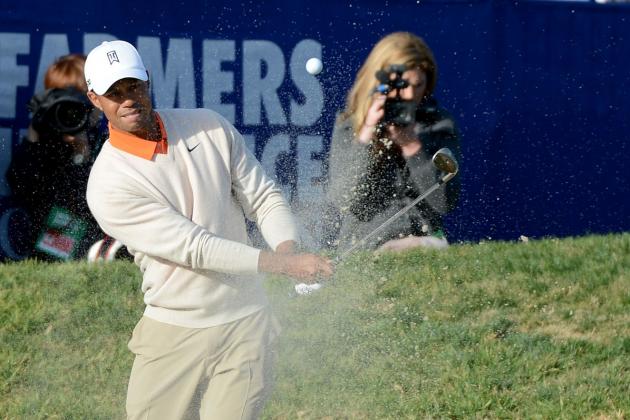 Donald Miralle/Getty Images
His shortest clubs may be key to Tiger Woods' season.
One of the most glaring weaknesses of Woods' game when he came back from injury and the self-inflicted wounds of 2009 has been his inability to control his short iron distances and make those clubs scoring weapons.
He's thrown away a lot of shots, especially in some key situations—shots that were almost automatic in his best seasons.
His swing is in place, there won't be any more fiddling with it.
The short game is the last piece of the puzzle.
Conclusion: Fact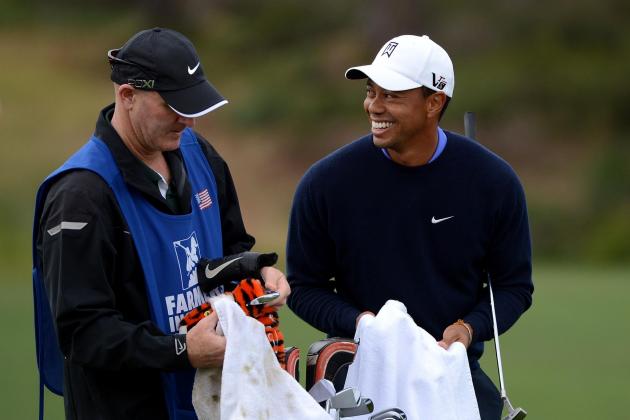 Donald Miralle/Getty Images
More smiles, less scowls for Tiger in 2013?
He promised in one of his apologies following the events of 2009 that he was going to become a better person, get back to his religious roots and become a better man and father.
If any progress has been made in that regard, it hasn't been accompanied by sirens and flashing lights.
Of all the things Woods has had to do since things fell apart, becoming a better human being might be the easiest.
Conclusion: Fiction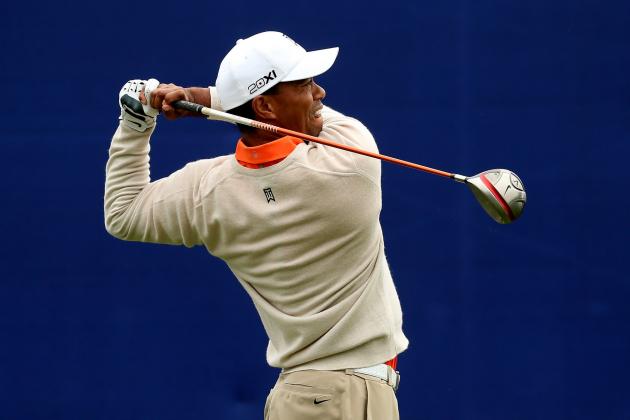 Stephen Dunn/Getty Images
Tiger-Mania is a real possibility for 2013.
10 times in a 13-year period, Woods was the Player of the Year on the PGA Tour. And those were never in question.
He was a resounding winner. That's not likely to happen again—the resounding part, that is.
If his game continues on the uptick as it did last year, he could end a streak of three years of not being the POY.
Had McIlroy not had the kind of super season he did in 2012, the streak could have ended a year ago.
Conclusion: Fact