Matt Wiman vs TJ Grant: Head-to-Toe Breakdown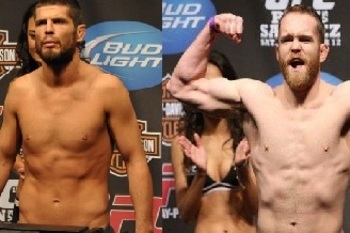 Matt Wiman and TJ Grant will meet at UFC on Fox 6 this weekend from the windy city of Chicago, with the winner getting a foot in the door of the lightweight contenders.
Any fight involving these two is an unpredictable and action packed affair so I can't imagine what will happen when they actually face each other. This fight should run neck and neck with Cerrone-Pettis fro Fight of The Night this weekend.
Here is a head-to-toe breakdown between two of the hungriest lightweights in the world.
Striking

Courtesy / fueltv

"Handsome" Matt Wiman is always willing to step in the cage and throw, and while he may not be as technical as Grant, he packs a bit more power in his punch.
Wiman plants his feet and throws on many occasions, and he is tough enough to take a lot of punishment before he eventually hits his mark. He has knocked out Spencer Fisher and Thiago Tavares in his his career.
Grant is known for his elite grappling and jiu jitsu game but his last fight with Evan Dunham proved that he can win a striking war as well. Grant is technical in both style and approach and he will beat you with quantity and quality over power, starting with the body.
Grant can also implement wicked knees and a strong Muay Thai clinch in to the mix for his most damaging strikes, but he is not as big of a knockout threat as Wiman is.
Grant will land more and soften Wiman up as a set up to take him down. Wiman will be looking to take Grant out with a bomb.
Advantage: Wiman
Wrestling

Courtesy / MMAFighting

Grant started in this game primarily as a jiu-jitsu practitioner and Wiman started training full MMA in the Lion's Den so neither one of these fighters comes from real wrestling pedigree.
Looking closely at fights and styles of the two will suggest that Grant uses his wrestling much more and with more success.
Grant has mauled many opponents over the years and many of them at welterweight. He should be able to use his strikes to set up his wrestling and take downs, and the fight will end up in the mat.
Grant has a slight size advantage that will work to his benefit, and keep this fight where he wants it.
Advantage: Grant
Grappling and Submissions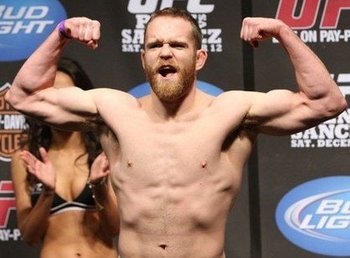 Courtesy / MMACanada.net
With 13 submissions in 19 wins, this is the hallmark of TJ Grant's game. Only one of those has come in the UFC though, as Shane Roller verbally submitted to an armbar in their fight in 2011.
Some of Grant's best performances have been grappling battles where he ultimately dominated but fell short of getting the finish.
Wiman has never been known as a submission fighter and that got Paul Sass in trouble when he faced him in his last fight. Sass went in to the fight with 12 submission wins himself but Wiman surprised many when he got Sass to tap to an armbar three minutes in to the fight.
Is this a new approach for Wiman or a one time occurrence? Against Grant, he better keep this one on the feet
Grant has the clear edge here and in the end, I think his size, conditioning and cardio will be a little bit sharper than Wiman's, and also play a hand when this one goes to the ground.
Advantage: Grant
Intangibles / What's at Stake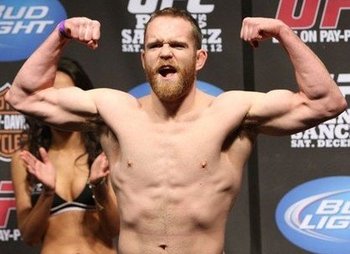 Courtesy / MMACanada.net
There is a career jump at stake when these two clash this weekend and both men have fought long and hard to get to the cusp of the lightweight contenders.
Whoever wins here will keep moving on up the ladder towards the title while the other will stay right where he is in the order for the remainder of 2013.
The biggest intangible in this upcoming fight may very well be comfort and mindset as Grant has grown more and more comfortable at his new weight and just signed a long term deal with the UFC.
He is as professional as they come and trains for longevity, his mind is completely right going in.
Wiman is somewhat of a loose cannon and can be unpredictable in how he prepares for fights at times. I'm not doubting his dedication but he has gassed out in big fights in the past, and Grant is always fully prepared.
Advantage: Grant
Prediction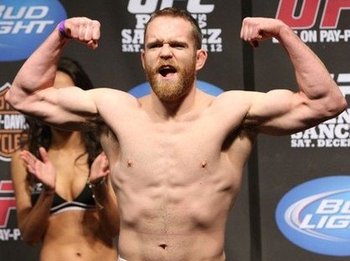 Courtesy / MMACanada.net
I like both these fighters a lot but feel that Grant has a more evolved all around game. There are many ways that he can win this fight. Wiman has one chance: a knockout.
Grant will win a solid decision and set himself up for a fight with a top ten lightweight, likely on a mid-year Toronto card.
Grant via unanimous decision
Dwight Wakabayashi is a featured columnist for Bleacher Report UFC and regular contributor to Sportsnet.ca's UFC section. Follow him on Twitter @wakafightermma.
Keep Reading