1 Senior Bowl Prospect Each NFL Team Should Be Targeting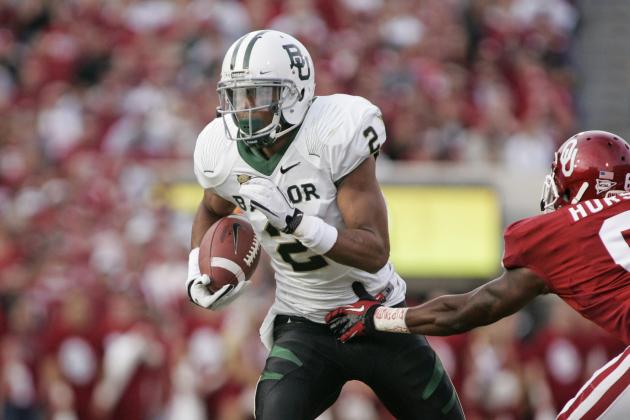 Brett Deering/Getty Images

The pre-draft process is an important time for prospects, but it is also a bit of a reunion gathering for NFL coaches and personnel departments.
While fanbases often dislike other fanbases (especially divisional rivals), the employees of those teams are usually intertwined in a league that is still one big "old boys' club." In fact, the coaches and executives of rivals are often closer because of their frequent meetings, and fans would be surprised how often beers are shared between supposed "mortal enemies."
No team would dream of missing the Senior Bowl. Some take more hands-on approaches, like Ted Thompson of the Green Bay Packers, who is always pacing along the sidelines. Others send their entire departments but leave their head coaches and general managers at home to watch the tape later and avoid the media.
Whatever the approach to the Senior Bowl, almost every team is going to end up with at least one prospect from the week in Mobile, Ala. So, which prospect should your team be looking at?
One caveat before we start: This isn't a best-case scenario for each team—that would likely be Eric Fisher (OT, Central Michigan), Tyler Wilson (QB, Arkansas) and Alex Okafor (DE, Texas) repeated over and over.
Instead, I chose not to repeat players and look for good fits that teams could target anywhere from the first round to the seventh. This exercise focuses more on fit and less on where players would/should be selected in regard to his peers.
With that in mind, on to the picks!
Begin Slideshow

»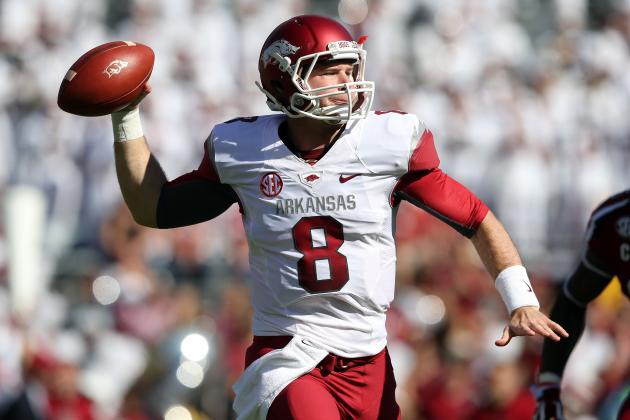 Streeter Lecka/Getty Images

Of the six quarterbacks who graced Ladd-Peebles Stadium, only Wilson looked the part of a legit first-round NFL starter.
He has the physical tools that the current Cardinals starters lack, and he has the innate sense of competitiveness and urgency that the Cardinals haven't had since Kurt Warner.
While Wilson can take risks almost to a fault, he would thrive with a coach like Bruce Arians.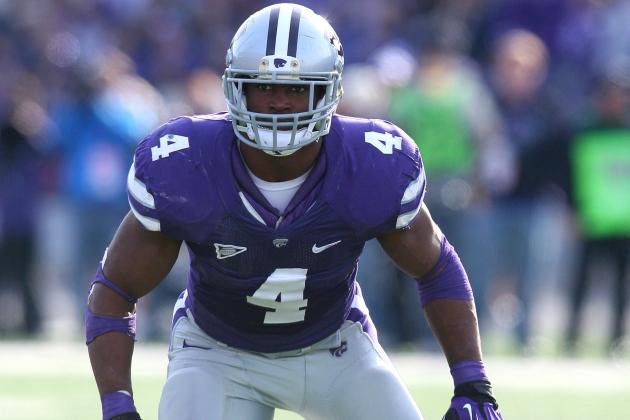 Scott Sewell-USA TODAY Sports

For a team that has an almost obsessive desire for high-character prospects, the Falcons must have been impressed when Arthur Brown (who did not play or practice in Mobile) stuck around the Senior Bowl practices when others would have left (and some did) to continue with combine prep.
Brown sat there along the sidelines and watched drills (and later reviewed tape), learning from the coaches and cheering on his temporary teammates.
The Kansas State product is the kind of rangy linebacker the Falcons would have loved to have about 12 copies of against a quarterback like Colin Kaepernick, and he would start immediately for them.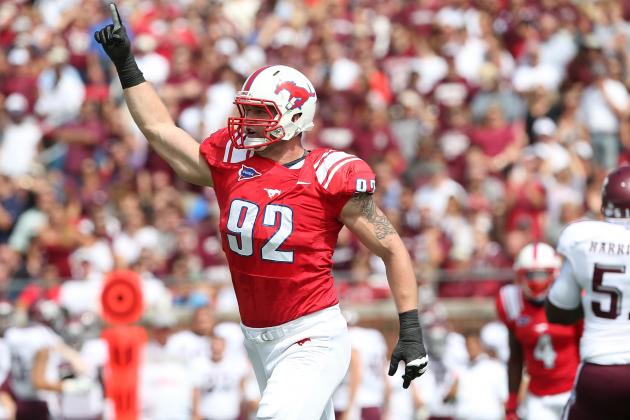 Ronald Martinez/Getty Images

While Hunt came in with a lot of momentum and impressively measured at a legitimate 6'8", he failed to dazzle in practices with what looked to be a lack of both effort and aptitude at his position. The performance left many wondering how long it would take for him to contribute at the NFL level and if he would find a correct fit.
The Ravens have had considerable skill in taking guys like Hunt—"tweeners" in the negative sense (Peter Boulware, Courtney Upshaw, Paul Kruger)—and turning them into fine players.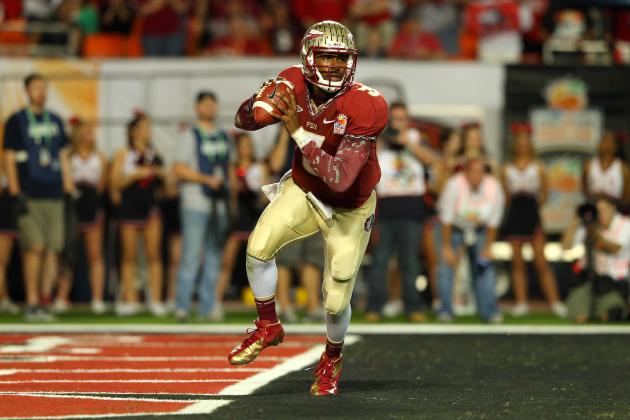 Mike Ehrmann/Getty Images

If Doug Marrone convinces the Buffalo Bills to draft Ryan Nassib (QB, Syracuse) in the first round, he'll be looking for a job in less than three years. While Nassib was better than E.J. Manuel at the practices (and one of the better Senior Bowl QBs overall), that isn't saying much. The other thing Nassib proved in Mobile was that he doesn't have the elite physical tools to play quarterback in an outdoor stadium up north.
Why draft a smart game manager with limited upside when Ryan Fitzpatrick is already on the roster?
Instead, the Bills should be targeting Manuel in the middle rounds. His athleticism and arm strength give him immensely more upside than Nassib, and the Bills have more playmakers than Manuel ever had at Florida State.
It might take another year or two of Fitzpatrick before Manuel is ready, but it would be well worth the wait.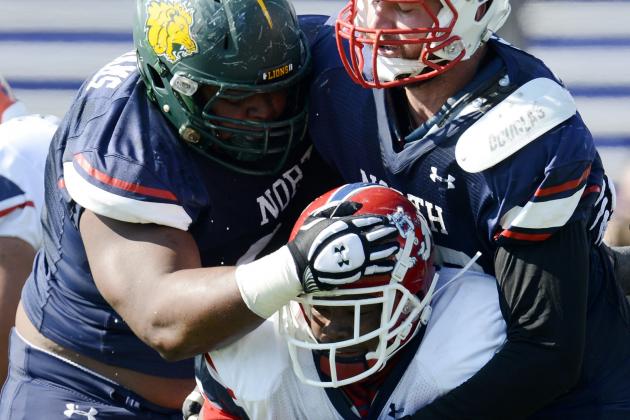 USA TODAY Sports

Williams had one of the best weeks in Mobile, if only because people learned of his existence—something not usually said about people his size. The small-school prospect took advantage of his time on the big stage and showed he can ravage the interior of an offensive line using strength, leverage and a solid first step.
While the Panthers are rehabbing from the Marty Hurney era, it is essential they provide Cam Newton with some help. A solid mid-round pick who could start right away on the Panthers' lackluster defensive interior would be a home-run selection.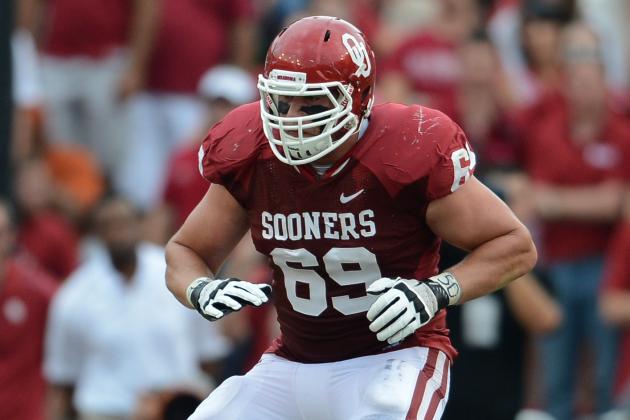 Matthew Emmons-USA TODAY Sports

Lots of Bears fans have asked about offensive-line prospects (hopefully Phil Emery is as interested in the position), and while Lane Johnson wasn't the best tackle in Mobile, he was the best tackle who would likely fall far enough to be selected by Chicago.
Johnson is a legitimate left tackle (something not seen in Chicago for quite some time) and is well-versed in pass protection from his days as a Sooner, showing one of the better kickslides of any of the prospects at the Senior Bowl.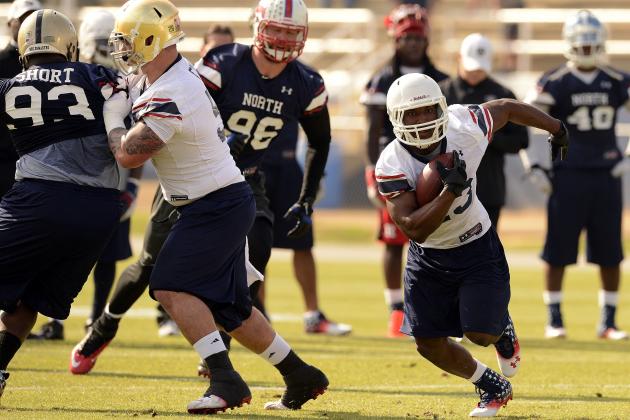 USA TODAY Sports

When asked to run the football, no running back was better in Mobile than UCLA's Johnathan Franklin.
However, when asked to do the "little things" that running backs are asked to do in the NFL—pass protect, run routes, catch the ball—Franklin was far behind his peers. These are things that can be taught, but will keep Franklin from stepping right in and being a featured back in the NFL.
The Bengals have some good all-around backs, but Franklin has unique burst, vision and balance that could immediately benefit Cincinnati. He's also a model citizen who wouldn't add another diva to that locker room.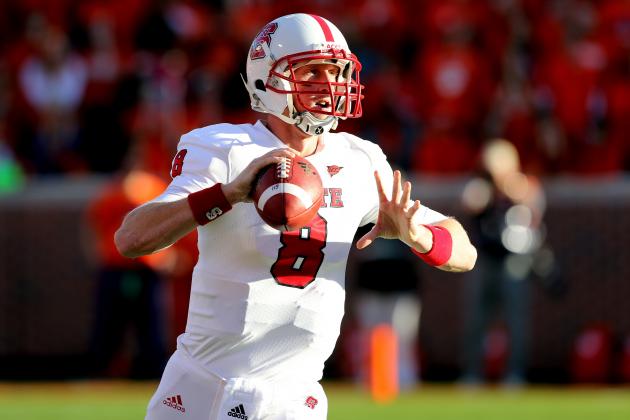 Streeter Lecka/Getty Images

Glennon did not have a great week in Mobile, and it's clear that he has a lot of work to do before he is a viable NFL starter. The great part about that, however, is that he can immediately dispel lots of those notions with the work he does between now and the draft.
We know Glennon has the tools. Can he be a craftsman?
The new Browns regime is going to take a long time to assess whether or not Brandon Weeden (or Colt McCoy) can be their guy moving forward. If not, a guy like Glennon would be awfully tempting to add a vertical element to the Browns offense.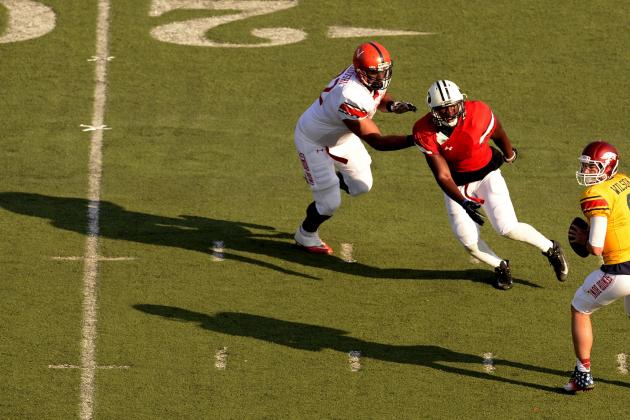 USA TODAY Sports

If you've just seen Ezekiel Ansah at the Senior Bowl, it's possible this looks like a mid-round pick to you. Ansah was bad in Mobile, rarely winning one-on-one battles and looking the part of an average strong-side-end prospect.
If you've followed Ansah's career, though, you know he's a gem waiting to be polished. There are no two coaches better at polishing athletic defensive ends than Monte Kiffin and Rod Marinelli.
They'll take Ansah from prospect to pro as well as anyone, and give the Cowboys a bunch more pass-rushing power in their soon-to-be-transforming defense.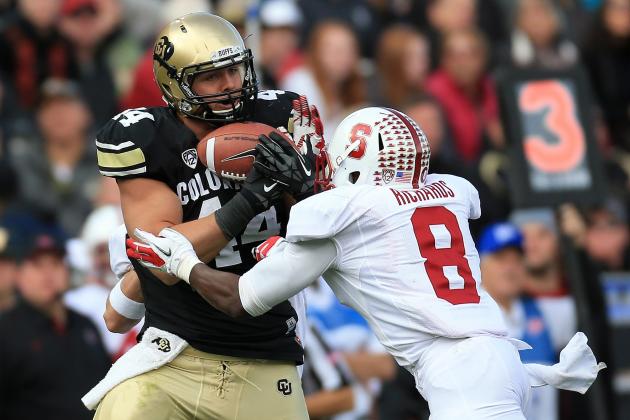 Doug Pensinger/Getty Images

In a league that is consistently moving toward "joker" (or "move") tight ends, there are fewer and fewer players who fit the traditional mold of "chain-mover."
Nick Kasa is the kind of security blanket that would fit right in with the Broncos offense, be available in the middle rounds and upgrade the position cheaply.
He would be a significant long-term upgrade over Joel Dreessen, and pair well with Jacob Tamme.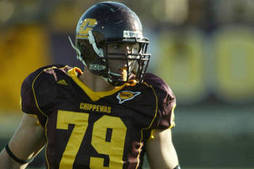 Credit: Central Michigan Athletics
Yes, the Lions have bigger needs than offensive tackle (cornerback, defensive end and more), and yes, Riley Reiff was a first-round pick just last year. However, if a team has a shot at an elite left tackle prospect, it should take that shot.
Eric Fisher was, by far, the most outstanding prospect during Senior Bowl week. He has prototypical size, ridiculous skill in pass protection and is athletic enough to road grade as well as he keeps quarterbacks off the ground.
How do you pair him with Reiff? Well, for one, you say goodbye to Jeff Backus (perennially solid but at the end of his career) and Gosder Cherilus (free agent), and immediately slot Fisher in as left tackle.
Then, Reiff can play either guard or tackle and make the offensive line a strength for the Lions for the first time in decades.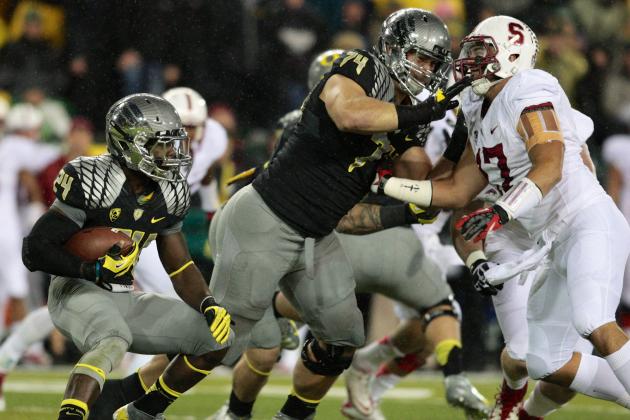 Scott Olmos-USA TODAY Sports

Speaking of offensive linemen who had good weeks, Kyle Long was able to showcase his tremendous size in multiple ways at the Senior Bowl—even while missing some time due to an undisclosed illness. He impressed in interviews and looked solid at the weigh-in.
Where do the Packers put Long? Really, anywhere they want to other than center. They need more help along the offensive line, and Howie Long's son already looks pretty great in green.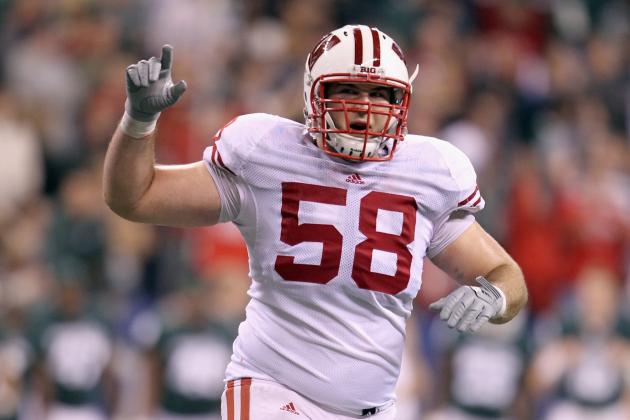 Andy Lyons/Getty Images

Against the pass, Wagner projects as a right-tackle-only prospect (RTO) because he doesn't have the technique or lateral mobility to get in front of edge rushers. Worse yet, when he over-commits, he tends to get off balance and is easily beaten by double moves.
However, Wagner is a surprisingly quick linear athlete and would project well (with a little coaching) to a zone-blocking scheme. He is a devastating run-blocker and can get to the second level.
It may take a season, but Wagner would fill the massive void left by Eric Winston (now with Kansas City), and give Arian Foster the ability to run to the right side of the line again.
Not bad for a mid-to-late-round pick.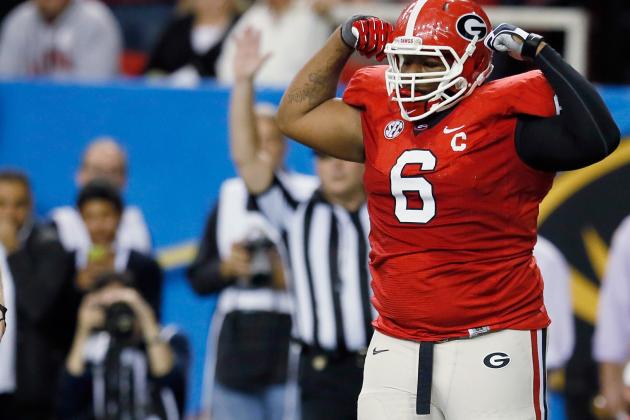 Kevin C. Cox/Getty Images

John Jenkins didn't have a great week of practices. He would flash his trademark short-area athleticism but be caught loafing back to the huddle moments later. He was one of the "sloppiest" looking prospects at the weigh-in and immediately called his conditioning and pre-draft workouts into question.
Yet, for a nose tackle, a lot of that is just noise.
Hopefully for the Colts, that noise will cause him to fall all the way to 24. If not, they need to go up and grab him to be the pivot point as they continue their transition to the 3-4.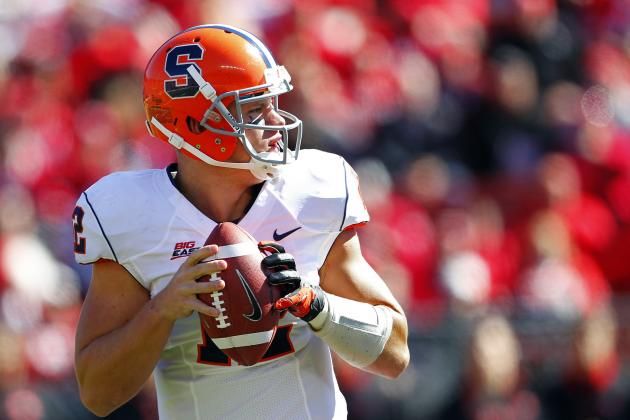 Rich Schultz/Getty Images

There aren't many teams that Ryan Nassib could start on immediately in the NFL, but the Jaguars might be one of them. While I question his ceiling, he already has more long-term pro potential than Blaine Gabbert and Chad Henne, and questions about his arm strength will mostly be moot in the AFC South.
Even better, he should last until the second round and give the Jaguars a chance to grab a pass-rusher or lineman in the first.
With the multiple weapons the Jaguars haven't been able to properly utilize in recent years, Nassib gives them a young facilitator who can manage the offense and make big throws under pressure.
Scott Halleran/Getty Images

The Chiefs already have a bunch of offensive weapons that should be a lot better once Andy Reid installs a competent QB at the helm, but a mid-round pick rising up boards like Marquise Goodwin would look fantastic in Reid's vertical offense.
He's a world-class athlete (no, seriously, he competed in the 2012 Olympics) but isn't just a track star (though he is, literally, a star when it comes to track). At the Senior Bowl, Goodwin showed he could get in and out of simple routes and eat up the cushion on defensive backs before blowing by them.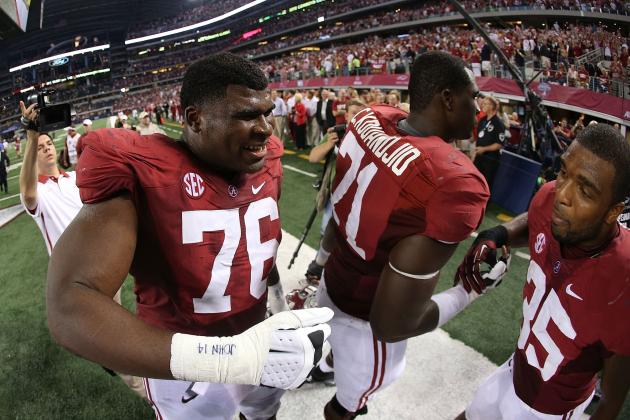 Leon Halip/Getty Images

Fluker didn't participate in practices this week, but he received an historical honor by being selected as a fourth-year junior who had graduated from his institution. Fluker is a solid young man and a great tackle prospect.
While he may be considered as only a right tackle by many teams, he has dealt with elite pass-rushers in the past and has performed admirably—meaning he could fill in for a pinch on the left side if called upon.
He's probably not going to grade high enough to be considered for the Dolphins' first-round pick, but he should be available in the second, where he immediately helps the Dolphins offense in both the run and the pass game.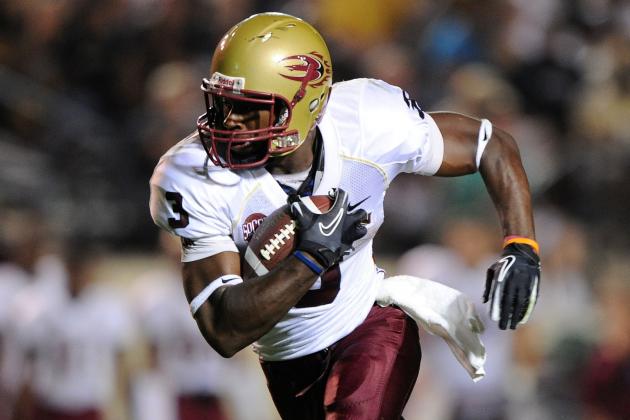 Don McPeak-USA TODAY Sports

Aaron Mellette caught a lot of scouts' eyes last season when he outshone Brian Quick (now with the Rams) in Elon's matchup with Appalachian State. He has all of the receiver tools that Quick doesn't, but less of the straight-line speed.
With the ball in the air, Mellette can go up and get it with the best of them and (even without that elite speed) can stretch the field because he is so consistent and tracks the ball over his shoulder well.
This is, perhaps, one of the best fits of any Senior Bowl participant, as Jones' only real weakness is that his maxed-out frame sits right at "tweener" status. He doesn't really fit as an elite pass-rushing defensive end, nor is he truly big enough to be a 3- or 5-tech.
In the Patriots' hybrid front (which they switch between 3-4 and 4-3 depending on matchups), the versatile Jones becomes a valuable piece to the puzzle.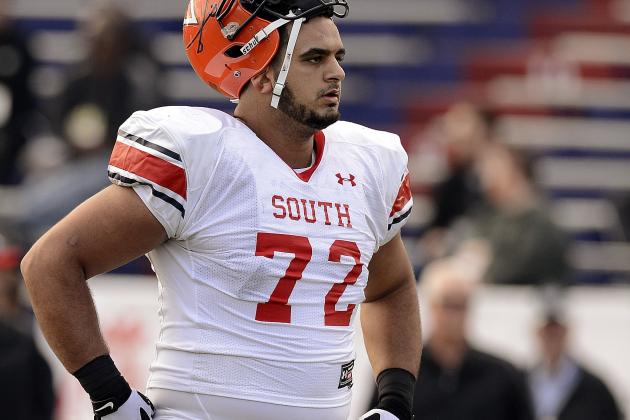 USA TODAY Sports

While the Saints offense is almost certain to improve with Sean Payton back at the helm, they will also need to invest in some help for Drew Brees, as many of his old vertical weapons (and the blockers who protected him during those long pass plays) are either slowing down or have left town.
With Oday Aboushi added in the second round, it will give Brees more time during his five- and seven-step drops to survey the field and let loose. Aboushi will also give a boost to the Saints running game, which has too much talent at running back not to help with better blocking this offseason.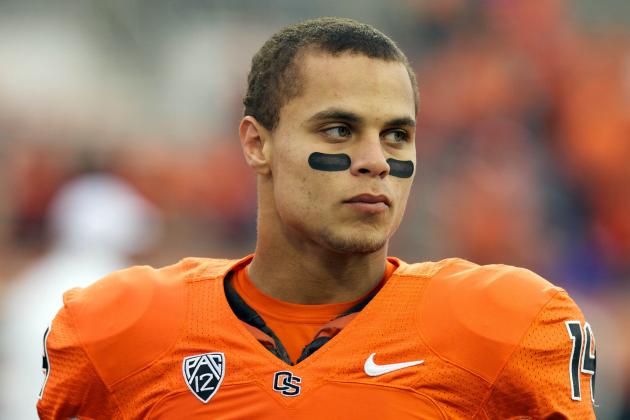 Scott Olmos-USA TODAY Sports

On several routes during his time in Mobile, Jordan Poyer flashed so much flexibility and athleticism that he ran the receivers' routes better than the receivers themselves. This, of course, led to some pretty phenomenal plays on the ball—the kinds of plays the Giants have been looking for, for two seasons.
Poyer could fall due to some character concerns, but the Giants would be wise to lock him up with their first-round pick.
Corners with his size and ball skills don't usually last very long.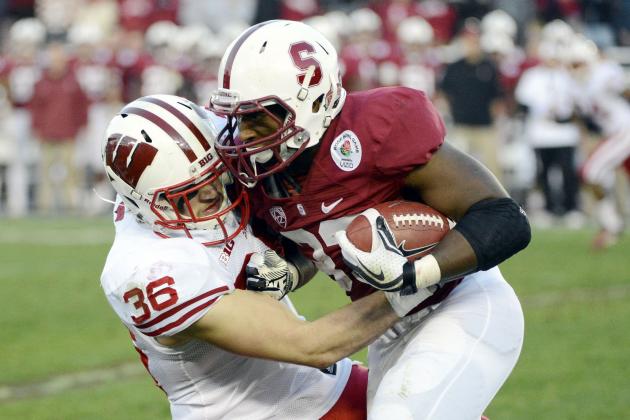 Richard Mackson-USA TODAY Sports

With so few playmakers on offense, it's imperative that the Jets hit some home runs in the upcoming draft, or more of their coaches and front-office employees will be looking for work next offseason.
The Jets would love a player like Taylor. Wait, no, they love Taylor? Their team (a group including head coach Rex Ryan) was overheard raving about Taylor as he finished run after run more impressive than the last.
He does the little things as well: catching the ball out of the backfield, holding onto it through traffic and pass-blocking. He would immediately upgrade the New York backfield, and the Jets should be able to get him with their second-round pick.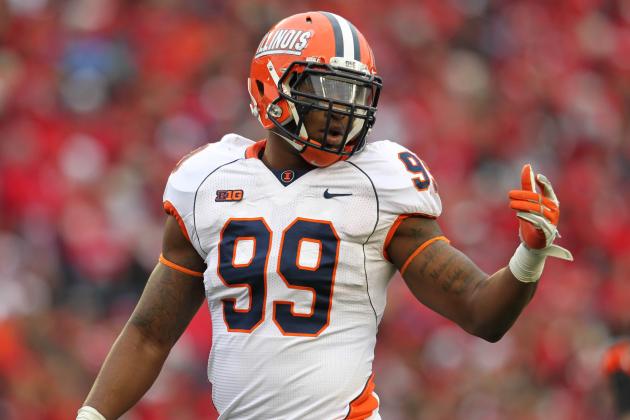 Brace Hemmelgarn-USA TODAY Sports

The Raiders need a pass rush next year, and that likely means adding multiple players along their defensive front seven and looking to engineer some more pressure through schemes.
Absolutely anything would be better than what they were able to do in 2012.
Buchanan flashed during the practices, giving Eric Fisher all he could handle and winning most matchups when he wasn't paired up with the best lineman there. He also showcased a nasty streak, which would fit in nicely with the Black and Silver.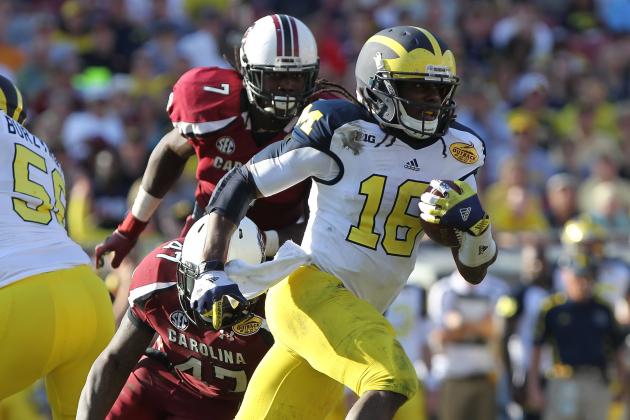 Kim Klement-USA TODAY Sports

Robinson was terrible during the Senior Bowl practices, as he clearly isn't prepared to play receiver at the NFL level. He would run a terrible route one minute and botch an easy catch the next. Scouts were snickering at his talent level, but those same scouts will be wowed at his times at the combine.
All Robinson has to do is show some competence at basic receiver skills by his pro day, and he's a lock for the top 100 picks.
The Eagles are going to be making some changes with Chip Kelly in place, and adding the versatile Robinson—who can make plays in space, take some snaps at multiple positions (yes, even QB as a change of pace) and contribute on special teams—would make sense.
Maybe this is a mid-round pick, maybe it's a late-rounder (depending on the rest of his pre-draft season).
Either way, the Eagles could use someone with Robinson's skills.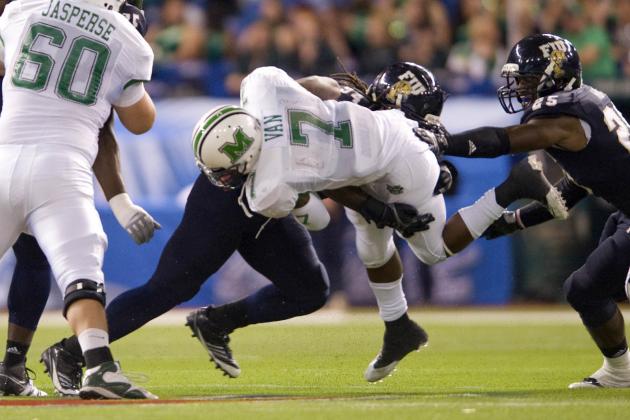 Jeff Griffith-USA TODAY Sports

The narrative around the Steelers is that they're getting older. While, as a team, that isn't true, their elite defenders certainly aren't getting any younger. When Troy Polamalu isn't at 100 percent (and that is more frequent these days), the Steelers are a different team. Ryan Clark (33) isn't a spring chicken either.
Jonathan Cyprien rose up boards with fantastic play during the Senior Bowl practices. He's tough and physical, and his athleticism stood out at the lower levels of competition as well as when he played among the prospects in Mobile.
Cyprien should be available for a mid-round pick and would be valuable depth for the Steelers.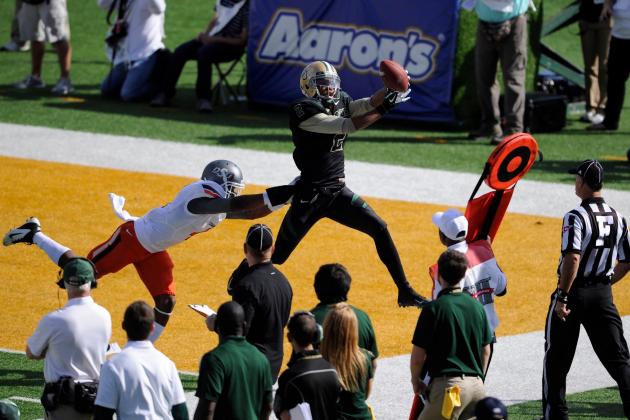 Jerome Miron-USA TODAY Sports

The Rams got Brian Quick to give Sam Bradford someone to throw to, but he was outshone by Chris Givens, and the Rams' passing game still wasn't nearly as explosive as it should have been.
Maybe that has something to do with Bradford (and it definitely has something to do with the St. Louis offensive line), but the Rams need to keep putting weapons and protection around Bradford before they throw in the towel on him.
Scott Olmos-USA TODAY Sports

Speaking of needing weapons and protection...
As A.J. Smith packs his bags and starts updating his resume (skills: eluding blame, identifying and drafting major injury risks), the Chargers need to regroup from the massive amounts of talent he's let walk over the years as "expendable."
Using a mid-round pick on a receiver who could immediately take snaps as a valuable piece of the offense would help get the Chargers back on the road to talent acquisition rather than hemorrhaging the same.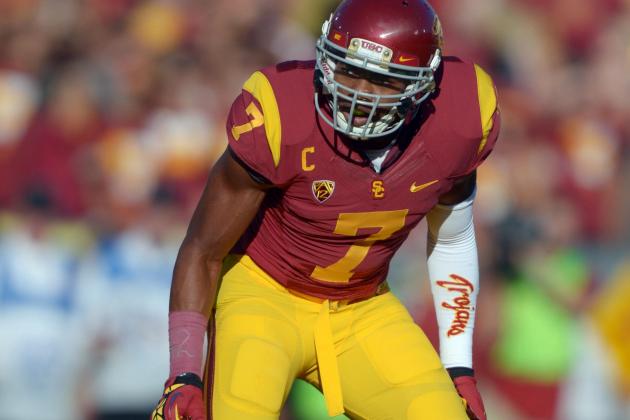 USA TODAY Sports

First of all, Dashon Goldson. In reality, that's all that really needs to be said to justify this selection.
Niners fans may counter with Taylor Mays, but McDonald is a much better player than Mays (though, of course, not a better linear athlete). McDonald also didn't spend his entire college career playing extremely deep center field like Mays did—learning bad habits and forgetting how to tackle.
McDonald is good in coverage and would be a valuable asset in the second or third round as the 49ers do their best to build a dynasty.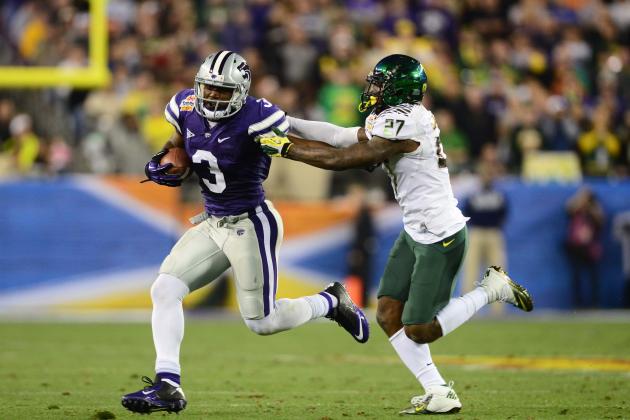 Mark J. Rebilas-USA TODAY Sports

Chris Harper was one of the more dynamic wide receivers at the Senior Bowl practices, making big catches and creating separation with a mixture of crisp routes and explosion out of breaks. He's versatile and able to line up at a number of receiver slots or out of the backfield.
The Seahawks have a bunch of good but not great targets. Harper does a lot of the same things Golden Tate does, but is much bigger and (potentially) has more upside.
The two of them, along with Sidney Rice, would give Russell Wilson a great group of guys to grow along with.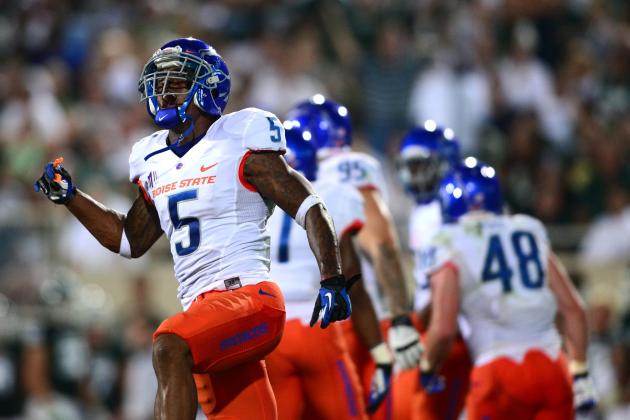 Andrew Weber-USA TODAY Sports

Before practices even started, an agent walked over to me and recalled how one of his biggest regrets during this pre-draft season was not signing Jamar Taylor. "Best CB on the West Coast," he said. "Better than Desmond Trufant?" I asked, stunned. "Absolutely."
So, naturally, I ended up watching Taylor a little bit extra during the week, and my agent friend was correct. Taylor is great in coverage and physical as all get out. He throws receivers off of their routes and bodies them up and down the field. He fits the Buccaneers' needs and their mentality.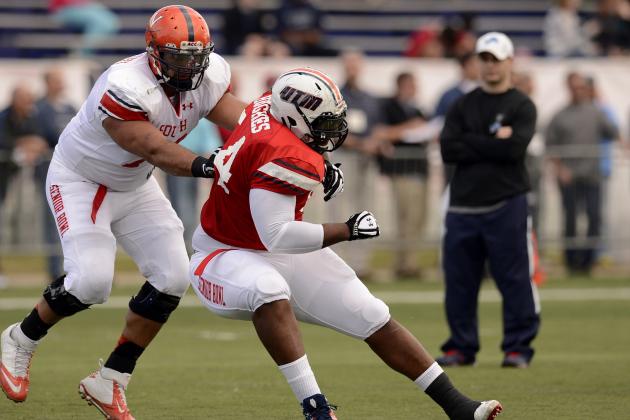 USA TODAY Sports

Montori Hughes had one of the funniest moments of the week. After a John Jenkins agility drill, he yelled out after the Georgia product, calling him a: "big boy with little boy dreams." Hughes is a lot like that, always jawing but picking up his teammates on both sides of the ball rather than calling them out.
"Leadership" is a word that was used more often than not when the sidelines would talk about Hughes.
The small-school prospect was a big reason the South squad had a bit more of a "team" feel to it, as Hughes became part of the glue that held them together in even a short time. This is the kind of guy coaches want on their team.
He's also a great player, using his size to set up blockers and his surprising speed to cut through them. For a small-school guy, he's surprisingly technical and not just a mauler.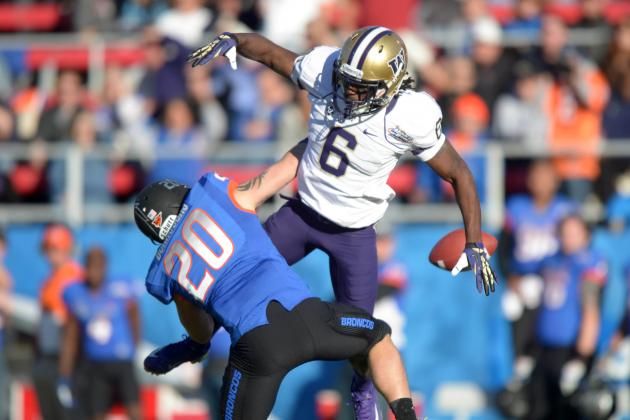 USA TODAY Sports

Desmond Trufant didn't shine as brightly as he may have hoped during the Senior Bowl practices, but he's clearly capable of playing in the NFL and projects as a potential starter down the road. For the Redskins, who desperately need someone with ball skills, that may be sooner rather than later.
He should be around in the second (maybe third) round for the Redskins, who would immediately value his ability to play in a number of coverages, and his technical ability to stick with receivers who outclass him physically.
Michael Schottey is the NFL national lead writer for Bleacher Report and a member of the Pro Football Writers of America. Find more of his stuff at The Go Route.