Full Dallas Cowboys Scouting Guide for the 2013 Senior Bowl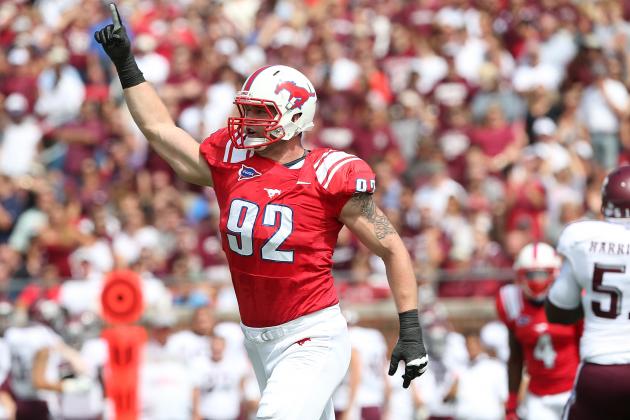 Ronald Martinez/Getty Images

Like all other NFL teams, the Dallas Cowboys have sent their scouts to Mobile, Ala. in search of the next potential stars of their franchise. With so many big names on the Senior Bowl roster however, this guide is your ultimate cheat sheet for who the 'Boys will be watching in Mobile.
Dallas may have been close to a postseason berth in 2012 but the team has obvious problems that must be fixed before next season. Here are some names that could help the Cowboys do just that if Jerry Jones and company call their name on draft day.
Begin Slideshow

»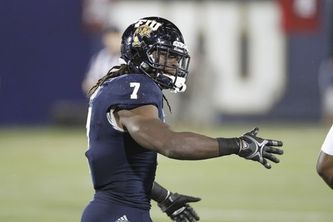 Photo courtesy of FIU Athletics
Florida International safety Jonathan Cyprien has been the talk of the town leading up to this year's Senior Bowl game. The Golden Panthers player has been one of the hardest hitting players during the practices leading up to the game and that is something Dallas could use.
The Cowboys' secondary was revamped heading into 2012 with the likes of Brandon Carr and Morris Claiborne but the safety position still needs help. Cyprien has been impressing with his ability to make big hits but also to shadow receivers in coverage.
He stands 6-feet and just over 200 pounds, making his frame perfect for his position. Oh, and according to Josh Katzenstein of The Detroit News, Cyprien is being mentored by Lions safety Louis Delmas.
Considering that Dallas will be drafting near the middle of each round come April, Cyprien is a player the team should be able to get its hands on. It's no secret that safety is not a strength for the Cowboys and they'd be wise to have their eyes fixed on this FIU player.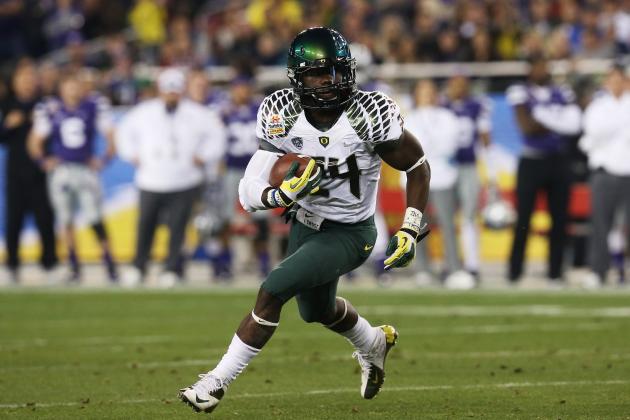 Stephen Dunn/Getty Images

Now this would be the part of the slideshow feature Montee Ball but the Badger will not be playing in this year's Senior Bowl.
With Ball sitting out, Oregon back Kenjon Barner is a name that is likely being discussed among Cowboys scouts.
Barner's quickness is what made him so deadly in that high-powered Ducks offense this past season and every team wants that in a running back.
Considering Felix Jones' contract is up in Dallas, DeMarco Murray could soon be in need of a backup and Barner would be a fine replacement for Jones.
HIs 5'11" height is a bit alarming but he does have that explosive speed that made the 'Boys so excited about Jones back in 2008. If coached right, Barner could be a great change-of-pace and draw-type running back the Cowboys could plug in a handful of times a game.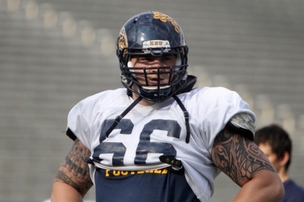 Photo courtesy of Ohio.com
Strong, quick and versatile. All three words are accurate descriptions of Kent State offensive lineman Brian Winters.
The Golden Flashes big man is primarily a left tackle but has spent his time in Mobile playing left guard in practices. This is a change Winters is hoping to make permanent heading into the NFL, telling Matt Florjancic of ClevelandBrowns.com:
"I think it's a great fit for me. I played at left tackle at Kent because no one really could play it. It was really my fit and they thought I could be a great left tackle, but, at this level, I have to definitely play guard and I'm very comfortable with it."
The Cowboys are in desperate need of not only improvement but depth at both guard positions so Winters might be able to make this switch as a Dallas Cowboy. At 6'4" and over 300 pounds, Winters has shown the potential to succeed at guard in the NFL with his quickness.
He knows how to keep his block and is quick off the snap which will both be key for Winters in his transition. While some might view his change of position as a red flag, Dallas should consider it a plus. Winters can play guard but can also serve as a backup tackle if needed.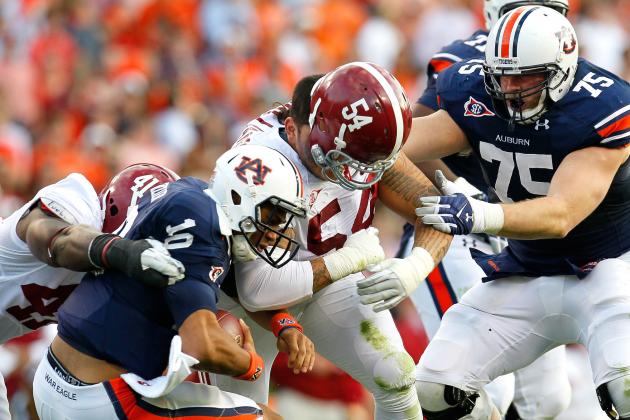 Kevin C. Cox/Getty Images

Moving to Monte Kiffin's Tampa 2, 4-3 defense means that the Cowboys are in need of some extra pieces on defense. One of those extra pieces is a defensive tackle to line up next to four-time Pro Bowler Jay Ratliff.
Williams is big, strong and was coached by one of the best college football coaches around in Nick Saban. Ratliff would still see some double-teams due to his name but Williams has the potential to make offenses have to key in on him just as much.
He has a bigger frame than Dallas' No. 90 and knows how to impose his will on opposing offensive lineman. Williams is a first round name as of right now but there's still a good chance he'll be available when the 'Boys pick at No. 18.
Well, one doesn't have to guess if SMU's Margus Hunt is on Dallas' radar. According to ESPN Dallas' Calvin Watkins, Jerry Jones' crew has already met with the standout defensive end.
Hunt's 6'8", 278-pound frame is an impressive one and is another name that could be useful in the Cowboys' transition to the 4-3 defense.
As Watkins noted in his article about the meeting, Hunt's first sport of passion was actually track. His discuss throwing along with his game tape is a strong indication of the power this guy possesses.
Hunt may not come from a big school but that doesn't make his raw power and dominance against teams like Fresno State in the Hawaii Bowl any less impressive. The Mustangs player has thrived on the college level and is doing his best in Mobile to show he can do so in the pros as well.
The Cowboys are already interested in this guy and it would be smart of them to continue being interested leading up to this year's draft at Radio City Music Hall.