UFC Code of Conduct: Exclusive Talk with UFC COO Lawrence Epstein
Use your ← → (arrow) keys to browse more stories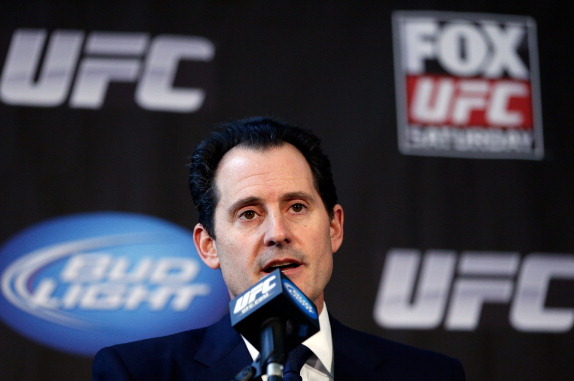 Josh Hedges/Zuffa LLC UFC via Getty Images
CHICAGO: The UFC made two big announcements before Thursday's UFC on Fox 6 pre-fight press conference began. The first was that former UFC welterweight champion Matt Hughes would be retiring from fighting and taking the position of Vice President of Athlete Development and Government Relations. The other big announcement was that the UFC was rolling out a written code of conduct.
UFC Executive Vice President and General Counsel Lawrence Epstein was on hand for the announcement and took the time to speak to Bleacher Report about the new policy.
"This stuff's already frankly been in place for many, many years and we've always sort of had an unwritten code of conduct that we expected our athletes to live up to. Now we put it in writing, that's really the only change," Epstein said." There are some teeth in the program, penalties associated with violations, but as far as we're concerned this policy is going into effect immediately."
The first step for the UFC will be to get the written policy to all 400-plus athletes the promotion has under contract since this will be an addendum to their current agreements. After the fighters have had time to review the policy, Epstein said it would be released to the public.
Going forward, all fighters will have the policy contained in their initial agreements with the UFC when they are signed.
When asked about "the teeth" of the policy Epstein said that there would be financial penalties associated with violating the policy, but also some community service.
"For example, if you make a discriminatory comment about a certain community, you would be required to provide some community service to that community," Epstein said. "In our view that's going to turn into a benefit. It's easy to criticize people you don't know, but once you get to know somebody, once you get to experience what they're all about it sort of changes you as a person in a way that money or fines could never do."
Those type of repercussions make a lot of sense, all too often highly compensated athletes are only fined for their indiscretions and once the check is written they quickly move on, totally putting the incident behind them. To have to meet individuals that were potentially affected by a fighter's actions will have a much longer lasting effect than any hit to the wallet ever could.
UFC president Dana White also talked about the policy and he said it is not meant to limit fighters in offering opinions to the fans and the media, something Epstein echoed when he said, "The last thing we would ever want to do is limit someone's ability to communicate, to be who they are. That's not what this is all about. This is providing some guidance to our athletes in writing that this is stuff you should stay away from."
That's where Hughes will come into play, serving as a mentor to the UFC's athletes and using his experience, as Epstein said, "to try and keep guys out of trouble and stop them from making mistakes."
The written code of conduct is another step in the right direction for the UFC. It will allow the fighters to see, in black and white, what is and isn't acceptable behavior for a fighter inside and outside the Octagon. It also puts the UFC on the same page with all of the other major sports leagues and serves as another step toward the mainstreaming of mixed martial arts.
**All quotes obtained firsthand by BR MMA.