The NHL's Best Trick Shots on Video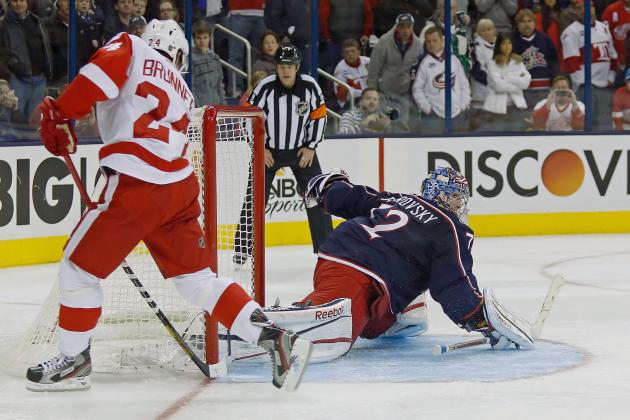 Kirk Irwin/Getty Images

Hockey is full of action each and every night, and many highlight-reel goals are scored by top snipers like Alex Ovechkin.
Many of these highlight-reel goals may be considered wrist shots or slap shots, but there are moments when a sniper dekes into the zone and uses a trick shot of some kind.
There are also shots that have occurred in practice, skills competition and other venues that have made their way onto YouTube.
Throughout the history of hockey there have been amazing trick shots, but here are some of the best in recent memory scored by NHL players.
Begin Slideshow

»
Pavel Datsyuk is known as one of the NHL's top puck wizards, but Damien Brunner could give him a run for his money if he continues scoring sweet trick shot goals like this.
The NHL's Skills Competition is usually one of the most enjoyable parts of the season, and Chicago Blackhawks sniper Patrick Kane scored a solid trick-shot goal last year.
Kane channeled his inner Clark Kent by sporting the cape and glasses while scoring a "super" goal.
Marek Malik had an average NHL career, but it is safe to say that he will always be remembered for this moment.
Malik's trick shot of a goal certainly was one of the greatest in the league's history.
It is sometimes impossible to stop Alex Ovechkin, and this goal against the Phoenix Coyotes was one of the greatest goals in his entire career.
Ovechkin seemed to be down and out, but he was able to score this amazing goal from the seat of his pants.
Mike Ribeiro is now with the Washington Capitals, but he has scored many amazing goals throughout his NHL career with the Dallas Stars.
Although this goal came during the shootout, it does not take away from the awesomeness of this tricky goal.
Rick Nash is a member of the New York Rangers, but this amazing goal was one of his greatest moments as a member of the Columbus Blue Jackets.
In an interesting sequence, Nash corrals the puck and is able to put it between his legs and past the goaltender for an amazing trick shot.
Pavel Datsyuk is an amazing puck wizard whose magic couldn't be stopped during the NHL lockout.
Although these goals were scored in the KHL, they were too awesome to be excluded from this list.
Shea Weber is one of the NHL's top defenders, and he has an amazing howitzer of a slap shot. However, all Weber needed on this shot was a nice release and a little bit of luck.
This shot from the heavens was spectacular, and one of the nicest shots caught on video.
Mikael Granlund is one of the NHL prospects making a rookie debut this year, and he made headlines a few years ago when he scored this amazing lacrosse-style goal.
It took a lot of guts and skilled hands, but the youngster was able to pull it off in impressive fashion.
Sidney Crosby has a very accurate shot, and videos like this really showcase his skills. He has amazing accuracy, and it is safe to say that he can probably score from any spot on the ice.
Tomas Vokoun is currently tending goal for the Pittsburgh Penguins behind Marc-Andre Fleury, but he was once the Nashville Predators starter.
During this clip, Vokoun had no idea what hit him, but once he found out that he was "Zetterberg'd," he probably was shaking his head in disbelief.
This was a pretty sweet goal by Kris Versteeg, and it was amazing he was able to score it off a quick pass by teammate Stephen Weiss.
This between-the-legs goal took skill and finesse, and Versteeg showed that and more during this goal against the Devils.
Daniel Sedin is a player who has a ton of skill, and he usually is helped by playing with his brother Henrik with the Vancouver Canucks.
On this goal, Daniel does the work himself by putting it between the legs before beating Miikka Kiprusoff.