Florida Gators Basketball Most Talented Team: 2007 or 2013?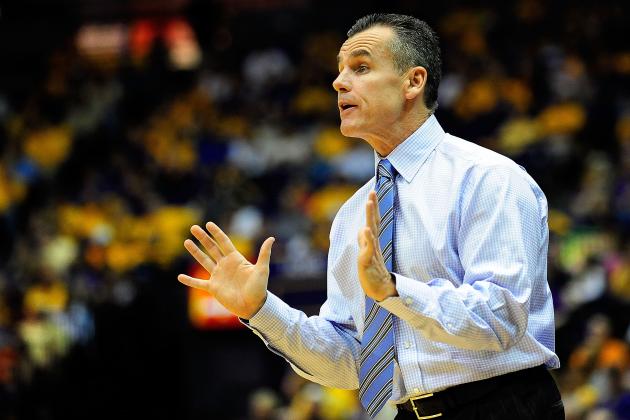 Stacy Revere/Getty Images
Billy Donovan hit the 400 win plateau at Florida last week
This season, the Florida Gators have been mentioned as a possible Final Four team and some even like them to win the NCAA Tournament.
They have not disappointed for the most part. They have blowout wins over teams such as Wisconsin, Marquette, Florida State, Texas A&M and Missouri and they are currently 5-0 in SEC play and ranked eighth in the AP Poll.
Is this Florida's most talented team? The only way to determine that is to compare these guys to the best team in school history.
Let's do a position-by-position comparison between this year's team and the National Championship team.
Begin Slideshow

»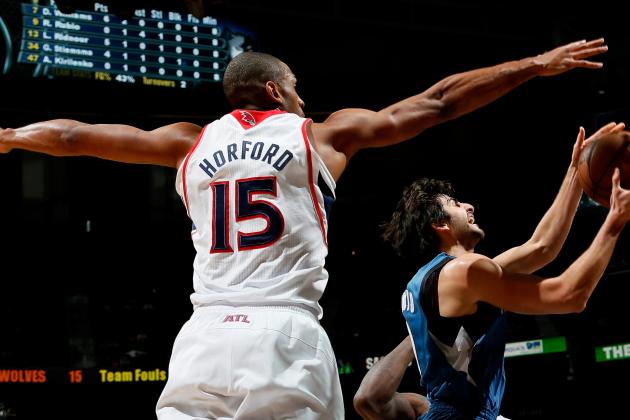 Kevin C. Cox/Getty Images
Al Horford was a lottery pick of the Altanta Hawks
Al Horford had more of an offensive game than Patric Young. He could step out and knock down a mid range jumper which pulled centers such as Greg Oden away from the basket and created room for Joakim Noah to operate in the paint.
He was no slouch down low either. He could post up and take it to the hole and he could rebound. On defense he was good too, but a great center like Oden could score on him all day long.
No centers in college basketball score on Young all they want. He is a fully grown man in the paint. He lacks the finesse game of Horford's but he is a beast in the paint.
If you let him get into the paint, he will knock down the hook shot and you are not stopping it. And on the pick and roll lob he does a pretty good Blake Griffin imitation. But on defense and with his rebounding, I score this one a draw.
Advantage: Push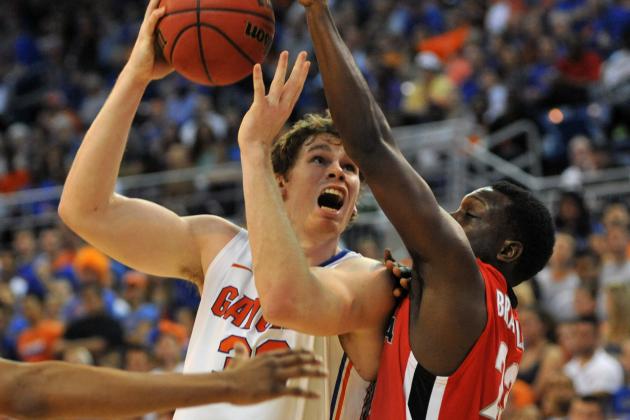 Al Messerschmidt/Getty Images
Murphy has a great all around game
Joakim Noah was a monster on defense and a dunking and rebounding machine on offense. He was also the emotional leader of the championship teams.He was an M.O.P of a Final Four and a lottery pick.
So this one is a no-brainer, right? Not really.
Murphy can step back and hit a three or he can score down low. He has the mid-range shot as well. But he is not soft on the defensive end either. He can rebound and block shots too.
He's not Noah on the defensive end, but he's pretty good. But even as good as Murphy is, we have to give this one to Joakim. But it is by no means a run-away.
Advantage: 2007
Doug Pensinger/Getty Images
Brewer was the best player in Gator history
Corey Brewer was, in my opinion, the best player in Florida Gators history. He could lock down your best offensive player (right Arron Afflalo?), he could take it to the hole with a lightning quick first step and dunk it on anyone, and he could knock down a three.
The bigger the moment, the better he played (right Georgetown?).
Yeguette is one of those guys that does all the dirty work. He gets the offensive put-backs, he rebounds and blocks shots and creates turnovers. He just hustles all the time. He is a very good player, but no Corey Brewer. But he could have a future in the NBA.
Advantage: 2007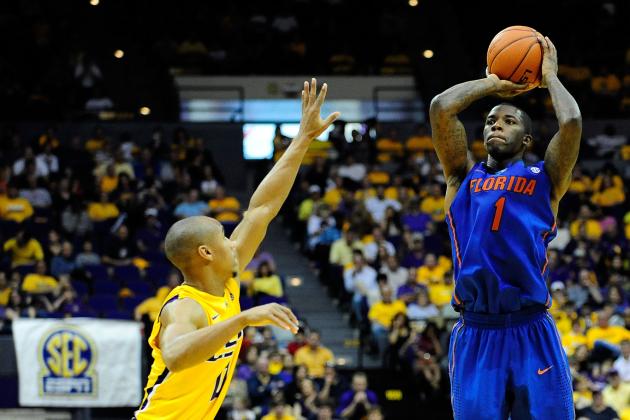 Stacy Revere/Getty Images
Boynton is a scoring machine
If I asked you who holds the Florida Gators career record for made three-pointers, who would you guess? If you guess Lee Humphrey, you'd be wrong. It is Kenny Boynton.
Now look, Lee Humphrey was the best three point shooter in Gator history. He is also the greatest three point shooter in NCAA Tournament history. In Final Fours, he put on a shooting clinic.
But Boynton can knock them down too. He is a streaky guy, who will go through a slump now and then. But he will get hot and bury them from way down town.
But he can also get out on the break and drive to the bucket and finish. And he can also go to the free throw line and hit a pair nearly every time which Humphrey could not do.
And defensively, he will lock down the other guys two guard much better than Lee did, although Lee was better than people remember.
Advantage: 2013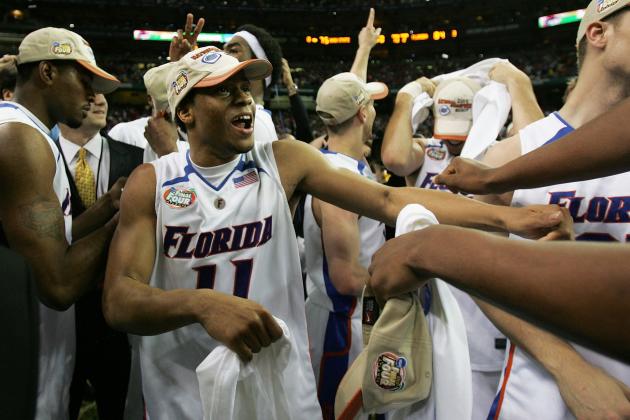 Andy Lyons/Getty Images
Green was a very good point guard on two championship teams
Taurean Green was a very good point guard for the championship teams at Florida. He could shoot a three. He was automatic at the free throw line. He was a good distributor. He was one of Florida's best point guards ever.
Scottie Wilbekin might be even better. He is a good ball handler, maybe not quite as good as Green, but close. He gets the ball where it needs to go.
He and Young work that lob play once or twice a game to perfection. His jump shot has gotten so much better since he first got to Florida it is fun to watch.
Although he came to UF in what should have been his senior year in high school, it was obvious the stroke was good, all he needed was confidence.
On the defensive end, I will take Scottie. He is tough on defense. He hassles the other point guards to the point that many times the opposing teams are barely able to get a shot off before the shot clock expires.
Advantage: 2013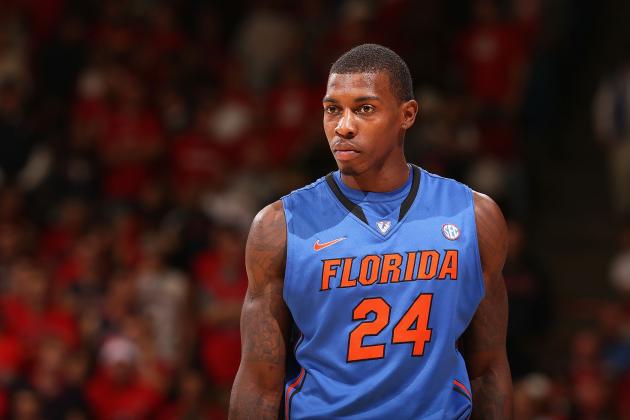 Christian Petersen/Getty Images
When healthy, Prather is very good
Chris Richard was a beast coming off the bench. He was a Pat Young type of player that would have been a start on most other teams.
He was a great inside presence on both ends and if somebody like Noah or Horford needed a blow or got into foul trouble, Richard came in and the team didn't miss a beat.
Prather is more athletic. He can really take the ball to the hole, especially out on the fast break.
His problem is he cannot seem to stay healthy. He is out right now with a sprained ankle. Hopefully, he'll be healthy during the NCAA Tournament because he played very well at the the Big Dance a year ago.
Advantage: 2007
Al Messerschmidt/Getty Images
Rosario often times finds himself in the starting lineup
Walter Hodge was a very good bench player. He could run the floor and shoot the three and he could play a little defense. But he was no Rosario.
Rosario at times has carried the Florida offense. Oftentimes Donovan starts him over Yeguette in a three-guard lineup.
He knocks down three pointers from the corner but he can also drive to the hoop. He is a leader on the floor as well. This one is probably the most lopsided advantage for either side.
Advantage: 2013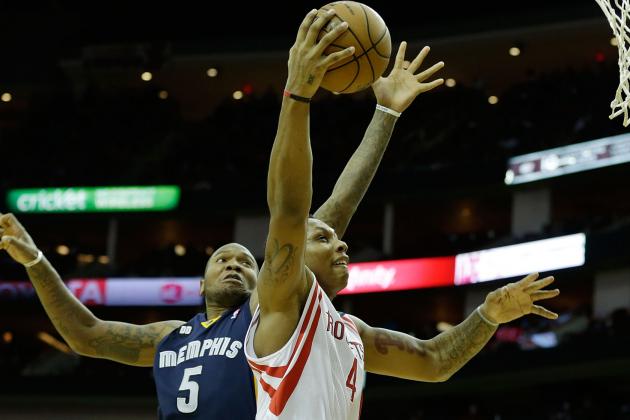 Scott Halleran/Getty Images
Speights is still in the NBA and doing well
Marrese Speights didn't get too much playing time in 2007. When he did get into the game it was rarely noticed.
Frazier can come in and shoot three point shots and drain them. At times, he is automatic. If you leave him open, he will make you pay.
Advantage: 2013