Full Chargers Scouting Guide for the 2013 Senior Bowl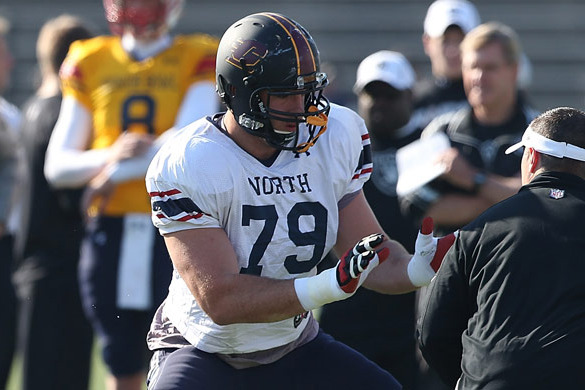 Photo Courtesy: AP
With Tom Telesco and Mike McCoy working hard to finalize the new San Diego Chargers staff, college seniors are preparing for the biggest event of their lives, The Senior Bowl.
Telesco stated in his first press conference that he wanted to build his team through the draft, and there is no better place to start that process than the Senior Bowl.
With most of the best seniors in the country battling it out in Mobile, Alabama, you can bet the Chargers will be glued to the action on Saturday.
Here are some of the players the Chargers should be following closely as we get closer and closer to the 2013 NFL Draft.
Begin Slideshow

»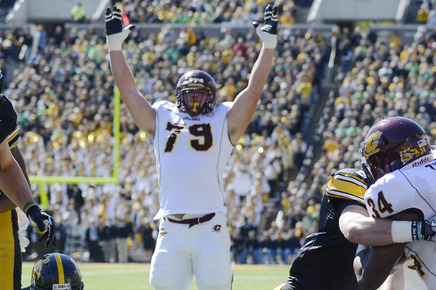 Denny Medley-US PRESSWIRE
Eric Fisher is a player that the Chargers are all over.
The huge offensive lineman from Central Michigan is having a huge week at the Senior Bowl. In fact, he is having such a good week at practice that many scouts have Fisher jumping up their big boards.
Fisher stands at a monstrous 6'7" and weighs 305 pounds. For a guy his size, he has incredible athleticism that allows him to cut off the speed rush from defensive ends or linebackers. Fisher dominated the one-on-one drills at practice. It does not matter how the defender rushes Fisher, with his long and strong arms, he can easily slow any defender down.
But what really stands out about Fisher is his leadership. You can just tell the other players have tons of respect for him. It showed at the practices. Fisher was vocal, and the players responded.
That leadership paired with his exceptional skill set should make him No. 1 on the Chargers watch list.
The problem is Fisher's strong week may have pushed him up in the draft, making him only an option for SD if they want to trade up.
R. Yeatts/Getty Images

It is no secret that the Chargers are in dire need of offensive linemen, but if the Chargers can improve their offensive line, I believe they could make the playoffs next season.
With that said, another offensive tackle that has impressed in this weeks practice is Oklahoma's Lane Johnson.
Johnson is smaller than Eric Fisher, but not by much. He stands at 6'6" and tips the scale at 302 pounds. He has above-average arm length, which sets him apart from the other tackles in the draft. He and Fisher both display good footwork on the outside and neither tackle is easy to beat one-on-one.
Tom Telesco and his staff will be keeping an eye on these offensive tackles all the way up to draft day, but with the potential rise of Fisher into the top seven, Johnson becomes an option for the Chargers if Fisher is off the board.
If this is the case, then the Chargers have nothing to complain about. Both tackles are going to be studs in the NFL and a HUGE upgrade over the Chargers current options at tackle.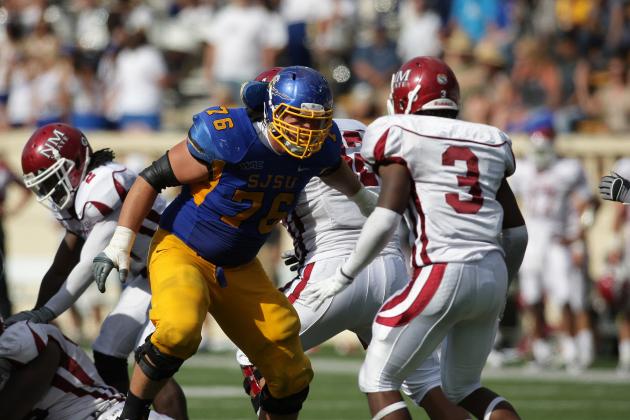 nfldraftblitz.com
David Quessenberry has been a nice surprise for many scouts during this week of practice.
Quessenberry has shown excellent versatility by playing both tackle positions and both guard spots. The team that drafts Quessenberry will have to decide his NFL future, but whichever team lands him is quite fortunate.
Quessenberry was extremely impressive in the one-on-one portion of practice, looking just as impressive as Eric Fisher. He looked comfortable no matter where he lined up and did an excellent job in anchoring in the ground during bull rushes.
Quessenberry is a San Diego native, graduating from La Costa Canyon High School in Carlsbad, CA. He eventually walked on at San Jose State University and has not looked back.
His draft stock has dramatically risen this week, and due to his versatility, he could turn out to be a great pick for the Chargers in the middle rounds. He will likely have to bulk up though, as he landed on the scales under 300 pounds.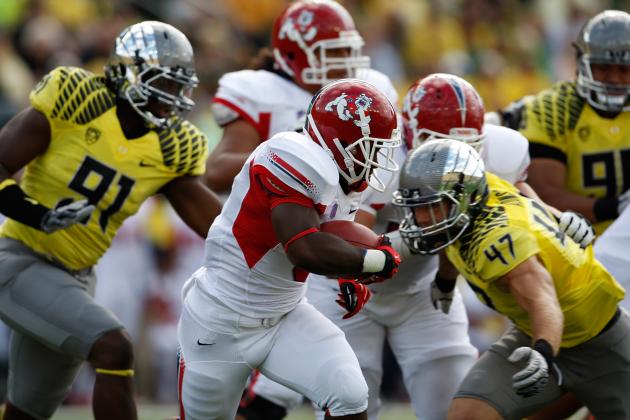 Kevin Casey/Getty Images

Robbie Rouse was a late addition to the Senior Bowl, replacing Monte Ball on the roster.
Rouse is another local athlete from San Diego, competing for Morse High School. Rouse is definitely going to be a late-round selection, but is someone who could come into Chargers camp and earn some playing time, adding some much needed depth to the slim Chargers backfield.
Rouse is undersized at just 5'7" and 190 pounds, but was extremely productive at Fresno State. In four years with the Bulldogs, he ran for 4,647 yards and 37 touchdowns, all while adding 110 receptions. Rouse would be an excellent third down option for the Chargers, and despite his size, Rouse has proven to be very durable—something that Ryan Mathews is not.
This year's running back class is deep, making it a real possibility that Rouse could be available in the last two rounds.
If this turns out to be the case, expect the Chargers to bring him in.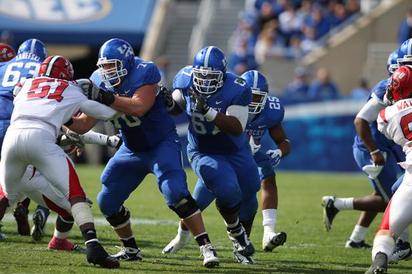 Chattanooga Times Free Press
Larry Warford comes to the Senior Bowl after wrapping up a tremendous career at the University of Kentucky. Warford is a second-round talent that the Chargers need to keep their eye on during the Senior Bowl.
Warford is another player that stood out during the one-on-one portion of practice. He basically dominated everyone he faced and also looked solid in the scrimmage, considering the lack of chemistry established with the other offensive lineman.
Since the Chargers are so desperate for offensive lineman, it would not be shocking to see the them draft an offensive tackle in the first round, followed by a guard in the second.
Warford stands at 6'3" and weighs in at 343 pounds, which may be the reason he sometimes struggles with his feet. But besides inconsistent footwork, Warford is an exceptional guard. His strength and knack for getting physical really stand out—two things that the Chargers need on their offensive line.
If Warford performs up to his potential during the Senior Bowl, look for him to shoot up the Chargers' draft board, making their second round decision much easier.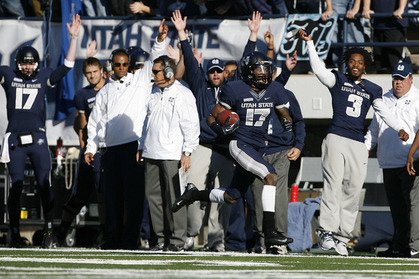 The Salt Lake Tribune
Will Davis, cornerback out of Utah State, has really turned heads this week in Mobile.
Davis had a rough opening to practices, but has improved as the week has gone on. The Chargers' defense does not need much tweaking, besides at the defensive back position, which means the Chargers will be focused on Davis during the Senior Bowl.
Standing at 6' and 186 pounds, Davis has the speed and quickness that translates into the NFL game. Davis is also more physical than many people believe. He is not afraid to get on his receiver and mix it up.
The Chargers are in dire need of a physical corner back, and Davis could come to the Chargers, adding depth to a slim core of defensive backs.
The Chargers will most likely focus their draft around offensive lineman in the first two rounds, leaving the third and fourth rounds for a possible cornerback pick. If Will Davis performs well during the Senior Bowl, he could cement himself on the Chargers' board.