5 Doubts That Still Surround LeBron James Even After Winning a Championship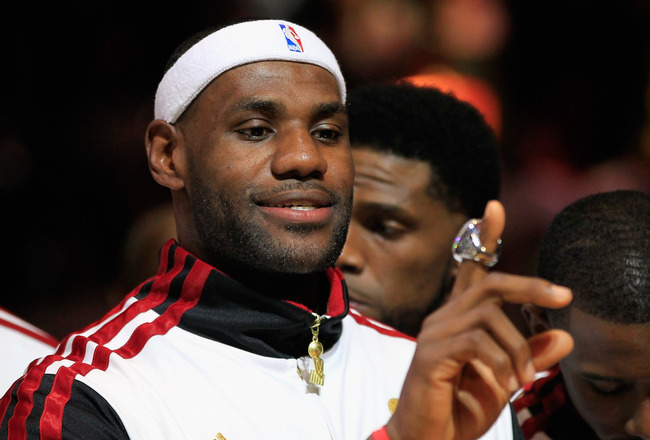 Chris Trotman/Getty Images
LeBron James finally has the ring to back up all his greatness, but has that alleviated all of the doubts that have followed him during his 10-year career?
James is coming off of one of the best years for an athlete in any sport ever, culminating in winning the Sports Illustrated's Sportsman of the Year Award.
He has successfully shut up the naysayers who doubted his ability to win when it matters most, but that hasn't stopped people from still questioning certain aspects of his game.
The King has the jewelry now to validate his name, but is it enough to put an end to all of the doubts that surround LeBron?
All stats are accurate as of 1/24/13
Free-Throw Shooting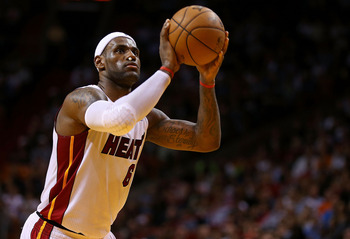 Mike Ehrmann/Getty Images
LeBron James has never been the most proficient free-throw shooter, with a mediocre 74.6 percent career mark.
This year has been one of his worst from the charity stripe, shooting 73.8 percent, which is tied for the third-worst mark of his 10-year career, despite attempting the least amount of free throws since his rookie season.
Overall, it's fair to say he's inconsistent from the line; he made 15-of-16 against Orlando, then went 1-of-4 just a week later against Indiana earlier this season.
What's even more stunning is the fact that he's had nearly a four percent drop off from the stripe since last year in a season when he improved across the board.
He's missed critical free throws many times this season, including two against the lowly Washington Wizards late in the game that ended in a Miami Heat loss.
For such a complete player, LeBron's "final flaw" seems to be his free-throw shooting.
Three-Point Shooting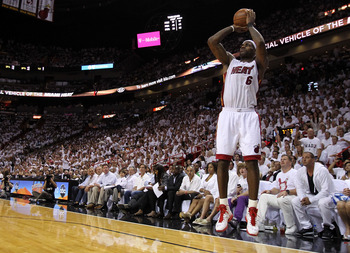 Ronald Martinez/Getty Images
LeBron James has undoubtedly stepped up his game from beyond the arc this season, posting a career-best 39.2 percent.
However, there is still a legitimate reason to doubt his three-point shooting ability.
James can be an awkward three-point shooter at times, chucking up shots from the top of the key in the beginning of a possession.
Regardless if he converts those type of shots, it hampers the flow of Miami's offense and it's not the most efficient way to start a possession.
James' perimeter shooting has been slumping as of late, shooting just 29 percent in his last five games.
Despite improving from distance, James doesn't exactly inspire confidence or consistency with his three-point shot.
Character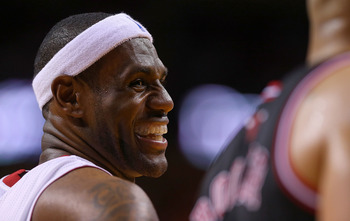 Mike Ehrmann/Getty Images
This is not to question LeBron James' overall character, because the guy does plenty of great things for the community and appears to be a stand-up guy.
From his charity work to his team-first mentality, James is the ideal franchise player.
However, it's some of his decision-making that is concerning.
He made questionable comments after the Miami Heat's 2011 NBA Finals defeat and has made questionable remarks over the past two seasons, namely when he said he could see himself playing in Cleveland again.
It's not that those comments are off the wall, but you have to question someone that talks about leaving his current team just two years into his contract after just being crucified for leaving his original team.
You'd like to see the league's biggest superstar carry himself in a more mature manner in terms of speaking to the media.
This isn't a huge issue, but it's certainly a doubt that remains when there's not much to doubt about him.
Last-Second Clutchness
I made sure to clarify what I meant in the title by saying "last-second" clutchness.
Going by the numbers, LeBron James is by far the best player in the NBA in clutch time (defined by NBA.com as when the game is within five points in the final five minutes).
James is averaging an outstanding 26 points, 11.7 assists and 10 rebounds in crunch time on a per-36 minute level, according to ESPN's Heat Index.
James brings it in the final minutes of games, nailing shots, grabbing rebounds and getting his teammates involved.
However, this slide specifically refers to his ability in the clutch when it comes down to a game-winning shot on the last possession.
Time and time again, James has come up short in those situations. He lacks that signature game-winner, outside of his miraculous three-pointer against the Orlando Magic in Game 2 of the Eastern Conference finals in 2009.
This season alone, he has missed potential game-winners against Orlando, Dallas and Toronto.
While he plays well during those last five minutes in close contests, he consistently fails to hit the game-winner.
This isn't a knock on his overall clutchness, but doubts certainly have to surround his ability to knock down the game-winning dagger.
His Status Amongst the Greats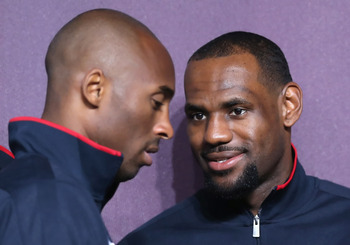 Jeff Gross/Getty Images
There is the never-ending debate about where LeBron James ranks among the all-time greats, especially when putting his name in the same sentence as Michael Jordan and Kobe Bryant.
While the primary cause for that was because he hadn't won his first championship until last season, people still have doubts about his ranking even after notching his first title.
James recently became the youngest player ever to reach 20,000 points, in addition to having three regular-season MVPs, one Finals MVP and one ring under his belt.
Still, people won't mention him among the best of the best until he adds more jewelery to those fingers.
While this is merely an issue of time and something that can still happen, the doubt still exists when it comes to his status as a legend.
Follow me on Twitter: @TheNBAllen
Keep Reading

Miami Heat: Like this team?