Blueprint for Seth Mitchell to Beat Johnathon Banks in Rematch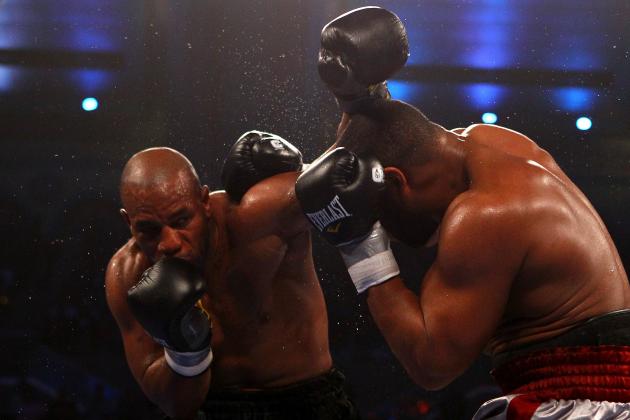 Al Bello/Getty Images

For most of 2012, Seth Mitchell was widely hailed as the next great hope for America at heavyweight. In December of 2011 he TKOd former world title holder Timur Ibragimov in the second round. In April of last year he improved to 25-0-1 with 19 KOs when he stopped fellow contender Chazz Witherspoon in three rounds.
I'll admit, I was right there on the bandwagon, holding on for dear life. For a guy who had never laced up a pair of gloves before his mid-20s, Mitchell's promise was tantalizingly. His athletic intelligence was obvious, as were the hours he had spent in the gym, learning his new sport.
But then came November and his matchup with former cruiserweight and current Wladimir Klitschko trainer Johnathon Banks, an Emmanuel Steward prodigy since youth and the boxing equivalent of a PhD.
And that's a PhD with tenure at Kronk Gym, the boxing world version of Harvard or Yale.
Mitchell ended up being exposed for what he is: a great athlete who is still largely a boxing neophyte when measured at the elite level. The great American hope at heavyweight ended up receiving a first-class beatdown, as Banks went on to win by TKO in two.
But Mitchell is too promising to give up on just yet. American boxing fans have been hungry for a genuine heavyweight contender for a generation now, and if Mitchell has dropped back in interest behind the likes of Bryant Jennings and Deontay Wilder for right now, a great showing against Banks in their Feb. 16 rematch will have him right back in the mix.
Winning against Banks in a rematch will be no easy task, of course. I interviewed Mitchell about a week before his last clash with Banks and he certainly knew what he needed to do to win going into that fight.
In between the first and second rounds of that fight, Mitchell's trainer Andre Hunter could be heard giving him first rate notes on what he needed to do.
But the master technician Banks had no trouble preventing him from implementing the plan. Last November, he dragged Seth Mitchell out into the deep waters and calmly treaded water while watching his less experienced opponent desperately drown.
So the blue print for Seth Mitchell to beat Johnathon Banks in the rematch is nothing revolutionary. It is pretty much exactly what the blue print was supposed to be last time around.
Begin Slideshow

»
As I mentioned in the introduction slide, I interviewed Mitchell last November before the Banks fight. He was one of my favorite athletes I have interviewed, primarily because it was so interesting to get the perspective of somebody who had competed at a high level in a different sport before transitioning to boxing.
To a casual sports fan, football and heavyweight prizefighting might not seem that radically different. They both involve big tough guys roughing each other up.
But the truth is, the approach to action required to succeed at the two sports couldn't be more different. Football is all about keying yourself up to deliver or absorb one, maybe two, explosive hits with your entire body on one play at a time.
In boxing you are trying to use just your fists to break down an opponent while minimizing the extent to which he is able to do the same thing back to you. In order to hurt him you have to put yourself within range of being hurt. The kind of focused explosion that allows you to dominate your opponent on a football field will almost always leave you vulnerable against a skilled boxer.
This difference and adjusting to it was one of the primary things Mitchell talked about when I interviewed him. "I was always a real bruiser," he commented about his playing days at Michigan State. "I had to be tight, ready to deliver that crushing hit or absorb it."
He contrasted this to what is necessary in boxing: "You've got to be limber, relaxed."
Prior to his fight with Banks, Mitchell was confident about the progress he was making:
I'm learning to relax and fight on the inside. It used to be, whenever anybody would move into that zone around me I'd just throw punches. Now I'm starting to relax and see things. I'm starting to catch punches, roll with punches.
Of course, against the more experienced Banks, Mitchell had a hard time putting this awareness into practice.
Another thing Mitchell told me when In interviewed him was that the longest break in training he had taken in the past six years was three weeks. So I have to imagine that following his loss to Banks, he was back in the gym pretty quickly, drilling the same close quarters techniques he had worked on to prepare for the last fight.
Whenever I really try to explain boxing to a non fan, one of the first things I will point out is that, despite what it might look like, most of the time in a fight, what a fighter is doing with his feet is more important than what he is doing with his fists.
Footwork is a critical and often overlooked aspect of the sweet science. And in Banks-Mitchell I, Bank's superior footwork allowed him to make the previously formidable Mitchell appear like an unschooled rube.
Instead of cutting off the ring and using his greater size to impose his will on Banks, Mitchell spent the fight, for the short time it lasted, plodding after Banks in pursuit. This made it easy for Banks to time Mitchell coming forward.
If Mitchell is going to have any shot at all in the rematch he's going to have to do a much better job at this. He can't chase after Banks, hoping to engage, because he will end up engaging on Banks' terms every single time.
Instead, Mitchell has to cut Banks off, and engage him from a position of control and strength.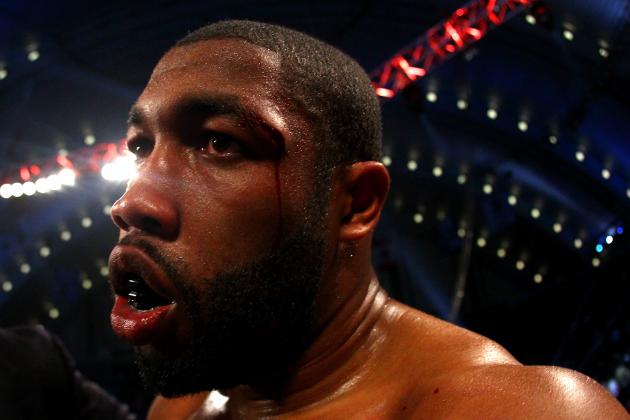 Al Bello/Getty Images

One of the things that most revealed Seth Mitchell's inexperience against Johnathon Banks was the way he reacted when he got into trouble. Once Mitchell was hurt against Banks, he was done, as surely as a wounded bull against a skilled matador.
An experienced fighter reacts to a getting rocked with well-trained instincts. Stepping away from danger and forcing a clinch are things a high-level professional will do while literally out cold on his feet, in order to survive to the bell and get a minute to clear his head in the corner.
Even in his otherwise impressive three-round TKO of Chazz Witherspoon last April, Mitchell looked green early on when Witherspoon managed to connect with some solid shots.
It's easy to watch a fight and ask yourself "Why the heck doesn't that guy clinch?" But when your brain is scrambled from getting drilled by a heavyweight punch, knowing a thing in an intellectual sort of way is useless. You have to be able to fall back on instincts and experience.
Now that Mitchell has been through the very worst thing that could happen to him, it will be interesting to see what he has taken away from the experience. In order to take that next step that he stumbled over last fall, he's going to have to learn to stay more savvy when he gets hurt.
Mitchell got his butt kicked to be sure last November, but I don't think he ever even lost his awareness. He was cognizant and alert in his post-fight interview.
So I don't expect him to come in the ring and act gun shy against Banks on Feb. 16. But what I hope to see him do is engage with a little bit more caution.
If Mitchell can manage to do what I've outlined in the first two slides, cut off the ring and stay relaxed when exchanging, then he will get opportunities to score with his big overhand right. He will get himself into position to take shots at the smaller man's torso.
Mitchell is a heavy puncher, so if he stays patient and chips away with his shots, it will take a toll on Banks.
But if Mitchell should fall back on the instincts he developed over years on the grid iron, pin his ears back and go the second he even smells blood, then the rematch is probably going to end up looking very much like the first time out.